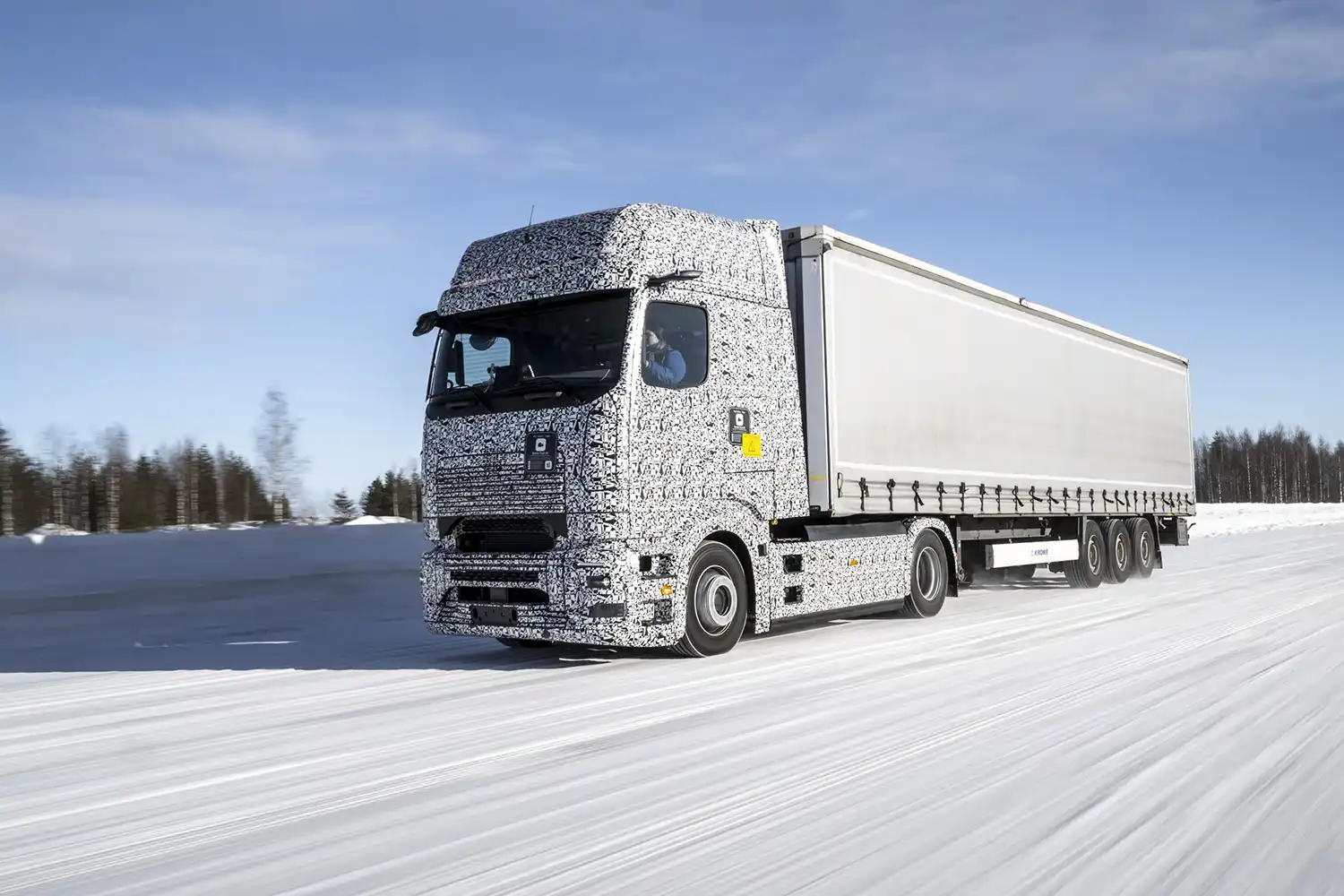 Haulage companies are placing the same demands on battery-electric trucks as on their counterparts with conventional diesel engines. Even in difficult weather conditions, such as cold, ice and snow, the vehicles must reliably do their job. Against this background, this year's Mercedes-Benz Truck winter tests in Rovaniemi, Finland, once again proved to be important endurance tests. This included vehicles from various model series – including prototypes of the battery-electric eActros LongHaul, with series readiness planned for 2024, and the battery-electric eActros 300 as a tractor unit as well as the conventionally powered Actros L with diesel engine. Under extreme climatic conditions, such as on snowy and icy roadways, harsh winds and temperatures down to minus 25 degrees, the development and test team tested the individual models in order to derive possible measures for further optimization.
Dr. Christof Weber, Head of Global Testing Mercedes-Benz Trucks: "Testing our product range under extreme winter conditions is also an essential part of our vehicle development in terms of alternative drives. Haulage companies must be able to rely on our electric trucks in a highly competitive environment at any time of year, just as they are used to from conventionally powered vehicles. For this reason, our test engineers in Finland put the vehicles through their paces for six weeks."
Comprehensive catalog of criteria
Mercedes-Benz Truck development engineers took a close look at all the functions and systems of the vehicles in practical use on the trip to Finland. For example, support when changing lanes as part of the Active Sideguard Assist or active lane guidance with Active Drive Assist in the Actros L. Since several national borders had to be crossed, it was also possible to measure the impact of country-specific lane markings, traffic signs or digital map data on the performance of the assistance systems installed in the trucks. The fact that the trucks were tested all day long also allowed aspects such as the comfort of the driver's seat to be evaluated.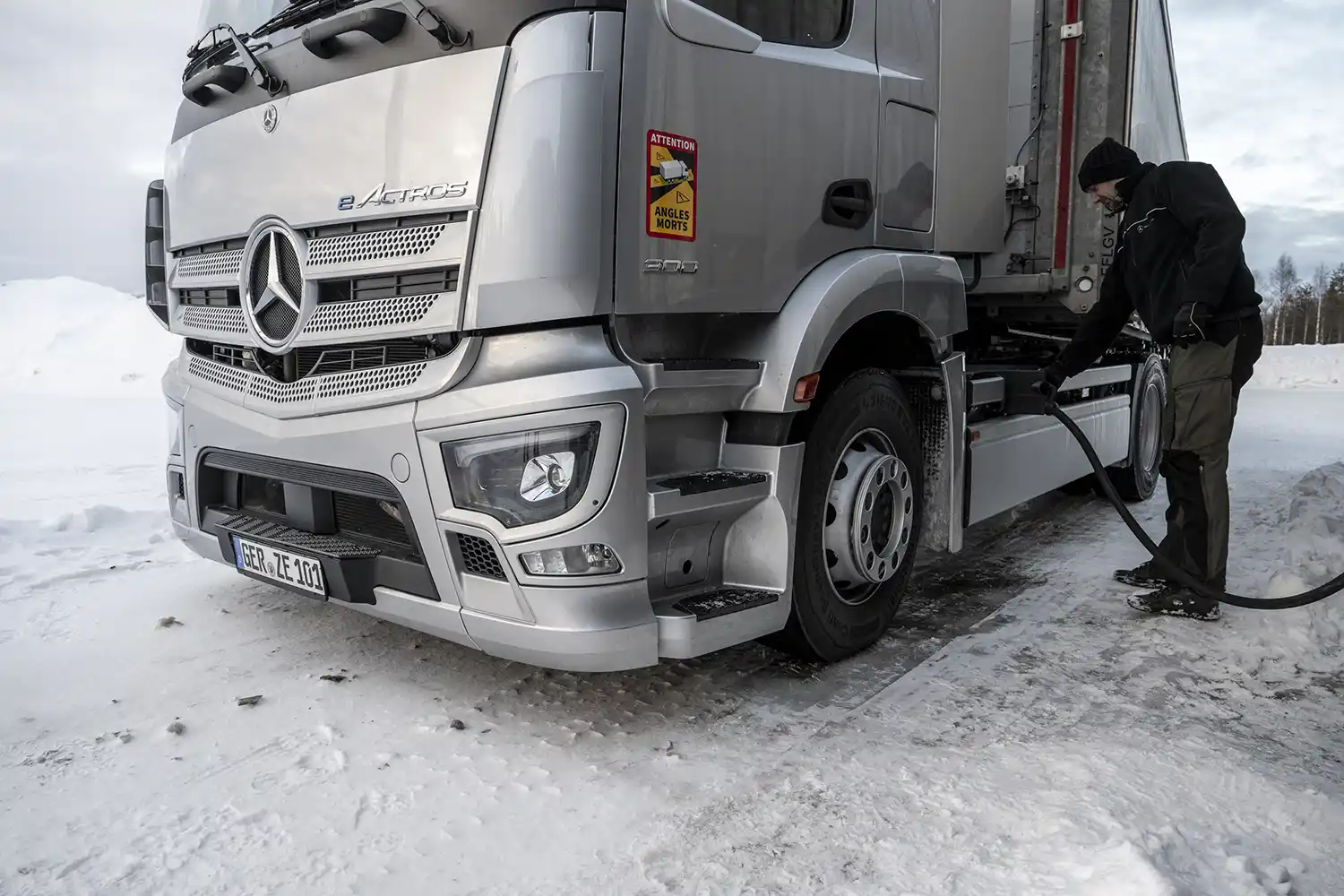 Focus on battery-electric trucks during tests on the Arctic Circle
In the case of the eActros LongHaul and the eActros 300 Tractor, experts paid particular attention to the battery properties and the electric drivetrain on site in adverse weather conditions. For this purpose, elements including starting properties and drive components' protection from low temperatures, software and interfaces were tested. In addition, thermal and energy management systems were subjected to intensive testing. Both ensure that both the drivetrain and the driver's cab are temperature-controlled correctly and energy-efficiently, even at low temperatures.
This showed, for example, that the eActros LongHaul generally heats the cab faster than a diesel truck thanks to its smaller heating circuit with high output. However, since the energy for this is taken from the batteries installed in the vehicle and therefore the range is reduced, so-called pre-conditioning of the electric truck at a charging station is advisable. After pre-conditioning, the eActros LongHaul loses less range even in extremely low temperatures.
Dr. Christof Weber, Head of Global Testing Mercedes-Benz Trucks: "We are very satisfied with our test results. The tests of the batteries and electric drivetrain properties at extreme temperatures or of the vehicle's driving properties on slick, icy roads show: Even in very wintry conditions, our battery-powered trucks are fully operational."
The winter test also included numerous tests on driving and braking properties on surfaces with different levels of grip as well as the impact of slush, for example, on the effectiveness of the sensors of driver assistance systems. Also tested was how the Trailer Stability Assistant can reduce the risk of tractor-trailers skidding during cornering or evasive maneuvers on winter roads and how the MirrorCam handles different contrast conditions on ice and snow.
Start of series production soon
The eActros 300 model variant as a tractor unit, introduced for the first time at IAA Transportation 2022 in Hanover, can pull all common European semitrailers, taking into account the maximum permissible overall vehicle combination length. The electric truck is based on the same technology as the eActros 300/400. Three battery packs, each with 112 kWh of installed battery capacity, enable a range of up to 220 kilometers on a single battery charge. Series production is scheduled to start in the second half of 2023.
In 2024, the eActros LongHaul is scheduled to be ready for series production for long-distance transport. Mercedes-Benz Trucks unveiled a concept prototype of the electric truck at IAA Transportation in Hanover last year. The series-production eActros LongHaul boasts a range of around 500 kilometers on a single battery charge and will enable high-performance charging. At IAA, it was awarded the "2023 Truck Innovation Award" by the "International Truck of the Year" jury. Batteries with lithium iron phosphate (LFP) cell technology are used in the eActros LongHaul. These are characterized, above all, by a long service life and more usable energy.