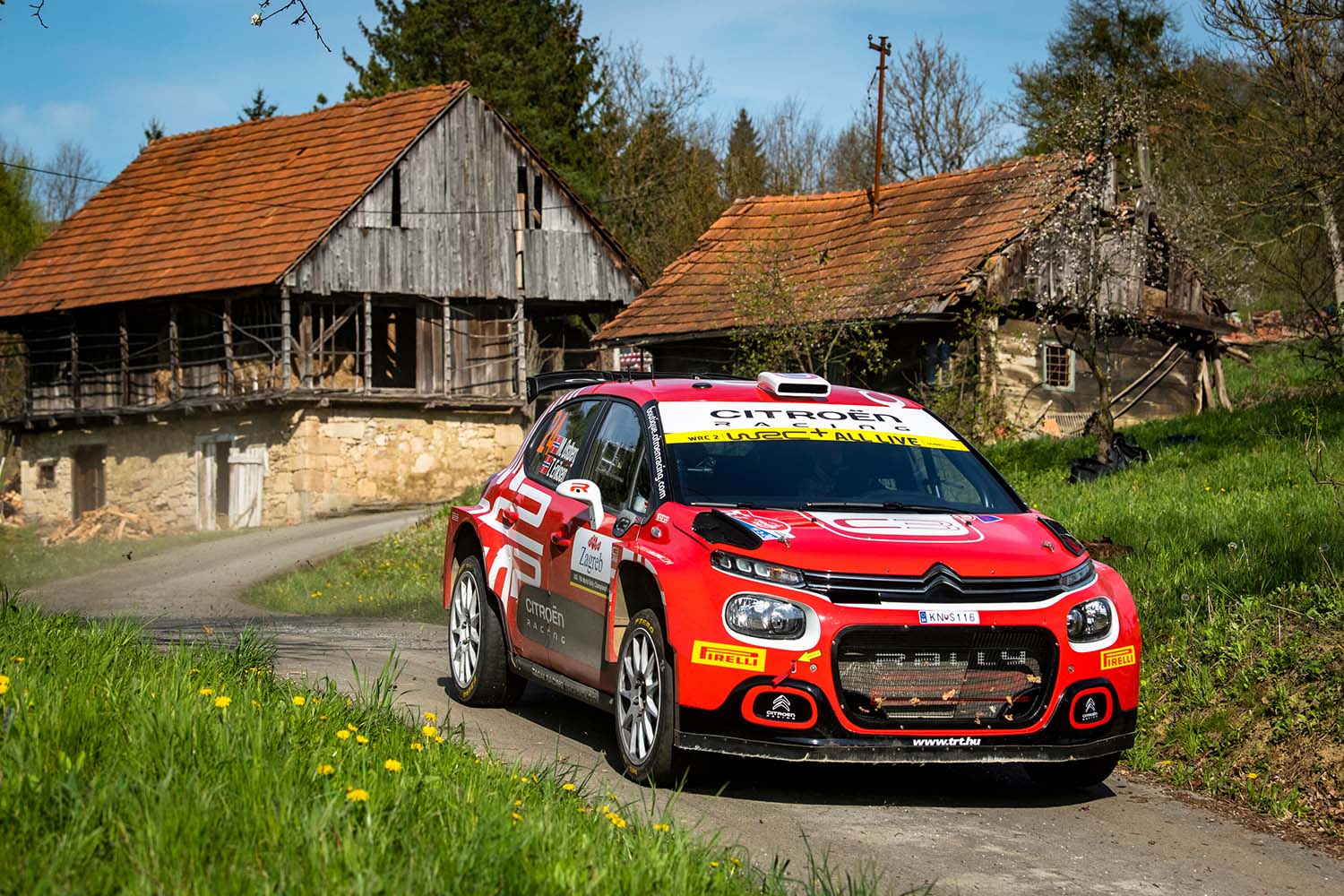 Four C3 Rally 2 crews discovered the unique 1270.89km tarmac roads of Zagreb and its surrounding countryside, a new addition to the World Rally Championship calendar this year. Despite the unpredictable conditions over the course of this incomparable round, the efficiency and resilience of C3 Rally 2 prevailed.
Last years' WRC2 Champions, Mads Ostberg and Torstein Eriksen return to the world stage for this third WRC round at Croatia Rally with new team Tagai Racing Technology (TRT). The experienced driver and co-driver asserted themselves at the wheel of Citroën C3Rally 2 winning the WRC2 category. Gathering insight stage after stage of the changeable roads, Ostberg and Eriksen adapted their strategy throughout, finishing with 5 stage wins out of nineteen, and finishing fourth of the Wolf Power Stage, gathering 2 points. The pair stand in 4th place overall in the championship standings.
Leader of the WRC3 category after his win at Rallye Monte-Carlo earlier this year, Yohan Rossel of Sainteloc Racing entered this round with new co-driver Alexandre Coria. The duo confirmed their compatibility quickly, winning seven of the nineteen stages. Following a roll in SS11, the crew lost their lead of the WRC3 category, though managing to come back and win SS13 and finish the rally in 3rd place. Rossel placed 1st in the Wolf Power Stage collecting 5 points for the championship and holds the lead of category.
Keeping in the WRC3, Nicolas Ciamin and co-driver Yannick Roche of DG Sport proved an impressive increase in power. Throughout the rally, the crew asserted themselves to the point of winning two of three scratch times the final day and placing second in the Wolf Power Stage, scoring 4 points. Concluding this rally, they finish 2nd of the overall WRC3 standings.
New to the world stage, Pierre Roché and Cédric Mondon showed a strong performance as they held the lead of the non-priority crews for the first twelve stages until suffering a roll in SS13 that ultimately led them to retire.
The preparation during test sessions and the input of the Citroën Racing weather and support staff were important assets to the C3Rally2Family teams in order to better prepare the configuration of their Citroën.
THEY SAID…
Mads Ostberg, WRC2 Winner: "I am happy to be back, it is nice to feel the competition again. Our focus was to put down good speed and we succeeded. The car performed well in the demanding conditions. We tried to bring our experience to this rally, but it is completely different; it is new to us all so we are learning as we go. I am fortunate to have been getting as much driving time as possible in the Hungarian Championship and test sessions with Citroën Racing in order to work up my experience on tarmac as well."
Tamas Tagai, Tagai Racing Technologies Director: "We have come out with a bang! I do not think anyone knew what to expect when we set up in the WRC service park. It is safe to say, this victory with Mads and Torstein shows what we are capable of doing. I am very proud of this result and am happy that we get to share it with Citroën Racing, with whom we get along very well and would like to thank them for the trust they've instilled in us."
Didier Clément, Citroën Racing Client Compétition Director: "I am very proud of Mads and Torstein for their victory on their return to WRC following their title win last year. A clean victory completed by the performances of Yohan Rossel & Alex Coria and Nicolas Ciamin & Yannick Roche, who are now first and second of the WRC3 World Rally Championship. These results confirm the continued development work and commitment of Citroën Racing."