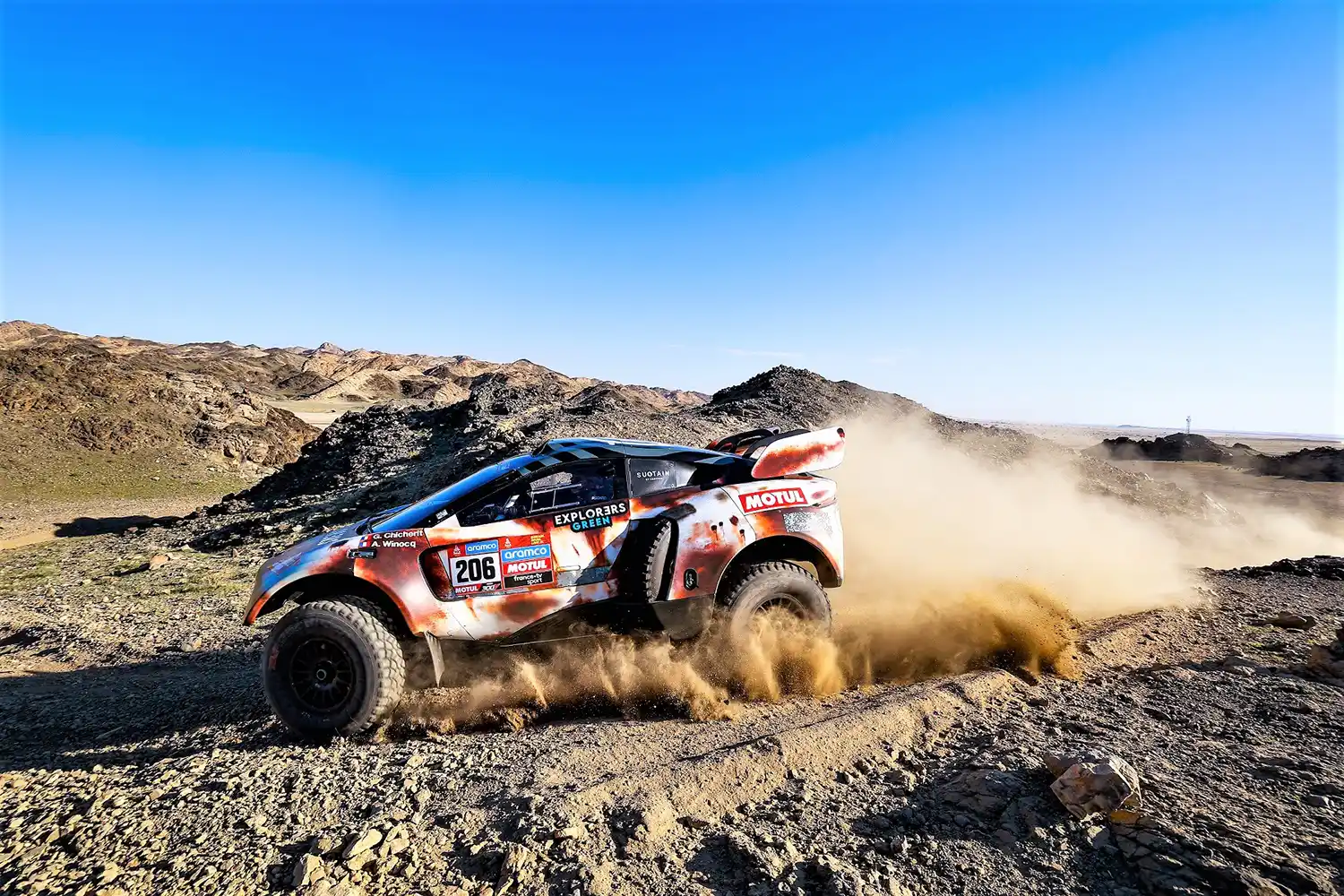 Sebastien Loeb believes this could be the year that he leads Bahrain Raid Xtreme to victory in the Dakar Rally, and he underlined his intentions today on the first real test of the 45th edition in Saudi Arabia.
The nine-time World Rally Champion is nicely placed in second position following the 367-km opening special stage, just 23 seconds away from stage winner Carlos Sainz, with two other Prodrive Hunters in the top seven.
Partnered by Fabian Lurquin in his BRX Hunter, Loeb finds himself in between Audi team-mates Sainz and Mattias Ekström, but has strong support close at hand following a stage on which the five quickest drivers were separated by just over two minutes.
Winners of the Rallye du Maroc in October, Guerlain Chicherit with co-driver Alex Winocq set the fifth fastest time in their Prodrive Hunter, just five seconds adrift of Saudi's Yazeed Al Rajhi in a Toyota.
Loeb's BRX team-mates, Orly Terranova and Alex Haro, took their Prodrive Hunter to seventh place, one ahead of Qatar's four-times winner and defending champion, Nasser Al Attiyah.
It all added up to a highly satisfying leg for the Prodrive-run BRX team in Saudi, which has 67 people, 14 nationalities and 27 vehicles supporting the Hunters, each running on EcoPower fuel which reduces greenhouse gas emissions by 80% compared to petrol.
After edging Loeb by one second on the previous day's prologue, Ekström led for much of today's stage before the Frenchman stepped up the pace in his Prodrive Hunter, as did Sainz, to surge past him over the last 100kms.
The performance of the Prodrive Hunters is no surprise following back-to-back victories in last year's inaugural World Rally Raid Championship (W2RC).
Following up Chicherit's historic first rally success for the car in Morocco, Loeb gave BRX a splendid win in the Andalucia Rally, and has started the 2023 W2RC in Saudi determined to go one better than his overall runner up spot last year.
The Dakar continues tomorrow with a 430km stage from Sea Camp to Alula.
Updates>>>Late developments have resulted in four Prodrive Hunters finishing the day inside the top six at the Dakar Rally.
After penalties dropped Mattias Ekström to 15th, Lithuanians Vaidotas Zala and Paulo Fiuza produced a brilliant late surge in their Prodrive Hunter to take fifth spot, in between Guerlain Chicherit in fourth and Orly Terranova.
Prodrive Hunter driver comments:
Sebastien Loeb said: "It was a good step for us at this stage, no problem. I was very safe from the beginning from the punctures. It was really rough with big stones, and I wanted to try to avoid a puncture. So that's what we did."
Guerlain Chicherit: "That was a real Dakar stage. It was rough, a lot of rocks. There's a lot of things that could happen. It would be easy to destroy the car today, so we drove carefully. I think we did a pretty good pace, and got just one puncture. That cost us the victory on the day, but you know that's what it's like."
Orly Terranova: "To open the road is not easy and the stage was very difficult. It was hard for us to to find some of the waypoints, and at the end I tried to push and we had good speed, so we are happy."