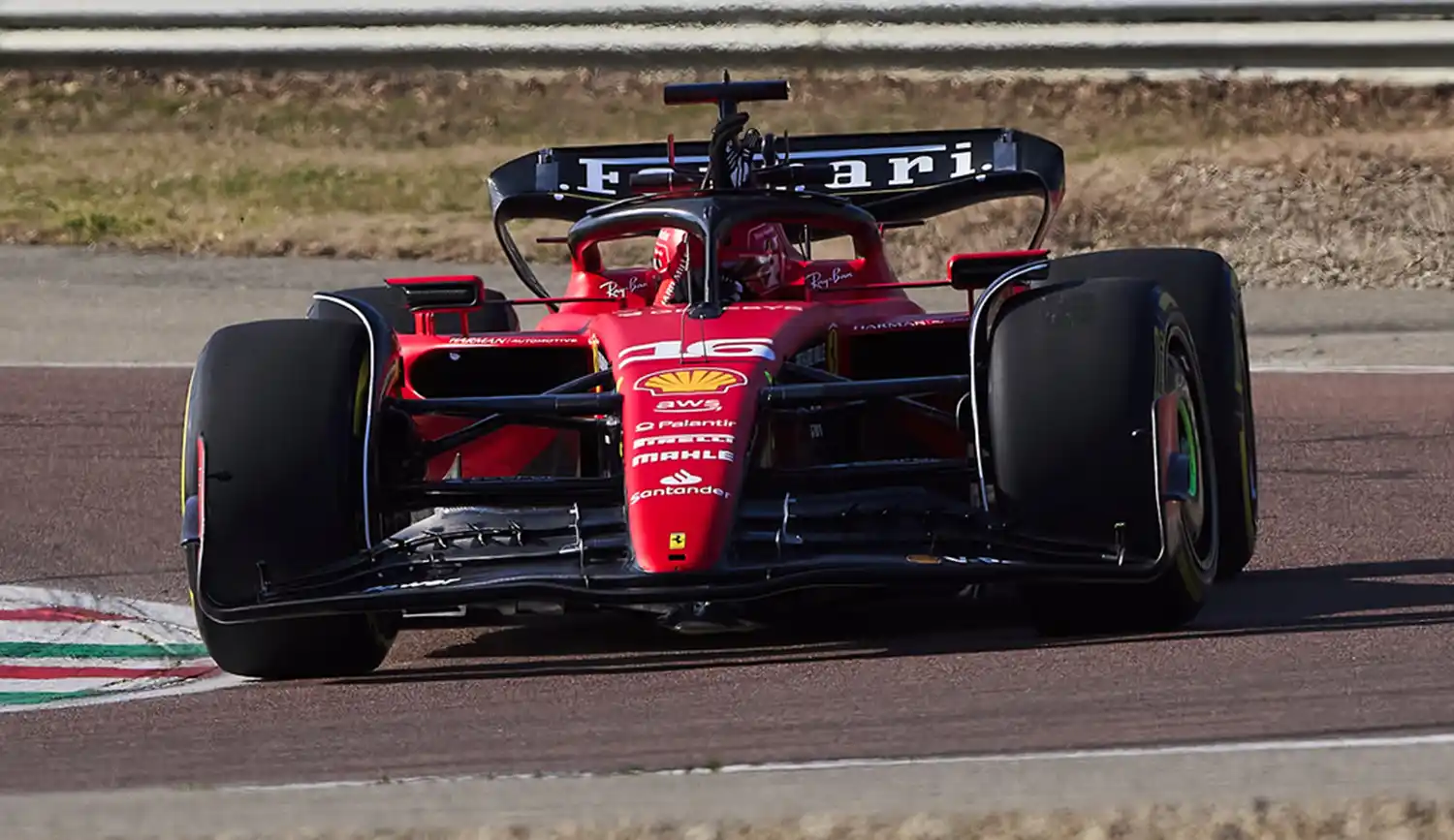 It was a St. Valentine's Day to remember for Scuderia Ferrari fans around the world. At around lunchtime, the SF23, the Maranello marque's challenger for the coming Formula 1 season, was unveiled at the company's Fiorano track. It is the 69th car built by Ferrari to compete in motor racing's blue riband category, which starts with the Bahrain Grand Prix on 5 March.
Fans in the stands. The day was full of surprises, starting with the presence of 500 fans in a grandstand specially erected at the Fiorano track, making this the first real launch to be staged after two years of virtual car presentations. Before the launch, the drivers Charles Leclerc and Carlos Sainz went to greet the crowd which included many members of the various Scuderia Ferrari Clubs and students from Muner, the Motorvehicle University of Emilia-Romagna, and some from the Alfredo Ferrari Higher Education Institute, along with their teachers.
Car on track. The SF-23, whose name marks a return to the format of the Scuderia Ferrari initials combined with the year of competition, as has been the case for most of the hybrid era, was first seen on video. But then came the announcement that, for the first time since 2017, the car would actually take to the track on launch day. Which of the two drivers would get behind the wheel first was decided by Fred Vasseur tossing a special coin, with Leclerc's and Sainz's race numbers- 16 and 55 – one on each side. Charles won and drove the SF23 for its first couple of laps, while Carlos got his turn shortly afterwards.
Special livery. The SF-23 livery features some parts in naked carbon, while the historic "long F" logo appears on the rear wing. The red colour is also brand new, created by Ferrari Design: a matt version on the Formula 1 car, and glossy on the 499P Hypercar, which makes its endurance racing debut this year.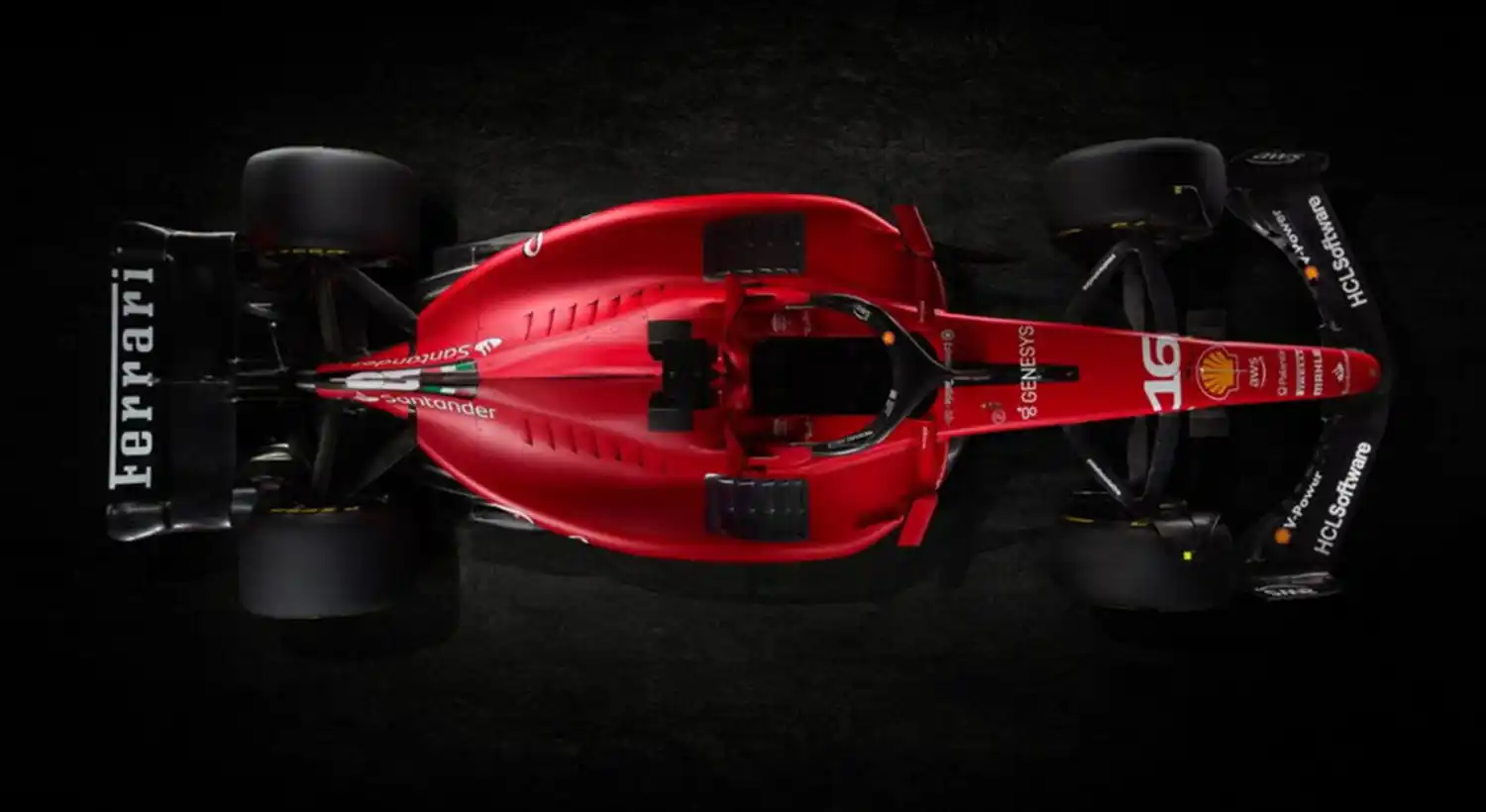 SF-23
Car
Chassis made from carbon fibre composite honeycomb, with halo protection for the cockpit.
Longitudinal Ferrari gearbox with 8 forward gears and reverse
Hydraulically controlled rear differential
Brembo ventilated carbon discs (front and rear) with electronically controlled rear brakes
Push-rod front suspension, pull-rod rear suspension
Weight including coolant, oil and driver: 798 kg
18" front and rear wheels
Bodywork and seat in carbon fibre
Power unit
Name: 066/10
Cubic capacity: 1600 cc
Maximum rpm: 15,000
Supercharging: single turbocharger
Maximum fuel flow rate: 100 kg/hr
Maximum race fuel 110 kg
Configuration: 90° V6
Bore: 80 mm
Stroke: 53 mm
4 valves per cylinder
Direct injection, max 500 bar
ERS System
Configuration: hybrid energy recovery system with electric motor generators
Battery pack: Lithium-ion batteries with a minimum weight of 20 kg
Maximum battery pack capacity: 4 MJ
MGU-K maximum power: 120 kW (163cv)
MGU-K maximum rpm: 50,000
MGU-H maximum rpm: 125,000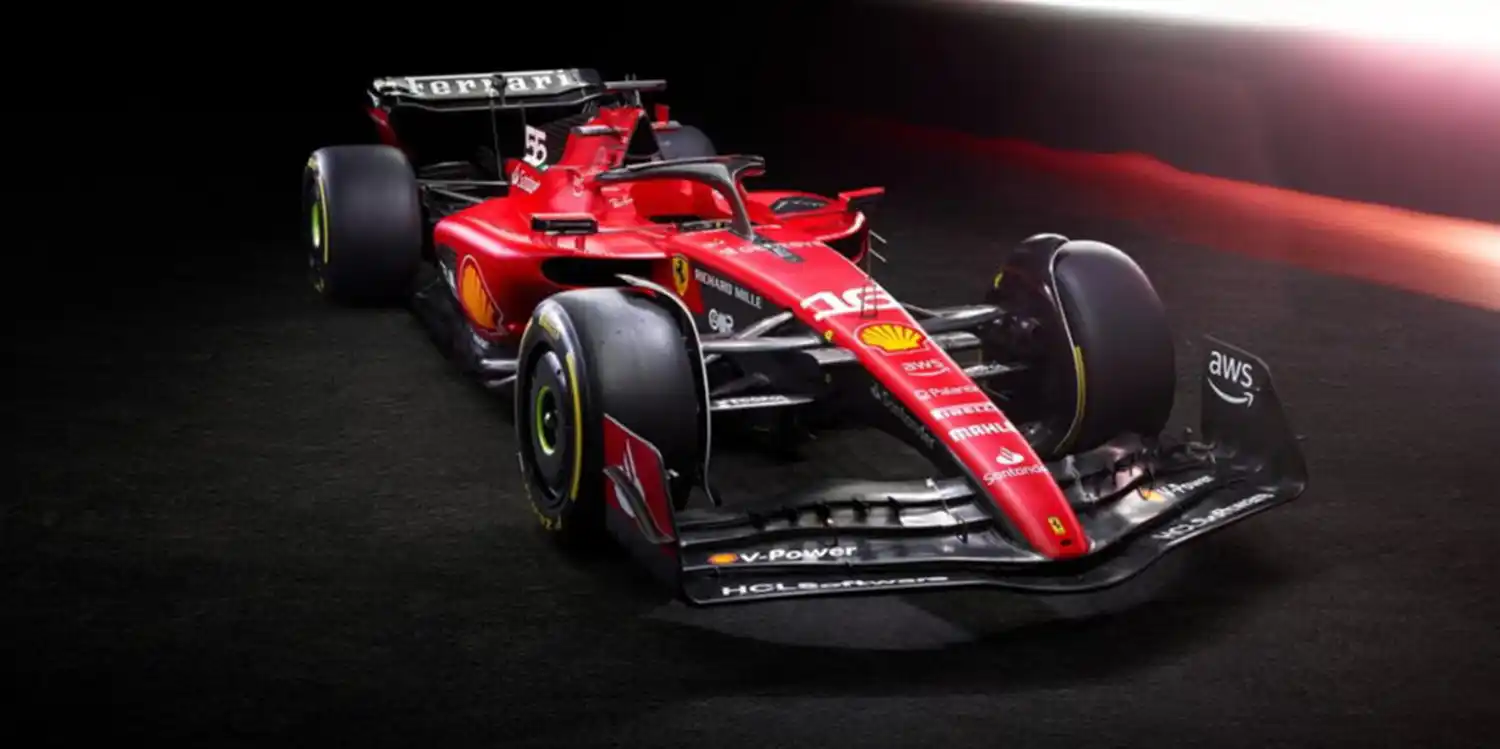 Charles Leclerc #16
"Our whole team has put a lot of work into this new car and seeing it in front of us for the first time just feels amazing. It means that the start of the season is very close, which is always an exciting moment.
It felt great to drive it here at Fiorano today, sharing the experience with our tifosi and partners. We still have to wait for the first real laps at testing to make any real assessments though.
Our target for the season will be to do even better than last season, bring home more victories and be more consistent. The biggest goal will be to win both championships and we will do everything to achieve this."
Carlos Sainz #55
"Having the chance to unveil the car in front of our tifosi has been great as this is my first launch event in front of an audience since I joined the Scuderia. I would like to thank everyone who has joined us on such a special day, both here and online around the world.
This car is the result of the passion and hard work of everyone in the team during the past months and it certainly looks like another step forward. Our goal cannot be other than to keep pushing forward and trying to bring home more race wins, being competitive and fighting for the World Championships. I can't wait to hit the track in Bahrain and get this new season going!"
Frédéric Vasseur, Team Principal
"Over the past five weeks, I have had the chance to get to know many members of our team. We have a great group of people here and it is clear that motivation is high throughout the team.
Today we launch our 2023 contender together with our partners and tifosi, and I am very pleased with how the car looks. I love the red colour and the 'Effe Lunga' that spans across the rear wing, reminding us of our heritage. Our focus will soon shift to another aspect, which is its speed and performance. We have two talented drivers who are both eager to win and have the skills needed to achieve this.
Our objective is to win the championship, which will not be an easy task as our competitors will have exactly the same target in mind. We have to bring the right mindset with us and always work on being better tomorrow than we are today."
Enrico Cardile, Head of Chassis Area
"Our 2023 car is an evolution of the one we raced last year, but in reality, it has been completely redesigned. On the aerodynamic side, we increased vertical downforce, to adapt further to the new aero regulations and achieve the desired balance characteristics. The suspension has also been redesigned, to support aerodynamics and increase the range of adjustments that can be made to the car at the track.
The most obvious changes are in the area of the front suspension where we have moved to a low track rod. The front wing is also different, as is the construction of the nose, while the bodywork is a more extreme version of what we saw last season."
Enrico Gualtieri, Head of Power Unit Area
"Preparation work for the new season is usually one of the busiest times of the year and this winter was no exception. PUs have been frozen since last year, including fluids, oil and fuel and the only modifications allowed are those related to reliability, which was our Achilles Heel last season.
We focused on the internal combustion engine and the electric motors. At the same time, we tried to capitalise on the experience gained on track last season and looked at all the feedback and signs of weakness from the PU components we used. We also revised our assembly procedures.
We tried to understand the root causes of the problems we encountered on track and used all our available tools to try and solve them. It involved all areas, from design to experimentation to try and test new solutions in a very short space of time. The work never ends, based on continuous improvement of the components to try and reach the required level of reliability."