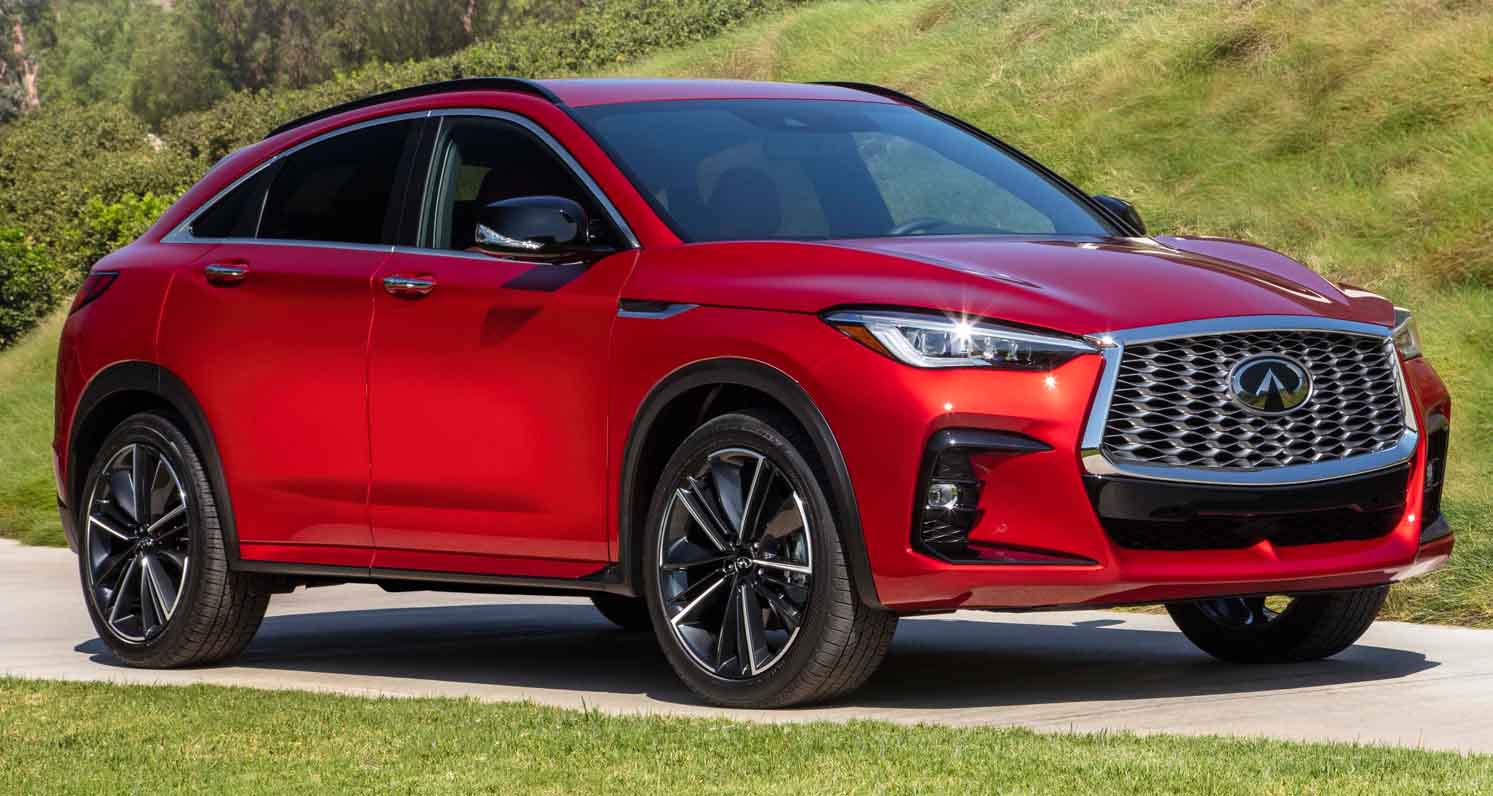 Infiniti QX55 made its dramatic debut as the newest face in the automaker's compelling and capable cast. The QX55 takes the award-winning and innovative Variable Compression Turbo powertrain and launches into an exclusive design direction for luxury SUV buyers. The Infiniti QX55's racy roofline and silhouette draw deeply from the automaker's heritage with the Infiniti FX, which was also a design-focused SUV that attracted buyers who wanted expressive vehicles that didn't sacrifice luxury for looks. The QX55 follows that same spirit, updated for a new generation of discerning, tech-savvy buyers.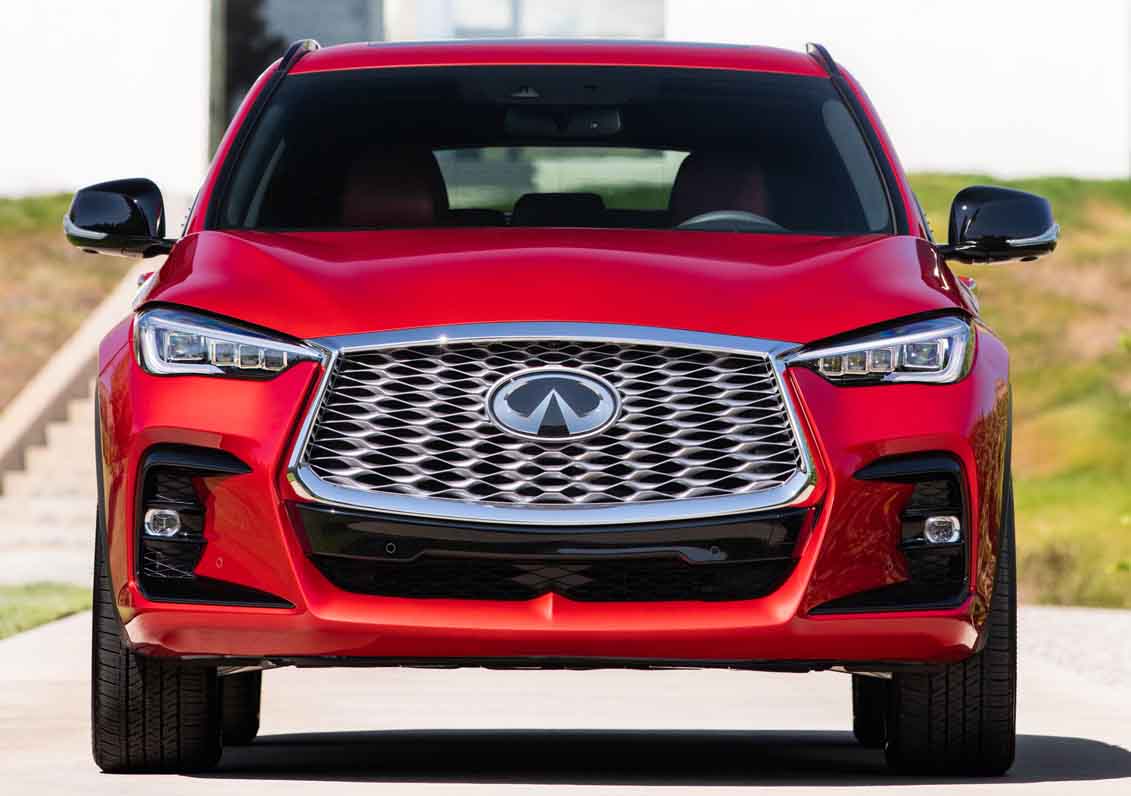 "We set the stage nearly 20 years ago with the FX, and the all-new Infiniti QX55 brings us back, close to the soul of our brand – and it propels us forward," said Infiniti Chairman Peyman Kargar. "The inspired QX55 is an important step in our journey."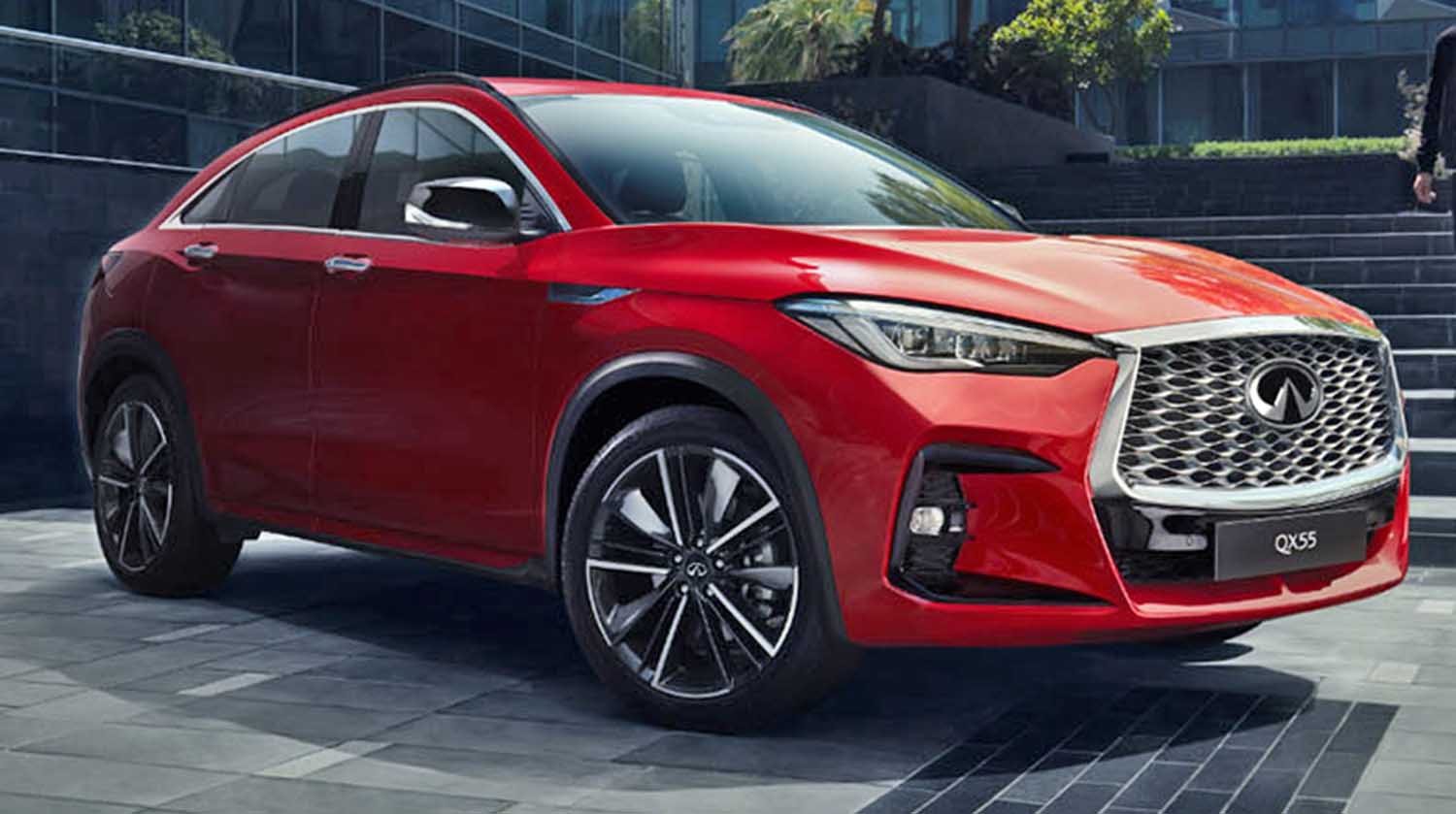 The new Infiniti QX55 pairs unapologetic style with inspired dynamics, a spacious, decadent cabin, and connectivity for owners. Infiniti's new star performer will be offered to customers in the U.S., Canada, the Middle East, Russia and select markets in Asia.
For customers in the U.S. and Canada, the QX55 is equipped with Infiniti's Intelligent All-Wheel-Drive system as standard on all grades, wireless Apple CarPlay compatibility, dual touch screens for infotainment and vehicle controls, sliding second-row seats, and a larger cargo area than other similarly styled, premium coupe SUVs. An available Head-Up Display and Infiniti's advanced ProPILOT Assist can support the QX55's driver with leading convenience features. The SUV is already at the leading edge of style – it's also the only premium SUV coupe available from a Japanese luxury automaker.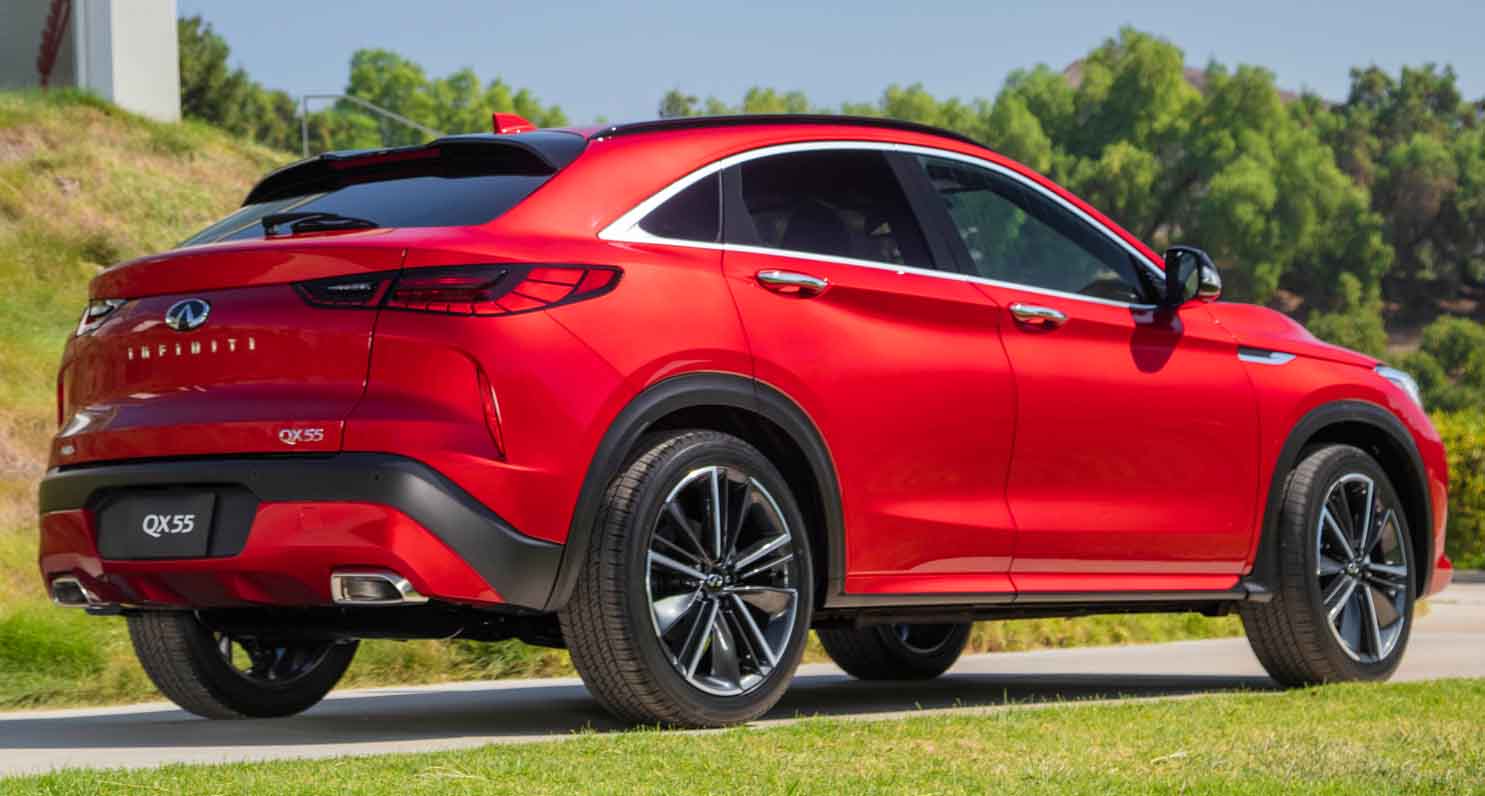 The Infiniti QX55 is a provocative presence for not only drivers but also Infiniti: it's yet another statement-maker for the brand and complements the range of dramatic vehicles in the automaker's lineup. With the growing appeal of design-focused SUVs like the QX55, Infiniti is in the driver's seat with new luxury-car buyers.
"The looks and feel of the QX55 are what stand out, from nose to tail. We designed an SUV for buyers with discerning tastes; this doesn't sacrifice substance in the name of style," said Eric Rigaux, general manager of product planning for Infiniti.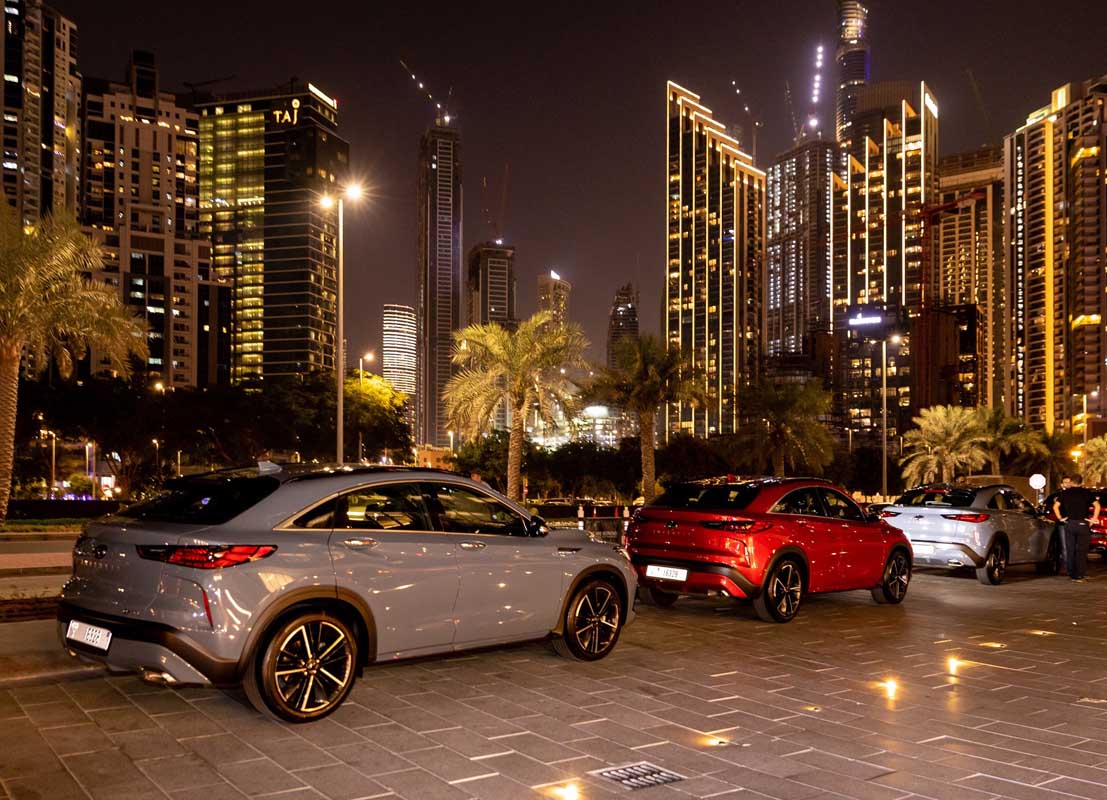 At its heart, the Infiniti QX55 is a rolling showcase of Infiniti's bold design and its desire to offer brave, unconventional vehicles. The QX55's unapologetic shape and decadent interior are rivaled only by its immersive cockpit that coddles passengers and engages drivers.
Globally, the all-new QX55 will be offered in up to three comprehensively specified grade levels, LUXE, ESSENTIAL, and SENSORY, and will arrive at dealerships in the lead markets, the U.S. and Canada, beginning in spring 2021 with other major markets to follow.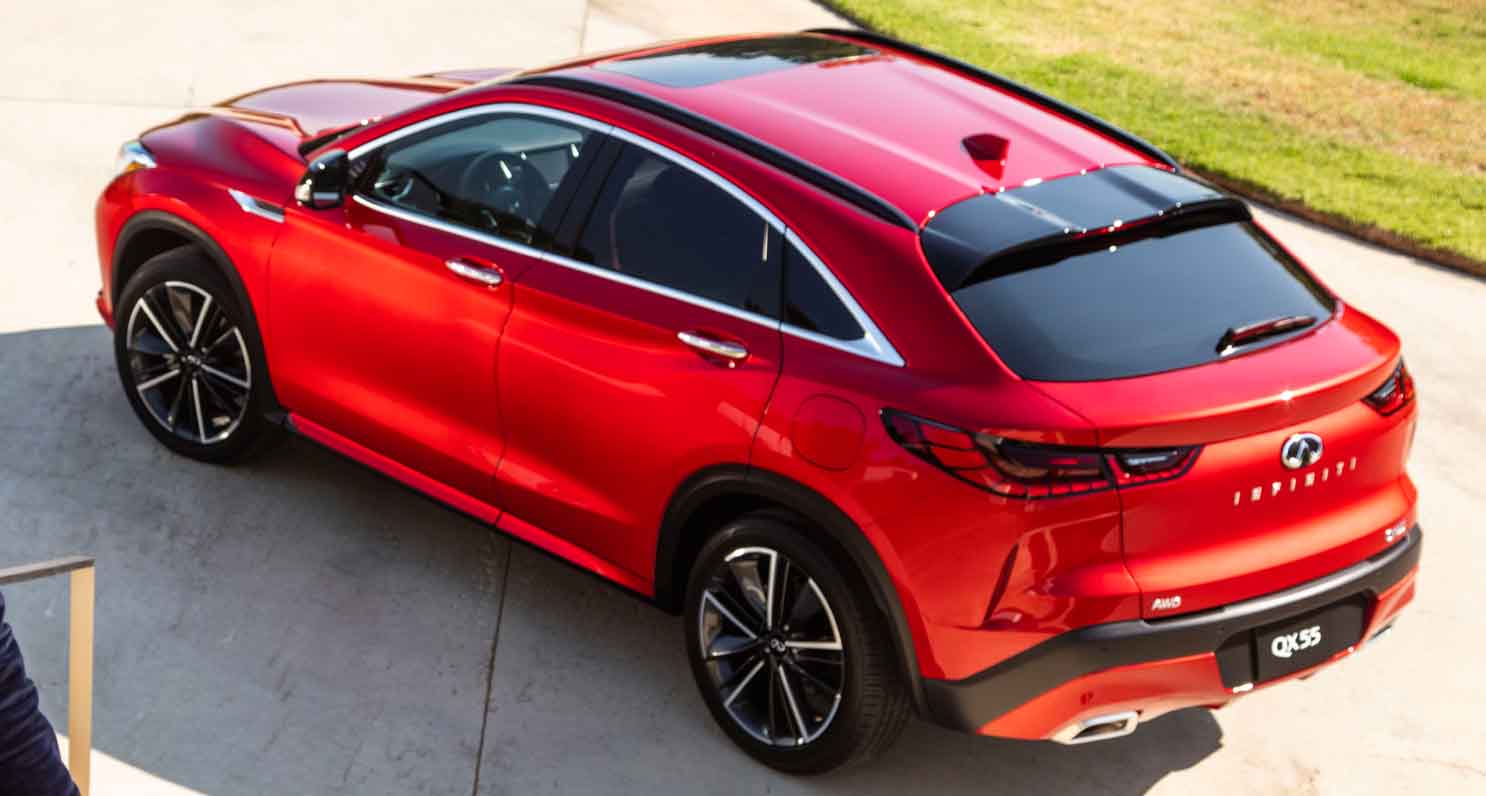 Daring design, provocative shape
The Infiniti QX55's story begins with design. The all-new QX55 SUV connects the brand to its heritage with a modern interpretation of the stunning silhouette created by the Infiniti FX, first on sale in 2003. The QX55 is the latest in a line of Infiniti vehicles that have pushed the envelope of design among Japanese luxury automakers. Its roofline recalls a familiar shape, but its origami-inspired mesh grille design looks ahead to the future.
"Recalling the past while looking toward the future is what inspired us to create the new Infiniti QX55," said Senior Vice President of Global Design Alfonso Albaisa. "Some SUVs try to deliver something to every buyer; we wanted to deliver a QX55 that can be everything to really passionate buyers."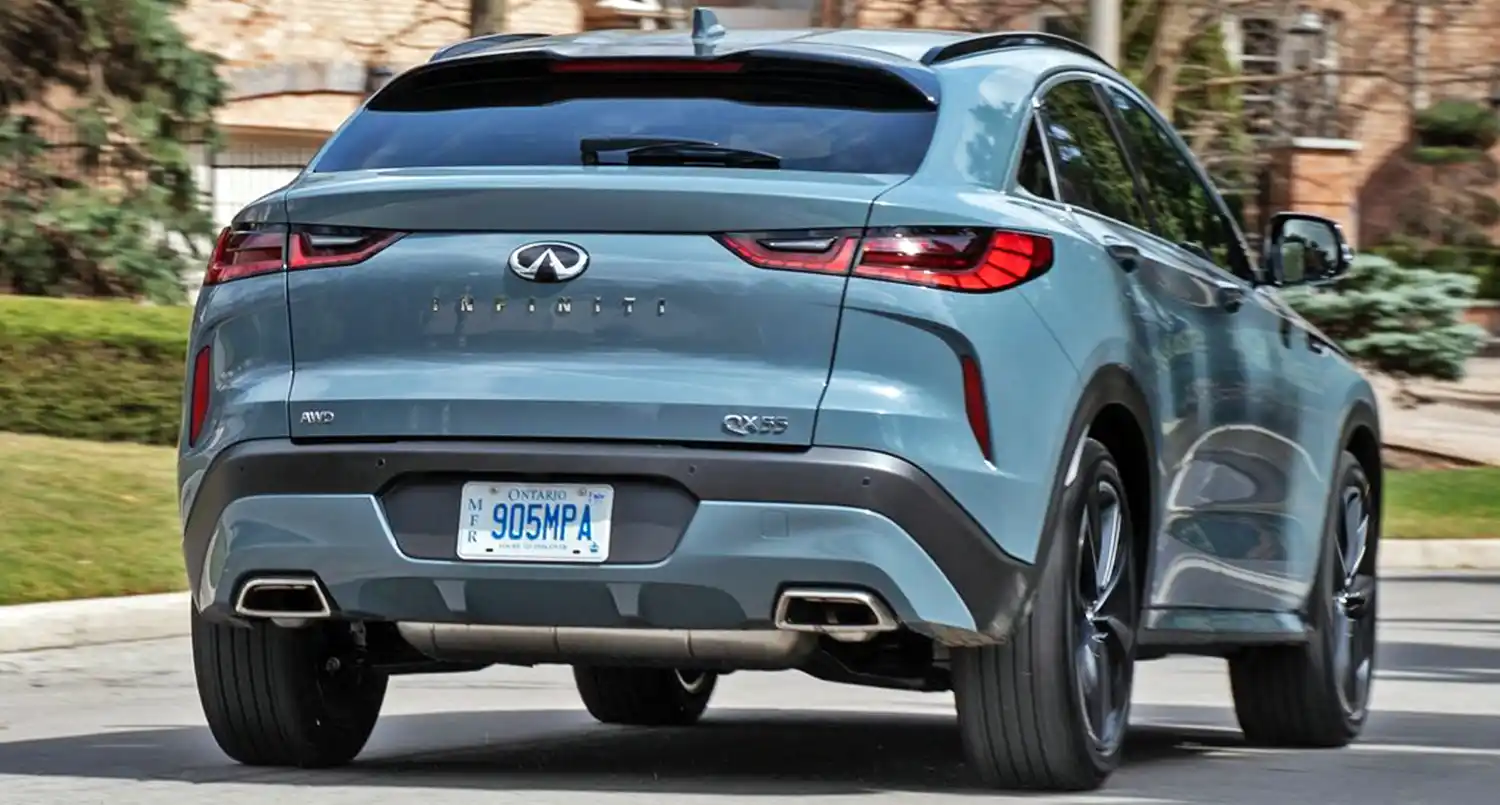 Other automakers have since followed after the FX, but the SUV coupe roofline reimagined for the QX55 delivers a compelling presence that's unmistakable. Punctuated by slimline roof rails, an elegant rear spoiler, the QX55's roofline reads like an homage to the FX, updated for a new decade. Like its spiritual predecessor, the QX55's roofline isn't forced; it curves organically toward the tail boldly but also gracefully.
At the front, the Infiniti QX55's double-arch grille is prominent and unique and announces the vehicle's arrival. Its depth of geometric inner mesh was inspired by the folds of Japanese origami – where a 2D material is folded to create depth – and asserts the vehicle's confident and provocative look. The pronounced grille is flanked by Infiniti's signature human-eye headlights that are as intense as they are alluring. The unique shape mimics an eyebrow, and standard LED headlights on the QX55 project greater detail with its brilliant light, compared to halogen or xenon headlights.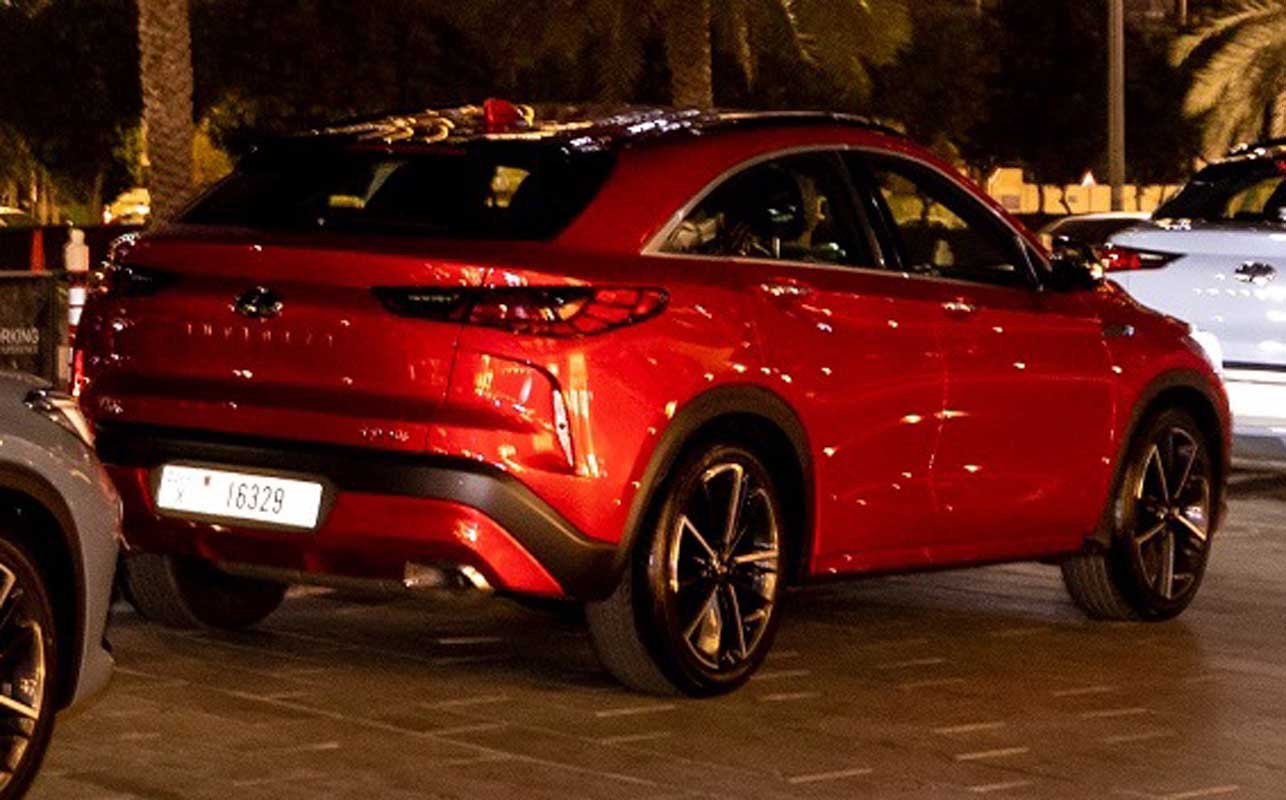 The fog lights are surrounded by angular gloss black accents, deeply set into the front fascia that bracket the lower half of the QX55's face. Above, a clamshell hood moves the shunt lines to the front fenders, where they are incorporated into the bodysides in an elegant character line that stretches to the rear haunches. The hood visually integrates with the A-pillar thanks to a clever four-link hinge, which gives the QX55 dynamic proportions in profile.
The Infiniti QX55's visual weight is situated low on the vehicle for an assertive and planted look. That appearance is partly due to its standard 20-inch wheels on all models and deeply sculpted body sides that visually connect to the road underneath. The QX55's D-pillars make a statement in relative silence: The fast angle connecting the daring roofline to the pronounced rear fenders is stylish but understated – the chrome framing the QX55's greenhouse pinches toward the SUV's expressive rear taillight signature.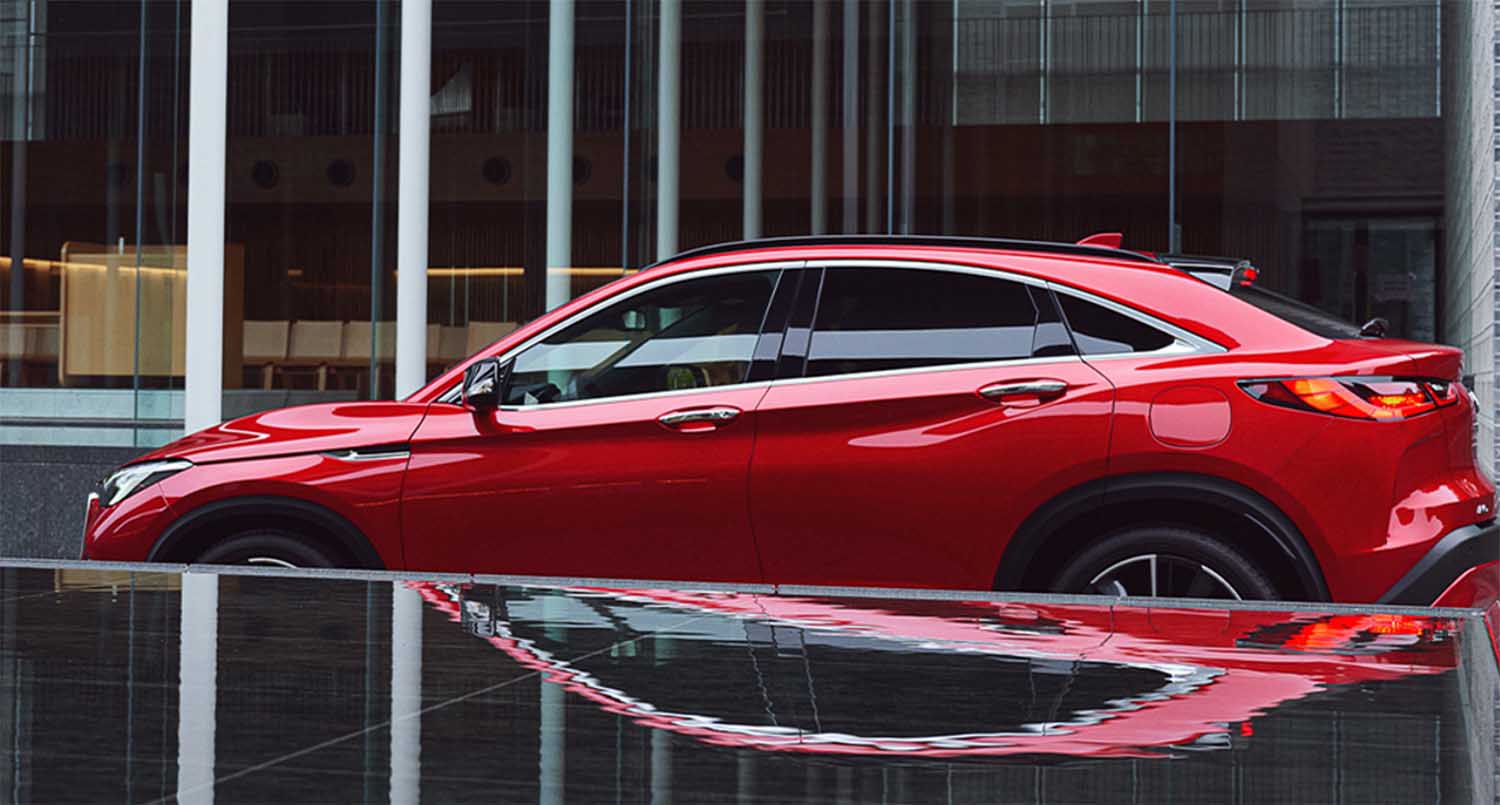 "Digital piano key" taillights – which also adorn the recently unveiled, stunning QX60 Monograph design study – have visual depth thanks to an intricate inner housing that incorporates 45 individual LEDs in each taillight. The piano key taillights are distinctive from every angle and frame a graceful light signature that's unique and unforgettable in the dark.
The rear of the QX55 embraces a minimalist approach. The liftgate is clean, with an "Infiniti" badge spanning the center of the gate that's free from a large, deep, and intrusive stamping for license plates. The Infiniti badge is dual-purpose: Not only is it a beacon for the road ahead, but also it houses the power liftgate release, which is standard on all QX55 models. QX55 SENSORY models get an added motion-activated liftgate, convenient when hands are full, activated by waving a foot underneath the rear bumper.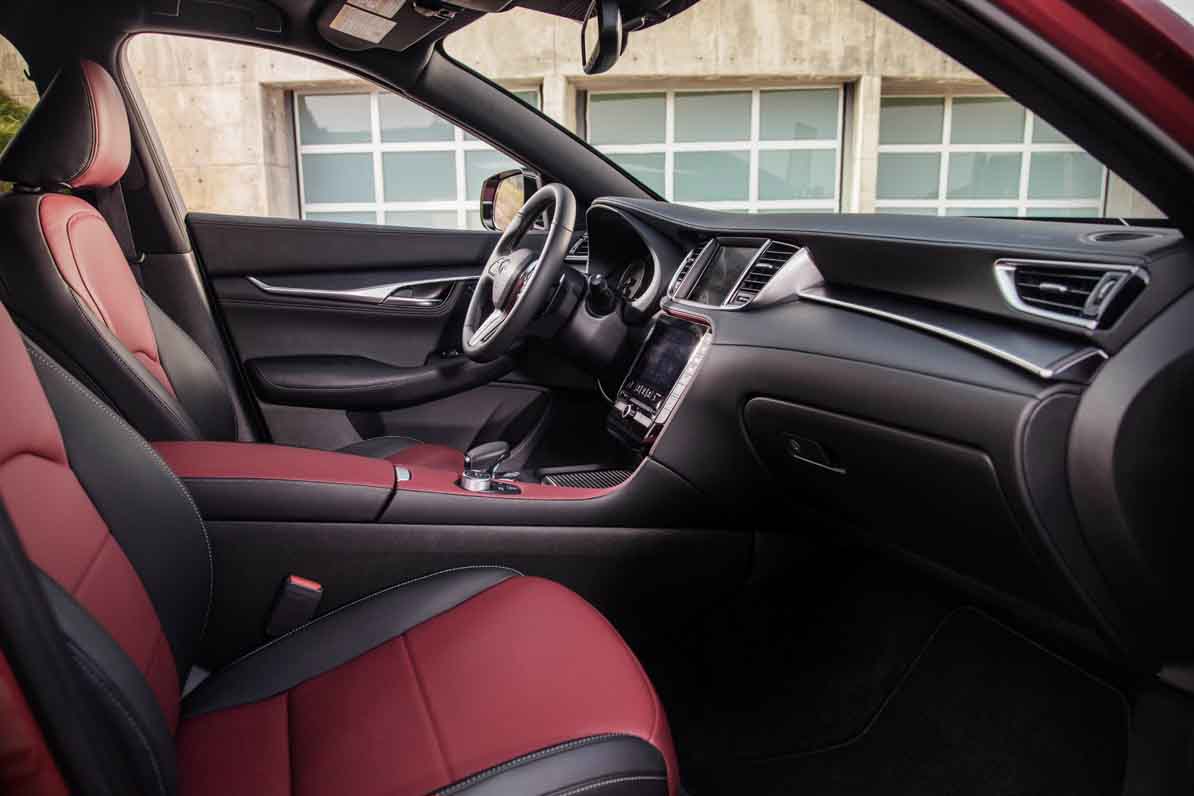 The lower rear fascia is body-colored, and dual exhaust diffusers draw more eyes and accentuate the athletic mission of the QX55.
The Infiniti QX55 is available in eight expressive exterior shades: Two standout hues, Dynamic Sunstone Red and Slate Gray, are available along with Majestic White, Liquid Platinum, Graphite Shadow, Mineral Black, Black Obsidian, and Hermosa Blue.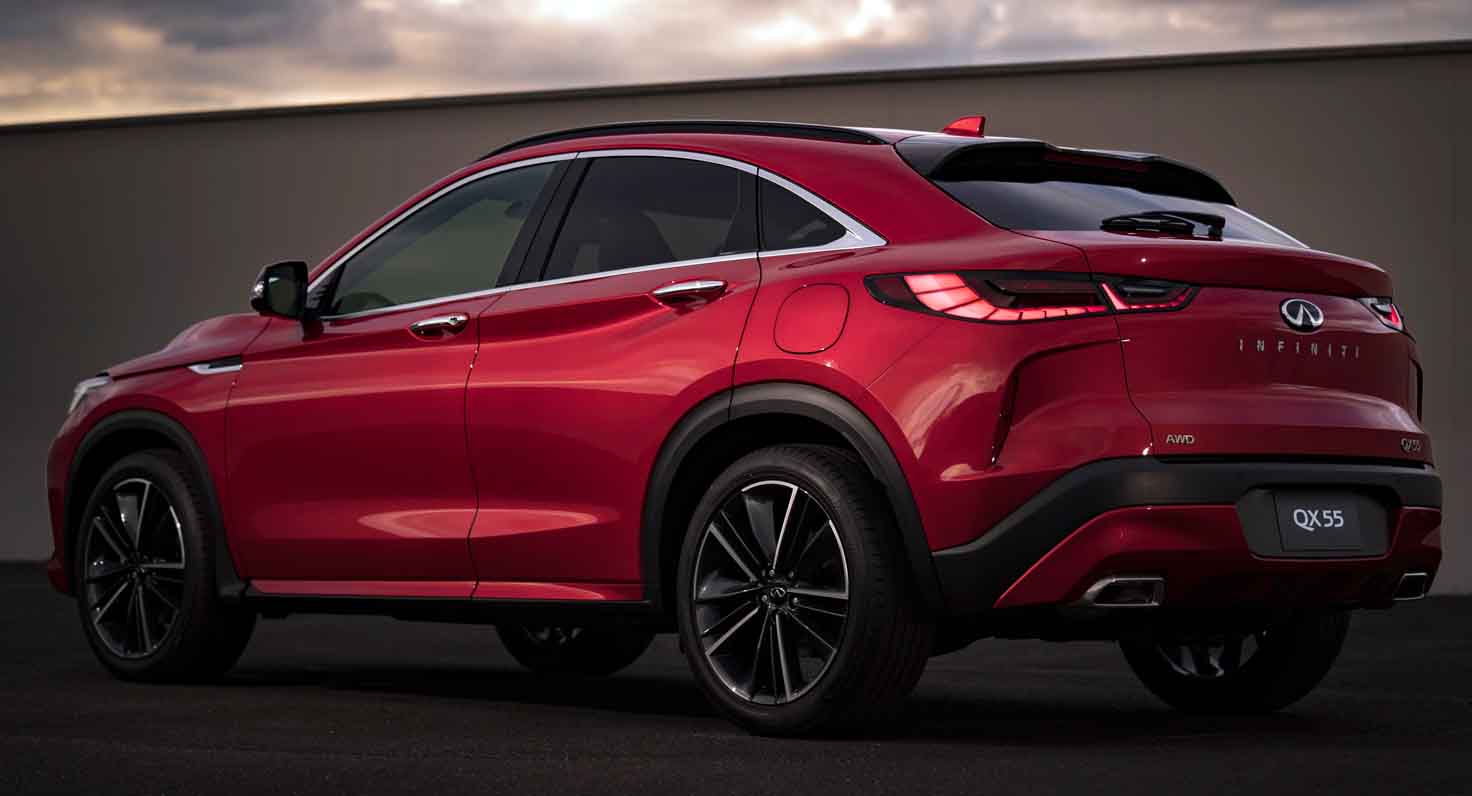 Carefully crafted, calm and inspired interior
Complimenting a bold exterior was always going to be hard to do. The Infiniti QX55 rewards drivers and their passengers with a captivating and connected driver-centric interior.
The wide stage afforded by a low dash gives the driver and passengers excellent outward vision, and the standard power sliding tinted glass moonroof bathes the decadent, tailored interior in natural light. Owners can select an interior color combination that complements their style with up to three available color combinations: Graphite, Stone/Graphite, and the stunning Monaco Red/Graphite. Leatherette interior upholstery is standard in the QX55 LUXE, and all grades are equipped with heated, ergonomically designed, "zero gravity" front seats that help reduce physical fatigue by minimizing pressure on the back and hips of occupants. Assembled with precise stitching, the leatherette, leather, or premium semi-aniline leather appointments give a tailored appearance to the interior with a crafted feel and add to the luxurious cabin, regardless of grade.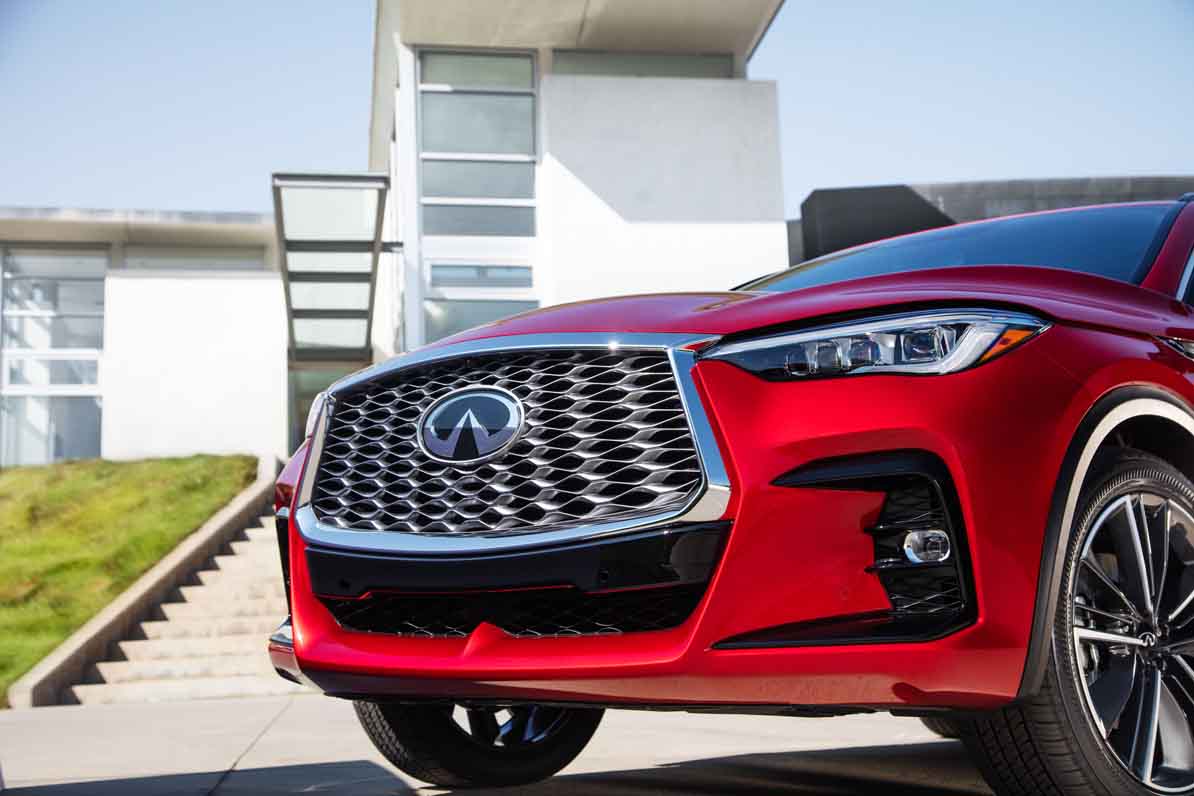 On Infiniti QX55 LUXE and ESSENTIAL grades, dark brushed aluminum trim fans out along the instrument panel and doors, which provides a richly textured surface for driver and passenger. On QX55 SENSORY grades, rich black Natural Maple open-pore wood trim flows through the cabin with finely grained, natural tones that, when paired with the Monaco Red/Graphite semi-aniline leather-appointed seats, seamlessly marry expressive and organic themes.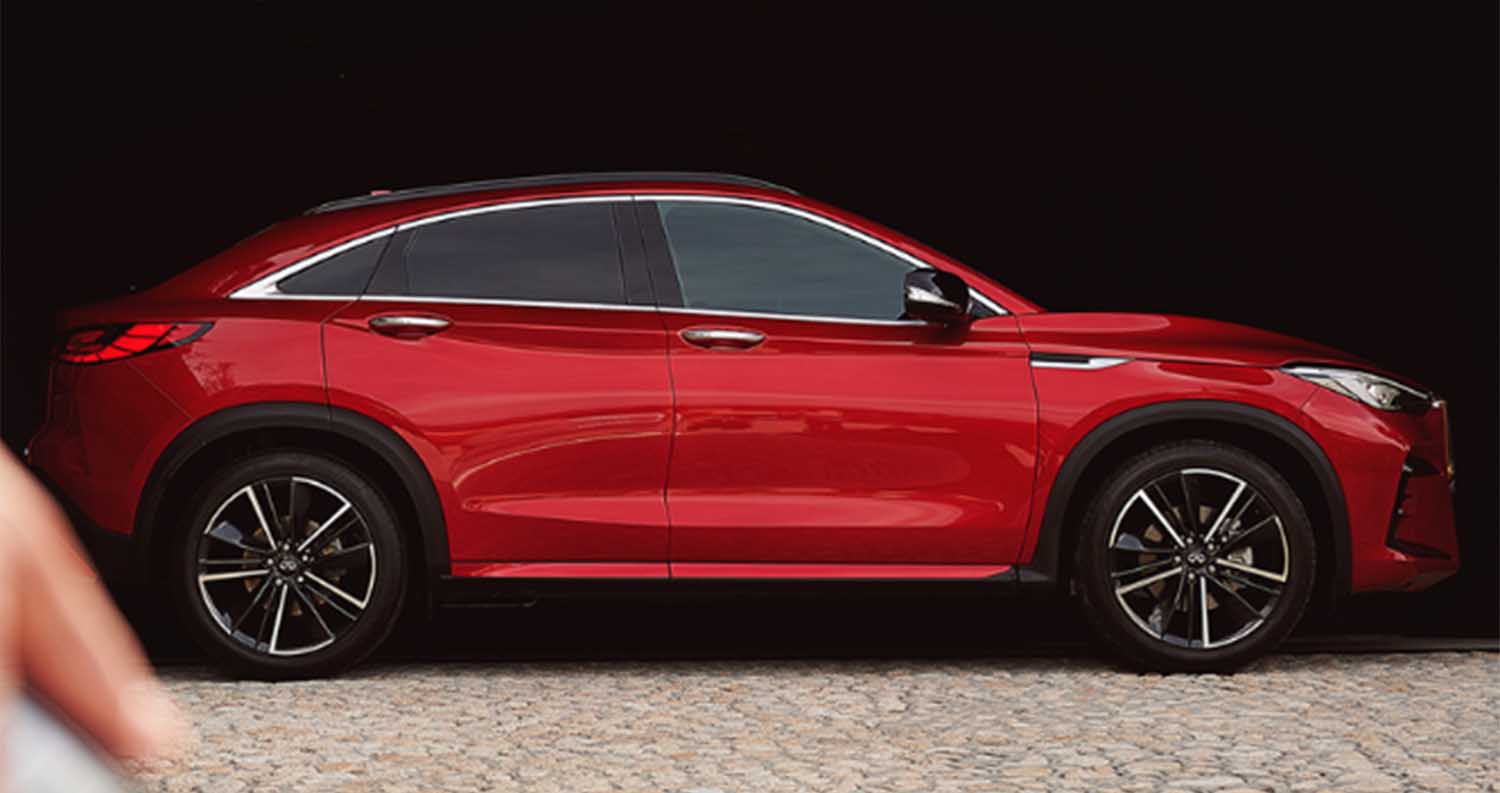 The QX55 also minimizes outside distraction with laminated front side glass and Active Noise Cancellation (ANC), while Active Sound Enhancement (ASE) provides an engaging note for the driver. With ANC, three microphones inside the cabin detect unwanted frequencies and neutralize those with phase-shifting noises transmitted through speakers within the car. Combined with a low vibration body and advanced construction techniques, the QX55 never speaks out of turn.
That is unless you want it to. With ASE and Drive Mode Selector, the QX55 bristles with confidence thanks to a signature engine note transmitted through the cabin using the audio system. When in Sport mode, the QX55 engages its driver with a more pronounced engine note to complement its daring body.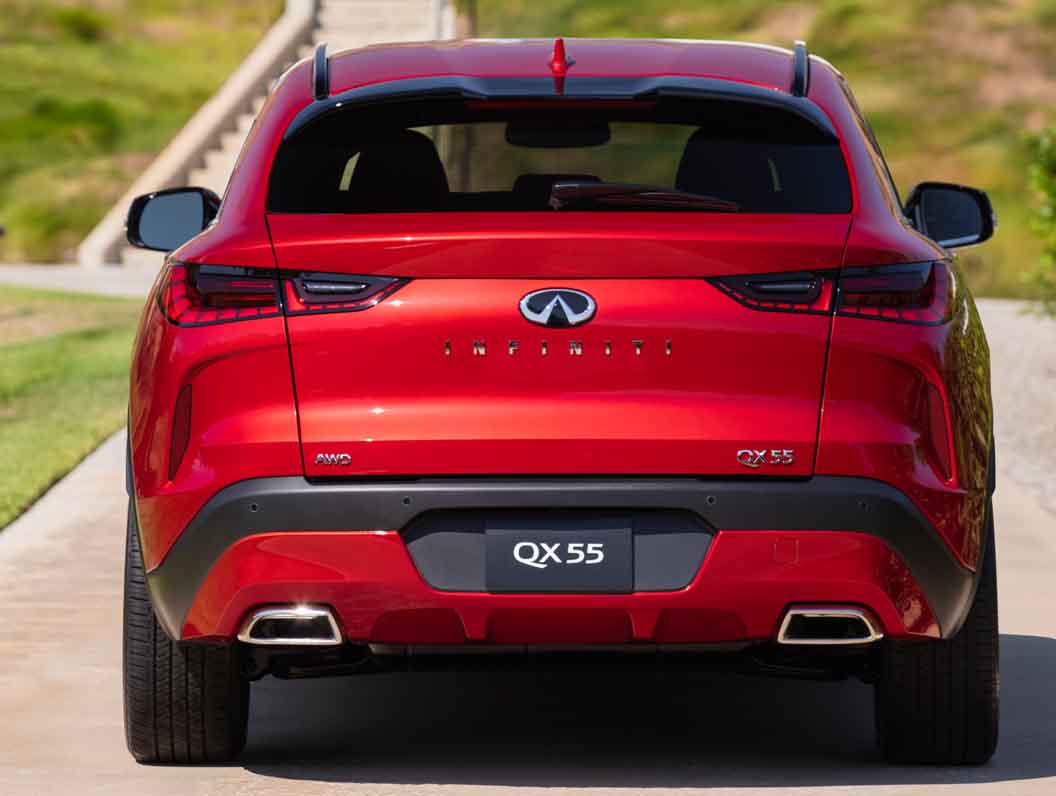 Underneath the Infiniti QX55's provocative shape, its cabin-forward layout maximizes interior room for the driver and up to four passengers. The QX55 carries up to 26.9 cubic feet of cargo behind the second row, which is more than similarly styled coupe offerings from rivals such as BMW and Mercedes-Benz. The QX55 also boasts up to 38.7 inches of rear-seat legroom – tops among similar competitors – and its sliding second-row seat that travels nearly six inches fore and aft maximizes cargo or passenger space, depending on need. These elements combine to provide an interior that can be almost instantly configured to support owners' busy lifestyles.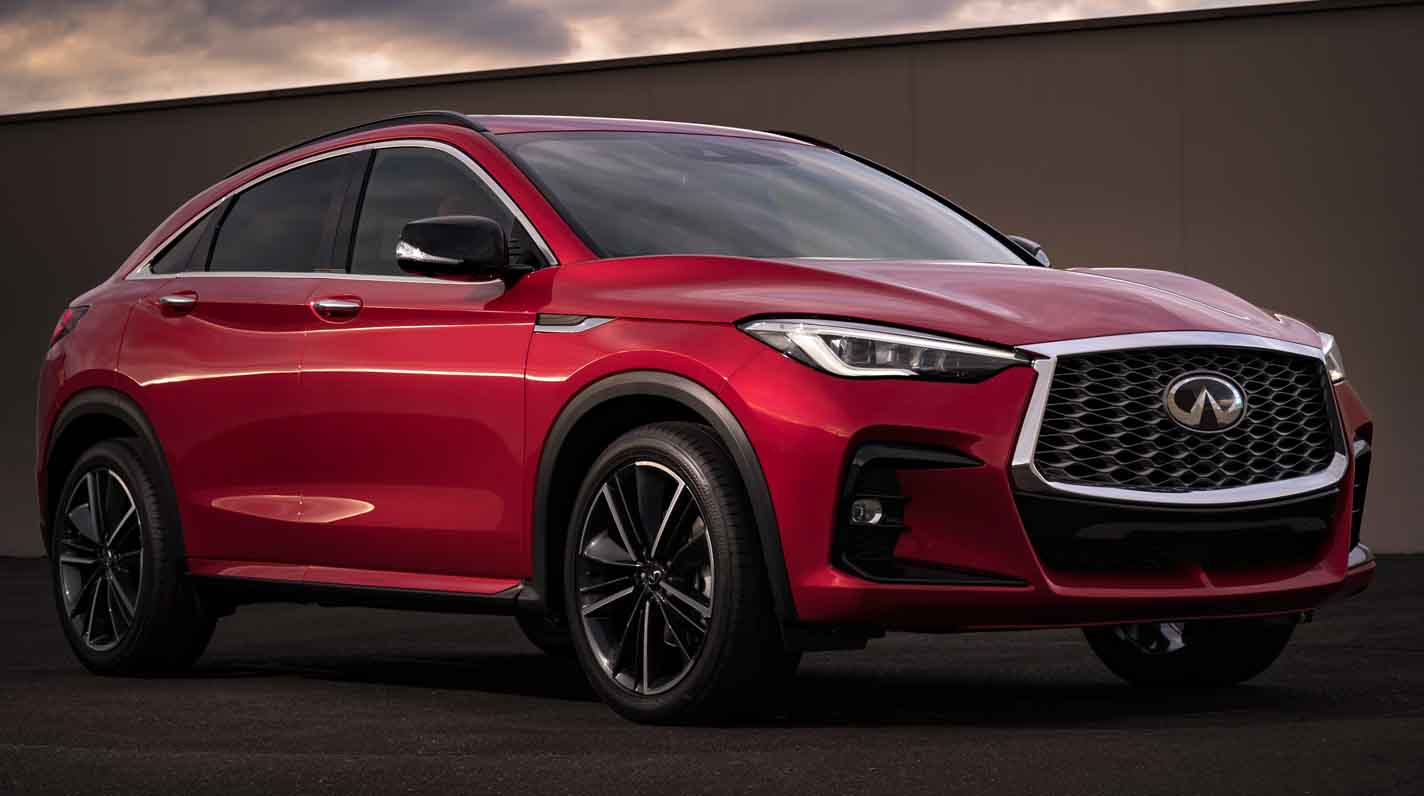 Tech to engage and inform
The connected cabin of the QX55 sets the stage for drivers and passengers – figuratively and literally.
"The only thing that could upstage the QX55's looks is its technology," Rigaux said. "The carefully crafted interior and connectivity complement each other. We aimed for an immersive experience for every sense, with the convenience and quality luxury buyers expect."
Every Infiniti QX55 is equipped with dual, high-resolution touch screens for infotainment and vehicle controls, and the QX55 is the first Infiniti vehicle to offer the convenience of wireless Apple CarPlay connectivity to stay informed and entertained while on the road. Android Auto users aren't left out either; the infotainment system can connect directly to compatible smartphones to deliver music and information through an easily accessible USB port. The QX55 cabin features four USB ports (one Type-C and three Type-A ports) to provide convenient charging options.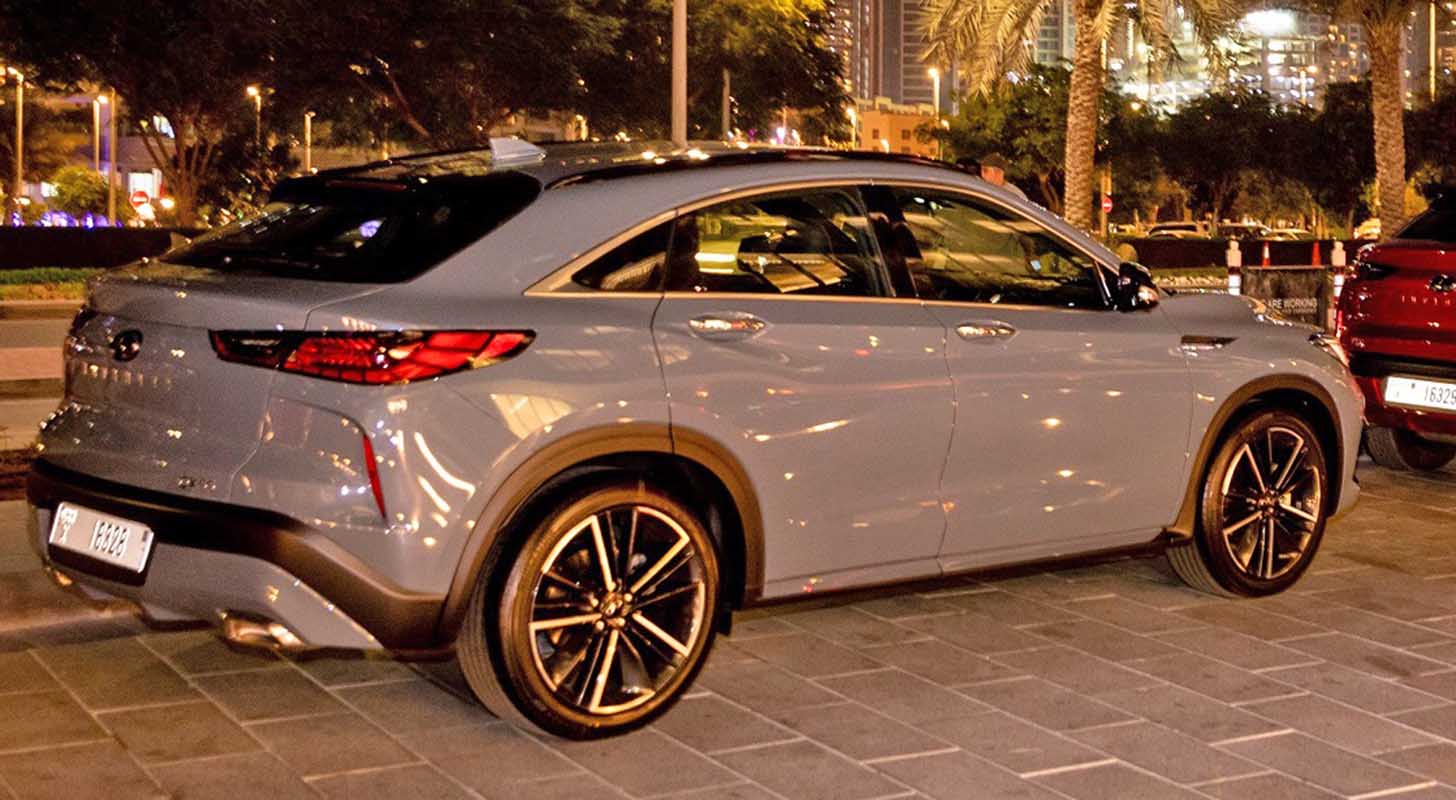 Up to 16 speakers are available in the QX55 thanks to Bose™ Performance Series audio, which replicates sharp, high frequencies and low, resonant bass notes – and nearly every note in between – via custom-engineered tweeters, woofers, and other speakers placed inside the cabin. Bose's Advanced Staging Technology produces a wide sound stage inside the QX55 and faithfully replicates notes clearly for optimum sound quality. Bose's Centerpoint 2 technology automatically converts two-channel stereo sound into a virtual surround sound listening experience via advanced digital signal processing. The result? A personal concert experience wherever the QX55 travels. The Bose™ Performance Series sound system is standard on QX55 ESSENTIAL and SENSORY grades.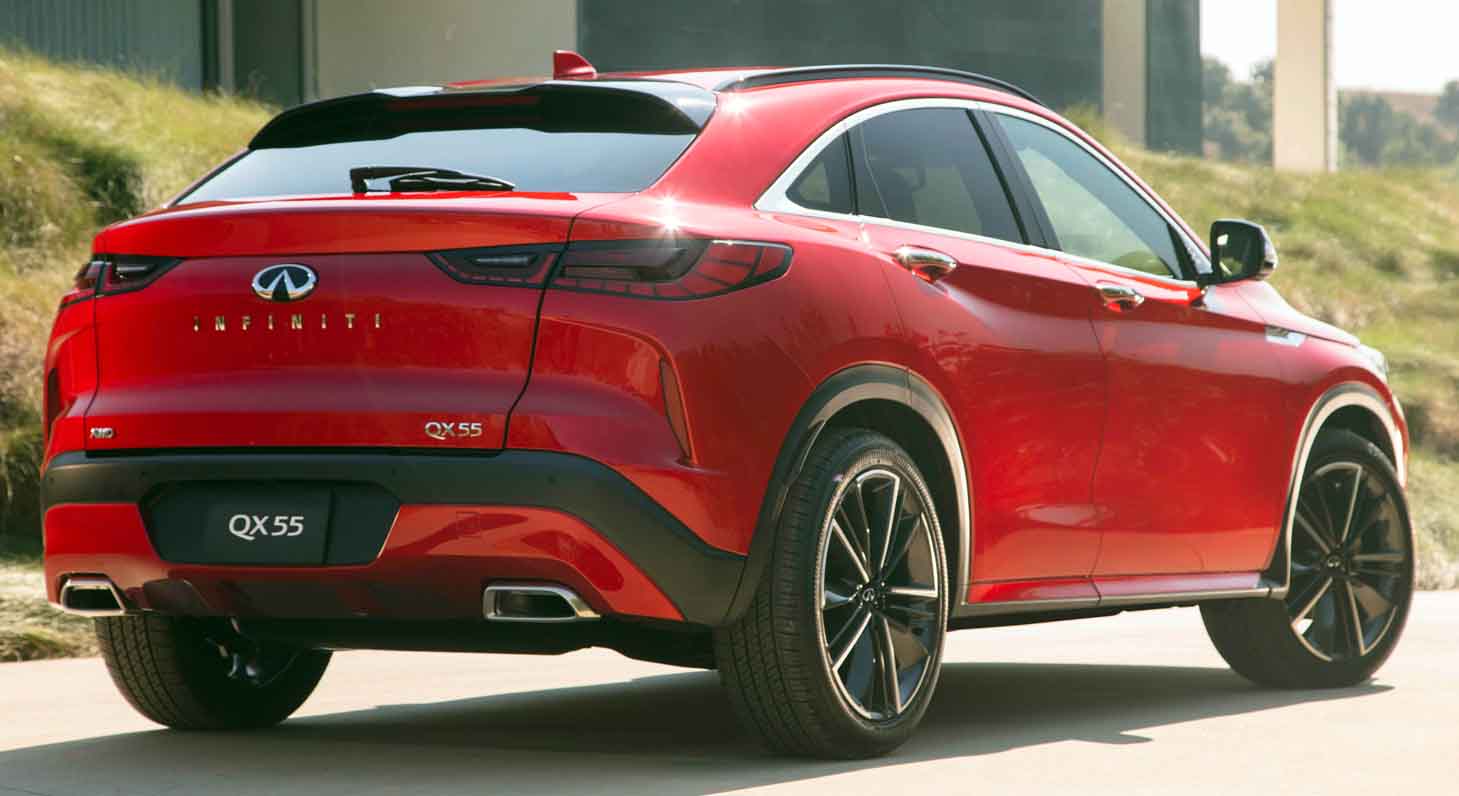 Every Infiniti QX55 features the latest Infiniti InTouch™ System that responds quickly to inputs and connects almost effortlessly to smartphones via Bluetooth. System and map data can also be updated over-the-air, which keeps the QX55 ready to travel virtually anywhere.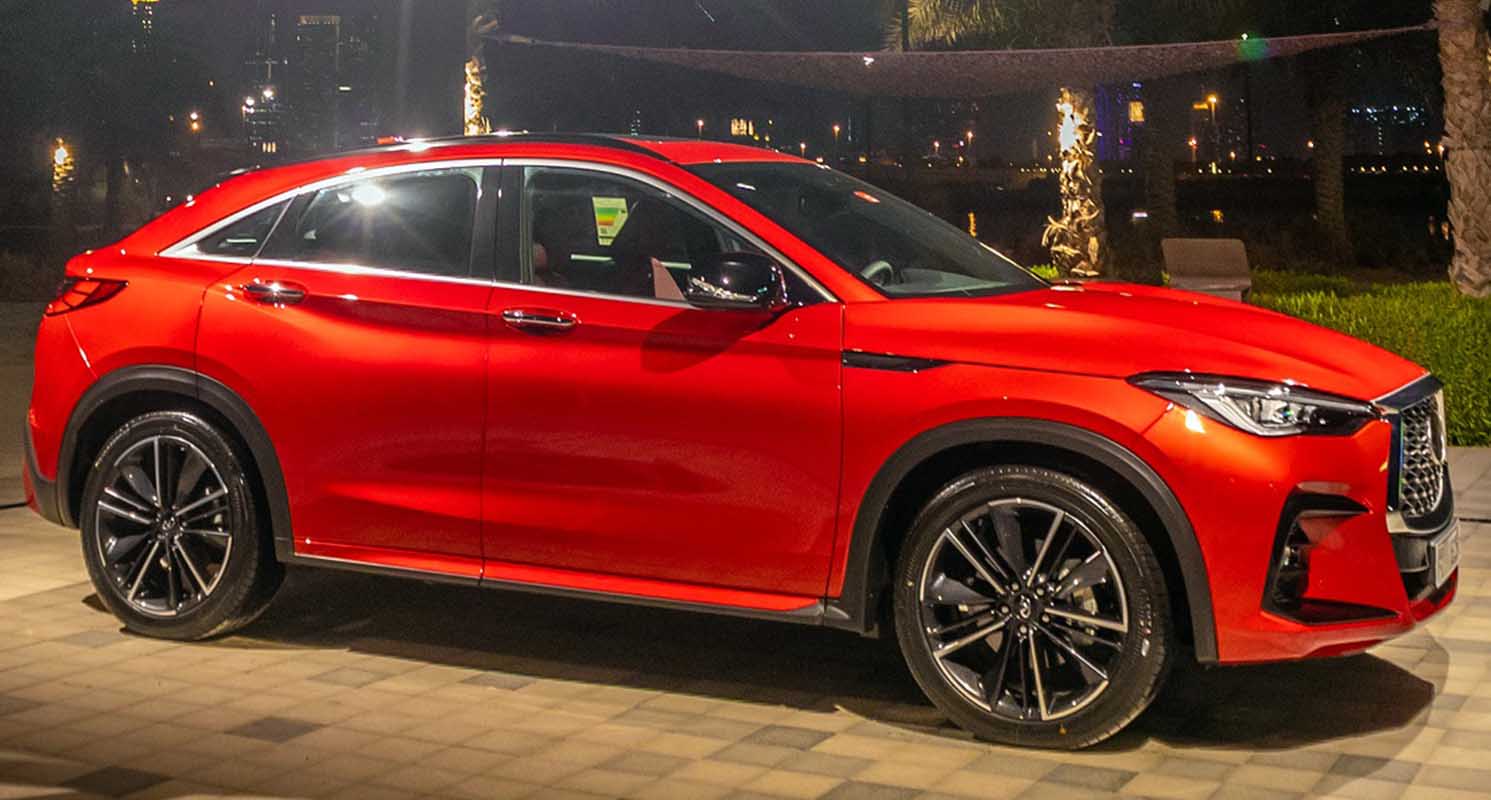 The world is just a few taps away, too. Like other Infiniti vehicles, the QX55 is equipped with a fast, 4G LTE compatible connection for on-the-go Wi-Fi hotspot capability to support up to seven devices.
For the driver, Infiniti's advanced assistance systems can support and inform when needed. The QX55 offers Infiniti's advanced ProPILOT Assist driver-assistance system to help steer, brake, center the vehicle in its lane, and accelerate in certain conditions to help reduce driver fatigue and enhance comfort. ProPILOT Assist combines Intelligent Cruise Control with Full-Speed Range and Hold with Steering Assist to deliver a more comfortable ride in stop-and-go traffic or long-distance highway drives. Unlike similar systems from competitors, no subscription fee is required to keep the system active.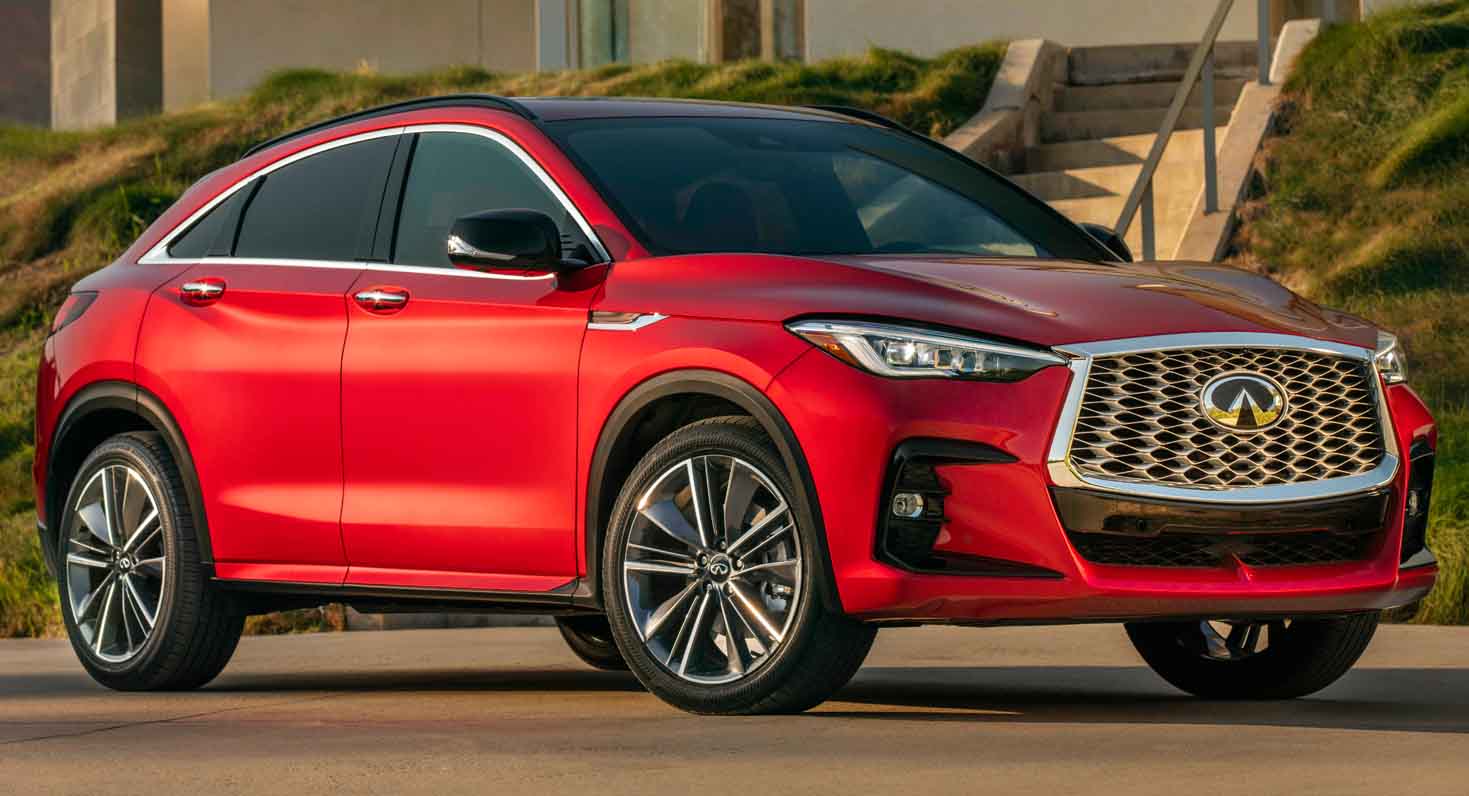 The Infiniti QX55 also features an available Head-Up Display that delivers vital information to the driver within his or her field of view, projected onto the windshield in a 9-inch area. The display shows warnings for slower vehicles or traffic ahead, including Automatic Emergency Braking information, lane guidance for navigation, Lane Departure Warning, and speed information including Traffic Sign Detection. The Head-Up Display isn't only sharp and easily readable; it also underscores Infiniti's tenet of keeping eyes toward the horizon.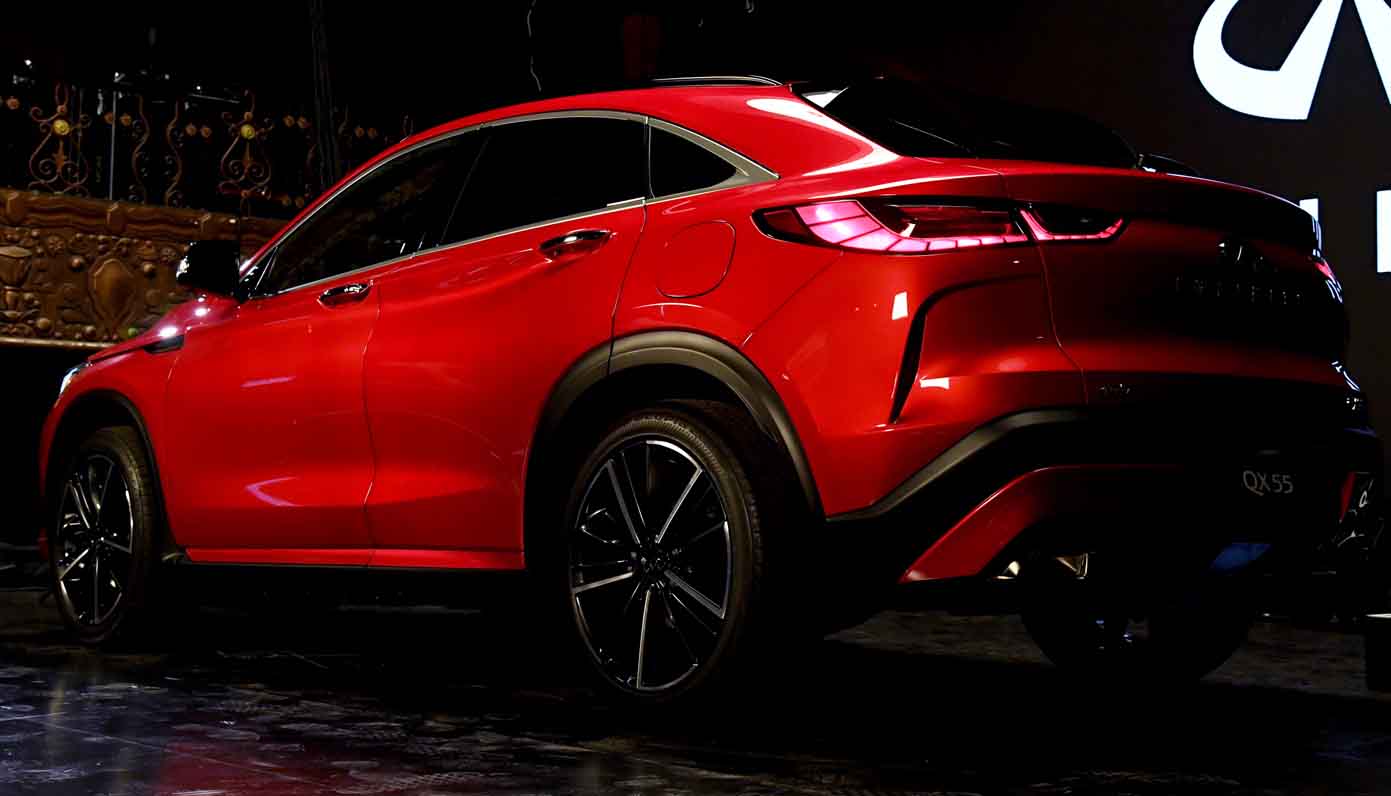 Dynamic powertrain, confident handling
Under the skin of every Infiniti QX55 is an award-winning powertrain designed to deliver precise control and response without sacrificing efficiency or capability.
The groundbreaking and world's first mass-production variable-compression 2.0-liter turbocharged four-cylinder engine powers the QX55 and produces a competitive 268 horsepower and 280 pound-feet of torque thanks to its innovative design. The VC-Turbo engine consistently varies its compression ratio between 14:1 and 8:1 to deliver high-efficiency driving or confident power low in the rev range, depending on need. The key is a patented multi-link system that can imperceptibly raise or lower the pistons' stroke during operation to suit nearly any driving situation. A turbocharger produces better fuel economy and better response compared to a naturally aspirated engine.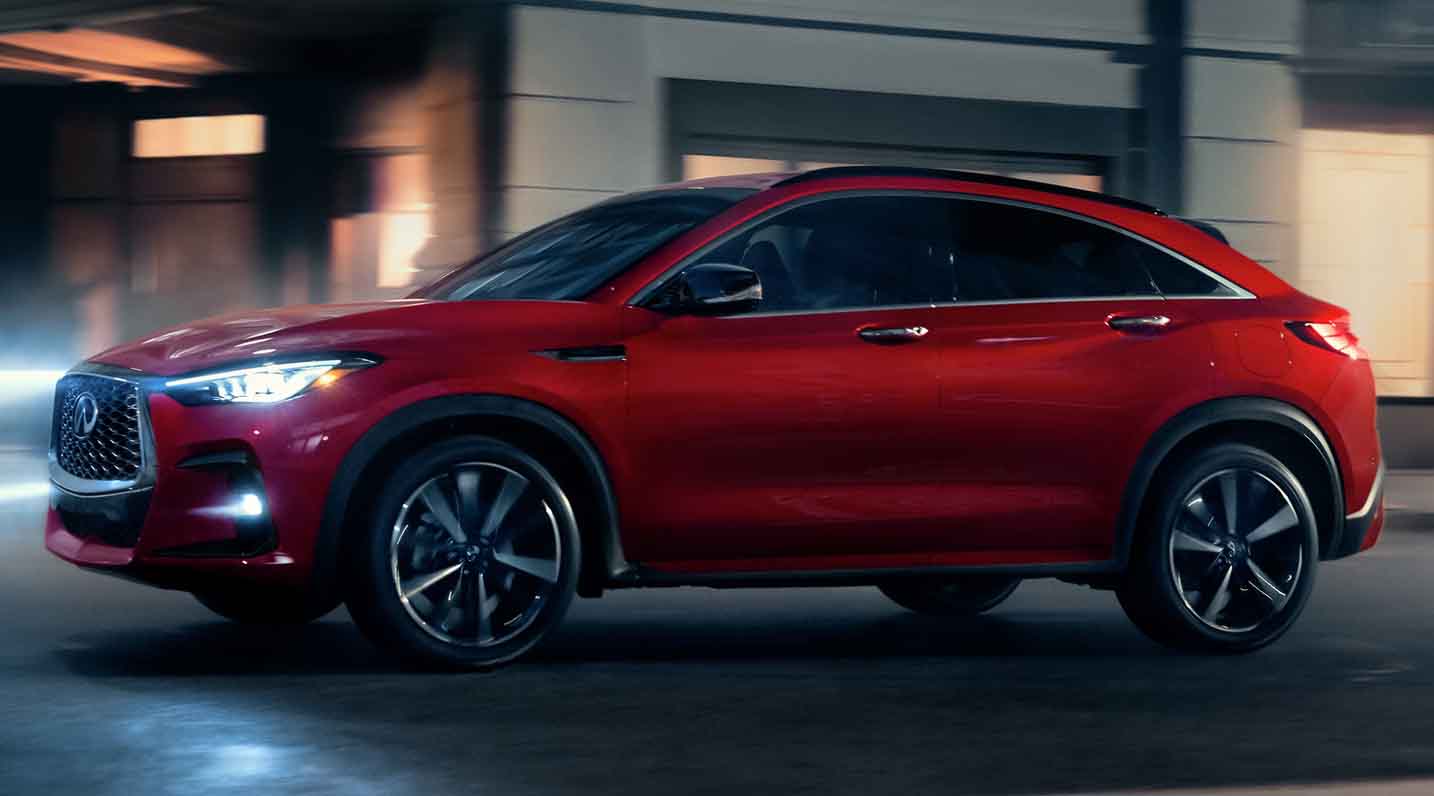 Paired to the VC-Turbo engine is a seamless Continuously Variable Transmission that features "shift-by-wire" technology, eschewing the requirement for a mechanical transmission linkage and ensuring driver inputs are transferred almost instantaneously when shifting in manual mode. In conjunction with paddle shifters and Infiniti's Drive Mode Selector, the driver is empowered with multiple drive modes to change the driveline's character, including shift points, steering force, and engine mapping. Standard, ECO, Sport, and Personal modes offer control and personalization depending on circumstances.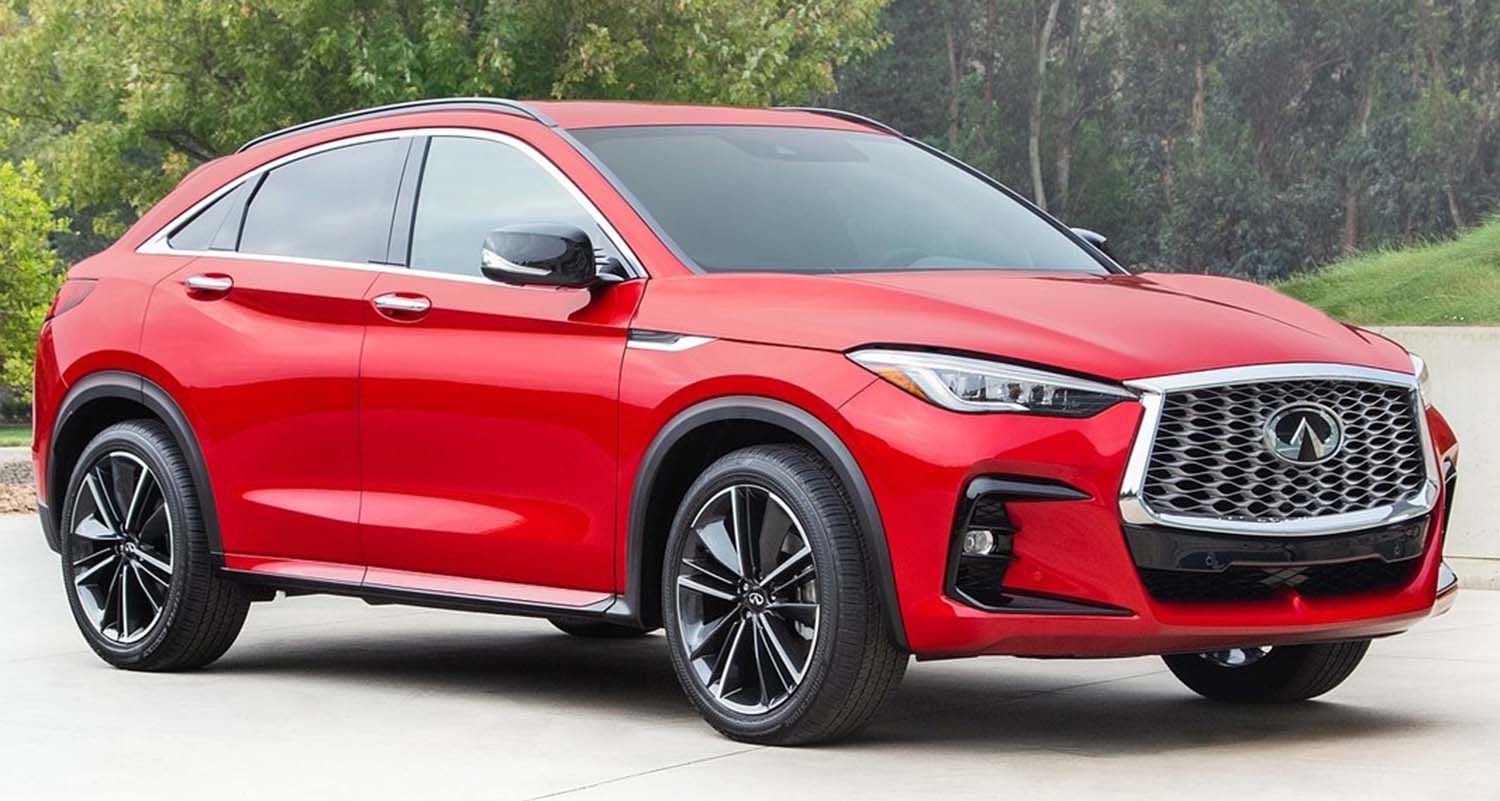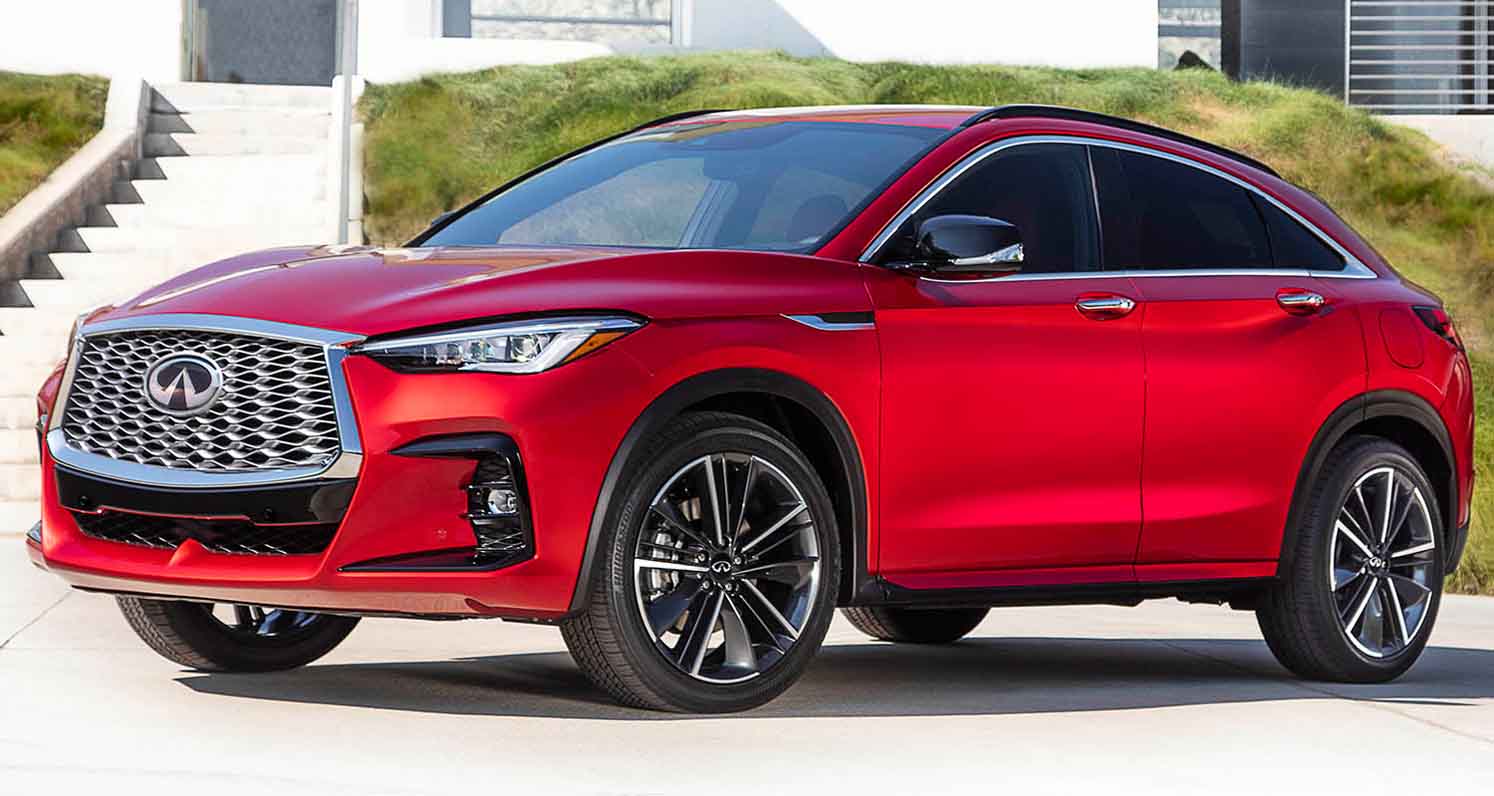 The engine and transmission shift power to all four wheels via Infiniti's Intelligent All-Wheel-Drive system, standard on all QX55 models in the U.S. and Canada. The Intelligent AWD system provides peace of mind for all-weather driving and maximum traction when the road gets interesting. At takeoff, the system doles power to the front and rear axles in a 50:50 split for maximum performance. If no slip is detected, the system can send up to 100% of available power to the front wheels only for maximum efficiency. If a slip is detected, the Intelligent AWD system can deliver up to 50% of the engine's available power to the rear wheels for better traction. What's more, Active Brake Limited Slip systems can brake individual wheels for better grip side-to-side when needed.
The Infiniti QX55 filters out road imperfections with a four-wheel independent suspension that uses MacPherson struts up front and a rear multi-link setup. Infiniti's Body Motion Control offers precise handling during high-speed cornering to instill confidence in the driver but quells uneven road surfaces during long journeys to comfort passengers.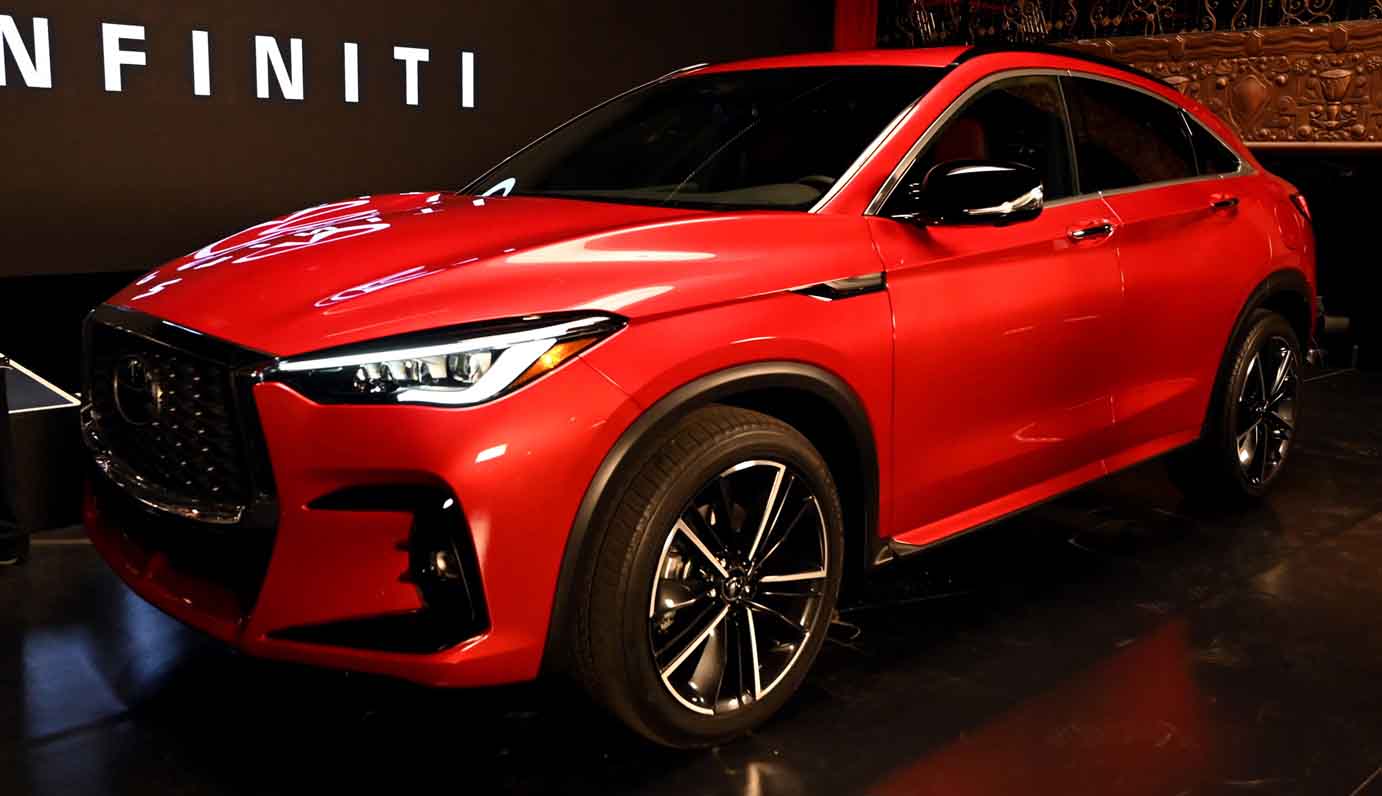 Three well-equipped grades
The Infiniti QX55 is built to engage and connect drivers and their passengers to the world outside without leaving the cabin's stylish confines. For customers in the U.S. and Canada, every QX55 is equipped with Intelligent All-Wheel Drive, 20-inch wheels, Infiniti InTouch™ dual-display system with 8-inch upper and 7-inch lower touch screens; Android Auto compatibility; wireless Apple CarPlay™ compatibility, Wi-Fi hotspot, four USB ports, Forward Emergency Braking with Pedestrian Detection, Blind Spot Warning, and more.
Navigation, Bose™ Performance Series premium audio, Head-Up Display, and ProPILOT Assist are available on QX55 ESSENTIAL and standard on SENSORY grades. The QX55 SENSORY is also equipped with natural maple open-pore wood, semi-aniline leather-appointed seats, and a motion-activated power liftgate as standard.
The daring and stylish Infiniti QX55 arrives to the U.S. and Canada in spring 2021, with other markets to follow.