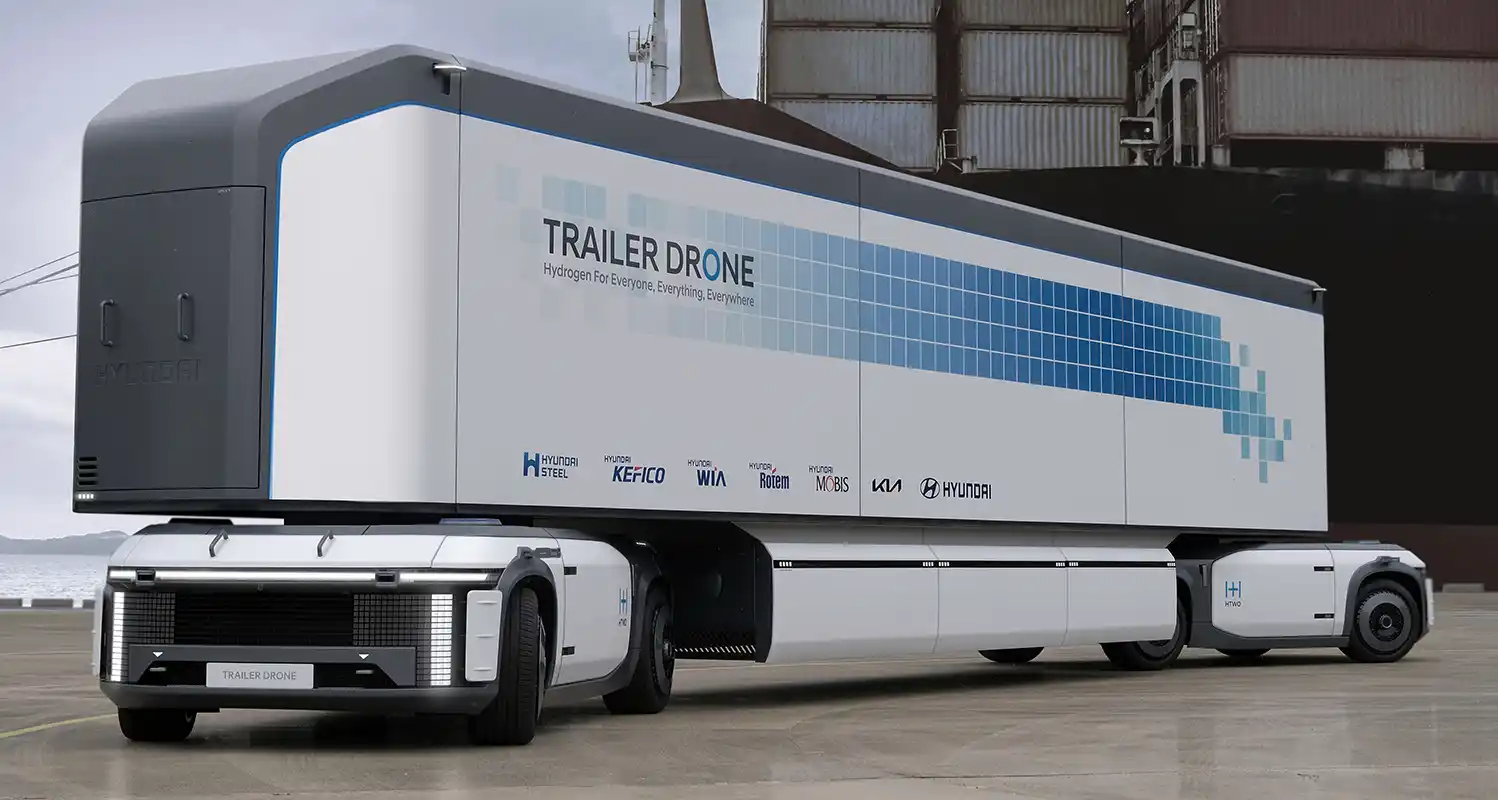 Hyundai Motor Company has ushered a new era of autonomous capabilities in commercial vehicles with the introduction of the Hyundai Drone Trailer concept as the future of multi propose transport, represented by the hydrogen fuel cell "E- Bogie" concept.
Hyundai's trailer drone concept has lifted the possibilities that hydrogen fuel cells can achieve in the future, as a fully autonomous transportation system. The concept includes the installation of hydrogen tanks on mobility solutions to expand sufficiency and flexibility by ensuring more than 1,000km of sufficient range from a single charge compared to the current transportation system.
Fuel Cell e-Bogie
Originating from the rail industry, Hyundai named the fuel cell used in this concept an e-Bogie, as the term 'bogie' is used to describe wheel subframes that sit under every train car. Similar to The Fuel Cell e-Bogie which is located under the container just like a rail bogie. The e-bogie cell is designed as a fully enclosed fuel cell system that is autonomous with four-wheel steering, which can move independently through portside operations and complex urban contexts.
The possible business applications of the trailer drone system are unlimited. When the e-bogie operates freely from the container trailer, it can be used for various functions, such as cargo transportation, construction, firefighting, and rescue.
Hyundai intends to put the future of our planet in the foremost of mind when thinking about the innovative solutions that can be provided by Hyundai as a mobility solution provider. Therefore, when designed the Trailer Drone, it was a representation of Hyundai's vision of an autonomous future, a future that brings smarter and more sustainable applications that enable generations to achieve the progress of Humanity.
As a recognition of Hyundai's efforts in innovative mobility solutions, Hyundai has been granted its first-ever 'Luminary' honor at Red Dot Award: Design Concept 2022 with its Trailer Drone fully autonomous hydrogen mobility concept. The 'Luminary' honor is the highest level of recognition accorded at the Red Dot Award.