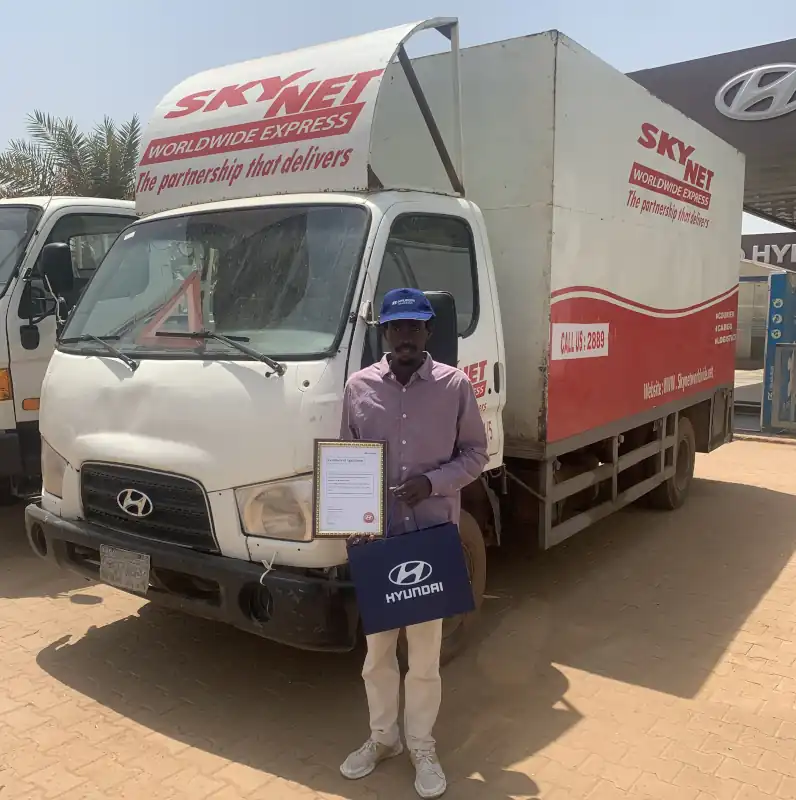 Hyundai Mighty, is a popular choice among trucks across the Middle East and Africa, and is a trusted working partner for years for many types of operations.
To highlight Mighty proven record of durability, high level of practicality, minimum cost of ownership, and low downtime, Hyundai Motor company and partner in Sudan Capital Motors has decided to celebrate Mighty customers who have reached close to 0.5 million Kilometers of operation.
Mr. Patrick Justin is working as a professional truck driver for 15 years, and for the last 5 years with the Skynet Postal Services Co. in Sudan, and for the last few years has been driving the Hyundai Mighty with has been in service nonstop for many years.
Reaching more than half a million kilometers of mileage, this Mighty truck has proven to be a trusted co-worker, Mr. Justin said:" Hyundai Mighty is the best experience for me in my career path as a truck driver. Its performance is good, I have travelled with my Mighty truck more than 560 K Km there is no major repair needed, no sudden road breakdown, cost of maintenance and parts from my experience is competitive.
Commenting on the proven success of Mighty, Mr. Hyoung Jung Im, Head of Hyundai Motor Company Middle East & Africa, said in a comment "We at Hyundai Motor Company, are proud of the strong performance of our Mighty truck in our region as seen in these stellar examples of continued operation until reaching high mileage. Being a trusted choice for businesses for different trucking needs, delivering, capability, durability, efficiency in all aspects."
Renowned for capability and efficiency, Mighty has proven it can carry more loads of all types in a very fuel efficient and practical manner.
The Mighty features impressive hauling capabilities with a long deck up to a 4,850mm and from 5.5-ton to 7.8-ton GVW rating. The reinforced rear axle can offer up to 6,600kg maximum weight ratings, ensuring cargo safety. A wide range of Powertrain choices are tailored to match respective cargo hauling needs with maximum effectiveness and efficiency.