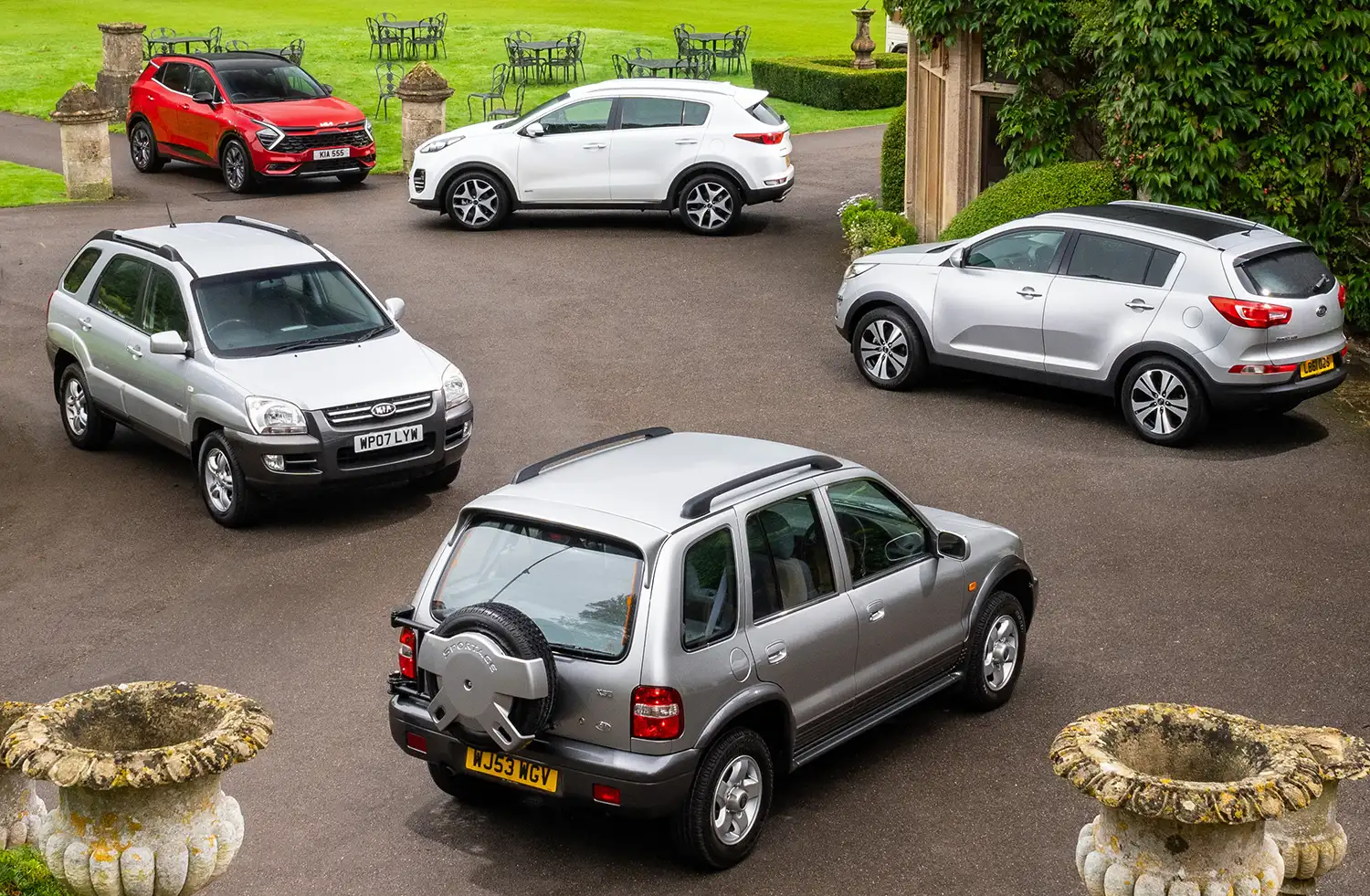 The Sportage, Kia's best-selling car in the UK, Europe and globally, is celebrating its 30th birthday having first been gone on-sale worldwide in 1993. The Sportage was introduced in the UK two years later, with sales commencing in 1995.
Over 30 years, the Sportage SUV has seen four generations come and go, and is now represented by the fifth generation. The latter is the most stylish, modern, technologically advanced and eco-conscious version of the popular family favourite. Over its five generations, Kia has sold more than seven million examples of the Sportage worldwide, including over 384,000 in the UK alone.
Across the same timespan, the Sportage has transformed from a utilitarian, rugged SUV into a more luxurious and comfortable car aimed at young families and professionals. However, the Sportage has not lost any of its load-lugging, workhorse credentials, and is still able to comfortably seat five occupants while carrying an impressive payload.
The SUV market has grown dramatically over the past 30 years, with a high seating position and ample space for all the family now very much in demand among customers in the UK and around the world. Alongside the popularity of SUVs, the Sportage has also grown in desirability, with each new generation introducing fresh appeal to new and returning customers and building impressively on the popularity of its predecessor.
The Sportage has ascended to become one of the most recognisable family SUVs on UK roads. And thanks to its fresh and modern design, as well as its wallet-friendly pricing, it is currently the fourth best-selling car in the UK this year, with more than 32,000 units sold in 2023 so far.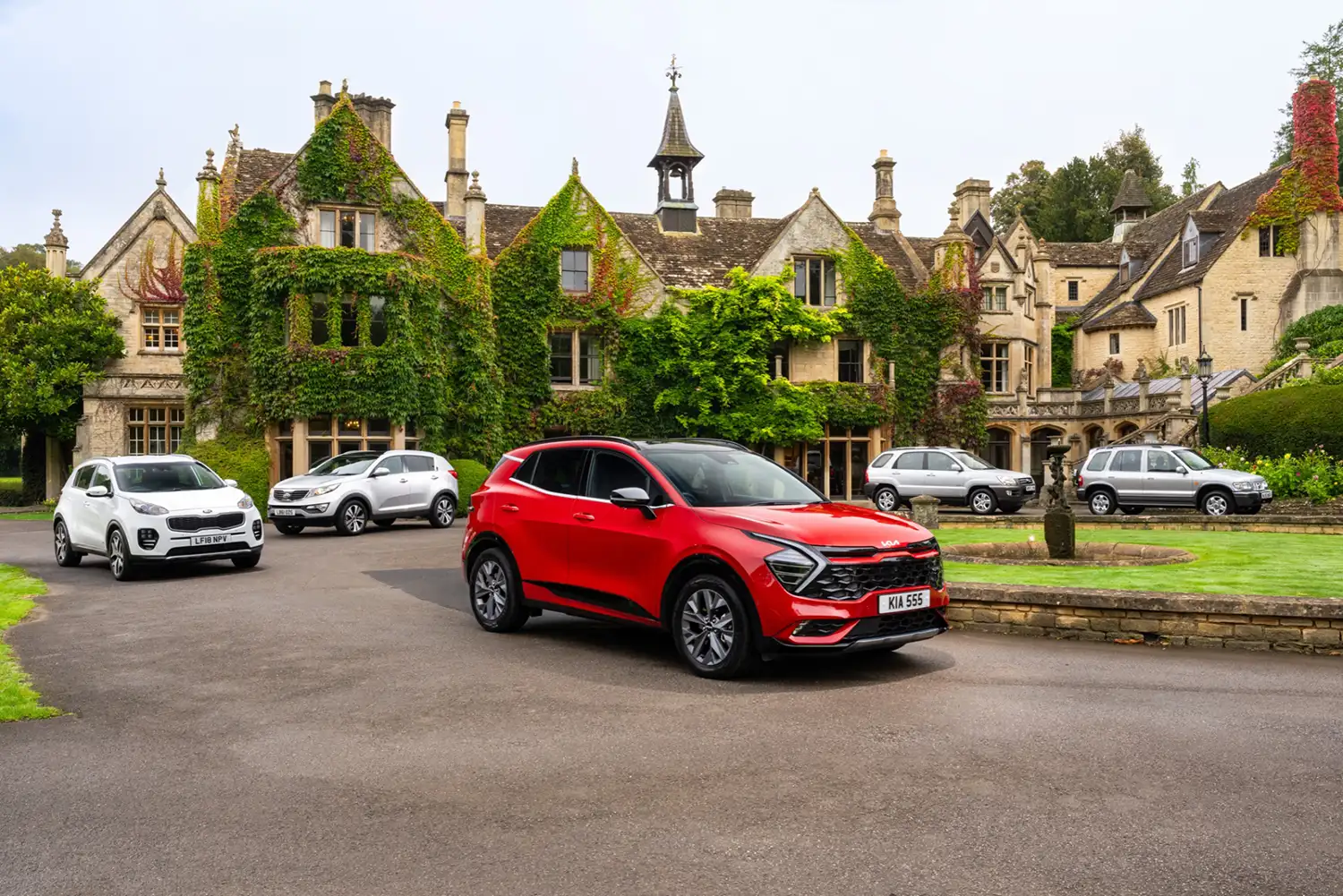 Over its lifetime, the Sportage has proven to be an incredibly popular and important vehicle with fleets and businesses, thanks to its affordable pricing, low Benefit-in-Kind (BiK) rates, and focus on economy and practicality. The Sportage is frequently named as the number one compact SUV choice for business users, topping sales charts and winning numerous fleet awards. A plug-in hybrid model, introduced with the latest generation Sportage for the first time, delivers a 43-mile electric range, ensuring it qualifies for just eight per cent BiK; ideal for fleets and company car drivers alike.
If every Sportage sold in the UK since its introduction to the market in 1995 was lined up bumper-to-bumper, the line of cars would stretch from Kia UK's head offices in Walton-on-Thames, more than 870 miles to the plant where the Sportage has been manufactured since 2007 in Žilina, Slovakia – and 197 miles back again.
Available with a choice of hybrid, plug-in hybrid or petrol mild hybrid powertrains, and a comprehensive array of trim levels, the Sportage offers more choice than most other rivals. It has accumulated a stocked cabinet of awards over its 30-year lifespan to prove just how impressive, and well loved, it has grown to be.
Having first emerged into the public eyeline in endurance rallying, becoming the first car to ever complete the both the Paris-Dakar rally in 1993 and the Baja 1000 in 1995, the Sportage has clearly stood the test of time over the last 30 years.
The Kia Sportage: 30 years in the making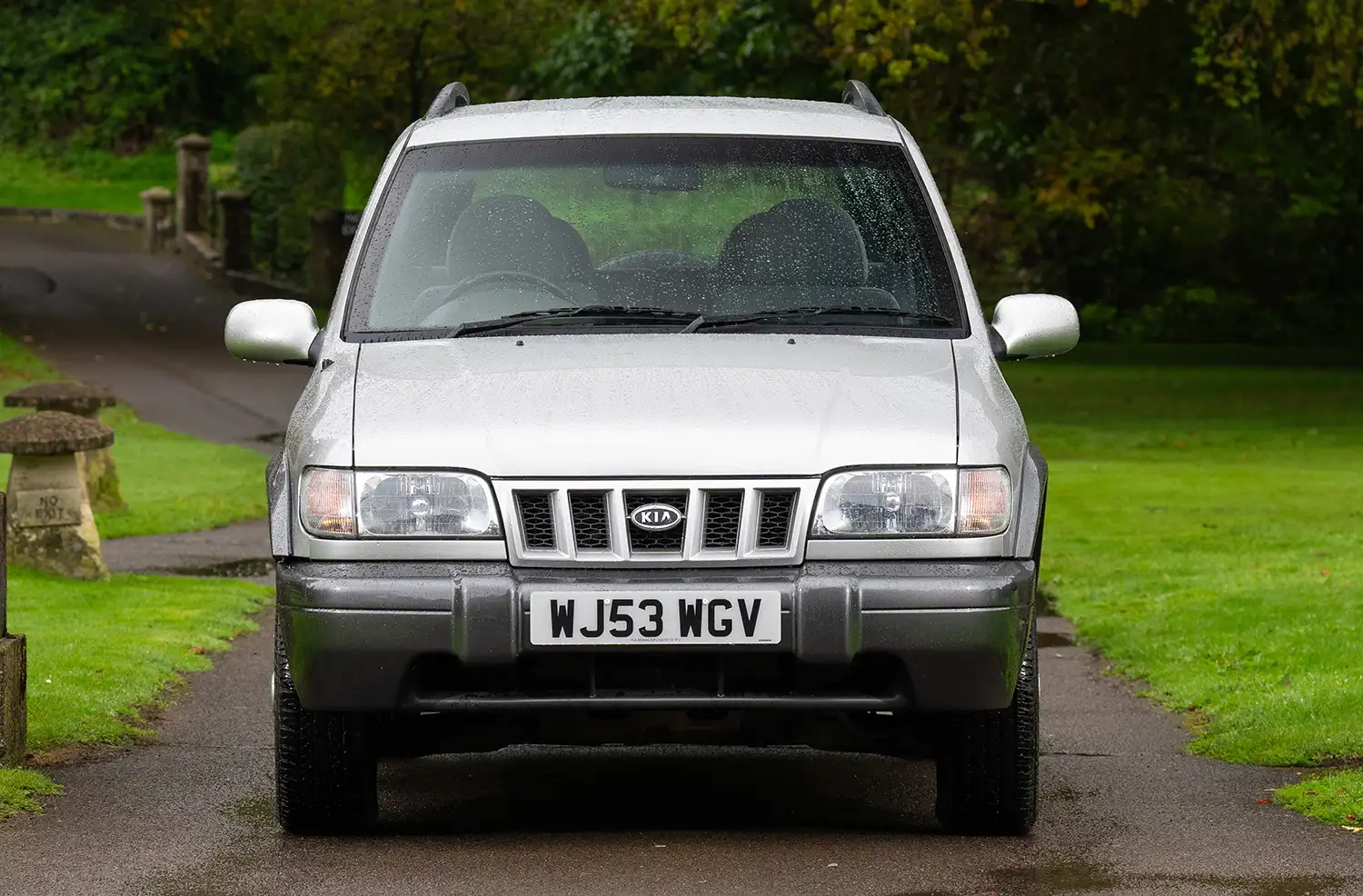 1st Generation: 1993-2003
July 1993 (Reveal)
Sportage is revealed for the first time in Seoul, South Korea.
August 1995 (Launch)
The first-generation Sportage arrives at Kia dealers, all powered by a 2.0-litre petrol engine. Trim levels consist of 'SLX', 'GLX' and 'GLX SE'
January 1996
Top-specification 'Executive' and 'Executive SE' models arrive, both propelled by the 2.0-litre petrol engine
October 1996
'Karmann Sport' and 'Karmann Sport SE' versions arrive in dealers, powered by a 2.0-litre petrol engine
June 1999
Revised range launched in 'S', 'SX' and 'GSX' guises, all powered by a 2.0-litre petrol engine with manual gearbox
June 2000
Automatic variants arrive, in 'S', 'SX' and 'GSX' grades, and featuring the same 2.0-litre petrol engine
February 2002
Special edition 2.0 'XSE' models available, with a manual or automatic transmission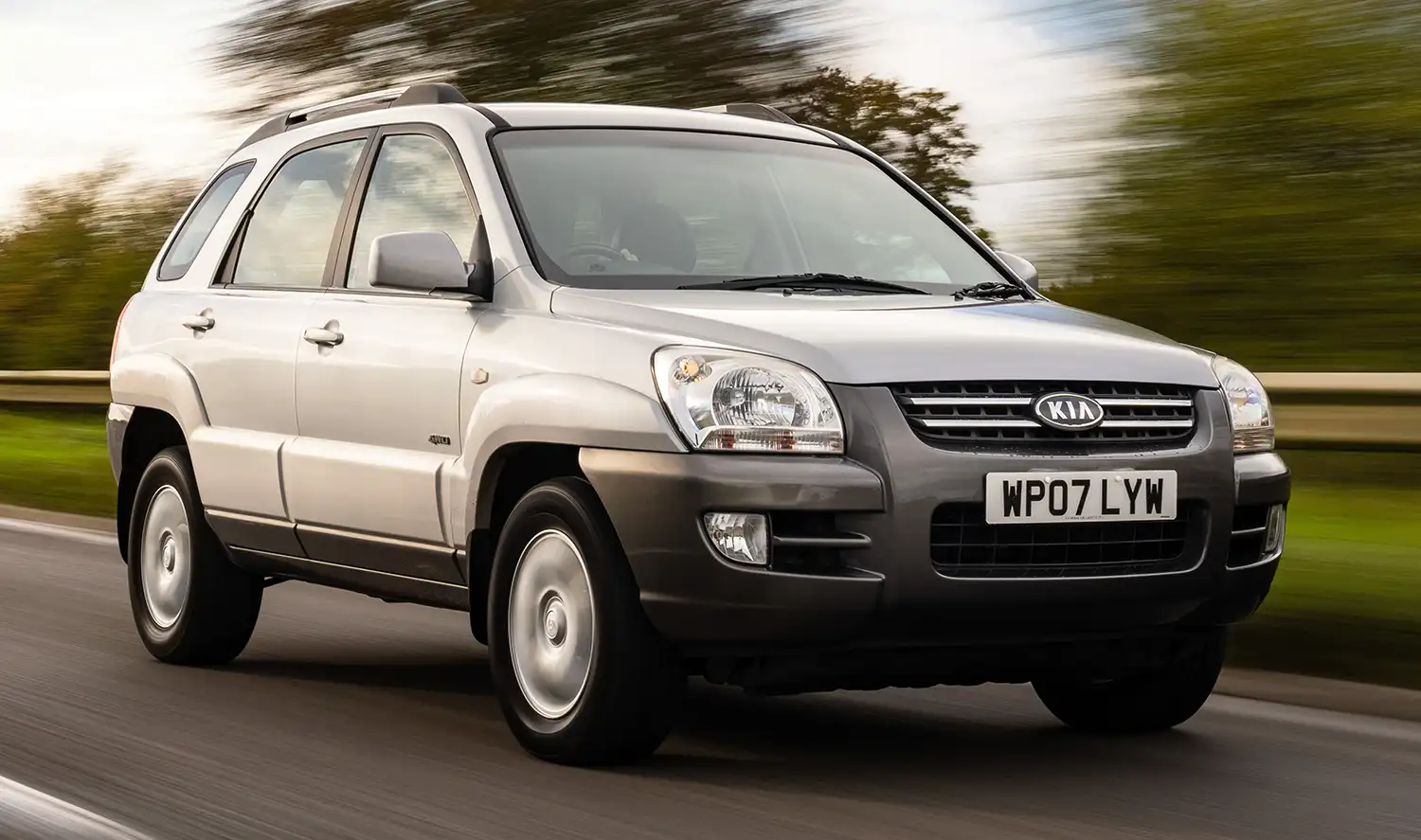 2nd Generation: 2004-2010
August 2004 (Reveal)
Second generation Sportage unveiled at Paris Motor Show
January 2005 (Launch)
The second-generation Sportage (Codename JE/KM) goes on sale in the UK. Offered in a choice of 'XE' or 'XS' grades, it was paired to either a 2.0-litre or 2.7-litre V6 petrol engine
March 2005
2.0-litre CRDi diesel versions are added to the range, in 'XE' and 'XS' specification, with a manual or automatic gearbox
January 2006
More powerful 138bhp 2.0-litre CRDi diesel engine goes on sale in 'XE' and 'XS' specification
May 2007
Highly specified 'Titan' special edition models on sale, powered by 2.0-litre petrol and 2.0-litre CRDi units. Both feature four-wheel-drive as standard
July 2007
Special edition 'Xi' model arrives, powered by a 2.0-litre petrol engine
October 2007 (Facelift)
Updated Sportage arrives with 2.0-litre CRDi engine and automatic gearbox, paired to front-wheel-drive. The Sportage is now built at Kia's Žilina plant in Slovakia
April 2008
Sportage 'XR' special edition available, powered by the 2.0-litre petrol unit. At the same time, an entry-level XE with 2.0-litre petrol engine and two-wheel-drive is added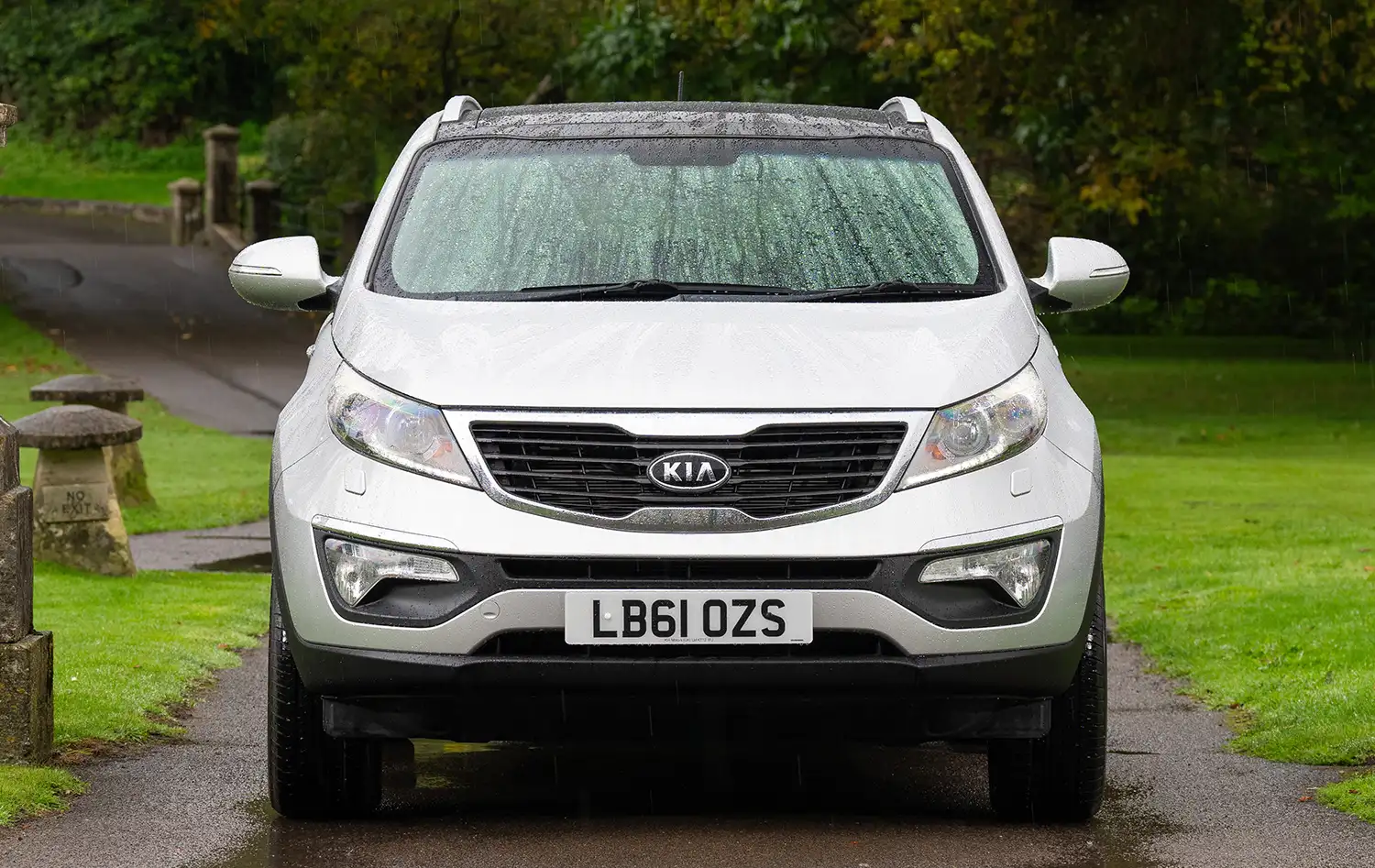 3rd Generation: 2010-2016
March 2010 (Reveal)
The all-new Sportage is revealed at the Geneva Motor Show
August 2010 (Launch)
Third generation Sportage goes on sale in special 'First Edition' guise. Available with 2.0-litre petrol engine with manual gearbox and 2.0-litre CRDi turbodiesel unit with manual or automatic transmission
September 2010
German certification agency TUV Nord awards the all-new Kia Sportage its highest environmental certificate, complying with the strict environmental standards of the ISO 14040 life cycle assessment
November 2010
The mainstream model range of the Sportage arrives in UK showrooms. A choice of '1', '2', '3' and 'KX-2' and 'KX-3' models. Buyers given the choice of 1.7-litre or 2.0-litre CRDi diesel engines, as well as 1.6 GDi and 2.0-litre petrol engines
July 2012
New 'KX-4' model added to the top of the Sportage range, powered by a 182bhp 2.0-litre CRDi engine, with four-wheel-drive and manual or automatic transmissions
January 2014 (Facelift)
Facelifted Sportage arrives in UK showrooms, with revised front and rear styling and upgrades to the interior
July 2015
Special edition 'Axis Edition' on sale, powered by the 1.6 GDi petrol and 1.7-litre CRDi diesel engine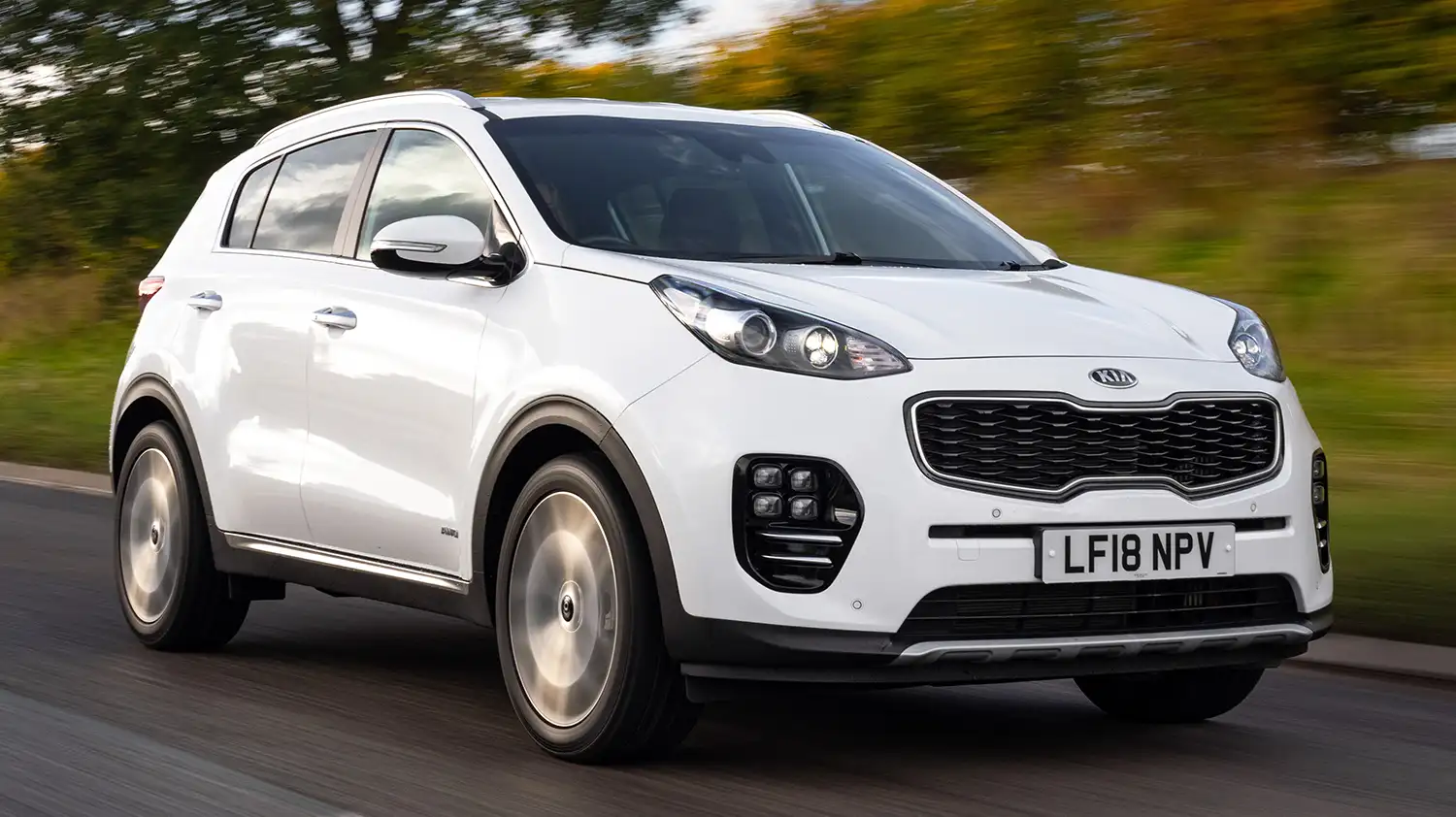 4th Generation: 2016-2022
September 2015 (Reveal)
Fourth generation Sportage unveiled at Frankfurt Motor Show, and received a maximum five-star Euro NCAP rating in December.
February 2016 (Launch)
Fourth generation Sportage (Codename QL) arrives in UK dealers, with a choice of '1', '2', '3', '4', 'KX-1', 'KX-2', 'KX-3', 'KX-4' and 'GT-Line versions' as well as a special 'First Edition' version
December 2016
Uprated multimedia system is added from '2' models and above, along with 3D mapping and Apple CarPlay and Android Auto smartphone compatibility
December 2016
A seven-speed DCT double-clutch automatic transmission is added, alongside a new, more powerful 134bhp 1.7-litre CRDi engine. It is offered with '2' and '3' trim levels
December 2016
New top-specification 'KX-5' and 'GT-Line S' models are announced, each powered by the 182bhp 2.0-litre CRDi engine and an automatic transmission. The latter is also available with a 1.6-litre T-GDi engine and 7-DCT gearbox. The 'KX-5' model replaces the previous 'First Edition' model
April 2017
New 'GT-Line Edition' models go on sale, powered by the 1.7-litre CRDi units in 114bhp manual and 134bhp DCT automatic guises
March 2018
The Sportage reaches more than five million examples sold globally in its lifetime
August 2018 (Facelift)
Facelifted Sportage goes on sale in the UK, with a choice of '1', '2', '4', 'GT-Line' and 'GT-Line S' trim levels. A special 'Edition 25' model is available to commemorate 25 years of the Sportage. 48v mild hybrid technology is also introduced
October 2019
All Sportage diesel models now equipped as standard with 48-volt mild hybrid technology, from '1' to 'GT-Line S'
May 2020
New '3' specification joins the Sportage line-up, and the Sportage range is further updated. The Sportage is made available in '2', '3', 'GT-Line' and 'GT-Line S' trim levels with a 130bhp 1.6-GDi, 174bhp-T-GDi or 134bhp-CRDi with 48v MHEV technology
December 2020
Stylish Sportage 'JBL® Black Edition' made available to order in UK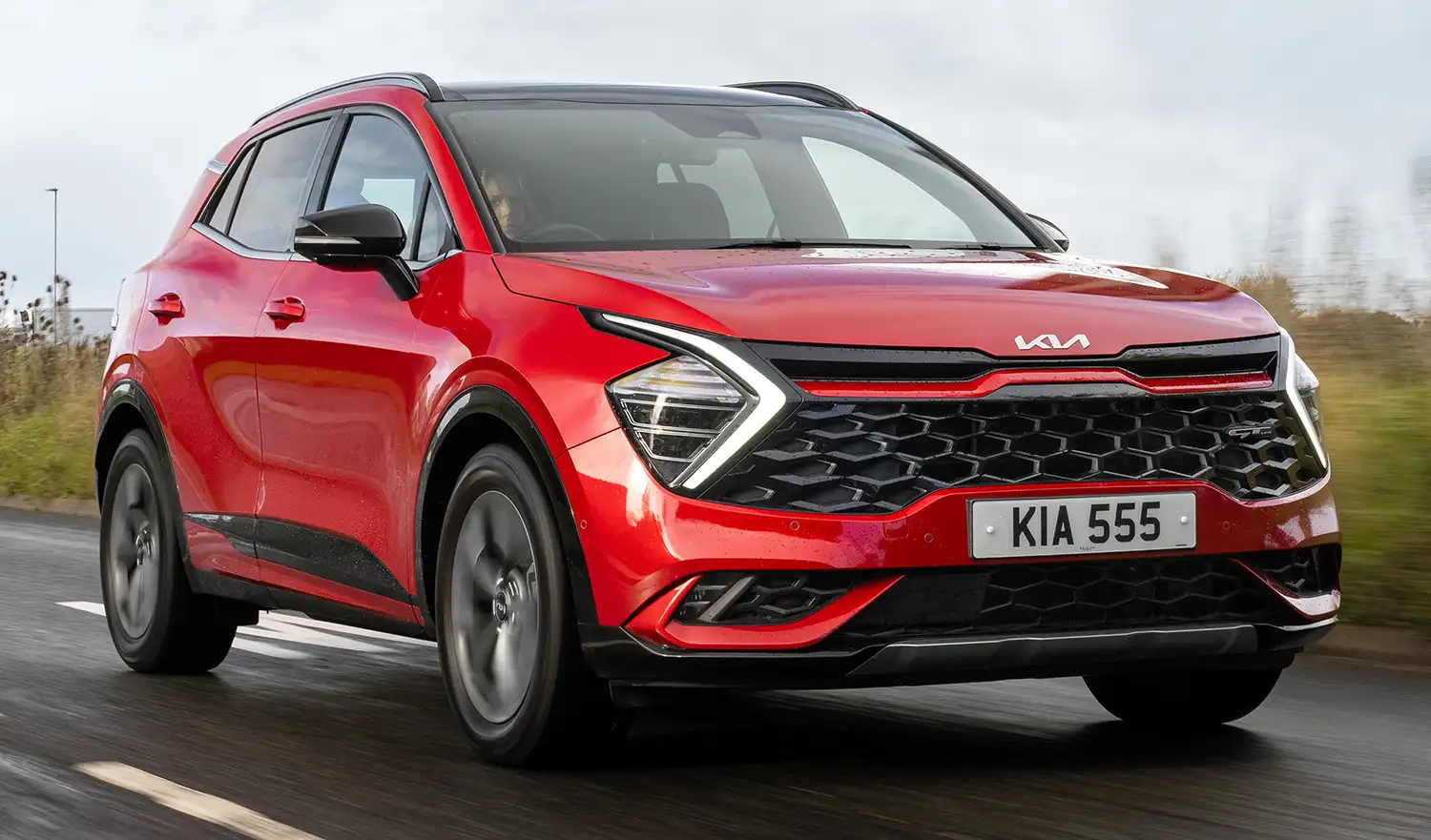 5th Generation: 2022-present
September 2021 (Reveal)
European debut at IAA Mobility in Munich, Germany
January 2022 (Launch)
Fifth generation Sportage order books open in the UK, available to order for the first time with hybrid and plug-in hybrid technology
March 2022
Sportage PHEV goes on sale for first time, offering 43-mile EV range and CO2 emissions from 25g/km. UK customer deliveries for the PHEV commenced in April 2022
July 2022
New Kia Sportage awarded maximum five-star safety rating from Euro NCAP
November 2023
The Sportage celebrates its 30th anniversary in the UK
The fifth generation Kia Sportage is available with a choice of petrol mild hybrid, hybrid and plug-in hybrid power, front- or all-wheel drive, and four contrasting and comprehensively equipped trim levels.