The Buick Riviera is a personal luxury car that was marketed by Buick from 1963 to 1999, with the exception of the 1994 model year.
As General Motors' first entry into the personal luxury car market segment, the Riviera was highly praised by automotive journalists upon its high-profile debut. It was a ground-up design on a new GM E platform debuting for the 1963 model year and was also Buick's first unique Riviera model.
The production Riviera was introduced on October 4, 1962, as a 1963 model, its distinctive bodyshell was unique to the marque, unusual for a GM product.
The elegant ground-up styling sported the new "Coke bottle look" introduced the year before on the arresting Studebaker Avanti, with a tapered midsection surrounded by flaring fenders. There was no trace of the "Sweepspear" used on beltlines of earlier Buicks with the Riviera package.
In the late 1950s, GM lacked a personal luxury car to compete with the highly successful Ford Thunderbird—a uniquely styled, two-door that had dramatically increased in popularity when expanded from a two-seater to a four-passenger car and the Chrysler 300C. To fill this gap, an experimental Cadillac design, the XP-715, was created, dubbed the "LaSalle" after a former GM luxury marque. Its angular look was reportedly inspired by GM styling chief Bill Mitchell's visit to London during the period, when he was struck by the sight of a custom-bodied Rolls-Royce. He later said that "knife-edged" styling was what he wanted for the new model, but with a lower profile. The design itself was penned by stylist Ned Nickles.
When Cadillac passed on the venture in 1960 the project was thrown open for competition by the other GM Divisions. Buick, desperate to revive its flagging sales, won the competition by enlisting the aid of the McCann-Erickson advertising agency to create its presentation. Initially referred to as the "Buick LaSalle" and later "Buick Riviera" concept cars, the finished design was adapted to a shortened version of Buick's existing cruciform frame. It was again introduced as a concept car in 1963 called the Buick Riviera Silver Arrow.
The name Riviera, Italian for coastline, was chosen to evoke the allure and affluence of the French Riviera. It first entered the Buick line in 1949, as the designation for the new two-door pillarless hardtop, described in advertising as "stunningly smart".
Generations
First generation (1963–1965)
Second generation (1966–1970)
Third generation (1971–1973)
Fourth generation (1974–1976)
Fifth generation (1977–1978)
Sixth generation (1979–1985)
Seventh generation (1986–1993)
Eighth generation (1995–1999)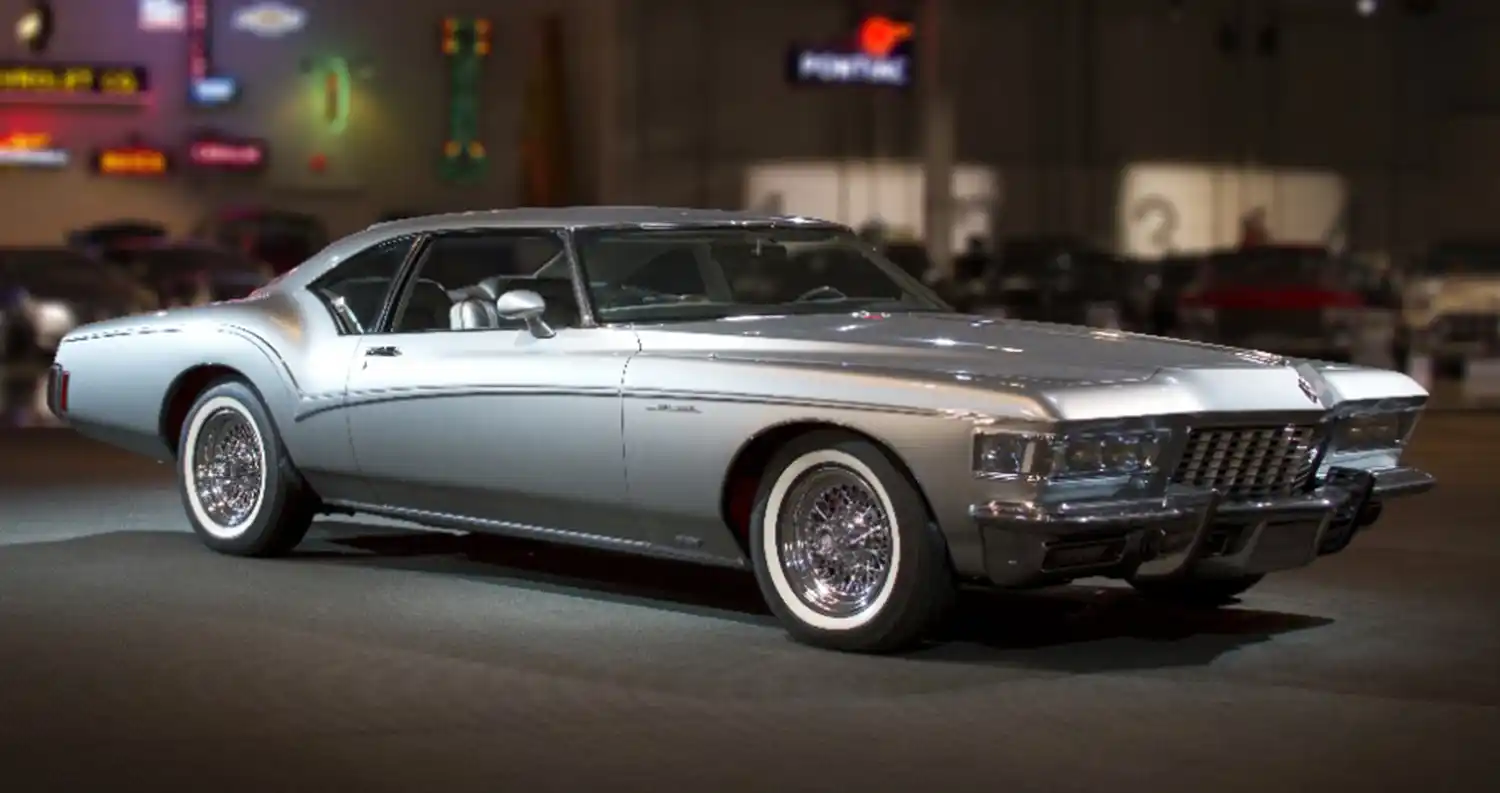 Buick Silver Arrow III Concept (1972)
The 1972 Buick Silver Arrow III concept was designed by Bill Mitchell and introduced at the 1972 Detroit Auto Show. Based on a production Riviera, the car received many new features, including a lower roofline and redesigned quarter windows.
Advanced details included high level warning lights that doubled as secondary turn signals, six halogen headlights up front for better nighttime visibility and four wheel anti-lock brakes. The Silver Arrow III was equipped with Max Trac, a forerunner of today's traction control systems.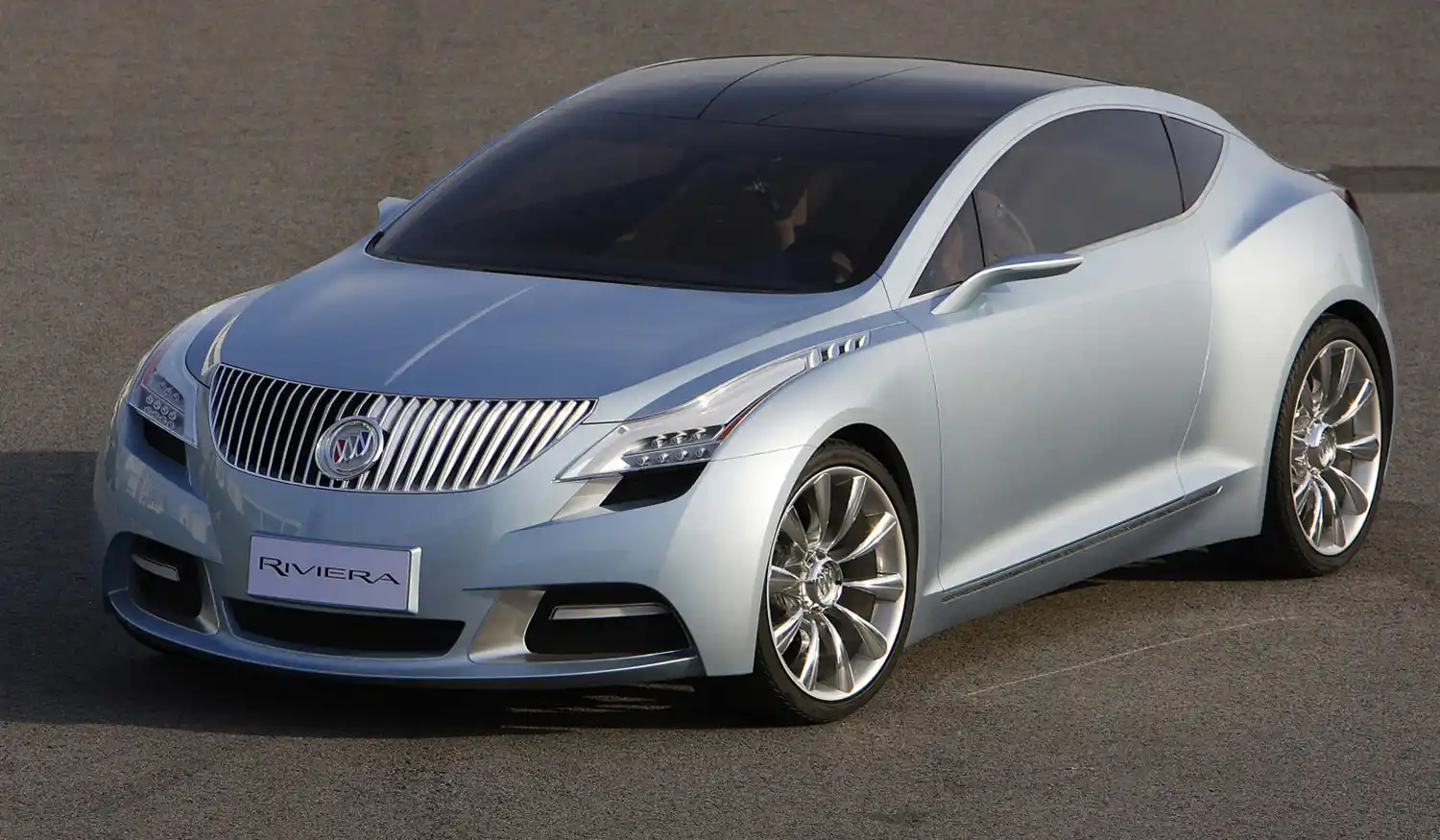 Buick Riviera Concept Coupe (2007)
The Buick Riviera, a stunning concept car designed to showcase Buick's new global design direction, made its global debut at Auto Shanghai 2007.
The gullwing Riviera concept coupe was developed with global design input by the Pan Asia Technical Automotive Center (PATAC) in China, a design and engineering joint venture between General Motors and Shanghai Automotive Industry Corporation (SAIC).
The Riviera has been engineered to accommodate a new hybrid system that will go into production at Shanghai GM, GM's flagship joint venture with SAIC, in 2008.
Buick Riviera Concept (2013)
The new Buick Riviera concept vehicle made its global debut at the 2013 Auto Shanghai. The coupe combines avant-garde aesthetics and advanced technology, including plug-in hybrid electric vehicle propulsion, in a single package. It was the fourth global concept vehicle jointly developed by GM's Shanghai GM and Pan Asia Technical Automotive Center (PATAC) joint ventures in Shanghai.
source: wikipedia (under the Creative Commons Attribution-ShareAlike License 3.0) & gm.com