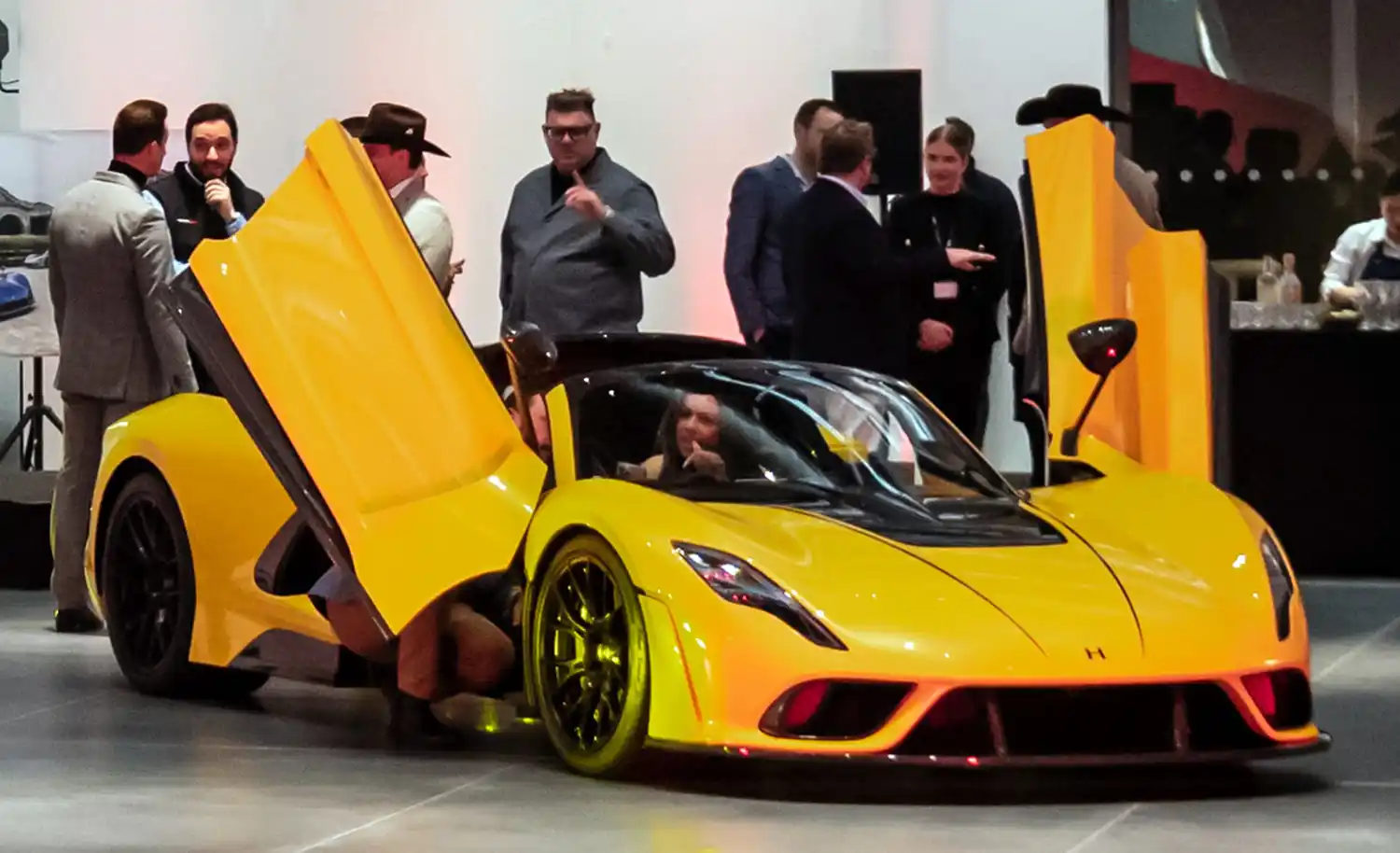 H.R. Owen – the UK's leading luxury automotive dealer group hosted an exclusive launch event for the Hennessey Venom F5 Roadster at its new flagship 110,000 sq/ft multi-marque showroom facility in Hatfield. The F5 – a 1,817bhp V8 hypercar aiming to be the fastest roadster in the world –  was introduced to a select group of guests by company founder John Hennessey, Hennessey Director of Design Nathan Malinick, Hennessey test pilot and professional racing driver Alex Brundle, and H.R. Owen Chief Executive Ken Choo.
Ken Choo, H.R. Owen CEO, said: "In 2022, we became the sole UK retailer to Hennessey's growing line-up of extraordinary hypercars, and we're delighted to have been able to showcase the Venom F5 Roadster to our customers for the first time. Our brand new H.R. Owen Hatfield facility, incorporating five state-of-the-art showrooms and three aftersales operations, was the ideal place to host such a groundbreaking performance car."
With a mid-mounted 6.6-litre twin-turbo V8 powering the rear wheels, the Venom F5 Roadster delivers visceral performance like no other. With the carbon fibre composite roof panel removed, the sense of speed is elevated still further, and even more of the intoxicating engine note reverberates around the cabin as this extraordinary powerplant reaches its 8,000rpm redline. Capable of a truly astonishing 311mph, the Venom F5 Roadster is a hypercar in a class of its own. It will also be an extremely rare sight on the roads, as only 30 will ever be built – each one tailor-made to its owner's exact specification.
A tempered glass engine bay cover provides a pulse-raising view of the V8 powerplant. The glass can withstand temperatures in excess of 540 degrees Celsius and was developed with technology used in aerospace engineering. So, it's fitting that the Roadster's launch party took place at H.R. Owen's new Hatfield site, which is located on the site of the former de Havilland factory, which produced the 1934 England-Australia air race-winning Comet, and the legendary Mosquito – the fastest fighter bomber of World War II.
H.R. Owen has more than 90 years' experience in luxury car sales and servicing, operating the world's oldest Bentley dealership, Jack Barclay Bentley, based in Mayfair, and the only Bugatti Service Partner of Excellence in the UK. Among its brands are Aston Martin, BAC, Bentley, Bugatti, Ferrari, Lamborghini, Maserati, Radford and Rimac Automobili. Recently, H.R. Owen announced its appointment as official UK retailer to pioneering American performance brand, Czinger, with Hennessey the second Stateside business to join H.R. Owen in the past two years.
John Hennessey, Founder & CEO of Hennessey Performance Engineering, said: "We are very pleased to partner with H.R. Owen, the UK's leading luxury motor group. Their extensive hypercar experience allows us to expand our footprint overseas, confident that our clientele will be in the care of experts. We are honored to align with a professional team that shares our family ideals, brand vision, and passion for ultimate performance."