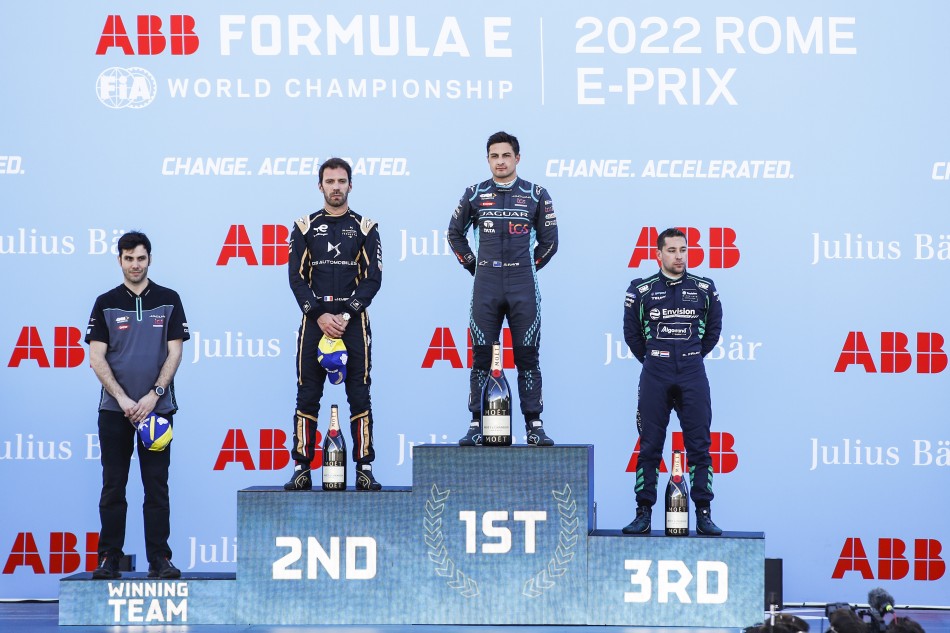 Jaguar TCS Racing's Rome specialist does the double in the Italian capital to charge into the ABB FIA Formula E World Championship contention.
Mitch Evans had just a solitary point to his name in the ABB FIA Formula E World Championship arriving in Italy for this weekend's Rome E-Prix double-header. Following a second consecutive victory today (10 April), the Jaguar TCS Racing star is now a bona fide title protagonist.
Buoyed by the third triumph of his Formula E career yesterday, Evans began Sunday's race from fourth place, but he did not stay there long. After despatching Jake Dennis (Avalanche Andretti) and André Lotterer (TAG Heuer Porsche) in quick succession, the New Zealander set about chasing down Jean-Éric Vergne (DS TECHEETAH) for the lead.
Following a brief safety car period to allow for Antonio Giovinazzi's Dragon / Penske Autosport car to be cleared away shortly after one-third distance, Evans made his move, sweeping around the outside of Vergne to seize the top spot.
The 27-year-old thereafter looked to be in complete control, despite subsequently conceding ground to Envision Racing's Robin Frijns and Lotterer as his rivals both deployed their single Attack Mode.
When the safety car re-emerged with just 11 minutes left on the clock, however – to remove Alexander Sims' stricken Mahindra Racing single-seater – Evans was the sole driver in the field yet to activate his own Attack Mode, evoking the possibility of a penalty for not using it in its entirety prior to the end of the race.
Fortunately for the Jaguar driver, a rapid recovery operation and 5m15s of added time enabled him to continue his charge, immediately taking Attack Mode on the resumption of racing and only ceding a single position to Vergne. After swiftly reclaiming third place, he then made short work of Frijns and Lotterer before proceeding to stretch his legs.
A third safety car intervention with two minutes remaining threatened another twist in the tale as it erased Evans' advantage and set up a no-holds-barred single-lap shootout, but the leader boldly held his nerve and his reward was a third win around the Circuito Cittadino dell'EUR in as many years – a success that has vaulted him firmly into championship contention, just nine points adrift of the summit of the standings.
It is Vergne who now tops the table, after finishing second in the Italian capital. The Frenchman won in Rome last year, and he looked to be on-course to repeat the feat until Evans went on the offensive. He dropped to fifth when he entered Attack Mode, but utilised his extra power to battle back past Jaguar's Sam Bird, Frijns and Lotterer to seal the runner-up spoils.
From sixth on the grid, Frijns overhauled Bird and Dennis to advance to fourth, and was the first of the leading pack to activate Attack Mode. The Dutchman was another to enjoy a spell at the head of the order, ultimately getting the better of Lotterer in the duel for the final step on the podium – with a third rostrum appearance of the season elevating him to just two points shy of the championship lead.
Following an energetic scrap with front row starter Dennis, Lotterer similarly led the E-Prix later on, and after yielding to Evans, Vergne and Frijns, the German held off Mercedes-EQ's Stoffel Vandoorne for fourth, the Belgian gaining three places from his grid slot.
Mexico winner Pascal Wehrlein wound up sixth for Porsche at the end of a solid run, ahead of Oliver Turvey, who registered his first points for NIO 333 since Valencia almost 12 months ago. Former champions Lucas Di Grassi (ROKiT Venturi Racing) and Sébastien Buemi (Nissan e.dams) placed eighth and ninth, with NIO 333 rookie Dan Ticktum rounding out the top ten.
Elsewhere, there were hard luck stories for a number of drivers, chief amongst whom were Edoardo Mortara and Nyck de Vries. A DNF following contact with António Félix da Costa – and soon after the wall – saw the Venturi ace slip from first to fifth in the chase for the crown, while defending champion de Vries (Mercedes-EQ) failed to score for the second day in a row after picking up a ten-second penalty for causing a collision with Sérgio Sette Câmara (Dragon / Penske Autosport).
The 2021/22 Formula E campaign will continue with round six in Monaco in three weeks' time (30 April).
MITCH EVANS, JAGUAR TCS RACING,  #9 said:
"It feels like déjà vu.This is a result of pure graft, hard work. I just want to thank everyone at the team because the last eight weeks have been insane with the amount of work that has gone in. I didn't know if we could manage two – double-headers are tricky to back up – but we showed good quality. The race was a carbon copy from yesterday, the car was working perfectly. It was trickier today because of the temperature and the longer ATTACK mode, I almost got caught out with that during the safety car, but a huge thanks to everyone on the team and hopefully this isn't just a one-off but it feels good. It has been a big couple of days. It was what we wanted, you dream about that but to try and pull it off is usually quite unrealistic. We are back as a team, I am back towards the top, so it is good times."
JEAN-ÉRIC VERGNE, DS TECHEETAH, #25 said:
"It was a chaotic race. I didn't know what was happening in terms of our strategy, the Jaguar and Mitch were way too fast this weekend. I hope that is only going to be a one-off from their side, otherwise it might be difficult to beat them. Today it was impossible. I am fairly happy with second, it was the best I could do, but I am going to urge my team to do better if we want to fight for wins because every time there is someone stronger than us. It is not good enough so we need to work hard in Monaco to be the best. The Championship is still very long, consistency is key, and I think we were fairly consistent throughout the season, but if we want to win we need to have more pace. Leading the Championship at this race, everyone will have forgotten if you don't win the Championship, so it is at the end that matters."
ROBIN FRIJNS, ENVISION RACING, #4 said:
"It is a good weekend, it was a good race. It was very tricky in Turn 15, I didn't know this at the beginning. I felt really comfortable and the team told me I had a bit more energy than the others around me, so my plan was to go a bit further into the top three, and I overtook Jake there. We both went wide, then I noticed the track was breaking up massively. I feel a bit sorry for Jake that we both went wide and he lost his position, that definitely wasn't the plan, but at the end of the day we were fighting for podium positions which is a victory for us. We move on from here."