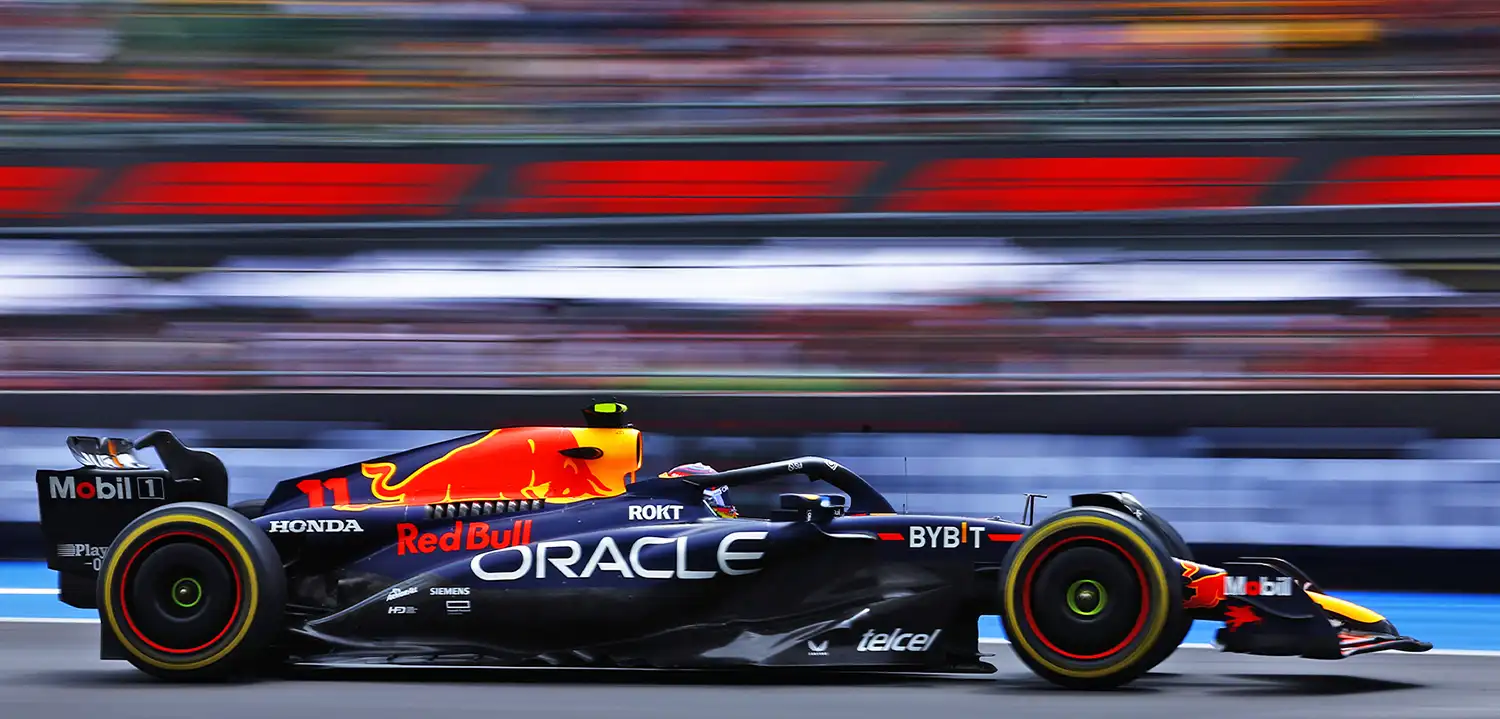 Ferrari scored a surprise front-row lockout in qualifying for the 2023 FIA Formula 1 Mexico City Grand Prix, with Charles Leclerc taking pole position ahead of Carlos Sainz as Red Bull's Max Verstappen could only manage third place.
Both Ferrari drivers improved their Q2 times by almost a second to stun Verstappen with their first flying laps in Q3 and in the final runs the Dutchman could only get to just within a tenth of Leclerc as a strong middle sector gave way to lost time in the final part of his lap. Leclerc, then, took the 22nd pole position of his career, 0.067s ahead of Sainz.
At the start of the session, in Q1, Verstappen took an early P1 with a time of 1:18.099 with Pérez in P2, 0.454 off his team-mate. However, the Mexican home favourite was shuffled back by Alfa Romeo's Valtteri Bottas and then by Daniel Ricciardo who took P2. Leclerc then took third.
The final runs might have changed that order but traffic issues and a spin for Fernando Alonso in the middle of his lap brought out yellow flags and there was no chance of improvement.
The issues at the end most disadvantaged McLaren's Lando Norris, who was ruled out in P19 who, after an initial run on Mediums, failed to make a first run on Softs work. He tried for a second but was prevented from improving by the flags for Alonso. Also ruled out at the end of the session were Alpine's Esteban Ocon in P16 followed by Haas' Kevin Magnussen, Aston Martin's Lance Stroll, while behind Norris, Logan Sargeant failed to set a time and exited in P20.
At the end of the session Verstappen was placed under investigation for potentially impeding rivals at the pit exit ahead of his final run. Mercedes' George Russell and Lewis Hamilton were also investigated for possible infringements, Russell for blocking at the pit exit and Hamilton for ignoring yellow flags. All three were cleared by stewards after qualifying.
At the start of Q2 Verstappen again set the pace with a lap of 1:17.625, with Pérez again slotting into P2 on 1:18.874, 0.499 off his team-mate. However, Ricciardo, once again, bounced Pérez out of P2 and then Piastri demoted both.
Verstappen elected to stay in the garage for the final runs. However, the Dutchman pipped for top spot in Q2 by Hamilton who went just over half a tenth quicker in the final runs, but with the other Mercedes of George Russell taking P3 ahead of Ricciardo, McLaren's Oscar Piastri, Ferrari's Charles Leclerc and Bottas who went through 0.008s ahead of Pérez.
Albon was the driver most disappointed at the end of the session. The Williams driver looked to have done enough to progress in P9 behind Pérez, but soon after the flag his final time was deleted for a track limits infringement at Turn 2. It meant Ferrari's Carlos Sainz took P9 ahead of Alfa Romeo's Zhou Guanyu.
Ruled out at the end of Q2 along with Albon were Alpine's Pierre Gasly in P11 followed by Haas' Nico Hülkenberg, Aston Martin's Fernando Alonso, Albon and AlphaTauri's Yuki Tsunoda.
The Red Bull drivers were again first out on track at the start of Q3. Pérez, on used tyres, was first across the line with a lap of 1:17.788, but Verstappen, on a new set of Softs, comfortably beat that by half a second to take P1 on 1:17.286.
Ricciardo then split the Red Bull pair, but it was Ferrari who sprung the biggest surprise, with Leclerc taking provisional pole on 1:17.166, while Sainz crossed the line just over five hundredths ahead of Max who dropped to P3.
Neither Ferrari driver improved on their final flyers, and though Max did make gains, posting a purple middle part of the lap, he lost time in the final sector and crossed the line in 1:17.263, just under a tenth of Leclerc's pole time and three hundredths behind Sainz. Pérez qualified fifth behind Ricciardo. Behind the Mexican Hamilton finished sixth ahead of Piastri, Russell, Bottas and Zhou.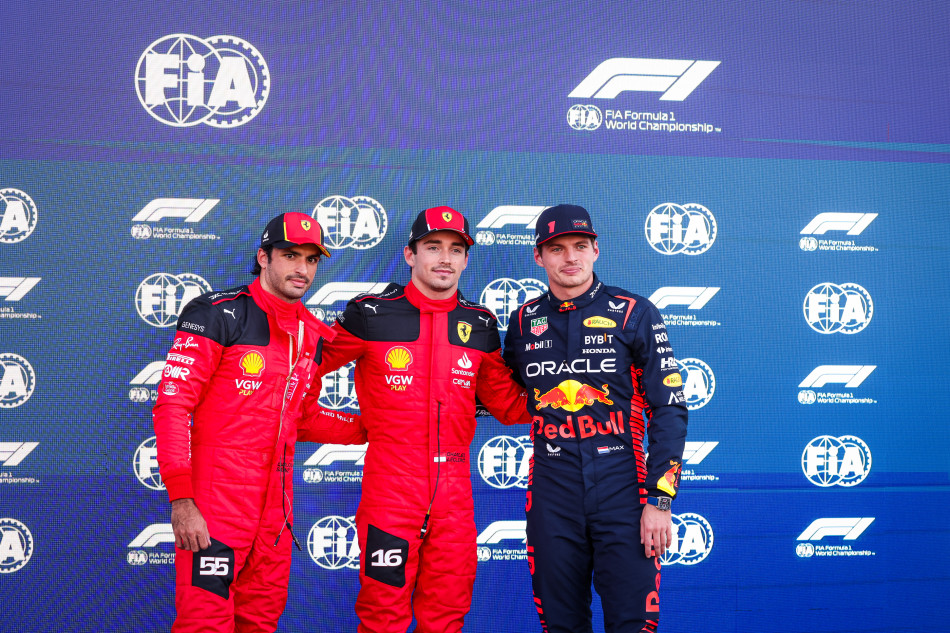 2023 FIA Formula 1 – Qualifying
1 Charles Leclerc Ferrari 1:17.166 – –
2 Carlos Sainz Ferrari 1:17.233 0.067 0.087
3 Max Verstappen Red Bull Racing 1:17.263 0.097 0.126
4 Daniel Ricciardo AlphaTauri 1:17.382 0.216 0.280
5 Sergio Pérez Red Bull 1:17.423 0.257 0.333
6 Lewis Hamilton Mercedes 1:17.454 0.288 0.373
7 Oscar Piastri McLaren 1:17.623 0.457 0.592
8 George Russell Mercedes 1:17.674 0.508 0.658
9 Valtteri Bottas Alfa Romeo 1:18.032 0.866 1.122
10 Zhou Guanyu Alfa Romeo 1:18.050 0.884 1.146
11 Pierre Gasly Alpine 1:18.521 1.355 1.756
12 Nico Hülkenberg Haas 1:18.524 1.358 1.760
13 Fernando Alonso Aston Martin 1:18.738 1.572 2.037
14 Alexander Albon Williams 1:19.147 1.981 2.567
15 Yuki Tsunoda AlphaTauri – – –
16 Esteban Ocon Alpine 1:19.080 1.914 2.480
17 Kevin Magnussen Haas 1:19.163 1.997 2.588
18 Lance Stroll Aston Martin 1:19.227 2.061 2.671
19 Lando Norris McLaren 1:21.554 4.388 5.686
20 Logan Sargeant Williams – – –