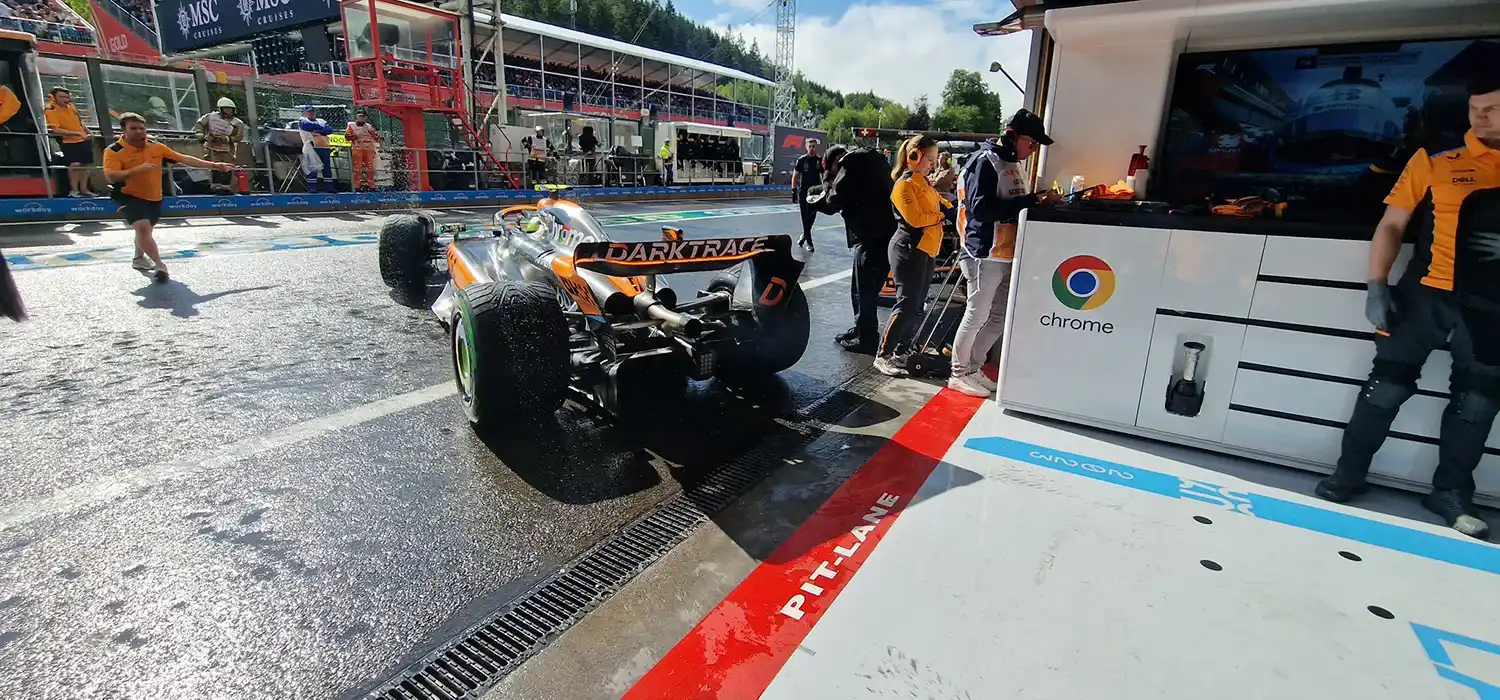 Max Verstappen topped Qualifying for the Belgian Grand Prix, delivering an impressive final flying lap in Q3 to beat Ferrari's Charles Leclerc and third-placed Red Bull team-mate Sergio Pérez by more than eight tenths of a second. But the champion will start the race at Spa-Francorchamps from sixth place on the grid after he takes a gearbox penalty.
At the start of Q1, on a damp track, it was McLaren's Lando Norris who set the early benchmark with a lap of 2:01.874 set on Intermediate tyres. Mercedes' George Russell then bettered that by almost three tenths of a second before Verstappen Max jumped to second place with an opening flyer of 2:01.597. McLaren's Oscar Piastri then took top spot and he was then eclipsed by Ferrari's Carlos Sainz who led the way on 2:00.536.
With five minutes left in the opening segment Verstappen rose to P1 with a lap of 1:58.932 that put him ahead of Sainz and Pérez who had moved to P3 with a lap of 1:59.911. Hamilton then moved to the top with a lap of 1:58.841 but it was Charles Leclerc who took the Q1 bragging rights at the end of the segment. The Ferrari man was one of the last drivers on track at the end and his final tour of 1:58.300 saw him jump from P16 and the drop zone to the top of the timesheet.
Verstappen eased through in second place, two tenths behind Leclerc, while Hamilton progressed in third place.
At the other end of the timesheet, Alex Albon was the first man eliminated in P16. The Williams driver was followed to the exit by Alfa Romeo's Zhou Guanyu, Williams' team-mate Logan Sargeant, Alpha Tauri's Daniel Ricciardo, who had his final lap deleted for a track limits violation at Raidillon, and Haas' Nico Hülkenberg.
At the start of Q2 Hamilton was first on track on Intermediate tyres. The Mercedes driver stopped the clock at 1:58.024 to take P1 but it was clear that the surface was improving rapidly and when Verstappen vaulted to P1 with a time of 1:55.535, more than two seconds ahead of Hamilton, the change was clear and drivers began to switch to slicks for the final runs.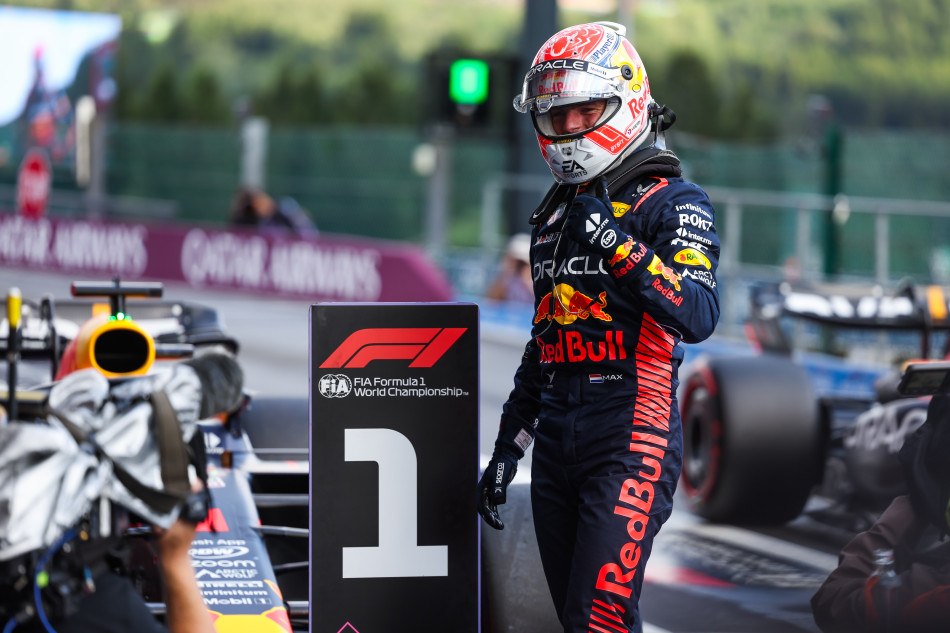 And in the end it was McLaren's Piastri who made the most of the conditions. The Australian took top spot with a lap of 1:51.534, almost two tenths ahead of Sainz, with Leclerc third ahead of Aston Martin's Lance Stroll.
Verstappen, though, was almost caught out by the changing conditions. The Dutchman had a lap deleted for track limits and had to put in a last-ditch flyer. That was also imperfect and his final time of 1:52.784 saw him scrape through in P10.
The unpredictable nature of the session continued in the first runs of the top-10 shootout. Verstappen's first flying lap of 1:48.059 took him to P1. But Leclerc was able to find more time and the Ferrari driver took provisional pole 0.128 ahead of the world champion with Sainz in third.
But in the end, Verstappen unlocked the pace of his RB19 and with a new set of Soft tyres on board and with more confidence in the car and the conditions, he string together an impressive lap that left closest rival Leclerc eight tenths of a second adrift.
The champion's grid penalty means Leclerc will start from pole and Pérez will move from P3 in qualifying, just five hundredths of a second off the Ferrari driver, to a front row start. Behind the Mexican Hamilton took fourth place in Qualifying ahead of Sainz, with Piastri sixth. All will move up a place for the race start. Norris finished in P7 ahead of Russell, while Alonso will line up in P9 alongside team-mate Lance Stroll.
2023 FIA Formula 1 Belgian Grand Prix – Qualifying 
1 Max Verstappen Red Bull Racing 1:58.515 1:52.784 1:46.168 22
2 Charles Leclerc Ferrari 1:58.300 1:52.017 1:46.988 23
3 Sergio Perez Red Bull Racing 1:58.899 1:52.353 1:47.045 22
4 Lewis Hamilton Mercedes 1:58.563 1:52.345 1:47.087 24
5 Carlos Sainz Ferrari 1:58.688 1:51.711 1:47.152 23
6 Oscar Piastri McLaren 1:58.872 1:51.534 1:47.365 23
7 Lando Norris McLaren 1:59.981 1:52.252 1:47.669 21
8 George Russell Mercedes 1:59.035 1:52.605 1:47.805 24
9 Fernando Alonso Aston Martin 1:58.834 1:52.751 1:47.843 22
10 Lance Stroll Aston Martin 1:59.663 1:52.193 1:48.841 22
11 Yuki Tsunoda AlphaTauri 1:59.044 1:53.148 15
12 Pierre Gasly Alpine 1:59.511 1:53.671 17
13 Kevin Magnussen Haas 2:00.020 1:54.160 17
14 Valtteri Bottas Alfa Romeo 1:59.484 1:54.694 17
15 Esteban Ocon Alpine 1:59.634 1:56.372 13
16 Alexander Albon Willians 2:00.314 8
17 Zhou Guanyu Alfa Romeo 2:00.832 9
18 Logan Sargeant Williams 2:01.535 6
19 Daniel Ricciardo AlphaTauri 2:02.159 8
20 Nico Hulkenberg Haas 2:03.166 5