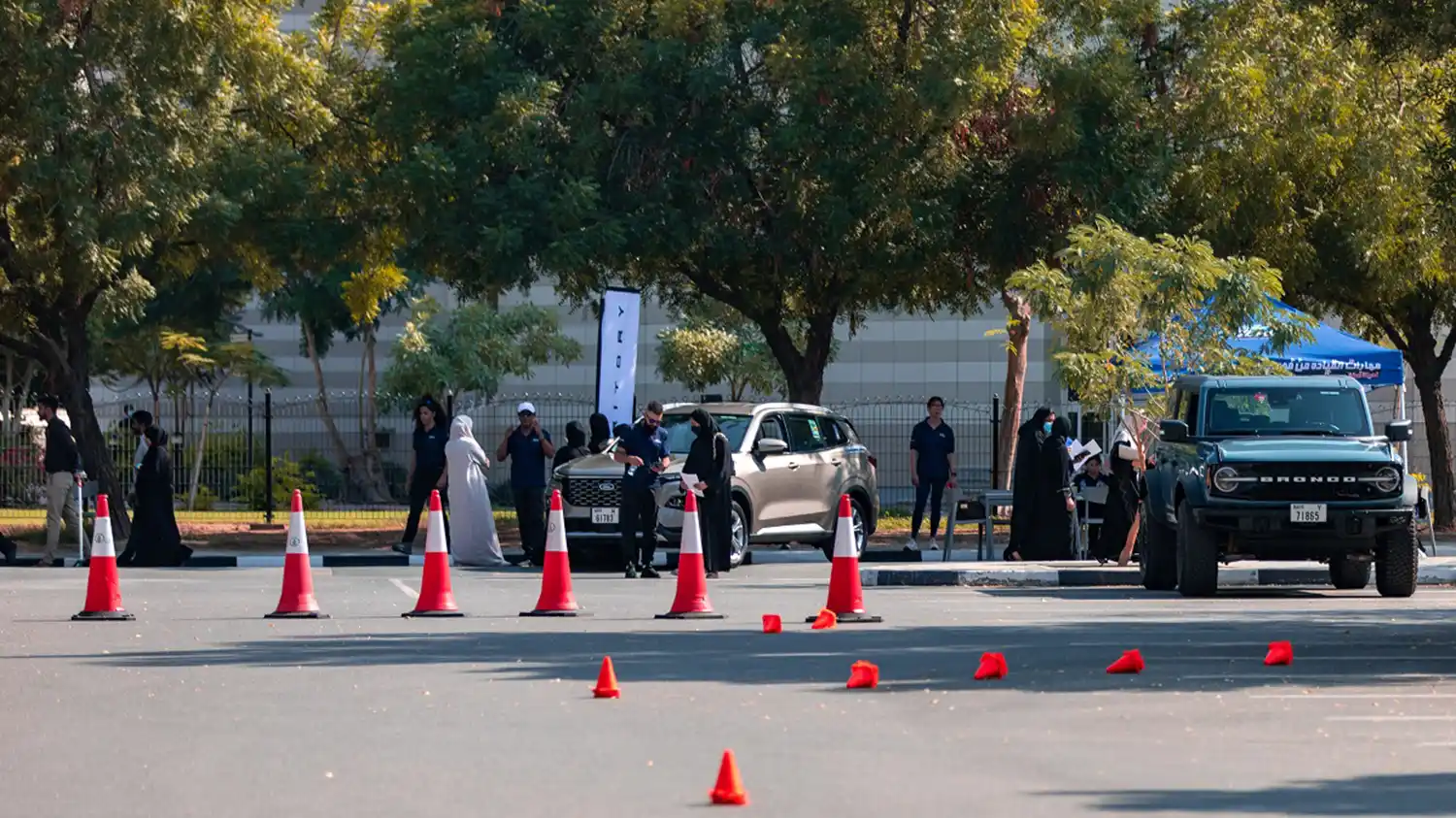 Ford has continued delivering vital road safety education through its global Driving Skills for Life (DSFL) in the Middle East, with sessions conducted in Jeddah and Dubai. Since 2010, the automaker's award-winning road safety awareness programme has been offering free training for newly licensed drivers, developed to raise standards of safety while rewarding them with essential skills designed to elevate the level of driving everywhere.
DSFL training is conducted with a hands-on curriculum and the innovative programme is available as part of highlighting Ford's commitment to promoting safety on the road. In the Middle East, Ford conducted DSFL sessions for 259 students at Effat University in Jeddah, Saudi Arabia, and 296 students at the Higher Colleges of Technology Women's Campus in Dubai, UAE. The students were given training across four modules: Fitting, Distraction, Driving Course, and Impairment.
Perdro Simoes, Marketing Director, Ford Middle East, said, "Now in its 19th year globally, Ford Driving Skills for Life has provided free training to more than 1.5 million newly licensed drivers in over 40 countries – including more than 4,000 students across the Middle East since 2013.
"In total, Ford has invested more than $50 million in initiatives globally as part of its long-standing commitment to promoting safety on the road.
"Here in the region and around the world, safety remains a key priority for Ford," he adds. "DSFL is a campaign that aims to help reduce the number of road accidents while improving drivers' knowledge of best practices on the road, as well as their confidence."
In the UAE, road accidents caused 381 deaths last year and is ranked 118 in the world for road traffic accidents, according to the country's Ministry of Interior. Saudi Arabia, meanwhile, is ranked 34, which highlights the challenges faced by drivers on the kingdom's roads.
Ford's DSFL training pairs new drivers with professional instructors to focus on five primary driving skills that can help avoid accidents: hazard recognition, vehicle handling, speed management and space management, as well as distracted and impaired driving.
The first module sought to provide students with the proper car fitting so that they are positioned the best way possible to be a safe driver – the optimal positioning of the seat, where to place hands on the steering wheel, the correct way to orient mirrors, and, of course, a reminder to always wear a seatbelt.
Following their fitting, the students were informed of the dangers of distracted driving, with a particular focus on the risks of using a phone, adjusting the radio, and using the vanity mirror while behind the wheel of a moving vehicle.
The third module provided participants with the key fundamentals of a driving lesson, building up from their fitting activity. The students were able to experience vehicle acceleration and braking; given guidance on hand placement on the steering wheel through slalom turns; taught under-and over-steering concepts; and given a lesson on taking on apex turns. Tips on how to signal correctly while making lane changes were also provided.
The fourth and final module saw the students don Ford's special impairment goggles to witness first-hand the harmful effects of driving while under the influence of alcohol, drowsiness-inducing medications, or even just very tired.
"While there have been improvements in road safety across this region, there remains a long way to go," says Simoes. "We will continue doing our part to spread the lessons of DSFL across the Middle East."