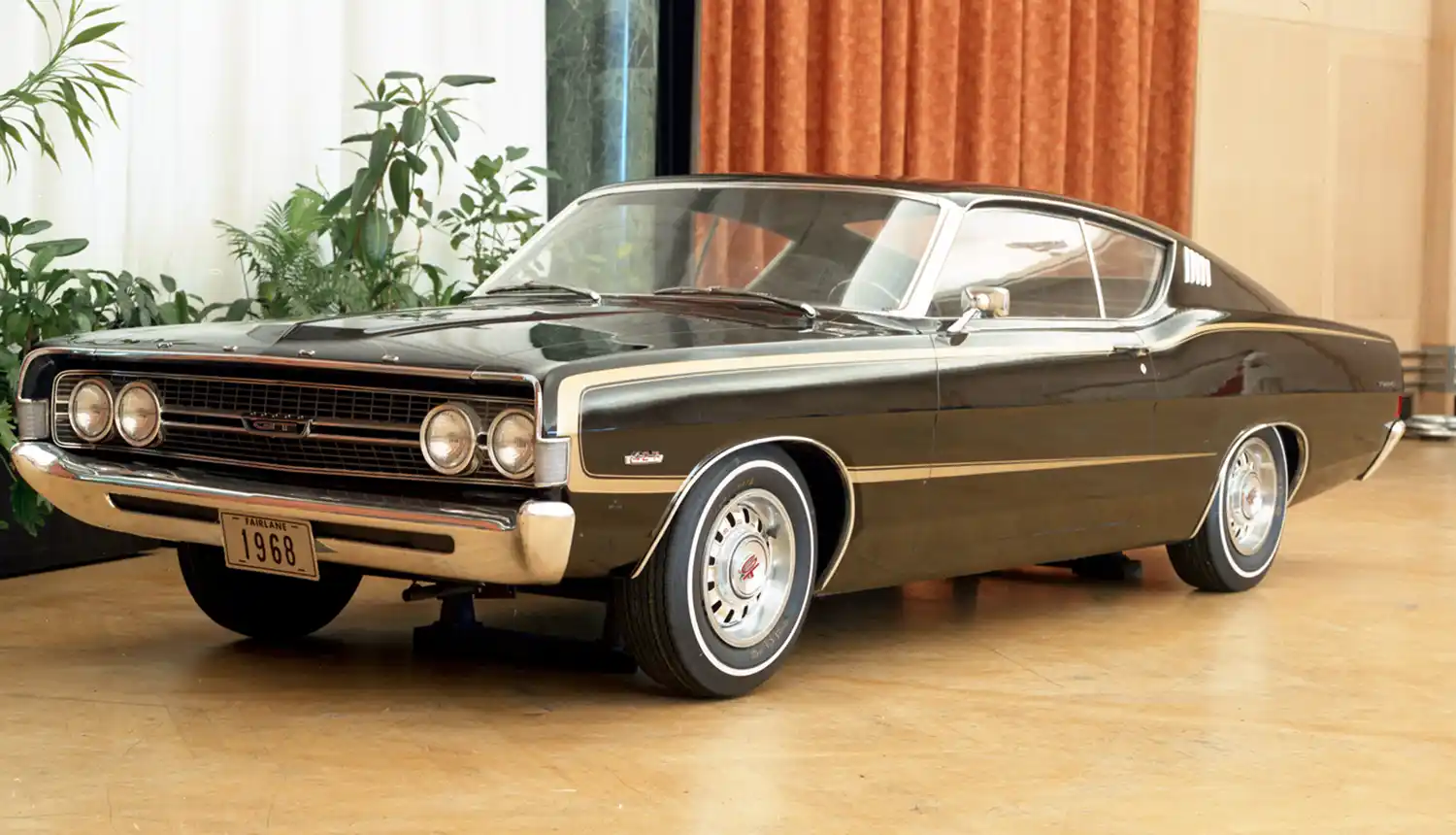 The 1968 Fairlane/Torino was constructed with unibody chassis using the same platform as the 1966–67 models. The front suspension consisted of short/long control arms with coil springs mounted on an upper control arm and a strut stabilized lower control arm.
Rear suspension consisted of long semi-elliptical leaf springs on a solid axle. A heavy-duty suspension option was available for V8 powered cars, and included extra-heavy-duty springs and shocks. Steering was recirculating ball system, with power steering optional. All cars came standard with four-wheel drum brakes, although front disc brakes and power assist were options.
The interior on the Fairlane/Torino was all new for 1968. A new dashboard featured four equally sized round pods centred around the steering wheel. However, the pods did not contain a full set of gauges; rather an assortment of warning lights along with the speedometer and fuel gauge.
The fuel gauge and temperature warning lights were in the first pod, a 120 mph (190 km/h) speedometer was located in the second pod from the left, alternator and oil pressure warning lights were in the third pod from the left and the fourth pod was blank.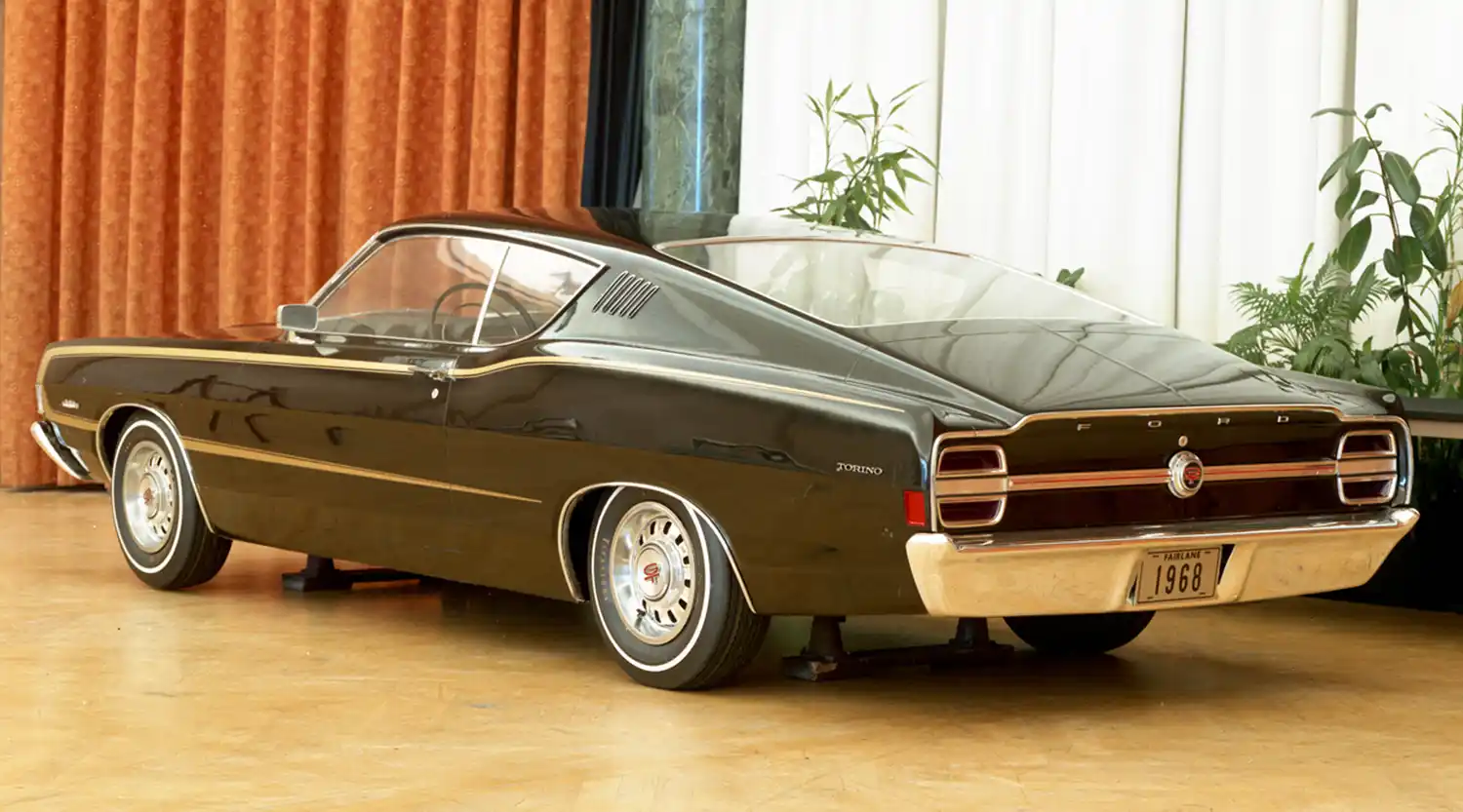 An optional tachometer was available, which would be located in the third pod, and an optional clock occupied the fourth pod. Ford offered many upholstery options, including a knitted vinyl option, called "comfortweave." This unique option allowed the vinyl to "breathe" unlike conventional vinyl, offering more comfort in hot weather. Conforming to U.S. safety standards, there was much padding inside the Torino's interior, which also featured shoulder belts for front outboard passengers on all cars built after December 31, 1967.
All Torinos included full colour-keyed carpeting, additional exterior and interior trim over a Fairlane, and Torino crests on the 'C' pillar. The Torino GT's standard features included special name plaques and exterior trim, GT markings on wheel covers and courtesy lights on the inside door panels. Initial sales literature showed that bucket seats were standard equipment.
However, due to a six-week UAW strike, the GT's standard seating was changed to a bench seat. The Torino GT was available with a GT handling suspension package, which included extra-heavy-duty springs and shocks, and a heavy-duty front anti-sway bar. Of note, when the 428 CJ engine was installed, the suspensions used the stiffest springs and largest front sway bar compared to other Torinos with the heavy-duty suspension. Four-speed equipped cars used staggered rear shocks which helped resist axle hop. GTs were available with a stripe option, which started as a 'C' shape at the edge of the front fender, and two body stripes.
Ford had quite a variety of engine options for its intermediate line. All models other than the Torino GT came standard with a 200 cu in (3.3 L) six-cylinder engine. Torino GT models came standard with a 302 cu in (4.9 L)-2V small block V8 and this was also the base V8 engine optional on other models. Other available engines included a 390 cu in (6.4 L)-2V FE engine, 390 cu in (6.4 L)-4V FE engine and a 427 cu in (7.0 L)-4V FE engine. About one month within the beginning of the 1968 model year production, a six-week UAW strike against Ford occurred. This resulted in a cost-cutting measure of making a 289 cu in (4.7 L)-2V small block V8 the base V8 engine and the standard engine on the Torino GT. Ford did not change any of its factory sales literature to reflect this change.
While the 427 cu in (7.0 L)-4V FE engine was initially listed as an engine option for 1968 in factory literature, no Fairlanes or Torinos were actually produced with this engine during 1968. Introduced on April 1, 1968, the 428 cu in (7.0 L)-4V CJ (Cobra-Jet) FE engine became available as an engine option, but due to its mid-year introduction these engines are very rare. The 428-4V Cobra-Jet was the most potent engine available for 1968, and is general believed to be under-rated at 335 hp (250 kW).
The cars equipped with the 428 Cobra Jets had emblems borrowed from the full-sized Fords (a red-and-chrome badge reading "428") mounted on the fenders behind the parking lamps. All models came standard with a three-speed manual transmission. Two Cruise-O-Matic automatics and a four-speed manual were optional. The C4 automatic was installed on smaller displacement engines up to the 302 V8, and C6 automatic was installed on all other larger displacement engines.
According to contemporary reviews, when equipped properly the Torino GT offered a good combination of power and handling. In Car Life magazine's test of a 1968 Torino GT SportsRoof equipped with a 390-4V, C-6, and 3.25:1 axle, they recorded a 0 – 60 mph (97 km/h) time of 7.7 seconds, and the quarter-mile (402 m) dragstrip time of 15.8 seconds at 90 mph (140 km/h).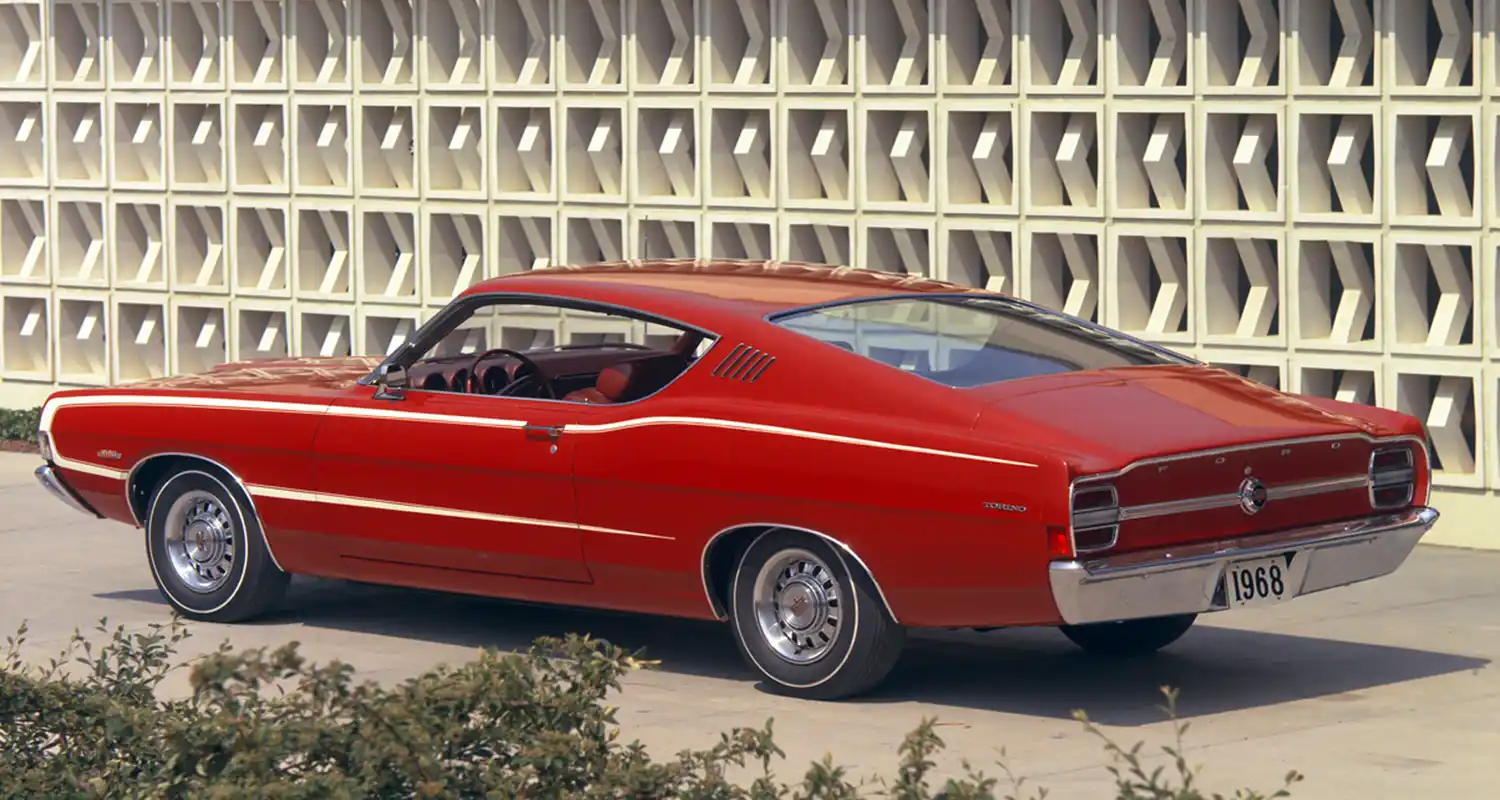 Motor Trend magazine wrote "Putting the car through quick and/or tight corners isn't a matter of practiced art – it's more like second nature for the GT" in their test of a 1968 Torino GT.[7] Car and Driver magazine tested a 1968 Ford Torino GT equipped with the 428 CJ with Ram Air induction, C-6 Cruise-O-Matic, and 3.91:1 gears and recorded a quarter-mile time of 14.2 seconds at 98.9 mph (159.2 km/h). Car and Driver wrote the Torino had "a 1–2 shift that broke the Wide-Ovals loose for at least a length. With a price tag of $306 for the Cobra-Jet option, Ford lovers have a reason to rejoice."
Station wagons came in three different models: "Fairlane", "Fairlane 500", and "Torino Squire." All wagons came equipped with Ford's "Magic Doorgate" two-way tailgate, and were available with an optional rear-facing third seat which increased the car's carrying capacity from 6 to 8 people. Torino Squire models came standard with simulated woodgrain side panels, and had the more refined trim and upholstery of the Torino sedans. Unique station wagon options included a chrome roof rack and a power rear window.
1968 was a successful year for Torino with 172,083 units produced. Including Fairlane production, 371,787 cars were produced. The Torino was well received by the automotive press and a 1968 Torino GT convertible was selected as the 1968 Indianapolis 500 pace car.
Specs:
Engine

200 cu in (3.3 L) I6
289 cu in (4.7 L) Windsor V8
302 cu in (4.9 L) Windsor V8
390 cu in (6.4 L) FE V8
427 cu in (7.0 L) FE V8
428 cu in (7.0 L) FE V8

Transmission

3-speed manual
4-speed manual
3-speed C4 automatic
3-speed C6 automatic

Dimensions

Wheelbase

116.0 in (2,946 mm)
113.0 in (2,870 mm) (wagon)

Length 201.0 in (5,105 mm)

203.9 in (5,179 mm) (wagon)

Width
Height
Curb weight

2,932–3,514 lb (1,330–1,594 kg)
Source: wikipedia (Creative Commons Attribution-ShareAlike License 3.0)