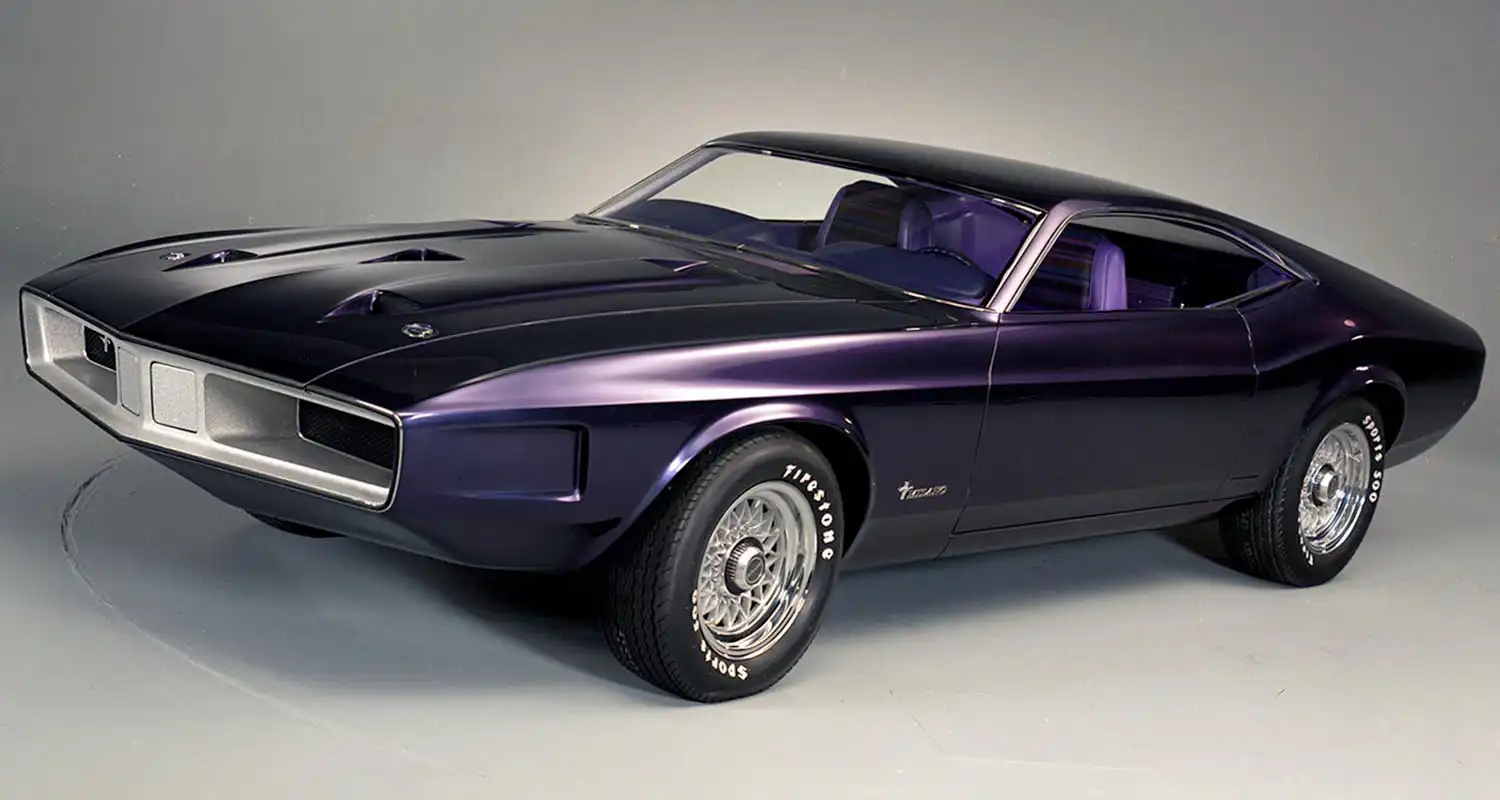 In February 1970, Ford kicked off a new decade at the Chicago Auto Show with a wild-looking Mustang concept car that previewed some of the design direction for the upcoming 1971 models. The exceptionally low-slung, two-seat Ford Mustang Milano took inspiration from the grand touring cars that regularly prowled the roads around the northern Italian city that gave the car its name.
From its Ultra Violet paint to the nearly horizontal fastback roof, the 43-inch-tall Milano was the most radical Mustang seen up to that time. In fact, were it not for the galloping pony badges on the grille and front fenders and the Mustang script across the back, one likely would never guess that the concept was derived from a 1970 Mustang SportRoof.
The windshield is sloped back at a 67-degree angle and the electrically-powered rear decklid is nearly horizontal. A trio of NACA-style ducts in the hood force air into the engine while an integrated spoiler at the tail helps keep the rear end planted at higher speeds. The tail features lamps that glow green when the car accelerates, switching to amber when coasting and finally the typical red when the brakes are applied.
Ford Mustang Milano rolled on an early application of cast-aluminum wheels, with a laced design that replicated classic wire wheels with much greater strength. Similar wheel designs became popular on many cars over the next three decades.
The purple theme continues into the cockpit, where the seats are finished in light purple leather with blue-violet cloth inserts. Deep purple mohair carpeting covering the floor just screams 1970.
While some elements of this concept appeared later that year on production Mustangs, the Milano also influenced other Ford cars, like the Australian-market 1974 Falcon XB coupe Americans might recognize as the car driven by the title character in the first two Mad Max films.