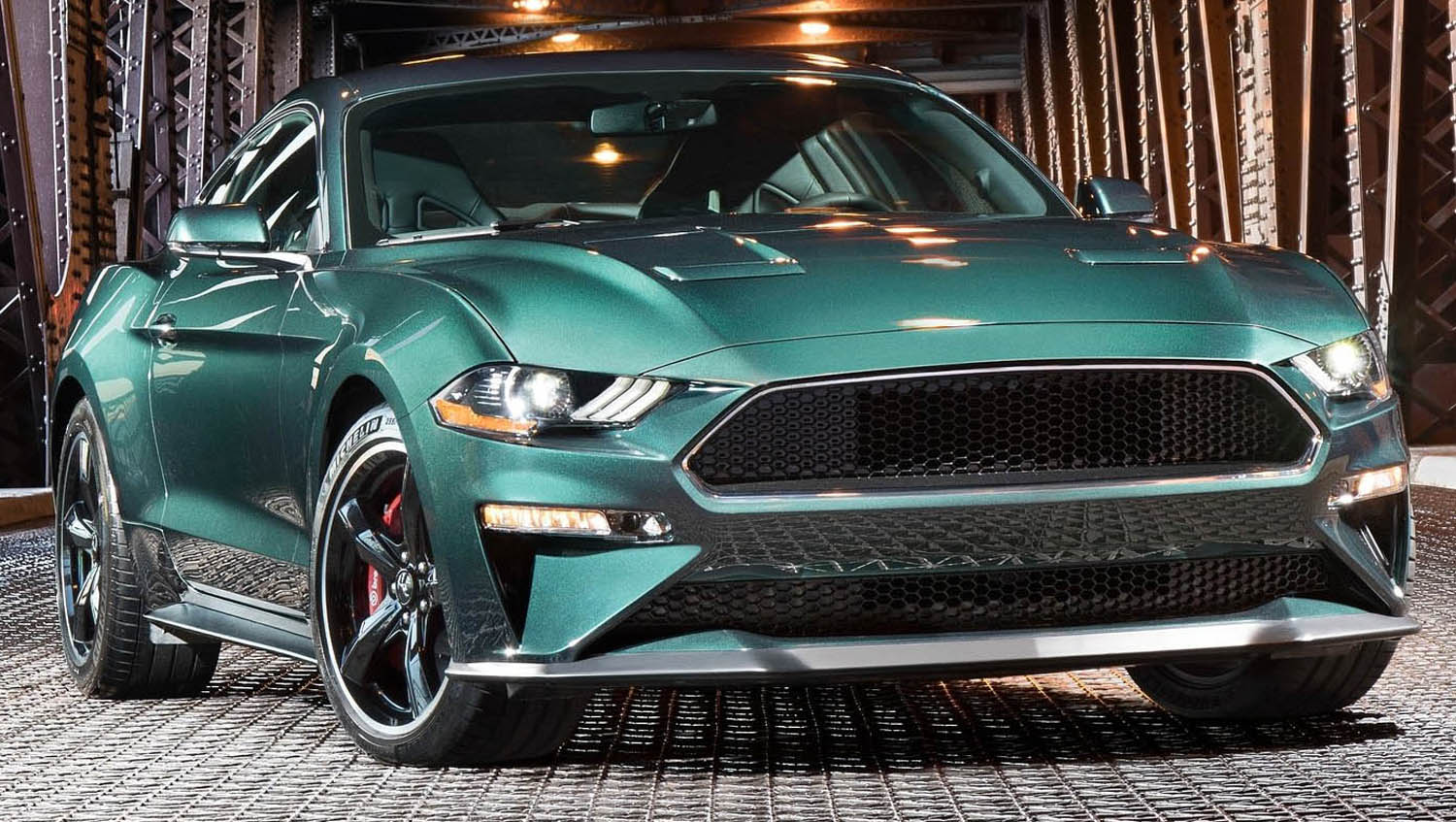 Celebrating the 50th anniversary of iconic movie "Bullitt" and its fan-favorite San Francisco car chase, Ford introduces the new cool and powerful 2019 Mustang Bullitt.
Third-generation member of the McQueen family, Molly, starred in a special movie of her own introducing the new third-generation Bullitt at the 2018 North American International Auto Show. In the film, Molly races a new Ford Mustang Bullitt through a parking structure battling a Dodge Charger for the final free space.
Helping it win that particular spot was the Bullitt's upgraded 5.0-liter V8 engine that will deliver at least 475 horsepower and 420 lb.-ft. of torque, pushing the new Bullitt to a top speed of 163 mph – an 8 mph increase versus the latest Mustang GT.
Special Edition
As a special-edition model due out in summer 2018 – the all-new Ford Mustang Bullitt is equipped with a manual transmission, and the gear shifter features a white cue ball shift knob as a nod to the original. The vehicle packages all Mustang GT Premium and Performance Package content into a vehicle that maintains the original Bullitt's understated persona.
An active valve performance exhaust system is standard with new Black NitroPlate™ exhaust tips, and retuned to give the car a signature burble, as well as new Open Air Induction System and Shelby GT350 intake manifold with 87mm throttle bodies and powertrain control module calibration for optimal performance.
Other standard equipment includes a heated leather steering wheel and a 12-inch all-digital LCD instrument cluster, identical in function to the cluster introduced on 2018 Mustang, but with a unique Bullitt welcome screen that starts in green with an image of the car rather than the pony.
"This new Bullitt is, as Steve McQueen was, effortlessly cool," said Darrell Behmer, Mustang chief designer. "As a designer, it's my favorite Mustang – devoid of stripes, spoilers and badges. It doesn't need to scream about anything – it's just cool."
Exterior paint choices are limited to Shadow Black and the classic Dark Highland Green – as worn in the movie. Other features that pay tribute to the car McQueen drove are subtle chrome accents around the grille and front windows, classic torque thrust 19-inch aluminum wheels, red painted Brembo™ brakes, and a unique black front grille. Inside and out, the vehicle uses minimal badging; only the circular faux gas cap Bullitt logo on the rear center is visible on the exterior.
The leather-trimmed interior features unique green accent stitching on the dashboard, door panels, center console and seats.
Aside from the two exterior paint choices, Ford Mustang Bullitt buyers are limited to three factory-installed options:
Bullitt Electronics Package includes navigation, driver memory seats and mirrors, upgraded sound system and Blind Spot Information System with Cross-Traffic Alert that can alert customers of vehicles detected in difficult-to-see places
MagneRide® semi-active suspension system optimizes driving performance
RECARO® black leather-trimmed seats
"When making a Bullitt, there are certain things it absolutely must have," said Carl Widmann, Mustang chief engineer. "It has to have the right attitude, it has to be unique in some way from a Mustang GT, and more than anything, it has to be bad ass."
That reputation was born after a Mustang GT fastback played a prominent role in the 1968 movie, and most notably in a chase scene that set new standards in filmmaking. The film's nearly 10-minute-long sequence followed McQueen chasing down two hitmen in his Mustang through the streets of San Francisco.