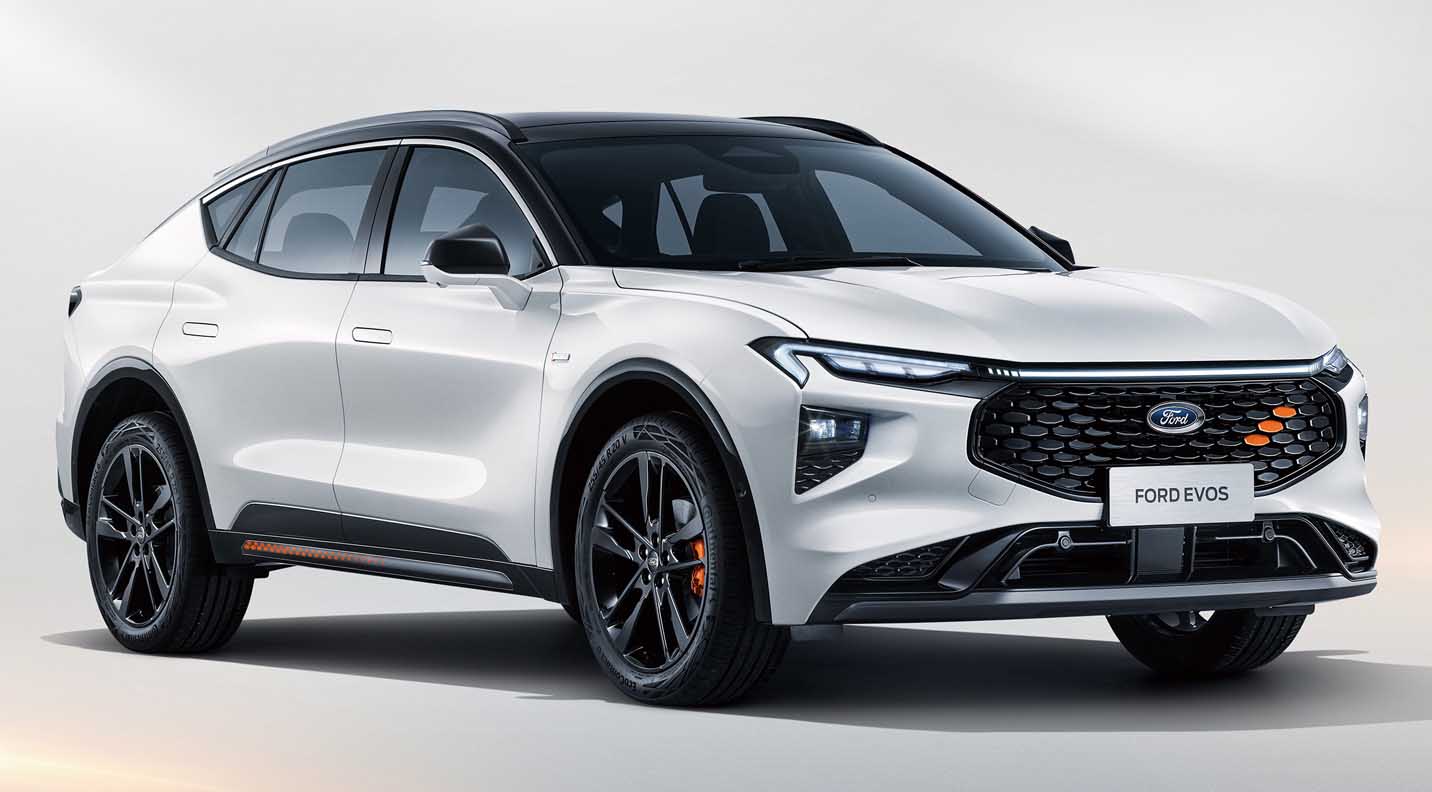 Ford EVOS made its global debut today at Auto Shanghai 2021 as the first vehicle developed under Ford's China 2.0 plan and the first vehicle reflecting the company's "Progressive Energy in Strength" design philosophy that aligns with Chinese aesthetics. Ford is further strengthening its EV portfolio in China with the debut of the new Ford Escape PHEV SUV and launch of the localized all-new, all-electric Ford Mustang Mach-E.
Visitors to Auto Shanghai 2021 will see products and technology from Ford and its Chinese joint ventures, Changan Ford and JMC Ford, together on a single show stand for the first time, with a new modern and exciting brand image and experience. The vehicle lineup at the stand will also include the newly-launched all-new Ford Escort and all-new Ford Equator, as well as Ford Explorer, Escape, Edge PLUS, Territory S, F-150 LTD and Mustang.
Ford China 2.0 in full swing for future growth
Ford is positioning for growth in China amidst fast transformations toward electrification, digitalization and connectivity. The company will continue focusing on electrification and intelligent technology, launching products and services designed with a customer-centric approach and upgrading its consumer experience. This focus includes relying on local resources to disrupt the electrification segment with Ford's newly announced direct sales EV business model in China and working with local tech companies to lead in the development of intelligent technology. Ford is also moving quickly to meet changes in consumer preferences and demand by optimizing its sales network and services, and further improving customer experience built around its Pioneering Innovation brand spirit, accelerating technological innovations, and treating customers like family.
"At Ford, our purpose is to help build a better world where every person is free to move and pursue their dreams. That's as true today as it was when the company was founded nearly 118 years ago," said Jim Farley, president and CEO of Ford Motor Company. "We are working together with our partners to deliver a superior and distinctive branded experience for our customers in China and around the world, and continue delivering on the 'Best of Ford, Best of China' commitment. Moving forward, we will still deliver great new products globally plus develop valuable, always-on relationships that grow and evolve over time."
All-new Ford EVOS defines Ford's "Progressive Energy In Strength" design philosophy and applies the latest smart technology
Part of Ford's China 2.0 plan, the all-new Ford EVOS is the company's first vehicle developed largely by a China-based team leveraging Ford's global product development expertise and designed entirely around the Chinese consumer experience and ownership scenarios.
Ford EVOS is the first vehicle to reflect Ford's "Progressive Energy in Strength" design philosophy with its innovative silhouette that communicates the agility and dynamic value of a coupe combined with the strength and sense of freedom of an SUV. The connected coast to coast lighting, 3D parametric scale grille, taillights with scale pattern and more distinctive design elements integrate Ford's design heritage with Chinese aesthetic values.
Inside, the intelligent embraced cockpit bridging the instrument panel and doors unites the entire interior space. On this foundation, a 1.1m-wide horizontal screen, including a 12.3" digital cluster and 27" 4K touch screen, is nested into the soft and stitched instrument panel, unfolding an advanced premium digital space.
Similar to the Mustang Mach-E, Ford EVOS is equipped with Ford's all-new Fully Networked Vehicle E/E architecture, which supports dynamic, quick and seamless over-the-air software updates to enhance product quality, capability and customer experience over time.
The extra-wide horizontal screen is powered by SYNC+ 2.0, which combines Baidu's AI technology and its digital application ecosystem. Using Ford's new UI design, it offers more intuitive and concise function distribution and simple shortcut menus for smooth and seamless interaction.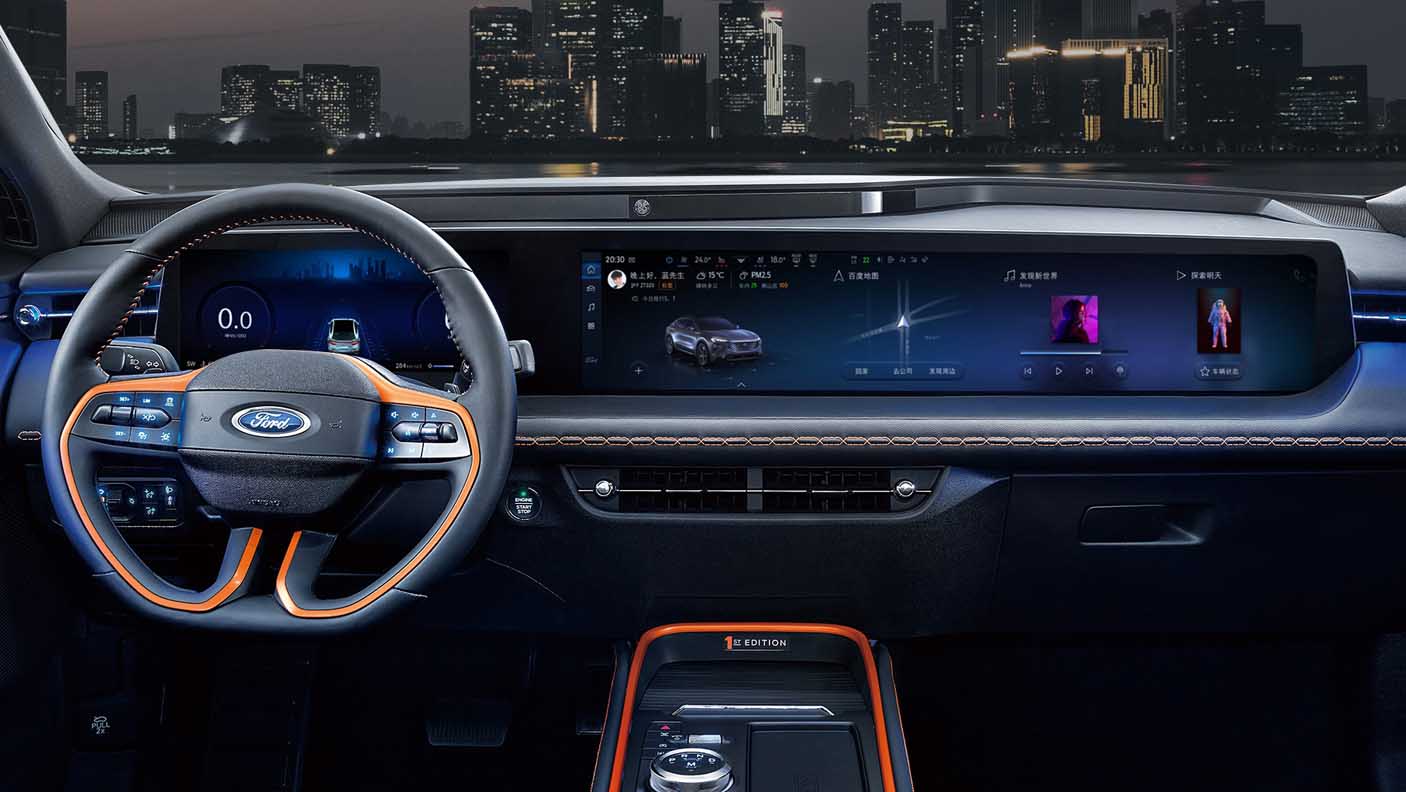 EVOS has Ford's first Virtual Personal Assistant, providing an emotional and personalized human-machine interface experience. Reflecting feedback from Chinese customers, EVOS introduces a unique smart digital cabin experience to meet demands of customers' various life moments. The industry-first "co-driver" mode makes road trips much more fun and efficient for both drivers and front passengers, who can use the extra-wide screen simultaneously for different tasks. The front passenger can view the vehicle status, navigation and traffic signs on screen to help the driver better understand road conditions. During long road trips, front passengers can enjoy entertainment content on their side of the screen while drivers use navigation functions on their own side. A customized relax mode combines with customized settings for in-cabin audio, ambient lighting and seat positions for a truly personalized experience.
With EVOS, Ford also plans to provide customers on-demand subscription services through the full-cycle user journey, which includes a series of unique customized on-board content and features, a more direct real-time owner communication, and value-added maintenance service through over-the-air software upgrades.
EVOS is equipped with BlueCruise, a first-for-Ford, SAE Level 2 driver-assist technology that allows drivers to operate truly hands-free on prequalified sections of divided highways called Hands-Free Blue Zones. C-V2X technology is also deployed in EVOS to help drivers navigate potential risks ahead as well as improve automotive safety and traffic efficiency.
"The all-new Ford EVOS not only represents a step forward in creating high-end products around customer experience to address the diverse needs of Chinese customers, but is also a pioneering vehicle demonstrating our next-generation intelligent features that herald the future development direction of Ford vehicles in China," said Anning Chen, president and CEO of Ford China. "Adhering to our Pioneering Innovation brand spirit, Ford will provide customers with a truly intelligent mobility experience based on customer-centric insights and our global cutting-edge smart technology expertise."
Ford EVOS will be built by Changan Ford, sold and serviced through the Ford NDSD distribution network across China.
Accelerating electrification plan and aspirations to win in the electric era
Ford is bringing the world's favorite pony car to kick off the electric era with the all-new, all-electric Mustang Mach-E SUV and demonstrate its strong determination and aspiration to win in the electric future. On April 13, the domestically built Ford Mustang Mach-E opened for pre-orders, with four trims including the Mustang Mach-E GT First Edition ranging from RMB 265,0001-379,900.
Positioning for growth in the fast-evolving Chinese EV segment, Ford is deploying a direct sales network that will serve customers in 20 major cities across China in 2021. Leveraging its existing dealer resources, Ford will offer an enhanced one-stop "Everything Online" experience to include service appointments and pickup and delivery of vehicles.
Ford will also work closely with charging partners such as the State Grid. Mustang Mach-E users can access over 300,000 high-quality public charging piles, of which 160,000 are fast charging, in more than 340 cities across the country through an exclusive app. NIO's nationwide fast charging network will also be accessible to Mustang Mach-E users.
Debuting at Auto Shanghai 2021, the new Ford Escape PHEV SUV is equipped with fourth-generation Ford Hybrid Architecture, capable of accelerating from 0 to 60km/h in 4.6 seconds, with more than 1,000km range and fuel consumption as low as 1.2L/100km to offer a worry-free pleasant experience in diverse driving scenarios.
Show stand design reflects customer-centric business model
Auto Shanghai 2021 visitors will see Ford and its Chinese joint ventures, Changan Ford and JMC Ford, sharing a single show stand with a new modern and exciting brand image and experience. The stand will offer an innovative digital experience built around Ford's Pioneering Innovation brand spirit. Visitors can experience a series of activations on the stand including the accelerated performance of Mustang Mach-E, learn about Ford's history and future, and view via augmented reality the ways Ford is involved in the development of future smart transportation systems as the company demonstrates its efforts in electrification, intelligence, forward-looking achievements and visions in the fields of advanced technology.
At the stand, visitors can view a true-to-life version of JMC Ford's refreshed dealer showroom designed around its service philosophy to "treat customers like family" and in line with Ford's innovative and distinctive customer experience standards. JMC Ford's recent dealer showroom upgrade is the first step in a series of customer experience initiatives Ford is implementing in China. In the next 12 months, the company will work with dealers to address the diverse needs of Chinese consumers, bringing to life the Pioneering Innovation brand spirit with a "treating customers like family" concept, establishing a full-time online relationship with consumers and creating an industry-leading, innovative customer experience.