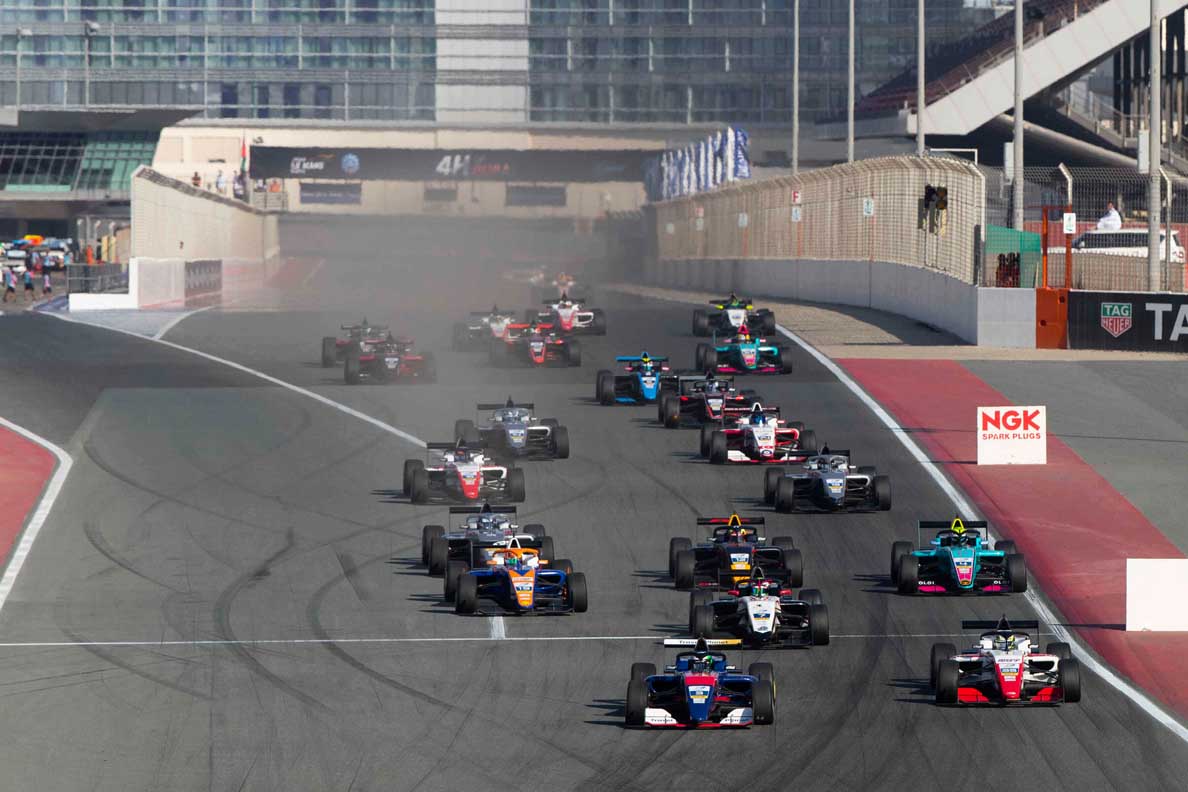 When the Formula 3 Asian Championship Certified by FIA and Giti Tire were tasked with executing the first major racing series of 2021, it was sure to be a challenge. With the COVID-19 travel and logistics difficulties of gathering all drivers and teams, safely completing the five round series, and maximizing digital exposure without having fans in attendance, a smooth result required great effort from all involved. Fortunately, the result turned out to be a very successful, with 25 top young drivers from 17 countries brining one of the most exciting seasons in the five years of F3 Asia.
After 15 races and five rounds, Guanyu Zhou of China made a final round comeback to win place first in the series, followed by Pierre-Louis Chovet (France) and Jehan Daruvala (India). All three drivers are young future leaders of the industry, hoping to follow recent F3 Asia successes including Pietro Fittipaldi and Nikita Mazepin who have moved on to F1 action. In particular, Zhou has placed himself into a strong positon with his great racing success at only 21 years of age. Among other successes, F1 level E-Sports (electronic video game racing) driver Cem Bolukbasi achieved a 9th place overall finish in his actual track debut, demonstrating how detailed simulated driving prepares for actual racing environments efficiently.
One of the challenges from the season was to find a location that would provide ability to travel and access to world-class tracks in the Asia region. While the Formula 3 Asian Championship series usually rotates among various major tracks and cities in Asia, international travel restrictions paved the way for the UAE to be selected, with famous Abu Dhabi Yas Marina and Dubai Autodrome racetracks providing the perfect backdrop. Meanwhile, all teams needed to gather from around the world, as well as the Giti Tire support crew.
Another way of providing a positive solution for this season was the ability to stream all races online through a variety of social media channels. This allowed all fans to access the action freely and in the comfort and safety of their own homes, for the first time in F3 Asia history.
Giti Tire is proud to support the F3 Asian championship series, with all cars using GitiCompete GTR1 tires in the action. These tires are specially engineered with Giti's global R&D team and AdvanZtech proprietary technology to meet the requirements of the most demanding motorsports racers, as shown through the successful races of this season.
About Giti Tire
Giti Tire Group (headquartered in Singapore) has roots in the tire business going back to 1951 and is now one of the world's largest tire companies. Giti Tire produces a broad range of tire products, serving major original equipment vehicle manufacturers, auto-service outlets, motorsports teams, tire dealers, and consumers in more than 130 countries worldwide. The company has eight production centers in three countries, including a newly opened tire factory in South Carolina, USA.
In addition to its wide network and motorsports presence, Giti Tire is also heavily focused on green production and community efforts, including participation in local education and environmental efforts to create a better society.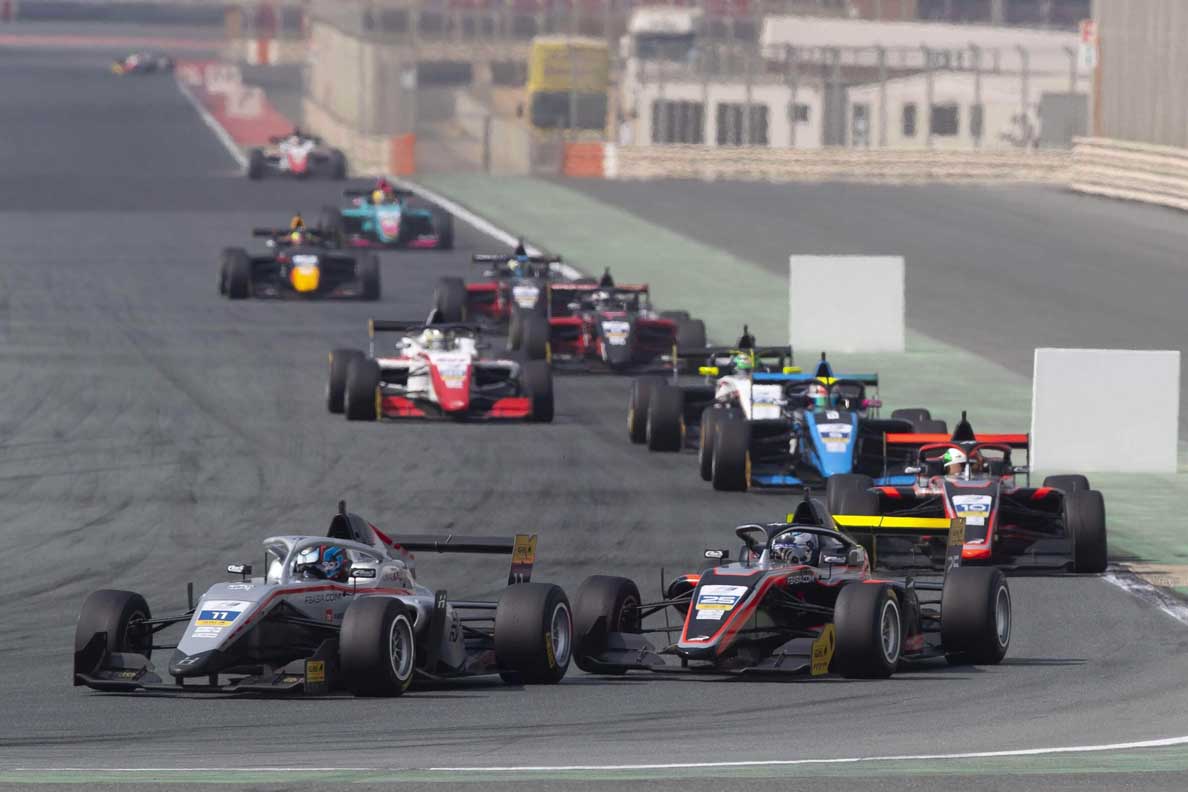 2021 F3 Asian Championship Certified by FIA – Final Rankings
| | | | | | |
| --- | --- | --- | --- | --- | --- |
| Pos | No | Driver | Nat | Team | Pts |
| 1 | 33 | Guanyu ZHOU | CHN | Abu Dhabi Racing by Prema | 257 |
| 2 | 3 | Pierre-Louis CHOVET | FRA | Pinnacle Motorsport | 241 |
| 3 | 19 | Jehan DARUVALA | IND | Mumbai Falcons India Racing Ltd. | 192 |
| 4 | 4 | Patrik PASMA | FIN | 3Y Evans GP | 146 |
| 5 | 14 | Roy NISSANY | ISR | Hitech Grand Prix | 99 |
| 6 | 6 | Isack HADJAR | FRA | 3Y Evans GP | 95 |
| 7 | 16 | Dino BEGANOVIC | SWE | Abu Dhabi Racing by Prema | 88 |
| 8 | 12 | Ayumu IWASA | JPN | Hitech Grand Prix | 82 |
| 9 | 74 | Cem BOLUKBASI | TUR | BlackArts Racing | 61 |
| 10 | 11 | Roman STANEK | CZE | Hitech Grand Prix | 60 |
| 11 | 28 | Kush MAINI | IND | Mumbai Falcons India Racing Ltd. | 55 |
| 12 | 13 | Reece USHIJIMA | GBR | Hitech Grand Prix | 45 |
| 13 | 16 | David VIDALES | ESP | Abu Dhabi Racing by Prema | 38 |
| 14 | 62 | Lorenzo FLUXA | ESP | BlackArts Racing | 25 |
| 15 | 10 | Alessio DELEDDA | ITA | Pinnacle Motorsport | 9 |
| 16 | 5 | Alex CONNOR | GBR | 3Y Evans GP | 8 |
| 17 | 7 | Roberto FARIA | BRA | Motorscape | 6 |
| 17 | 8 | Rafael VILLAGOMEZ | MEX | BlackArts Racing | 6 |
| 18 | 66 | Zdenek CHOVANEC | POR | BlackArts Racing | 2 |
| 19 | 5 | Casper STEVENSON | GBR | 3Y Evans GP Team Oloi | 0 |
| 19 | 25 | Alexandre BARDINON | FRA | Pinnacle Motorsport | 0 |
| 19 | 40 | Matthias LUETHEN | GER | Pinnacle Motorsport | 0 |
| 19 | 51 | Irina SIDORKOVA | RUS | 3Y Evans GP Team Oloi | 0 |
| 19 | 77 | Nicola MARINANGELI | ITA | Motorscape | 0 |
| 19 | 88 | Amna AL QUBAISI | UAE | Abu Dhabi Racing by Prema | 0 |
| 19 | 99 | Khaled AL QUBAISI | UAE | Abu Dhabi Racing by Prema | 0 |