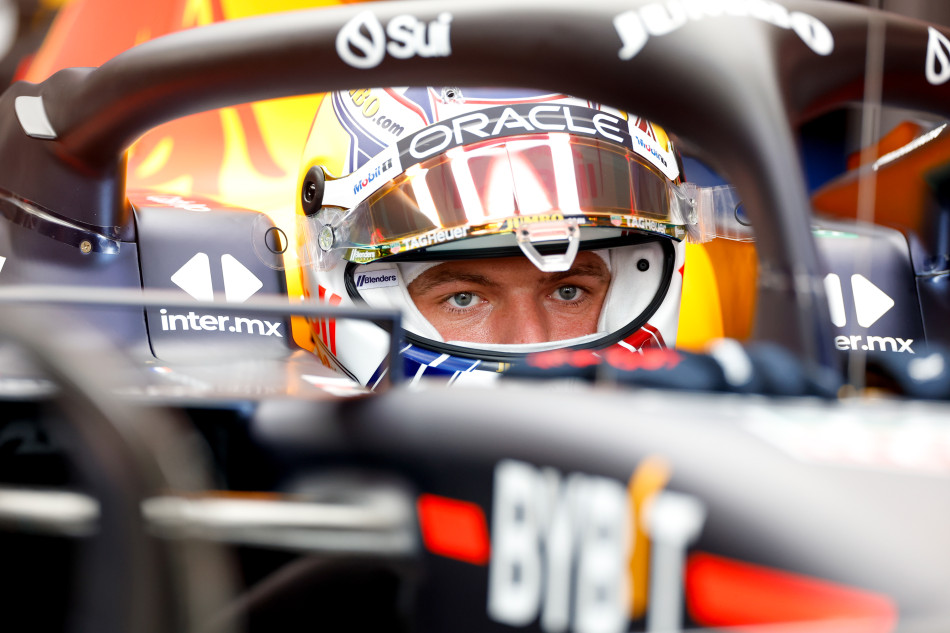 Max Verstappen topped the timesheet ahead of Mercedes' George Russell in a wet final practice session for the 2023 FIA Formula 1 Dutch Grand Prix in a session interrupted by three red flags periods.
With heavy rain in the morning, the final hour of practice got underway in thoroughly wet conditions, providing AlphaTauri reserve Liam Lawson with an even greater challenge as he set about preparing for his first grand prix in place of Daniel Ricciardo who broke a bone in his left hand in a crash during second practice.
The 21-year-old New Zealander was one of the first drivers on track, on full wet tyres, and he gingerly made his way around the 4.2km of Zandvoort as he got to grips with an unfamiliar car and track.
It was Max Verstappen who was almost caught out by the conditions, however. The championship leader, also on full wets, put a wheel on the white line at the top of Turn 3 and was lucky to control the resulting slide towards the barriers.
The Dutchman did, however, set the early pace with a time of 1:27.514 ahead of Alfa Romeo's Valtteri Bottas, with Williams's Alex Albon in third place.
However, after 10 minutes of running, the session was halted when Kevin Magnussen lost control on the exit of Turn 3 and hit the barriers, damaging his front suspension.
After a brief delay to recover the newly re-signed Dane's Haas, running resumed and after emerging on intermediates, Verstappen lowered the benchmark to 1:25.197, just over 1.5s clear of McLaren's Lando Norris and two seconds clear of third-placed Charles Leclerc, both of whom were also on the green-banded tyres.
But after 25 minutes the session was red-flagged for a second time. Moments after Alpine's Pierre Gasly had taken a trip through the gravel at Turn 11, Zhou Guanyu spun his Alfa Romeo in Turn 14 and ended up beached in the gravel trap.
After a 10-minute delay, and as the rain began to abate, the session resumed with Williams' Logan Sargeant first on track ahead of Lawson who was starting his 14th lap of the session, on full wets.
With a little 20 minutes left on the clock, Norris took P1 with a lap of 1:25.086 to head Verstappen by 0.111s, while the Briton's McLaren team-mate Oscar Piastri moved to P3 on 1:25.824. The Australian then moved past both to claim P1 with a time of 1:24.893 as the track began to improve. Norris was finding more and more grip, however and he soon jumped back to P1 with a lap of 1:23.677, 1.2s ahead of his team-mate.
With 13 minutes left the red flags were shown again, this time for Lawson who put his rear left tyre on the exit kerb in Turn 13 and spun. The New Zealander's AlphaTauri came to rest beside the barriers on the entry to Turn 14, facing the wrong way, and with cars streaming past, the session was halted. Fortunately, Lawson had merely nudged the barriers on the right-hand side and he was able to get going again and return to the pits.
After a short, four-minute delay running resumed and Verstappen again emerged on intermediates and he vaulted to the top of the timesheet with a lap of 1:22.758, 0.9s ahead of Norris. With the track improving rapidly, Verstappen then improved again, by more than a second, to sit in P1 on 1:21.631, 1.1s clear of Mercedes' George Russell who had jumped to P2.
In the final moments a flurry of personal bests were posted, and Sergio Pérez claimed third place at the end of the session with a lap of 1:22.631, exactly a second off his team-mate. Fourth place went to Aston Martin's Fernando Alonso, who finished just 0.003s behind Pérez.
Behind the Spaniard, Lewis Hamilton was fifth for Mercedes ahead of Williams' Alex Albon, while Piastri dropped to seventh at the flag. Bottas took P8 for Alfa Romeo ahead of Leclerc, who struggled throughout getting his Ferrari turned in at the first corners, and the final top-10 place went to Norris.
2023 FIA Formula 1 Dutch Grand Prix – Free Practice 3
1 Max Verstappen Red Bull Racing 1:21.631 18 187.825
2 George Russell Mercedes 1:22.010 0.379 18 186.957
3 Sergio Pérez Red Bull Racing 1:22.631 1.000 18 185.552
4 Fernando Alonso Aston Martin 1:22.634 1.003 14 185.545
5 Lewis Hamilton Mercedes 1:22.723 1.092 18 185.346
6 Alexander Albon Williams 1:22.750 1.119 19 185.285
7 Oscar Piastri McLaren 1:22.892 1.261 20 184.968
8 Valtteri Bottas Alfa Romeo 1:22.965 1.334 25 184.805
9 Charles Leclerc Ferrari 1:23.093 1.462 12 184.520
10 Lando Norris McLaren 1:23.158 1.527 24 184.376
11 Pierre Gasly Alpine 1:23.210 1.579 15 184.261
12 Carlos Sainz Ferrari 1:23.438 1.807 17 183.757
13 Yuki Tsunoda AlphaTauri 1:23.544 1.913 18 183.524
14 Logan Sargeant Williams 1:23.570 1.939 20 183.467
15 Nico Hülkenberg Haas 1:23.640 2.009 20 183.314
16 Esteban Ocon Alpine 1:23.806 2.175 12 182.951
17 Lance Stroll Aston Martin 1:24.058 2.427 15 182.402
18 Liam Lawson AlphaTauri 1:26.343 4.712 26 177.575
19 Zhou Guanyu Alfa Romeo 1:28.482 6.851 9 173.282
20 Kevin Magnussen Haas – 1