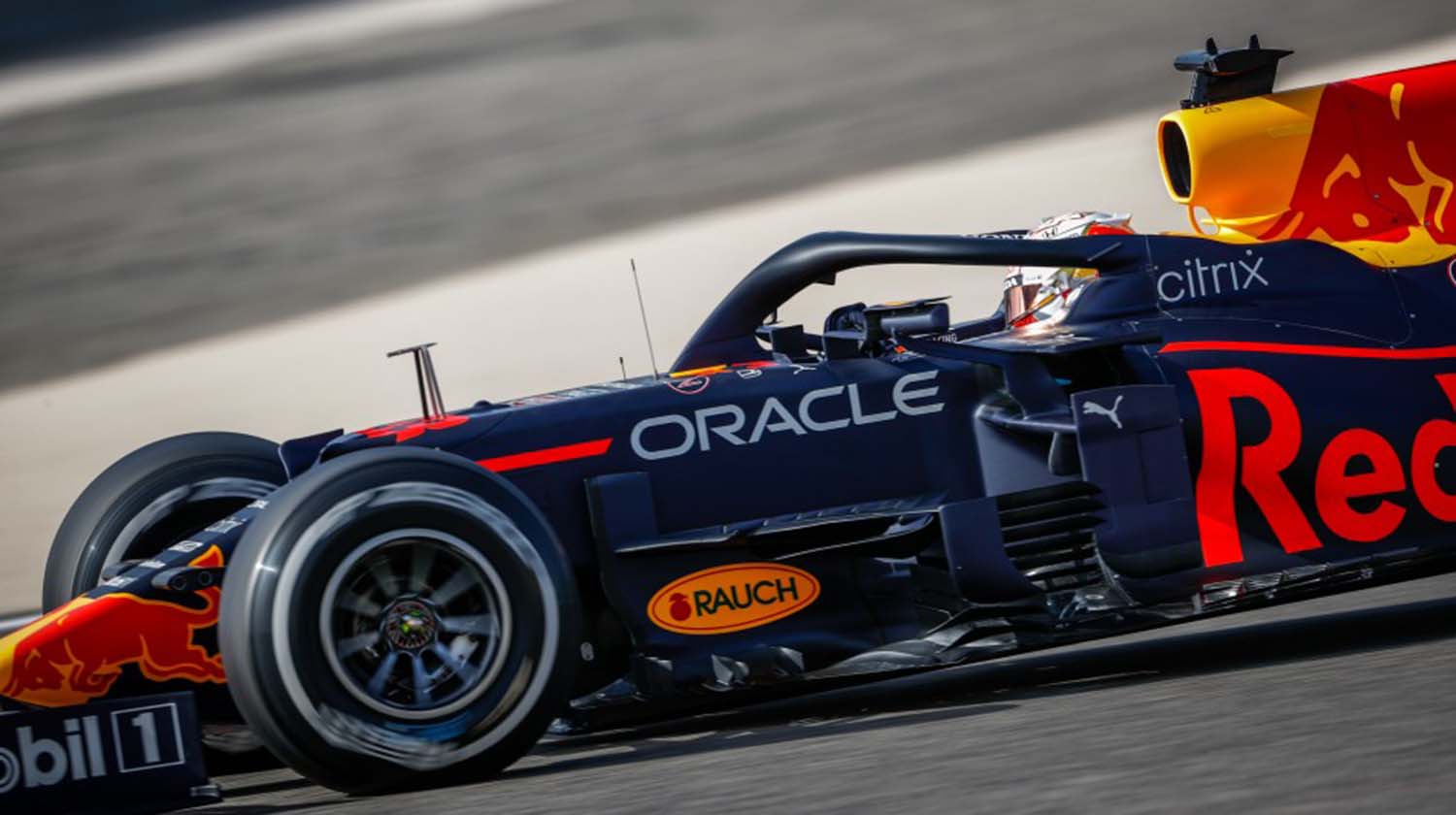 Max Verstappen made it three for three in practice for tomorrow's Bahrain Grand Prix by setting the fastest lap of the final one-hour session ahead of qualifying. The Red Bull Racing driver outpaced defending World Champion Lewis Hamilton by almost three-quarters of a second, with third place going to AlphaTauri's Pierre Gasly.
With the session taking place in the searing heat of the early afternoon there was a slow start to the action, with only AlphaTauri's Yuki Tsunoda putting in an early installation lap to check overnight changes after his team broke the curfew to fix a power unit issue.
Mercedes' Valtteri Bottas was the first to set a meaningful time but his lap was swiftly deleted due to the Finn exceeding track limits in Turn 4. Ferrari's Carlos Sainz moved to P1 but he was soon eclipsed by Hamilton who set a time of 1:32.933 on soft tyres.
Verstappen, however, soon emerged from the Red Bull garage and though he was running hard tyres, he jumped to the top of the timesheet wit6h a lap of 1:32.617.
As the session moved past the halfway mark and towards the performance runs, Verstappen hung on to P1. But just before the two thirds mark Gasly moved ahead with the AlphaTauri driver setting a lap of 1:32.321s on softs. He was then dislodged by Sainz who posted a time of 1:32.108.
It was then the turn of Mercedes to put in a quali style run. Bottas grabbed P1 but was pushed back to second by Hamilton who went half a second quicker than the Finn with a lap of 1:31.316.
Red Bull's Sergio Perez was next to bolt on a set of softs but the Mexican, in his first race weekend with the team, could only manage third behind the Mercedes cars.
After Gasly split the Mercedes with another run, it was then the turn of Verstappen. And the Dutch driver looked supremely comfortable as he pushed his RB16B to an impressive time of 1:30.577, 0.739 clear of Hamilton.
Gasly's lap bounced Bottas out to fourth with Perez pushed back to fifth ahead of Sainz and Alfa Romeo's Kimi Räikkönen. Esteban Ocon was eighth for Alpine, with Lance Stroll (Aston Martin) and McLaren's Daniel Ricciardo rounding out the top 10.
2021 FIA Formula 1 Bahrain Grand Prix – Free Practice 3
1 Max Verstappen Red Bull 11 1:30.577
2 Lewis Hamilton Mercedes 14 1:31.316 0.739
3 Pierre Gasly AlphaTauri 13 1:31.583 1.006
4 Valtteri Bottas Mercedes 16 1:31.855 1.278
5 Sergio Perez Red Bull 11 1:31.908 1.331
6 Carlos Sainz Ferrari 16 1:32.108 1.531
7 Kimi Raikkonen Alfa Romeo 15 1:32.224 1.647
8 Esteban Ocon Alpine 11 1:32.423 1.846
9 Lance Stroll Aston Martin 13 1:32.431 1.854
10 Daniel Ricciardo McLaren 12 1:32.477 1.900
11 Charles Leclerc Ferrari 17 1:32.482 1.905
12 Antonio Giovinazzi Alfa Romeo 11 1:32.500 1.923
13 Yuki Tsunoda AlphaTauri 15 1:32.709 2.132
14 Sebastian Vettel Aston Martin 15 1:32.755 2.178
15 Fernando Alonso Alpine 15 1:32.820 2.243
16 Lando Norris McLaren 10 1:32.860 2.283
17 George Russell Williams 14 1:33.323 2.746
18 Mick Schumacher Haas 14 1:33.422 2.845
19 Nikita Mazepin Haas 14 1:33.622 3.045
20 Nicholas Latifi Williams 16 1:33.959 3.382