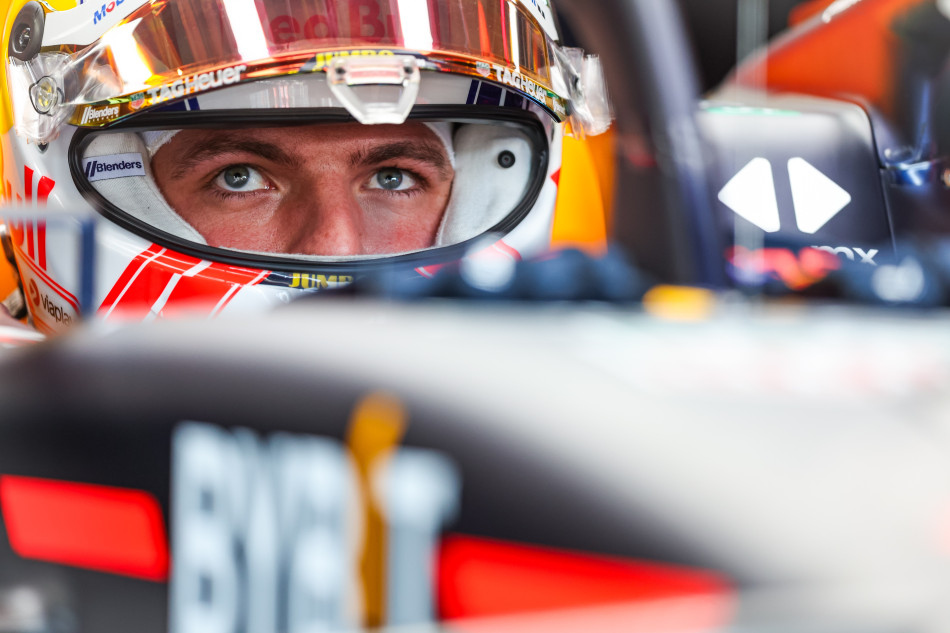 Max Verstappen topped the timesheet in the opening practice session for this weekend's British Grand Prix, beating Red Bull team-mate Sergio Pérez by almost half a second. Williams' Alex Albon finished in third place ahead of the Aston Martin of Fernando Alonso.
Verstappen was quickly to the fore when the session got underway, posting a P1 time of 1:30.443 on hard tyres. Aston Martin's Lance Stroll used medium compound Pirelli tyres to go second with a lap of 1:30.979 as drivers worked through their run plans in warm temperatures at the Northamptonshire track.
Nyck de Vries went off track briefly as the session edged towards the quarter-hour mark but after losing control at Luffield the Dutch driver was able to steer his AlphTauri out of the gravel trap and continue.
Verstappen then lowered the benchmark to 1:29.863, though the championship leader complained that it was "like driving on ice", while Ferrari's Charles Leclerc moved to second place ahead of team-mate Carlos Sainz. Both were almost a second off the Red Bull, despite using medium tyres.
Sergio Pérez then took P3 just two tenths of a second off his team-mate and Williams' Logan Sargeant briefly took a headline-grabbing third place, albeit on soft tyres.
As the session hit the halfway point, Verstappen was at last deposed when Sainz claimed top spot with a soft tyres lap of 1:29.357. That put him half a second clear of the Dutchman with Pérez third ahead of AlphaTauri's Yuki Tsunoda and Sargeant. Local hero Lewis Hamilton was in sixth and complaining that "bouncing is pretty bad".
Leclerc then moved to second place with a lap of 1:29.418s but with a little less than 20 minutes left Alpine's Esteban Ocon shot to the top of the timesheet with a lap of 1:29.319.
His stay was short though as Leclerc went for another attempt and this time he moved to P1 with a lap of 1:29.280.
Pérez was the first of the Red Bulls to make the switch to soft rubber but his first attempt on the red-banded tyre, a 1:29.333, only netted him third place. But Vertsappen was also out on the softs and when he crossed the line he vaulted back to the top with a lap of 1:28.836, which he then improved to 1:28.600. Pérez wasn't done, however, and he claimed P2 with a lap 1:29.048 moments after Albon had scaled the order with his best lap of 1:29.089 which was good enough for third.
Fourth place went to Aston Martin's Fernando Alonso who finished 0.668 off Verstappen while Leclerc had to settle for fifth on a circuit the Monegasque driver said might not provide the same boost as Ferrari experience in Austria and Canada.
Ocon took sixth for Alpine, ahead of the second Ferrari of Sainz, while Lando Norris was eight in a McLaren boasting more upgrades following the suite the team had already introduced in Austria. Lance Stroll was ninth in the second Aston Martin and the final top 10 spot went to Oscar Piastri in the second McLaren.
2023 FIA Formula 1 British Grand Prix – Free Practice 1
1  Max Verstappen Red Bull Racing 1:28.600  26 239.363
2  Sergio Pérez Red Bull Racing 1:29.048 0.448 22 238.159
3  Alexander Albon Williams 1:29.089 0.489 22 238.049
4  Fernando Alonso Aston Martin 1:29.268 0.668 21 237.572
5  Charles Leclerc Ferrari 1:29.280 0.680 25 237.540
6  Esteban Ocon Alpine 1:29.319 0.719 23 237.436
7  Carlos Sainz Ferrari 1:29.357 0.757 25 237.335
8  Lando Norris McLaren 1:29.441 0.841 25 237.112
9  Lance Stroll Aston Martin 1:29.471 0.871 26 237.033
10  Oscar Piastri McLaren 1:29.658 1.058 16 236.538
11  Nyck de Vries AlphaTauri 1:29.691 1.091 26 236.451
12  Lewis Hamilton Mercedes 1:29.768 1.168 23 236.248
13  Pierre Gasly Alpine 1:29.828 1.228 24 236.091
14  George Russell Mercedes 1:29.874 1.274 28 235.970
15  Valtteri Bottas Alfa Romeo 1:30.090 1.490 22 235.404
16  Yuki Tsunoda AlphaTauri 1:30.092 1.492 28 235.399
17  Logan Sargeant Williams 1:30.124 1.524 24 235.315
18  Zhou Guanyu Alfa Romeo 1:30.321 1.721 20 234.802
19  Kevin Magnussen Haas 1:30.385 1.785 21 234.636
20  Nico Hülkenberg Haas 1:30.591 1.991 22 234.102