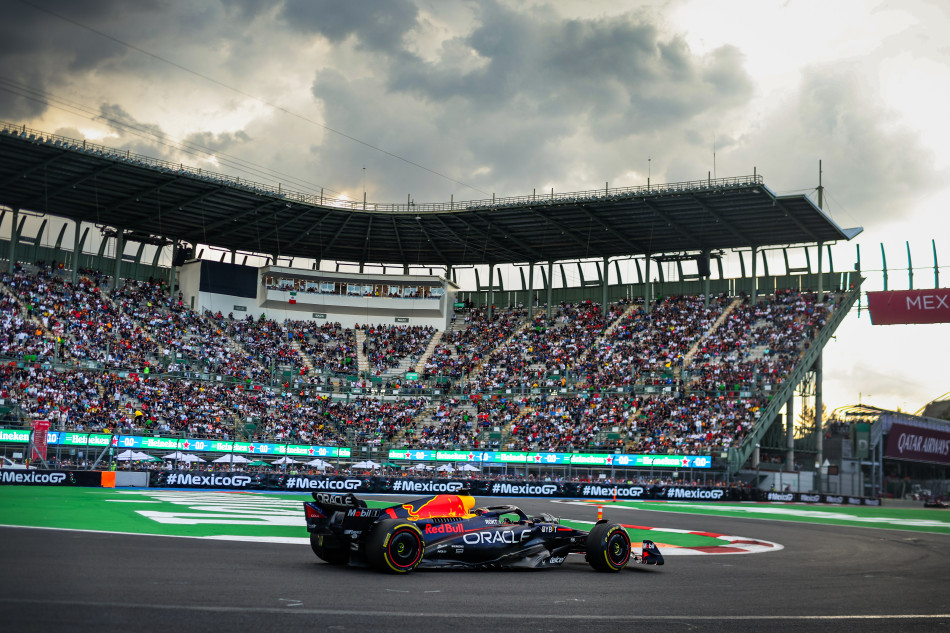 Max Verstappen made it a clean sweep of practice sessions at the Autódromo Hermanos Rodríguez, topping final practice for the Mexico City Grand Prix ahead of Williams' Alex Albon and Red Bull team-mate Sergio Pérez.
At the start of the final hour of practice it was the Mercedes pair of George Russell and Lewis Hamilton who topped the order, with the former in P1 with a lap of 1:18.644. Red Bull's drivers sat out the opening third of the session but when Verstappen appeared he immediately rose to P2 with his first flying lap, splitting the Mercedes drivers thanks to a lap of 1.18.717.
Pérez slotted into P6 with his opening flying lap but Daniel Ricciardo then knocked the Mexican back as he jumped to P4 with a good lap, just 0.6s off P1 man Russell.
Verstappen was heading out for a second run, however, and this time the Dutch driver found the pace necessary to oust Russell, clocking a lap of 1:18.429s to take top spot. Pérez too found an improvement on his second run, climbing to P3, a tenth off Russell.
With a little under 20 minutes left in the session Albon bolted on a fresh set of Soft tyres and the Thai driver set an impressive time of 1:17.957 to steal top spot from Verstappen.
Russell also improved in the final third, moving to P2, three tenths of a second off Albon as Verstappen slid back.
The three-time champion was biding his time, however, and when he went out for a final run he returned to the top of the order. It was not by much, though. Quickest in the opening sector, the Dutchman lost time in S2 and crossed the line just 0.070s ahead of Albon. The Dutchman was quickly on the radio to report that he had encountered significant traffic during his lap.
Pérez took third just 0.139s behind Verstappen, followed by Russell, McLaren's Oscar Piastri, the Alfa Romeo of Valtteri Bottas and the AlphaTauri of Yuki Tsunoda. Lando Norris was eighth for McLaren, ahead of Ricciardo and the top 10 was rounded out by Hamilton.
The shape of the top 10 might have been different had either Ferrari driver managed a clean lap on Softs at the end of the session with Leclerc and Sainz ending up 13th and 15th respectively.
Sainz was also involved in an incident in which he appeared to be blocked by the slow Aston Martin of Lance Stroll while on a push lap. The Spaniard had to break hard to avoid the Canadian, spinning as a result.
2023 FIA Formula 1 Mexico City Grand Prix – Free Practice 3 
1 Max Verstappen Red Bull Racing 1:17.887 19 198.934
2 Alexander Albon Williams 1:17.957 0.070 19 198.755
3 Sergio Pérez Red Bull Racing 1:18.026 0.139 19 198.579
4 George Russell Mercedes 1:18.248 0.361 20 198.016
5 Oscar Piastri McLaren 1:18.392 0.505 22 197.652
6 Valtteri Bottas Alfa Romeo 1:18.437 0.550 26 197.539
7 Yuki Tsunoda AlphaTauri 1:18.450 0.563 26 197.506
8 Lando Norris McLaren 1:18.480 0.593 21 197.431
9 Daniel Ricciardo AlphaTauri 1:18.499 0.612 15 197.383
10 Lewis Hamilton Mercedes 1:18.522 0.635 21 197.325
11 Logan Sargeant Williams 1:18.718 0.831 15 196.834
12 Zhou Guanyu Alfa Romeo 1:18.917 1.030 21 196.337
13 Charles Leclerc Ferrari 1:18.970 1.083 22 196.206
14 Lance Stroll Aston Martin 1:19.094 1.207 21 195.898
15 Carlos Sainz Ferrari 1:19.293 1.406 23 195.406
16 27 Nico Hülkenberg Haas 1:19.320 1.433 18 195.340
17 Fernando Alonso Aston Martin 1:19.471 1.584 21 194.969
18 Pierre Gasly Alpine 1:19.509 1.622 19 194.876
19 Kevin Magnussen Haas 1:19.573 1.686 9 194.719
20 Esteban Ocon Alpine 1:19.839 1.952 19 194.070