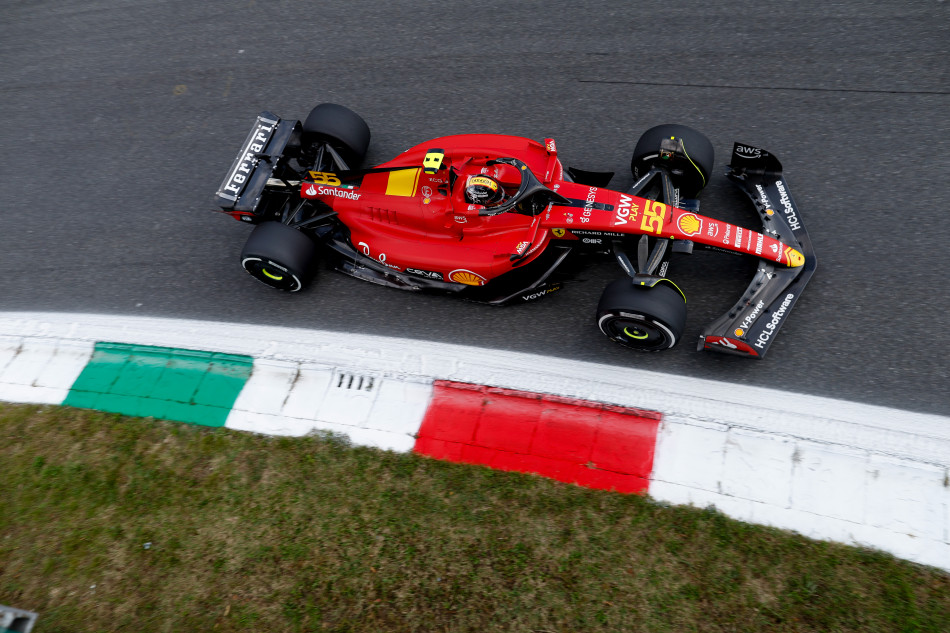 Ferrari's Carlos Sainz set the fastest lap of final practice at Monza to beat F1 championship leading Red Bull driver Max Verstappen by just under a tenth of a second with Lewis Hamilton third for Mercedes.
At the start of the session, Red Bull's Sergio Pérez, on Soft compound, set the early pace with a lap of 1:22.662 before McLaren's Lando Norris, also on softs, posted a 1:22.515 to push the Mexican down the order. Then, after 10 minutes, Verstappen jumped to top spot with a lap of 1:21.838, as team-mate Pérez moved back to second place, 0.354s off the pace of the Dutchman who then lowered his own benchmark to 1:21.687s.Verstappen's time was good enough to keep him at the top of the timesheet through the halfway mark.
After 34 minutes Alex Albon posted an impressive lap of 1:22.114 on Medium tyres to take second place but there was a nervous moment for McLaren's Oscar Piastri a few minutes later when he went across the gravel at the second chicane, the Variante della Roggia.
Fifteen minutes from the end of the session, Mercedes' George Russell jumped to second place before team-mate Hamilton pushed him and Verstappen down the order as he took top spot with a lap of 1:21.453s.
Verstappen was out on his qualifying simulation, however, and the Dutchman moved back to P1 with a lap 1:20.998 leaving Hamilton to tell his team that he didn't know where to find that half second.
There was trouble for Verstappen's team-mate, however. Pérez was denied a qualifying simulation when a fluid leak on his RB19 forced back to the Red Bull garage where his session ended early.
The Ferraris emerged five minutes from time and Sainz went quickest with a 1:20.912. However, Leclerc backed out of his lap after running wide at the second Lesmo.
Shortly after Sainz had taken top spot there was an odd incident when Piastri and Sainz were noted for causing a collision at the first chicane. Leclerc then made a second attempt on Soft tyres and took fourth, over half a second off his team-mate.
Fernando Alonso took fifth place for Aston Martin, almost eight tenths off Sainz and just under two hundredths of a second ahead of Russell. Kevin Magnussen was seventh for Haas ahead of team-mate Nico Hülkenberg, with Albon in ninth ahead of Pérez.
2023 FIA Formula 1 Italian Grand Prix – Free Practice 3
1 Carlos Sainz Ferrari 1:20.912 23 257.746
2 Max Verstappen Red Bull Racing 1:20.998 0.086 23 257.473
3 Lewis Hamilton Mercedes 1:21.453 0.541 23 256.034
4 Charles Leclerc Ferrari 1:21.486 0.574 23 255.931
5 Fernando Alonso Aston Martin 1:21.711 0.799 24 255.226
6 George Russell Mercedes 1:21.730 0.818 25 255.167
7 Kevin Magnussen Haas 1:21.884 0.972 21 254.687
8 Nico Hülkenberg Haas 1:21.985 1.073 27 254.373
9 Alexander Albon Williams 1:22.054 1.142 18 254.159
10 Sergio Pérez Red Bull Racing 1:22.192 1.280 16 253.732
11 Lance Stroll Aston Martin 1:22.245 1.333 31 253.569
12 Liam Lawson AlphaTauri 1:22.296 1.384 29 253.412
13 Yuki Tsunoda AlphaTauri 1:22.297 1.385 28 253.408
14 Oscar Piastri McLaren 1:22.302 1.390 17 253.393
15 Logan Sargeant Williams 1:22.380 1.468 23 253.153
16 Valtteri Bottas Alfa Romeo 1:22.511 1.599 30 252.751
17 Lando Norris McLaren 1:22.515 1.603 24 252.739
18 Esteban Ocon Alpine 1:22.739 1.827 20 252.055
19 Zhou Guanyu Alfa Romeo 1:22.742 1.830 30 252.046
20 Pierre Gasly Alpine 1:22.852 1.940 22 251.711