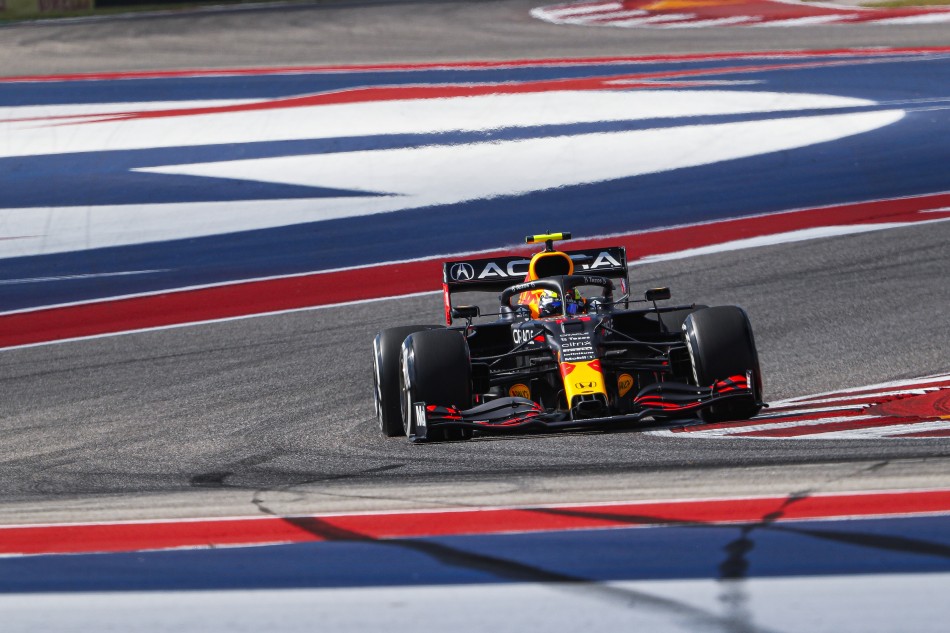 Sergio Pérez set the fastest lap of second practice for the 2021 FIA Formula 1 United States Grand Prix, beating McLaren's Lando Norris by more than two tenths of a second. Lewis Hamilton was third, with title leader Max Verstappen eight after encountering traffic on his qualifying simulation.
Once again run in hot conditions, the session got underway with most drivers using the hard compound tyres. Valtteri Bottas moved to medium tyres, however, and he jumped to the top of the order with a lap of 1:38.887s. Pérez then took over thanks to a time of 1:35.883 and which he eventually lowered to 1:35.716 as the session reached the 15-minute mark.
The field then began to switch to soft tyres for their qualifying simulations, with Bottas being the first main mover. The Finn posted a time of 1:35.360s to reclaim top spot.
Pérez moved ahead again though with his time of 1:35.310 and Norris took second place with a lap of 1:35.203.
Hamilton might have moved well clear with a lap of 1:34.842 but he went over the track limits in the penultimate corner and had the time deleted. The Mercedes driver continued, however, and he posted a best effort of 1:35.310 to take third place.
Verstappen meanwhile failed to put in a quick lap on soft tyres after he was released into traffic. He abandoned the lap, vented his frustration on the radio and pitted. He ended the session in P8.
Earlier in the session, there was a moment of tension between title rivals Verstappen and Hamilton who had raced side by side from the final corner to Turn 1 with neither willing to back off. Verstappen was told by Red Bull to "ignore" Hamilton's actions but consoled himself with a gesture towards the Mercedes man as he accelerated away.
At the flag, Bottas took fourth ahead of McLaren's Daniel Ricciardo, with Stroll sixth ahead of Ferrari's Charles Leclerc and Verstappen. The top 10 was rounded out by Ferrari's Carlos Sainz and Alfa Romeo's Antonio Giovinazzi rounded out the top 10.
2021 FIA Formula 1 United States Grand Prix – Free Practice 2
1 Sergio Pérez Red Bull/Honda 1:34.946 24 209.032
2 Lando Norris McLaren/Mercedes 1:35.203 0.257 20 208.468
3 Lewis Hamilton Mercedes 1:35.310 0.364 22 208.234
4 Valtteri Bottas Mercedes 1:35.360 0.414 24 208.125
5 Daniel Ricciardo McLaren/Mercedes 1:35.457 0.511 21 207.913
6 Lance Stroll Aston Martin/Mercedes 1:35.561 0.615 25 207.687
7 Charles Leclerc Ferrari 1:35.572 0.626 23 207.663
8 Max Verstappen Red Bull/Honda 1:35.824 0.878 23 207.117
9 Carlos Sainz Ferrari 1:35.919 0.973 24 206.912
10 Antonio Giovinazzi Alfa Romeo/Ferrari 1:36.138 1.192 26 206.440
11 Esteban Ocon Alpine/Renault 1:36.158 1.212 23 206.397
12 Pierre Gasly AlphaTauri/Honda 1:36.242 1.296 25 206.217
13 Fernando Alonso Alpine/Renault 1:36.376 1.430 18 205.930
14 Kimi Räikkönen Alfa Romeo/Ferrari 1:36.558 1.612 25 205.542
15 Sebastian Vettel Aston Martin/Mercedes 1:36.718 1.772 30 205.202
16 Yuki Tsunoda AlphaTauri/Honda 1:36.983 2.037 24 204.642
17 Mick Schumacher Haas/Ferrari 1:37.041 2.095 24 204.519
18 Nicholas Latifi Williams/Mercedes 1:37.254 2.308 26 204.071
19 George Russell Williams/Mercedes 1:37.490 2.544 21 203.577
20 Nikita Mazepin Haas/Ferrari 1:38.026 3.080 23 202.464