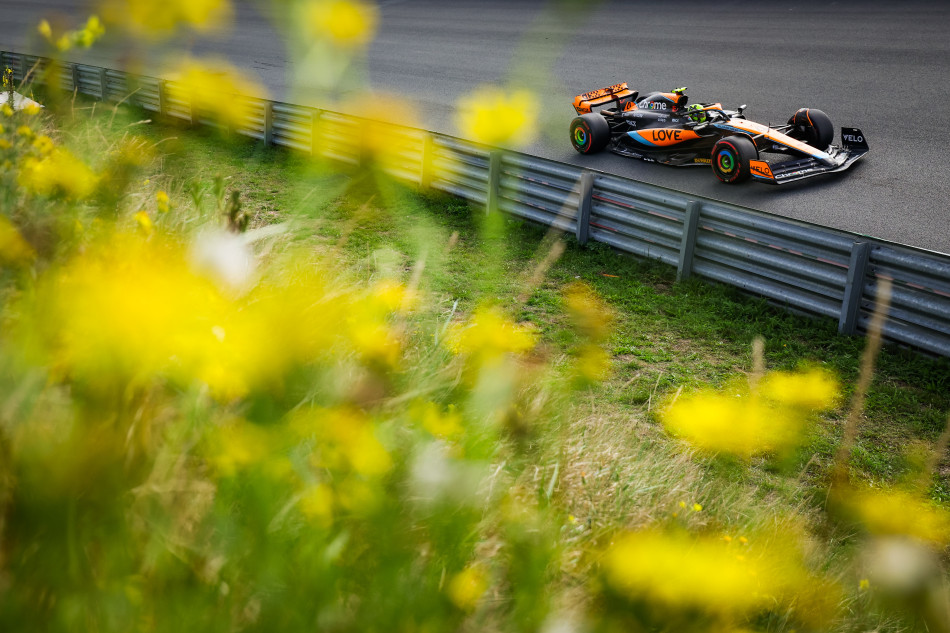 Lando Norris went quickest in the second practice session for this weekend's 2023 FIA Formula 1 Dutch Grand Prix, with the McLaren driver beating championship leader Max Verstappen by a little over two hundredths of a second in session that was halted when Norris' team-mate Oscar Piastri and AlhaTauri's Daniel Ricciardo crashed in Turn 3, with Ricciardo being taken to hospital for checks on a possible hand injury.
Red Bull's Sergio Pérez set the pace in the early minutes of the session on Medium tyres, first with a lap of 1:12.750 and then with an improved time of 1m12.644 that returned him to the top following a brief stint in P1 for Mercedes' Lewis Hamilton.
Verstappen then moved ahead with a lap of 1:12.449, also on Medium tyres, but then the red flags came out as Australian drivers Piastri and Ricciardo suffered separate incidents in Turn 3. Piastri lost control of the rear of McLaren and slid up the banking into the barriers where he shipped front suspension damage. Ricciardo, apparently unsettled by the incident ahead of him, lost control of his AlphaTauri and speared into the barriers just behind the McLaren.
Both divers were soon out of their cars but Ricciardo, clutching his left hand, was taken to the medical centre and then to hospital for checks.
When running resumed, Pérez switched to Soft compound Pirelli tyres and movede back to P1 with a lap of 1:11.946. Alex Albon, who had run well to fifth in the opening session, then claimed P2 with lap just 0.001s off the Mexican's headline time.
Aston Martin's Lance Stroll, making up for missing the entire opening session due to a power unit issue, then moved ahead of both, before he was displaced by Alpine's Pierre Gasly and then by Hamilton, who in turn was beaten by Norris who posted a lap of 1:11.330.
Verstappen couldn't match that pace and his effort left him more than two tenths off the McLaren driver. The Dutchman went again and closed the gap but he still found himself 0.023s adrift of Norris, just after Albon had improved again to seal an impressive P3 ahead of Hamilton.
With the performance runs complete, the field switched to long runs in preparation for the race and there were no further improvements at the top of the timesheet.
Behind Hamilton, Yuki Tsunoda took fifth place in the remaining AlphaTauri, just under half a tenth clear of Gasly. Pérez ended the session in seventh ahead of Stroll, while the top 10 order was completed by Alfa Romeo's Valtteri Bottas and Aston Martin's Fernando Alonso.
Ferrari's Charles Leclerc was 11th, with team-mate Carlos Sainz in P16 on a low-key Friday for the Scuderia.
2023 FIA Formula 1 Dutch Grand Prix – Free Practice 2
1 Lando Norris McLaren 1:11.330 30 214.950
2 Max Verstappen Red Bull Racing 1:11.353 0.023 26 214.880
3 Alexander Albon Williams 1:11.599 0.269 31 214.142
4 Lewis Hamilton Mercedes 1:11.638 0.308 27 214.026
5 Yuki Tsunoda AlphaTauri 1:11.720 0.390 31 213.781
6 Pierre Gasly Alpine 1:11.766 0.436 30 213.644
7 Sergio Pérez Red Bull Racing 1:11.817 0.487 29 213.492
8 Lance Stroll Aston Martin 1:11.835 0.505 31 213.439
9 Valtteri Bottas Alfa Romeo 1:11.857 0.527 31 213.373
10 Fernando Alonso Aston Martin 1:11.863 0.533 31 213.355
11 Charles Leclerc Ferrari 1:11.915 0.585 30 213.201
12 Logan Sargeant Williams 1:11.934 0.604 32 213.145
13 Esteban Ocon Alpine 1:12.001 0.671 30 212.947
14 George Russell Mercedes 1:12.009 0.679 28 212.923
15 Zhou Guanyu Alfa Romeo 1:12.074 0.744 30 212.731
16 Carlos Sainz Ferrari 1:12.093 0.763 31 212.675
17 Kevin Magnussen Haas 1:12.404 1.074 28 211.761
18 Nico Hülkenberg Haas 1:12.693 1.363 31 210.919
19 Oscar Piastri McLaren 1:12.901 1.571 6 210.318
20 Daniel Ricciardo AlphaTauri 1:13.096 1.766 7 209.757