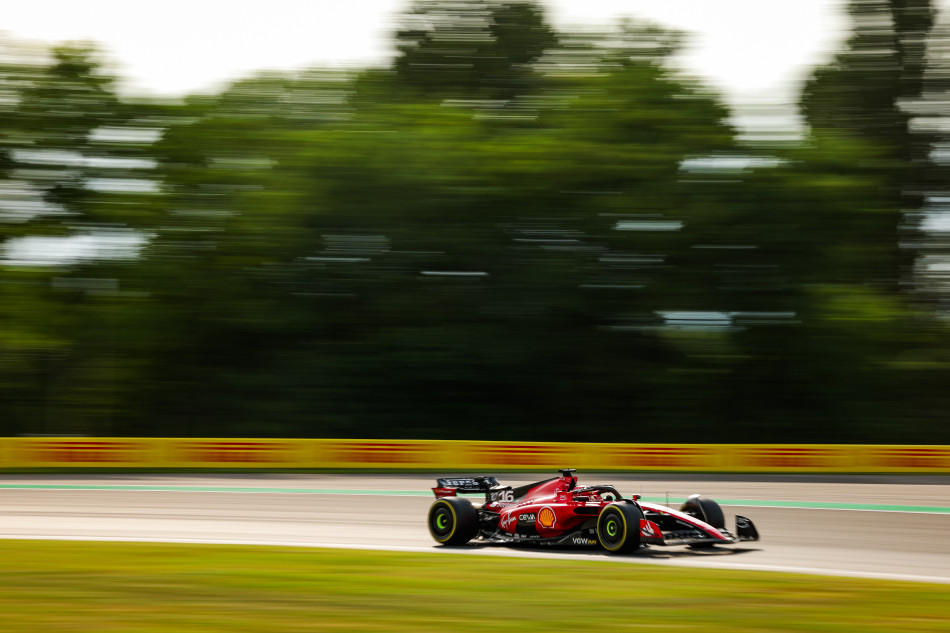 Charles Leclerc set the fastest lap of the second practice session for the 2023 FIA Formula 1 Hungarian Grand Prix, with the Ferrari driver beating McLaren's Lando Norris by 0.015s, while Pierre Gasly finished third for Alpine. World Championship leader Max Verstappen ended the session in 11th place.
At the start of the second hour of practice Williams' Logan Sargeat set the early pace with the American driver posting a lap of 1:18.836 on Soft tyres. That time stood as the quickest for the first quarter of an hour, with even Verstappen unable to get closer than 0.075s off the Williams despite using the same compound.
Eventually, Sargeant's time at the top was ended by his Williams team-mate Alex Albon. The Thai driver posted a lap of 1:18.377 on Medium tyres to take P1 but his stay there was short as he was soon ousted, first by Aston Martin's Lance Stroll, then by Haas' Nico Hülkenberg and by Yuki Tsunoda who moved ahead with a lap of 1:17.934s in an AlphaTauri boasting a number of upgrades for this weekend.
Norris then took over with a Soft-tyre time of 1:17.701 but soon after the halfway mark Leclerc popped up with a lap of 1:17.686, just 0.015s clear of the McLaren driver.
Behind them the expected pacesetters were not making a dent on the upper part of the timesheet. Verstappen, circling on Softs, was stuck in midfield and Sergio Pérez, on Mediums, was also struggling to make an impact. And with fewer tyres available to teams this weekend with the Alternative Tyre Allocation format being debuted, there was little real movement as teams focused on longer runs.
Behind Gasly, Tsunoda managed to hang on to fourth place, with Esteban Ocon fifth in the other Alpine. Hülkenberg finished in sixth place, with Valtteri Bottas seventh for Alfa Romeo. Fernando Alonso finished in P8, four tenths of a second off Leclerc, and the final top 10 places were taken by Zhou Guanyu in the second Alfa and Carlos Sainz in the other Ferrari.
Verstappen's best was only good enough for P11 just ahead of Stroll, while Albon slid to P13 ahead of the returning Daniel Ricciardo in the second AlphaTauri. Kevin Magnussen took 15th place for Haas ahead of Mercedes' Lewis Hamilton while the Briton's team-mate George Russell finished 20th.
2023 FIA Formula 1 Hungarian Grand Prix – Free Practice 2
1 Charles Leclerc Ferrari 1:17.686 20 203.017
2 Lando Norris McLaren 1:17.701 0.015 30 202.978
3 Pierre Gasly Alpine 1:17.918 0.232 26 202.412
4 Yuki Tsunoda AlphaTauri 1:17.934 0.248 31 202.371
5 Esteban Ocon Alpine 1:18.045 0.359 30 202.083
6 Nico Hülkenberg Haas 1:18.058 0.372 29 202.049
7 Valtteri Bottas Alfa Romeo 1:18.085 0.399 29 201.979
8 Fernando Alonso Aston Martin 1:18.105 0.419 32 201.928
9 Zhou Guanyu Alfa Romeo 1:18.108 0.422 31 201.920
10 Carlos Sainz Ferrari 1:18.182 0.496 20 201.729
11 Max Verstappen Red Bull Racing 1:18.279 0.593 18 201.479
12 Lance Stroll Aston Martin 1:18.319 0.633 33 201.376
13 Alexander Albon Williams 1:18.377 0.691 32 201.227
14 Daniel Ricciardo AlphaTauri 1:18.385 0.699 30 201.206
15 Kevin Magnussen Haas 1:18.504 0.818 27 200.901
16 Lewis Hamilton Mercedes 1:18.746 1.060 28 200.284
17 Logan Sargeant Williams 1:18.836 1.150 30 200.055
18 Sergio Pérez Red Bull Racing 1:18.978 1.292 14 199.696
19 Oscar Piastri McLaren 1:19.117 1.431 18 199.345
20 George Russell Mercedes 1:19.175 1.489 23 199.199