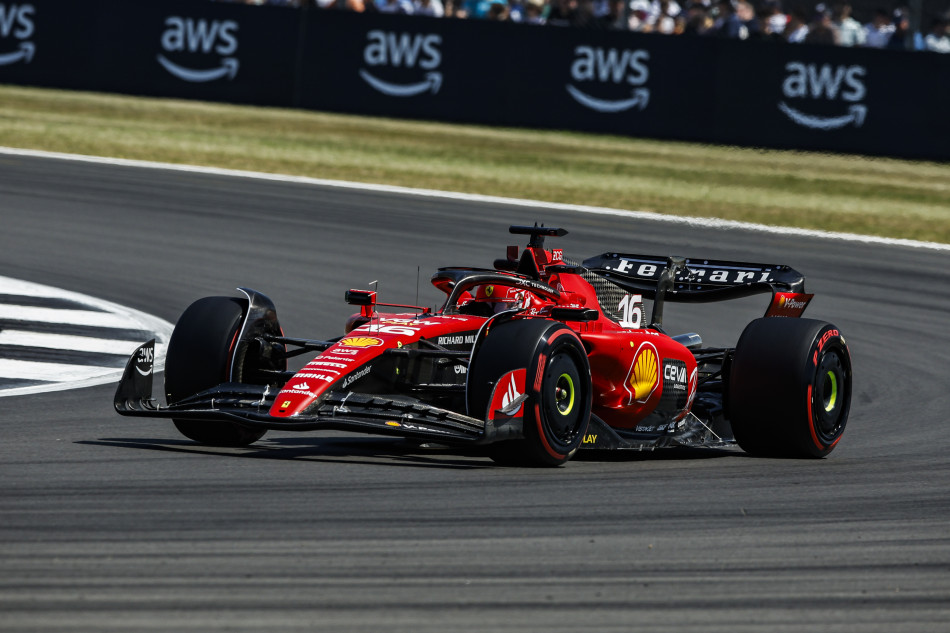 Ferrari's Charles Leclerc topped the timesheet in the final free practice session ahead of the 2023 FIA Formula 1 British Grand Prix, beating Williams' Alex Albon by just under two tenths of a second, with Aston Martin's Fernando Alonso in a session affected by rain.
Early in the session championship leader Max Verstappen set the pace with a medium-tyre lap of 1:28.836 before Mercedes Lewis Hamilton got close, just 0.13s slower than the Dutchman to take P2, though the seven-time champion was on soft tyres.
Verstappen then improved to 1:28.266, but he was ousted from top spot by Ferrari's Carlos Sainz who posted a 1:27.964 on soft tyres to close out the opening quarter of the session.
Hamilton then moved to the top with a lap of 1:27.948s, but Leclerc then claimed P1 with a full suite of purple sectors and a time of 1:27.419 to sit more than half a second clear of Hamilton.
The threat of the rain that had hung in the air since the beginning of the session then began to materialise. However, the first drops couldn't prevent Albon from rocketing up the timesheet to P2 with a lap of 1:25.592, set on softs. That left the Williams driver 0.173s off Leclerc. Alonso then rose to third, almost two tenths off Albon and Alpine's Pierre Gasly slipped past Hamilton to claim P4.
The rain began to intensify and the field retreated to the pit lane to monitor conditions. As the shower weakened McLaren's Lando Norris tested the track on Intermediate tyres before Mercedes' George Russell went out on the same rubber and determined that it would soon be good enough for slick tyres. Norris gave the soft tyres a run but soon headed back to the sanctuary of the pit lane leaving the track to Alpine's Esteban Ocon and Alfa Romeo's Valtteri Bottas who ran on Intermediates. They were joined in the later stages of the hour by Red Bull, Ferrari and Mercedes who all conducted information gathering laps on the Intermediates.
With Hamilton fifth, sixth place went to Sainz, with Logan Sargeant seventh in the fleet Williams FW45. Verstappen's best lap on mediums left him in eighth place, ahead of Russell, while AlphaTauri's Yuki Tsunoda rounded out the top 10.
2023 FIA Formula 1 British Grand Prix – Free Practice 3 
1 Charles Leclerc Ferrari 1:27.419 24 242.597
2 Alexander Albon Williams 1:27.592 0.173 14 242.118
3 Fernando Alonso Aston Martin 1:27.784 0.365 17 241.588
4 Pierre Gasly Alpine 1:27.893 0.474 19 241.288
5 Lewis Hamilton Mercedes 1:27.948 0.529 16 241.137
6 Carlos Sainz Ferrari 1:27.964 0.545 21 241.094
7 Logan Sargeant Williams 1:28.151 0.732 16 240.582
8 Max Verstappen Red Bull 1:28.266 0.847 19 240.269
9 George Russell Mercedes 1:28.284 0.865 17 240.220
10 Yuki Tsunoda AlphaTauri 1:28.337 0.918 21 240.076
11 Nyck de Vries AlphaTauri 1:28.504 1.085 20 239.623
12 Lando Norris McLaren 1:28.563 1.144 18 239.463
13 Lance Stroll Aston Martin 1:28.620 1.201 15 239.309
14 Sergio Pérez Red Bull 1:28.904 1.485 19 238.544
15 Kevin Magnussen Haas 1:29.207 1.788 13 237.734
16 Esteban Ocon Alpine 1:29.233 1.814 22 237.665
17 Oscar Piastri McLaren 1:29.437 2.018 20 237.123
18 Valtteri Bottas Alfa Romeo 1:29.586 2.167 15 236.728
19 Nico Hülkenberg Haas 1:33.590 6.171 13 226.601
20 Zhou Guanyu Alfa Romeo – 2