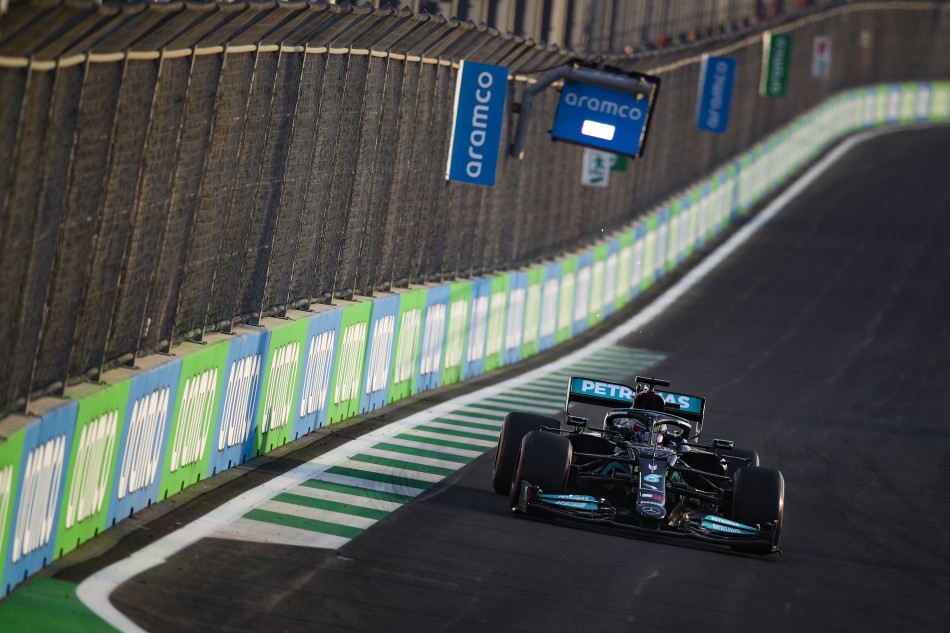 Lewis Hamilton beat title rival Max Verstappen in the first free practice session for this weekend's inaugural FIA Formula 1 Saudi Arabian Grand Prix, running just six hundredths of a second quicker than the Dutch driver. Valtteri Bottas finished third, a little over two tenths of a second adrift of Mercedes teram-mate Hamilton.
Championship-leading Red Bull driver Verstappen led the way early in the afternoon session on hard tyres, steadily working his way down to a time of 1:30.014 on the white-banded Pirelli compound.
Hamilton took longer to find a rhythm around the new 6.174 Jeddah Corniche Circuit and he used soft compound tyres to get to six tenths of a second off Verstappen's best lap during the opening runs with Bottas also using soft tyres to take third.
The entire field moved to the red-banded softs for the second half of the hour-long session and as the tracked 'rubbered in' the times began to drop significantly. Both Hamilton and Bottas moving ahead of Verstappen with the Finn edging five thousandths of a second clear of the Red Bull driver with his second run on softs, and Hamilton then moving ahead of his team-mate by two tenths of a second.
The seven-time champion's effort established the benchmark at 1:29.786 with 15 minutes left on the clock. Verstappen continued to pound out laps on the snaking, high-speed layout and in the dying moments moved ahead of Bottas and claimed P2 with a lap 1:29.842, just 0.056s off Hamilton.
AlphaTauri's Pierre Gasly ended the session in fourth place, less than half a second off Hamilton, while Alfa Romeo's Antonio Giovinazzi took fifth place, again with a late improvement on soft tyres.
Sixth and seventh place in the session went to Ferrari drivers Carlos Sainz and Charles Leclerc and Daniel Ricciardo took eighth place on the timesheet for McLaren. Fernando Alonso was ninth for Alpine with his best time being set on hard tyres during the second half of the session and the top 10 order was completed by Aston Martin's Sebastian Vettel who set a time of 1:30.886, a little over a hundredth of a second in front of the second Red Bull of Sergio Pérez.
2021 FIA Saudi Arabian Grand Prix – Free Practice 1
1 Lewis Hamilton Mercedes 1:29.786 21 247.548
2 Max Verstappen Red Bull/Honda 1:29.842 0.056 23 247.394
3 Valtteri Bottas Mercedes 1:30.009 0.223 24 246.935
4 Pierre Gasly AlphaTauri/Honda 1:30.263 0.477 28 246.240
5 Antonio Giovinazzi Alfa Romeo/Ferrari 1:30.318 0.532 27 246.090
6 Carlos Sainz Ferrari 1:30.564 0.778 26 245.422
7 Charles Leclerc Ferrari 1:30.600 0.814 26 245.324
8 Daniel Ricciardo McLaren/Mercedes 1:30.608 0.822 25 245.302
9 Fernando Alonso Alpine/Renault 1:30.842 1.056 27 244.670
10 Sebastian Vettel Aston Martin/Mercedes 1:30.886 1.100 25 244.552
11 Sergio Pérez Red Bull/Honda 1:30.960 1.174 27 244.353
12 Esteban Ocon Alpine/Renault 1:31.023 1.237 29 244.184
13 Lando Norris McLaren/Mercedes 1:31.029 1.243 23 244.168
14 Lance Stroll Aston Martin/Mercedes 1:31.044 1.258 25 244.128
15 Yuki Tsunoda AlphaTauri/Honda 1:31.099 1.313 26 243.980
16 Kimi Räikkönen Alfa Romeo/Ferrari 1:31.296 1.510 26 243.454
17 George Russell Williams/Mercedes 1:31.343 1.557 28 243.328
18 Mick Schumacher Haas/Ferrari 1:31.525 1.739 24 242.845
19 Nicholas Latifi Williams/Mercedes 1:31.821 2.035 27 242.062
20 Nikita Mazepin Haas/Ferrari 1:33.464 3.678 23 237.807