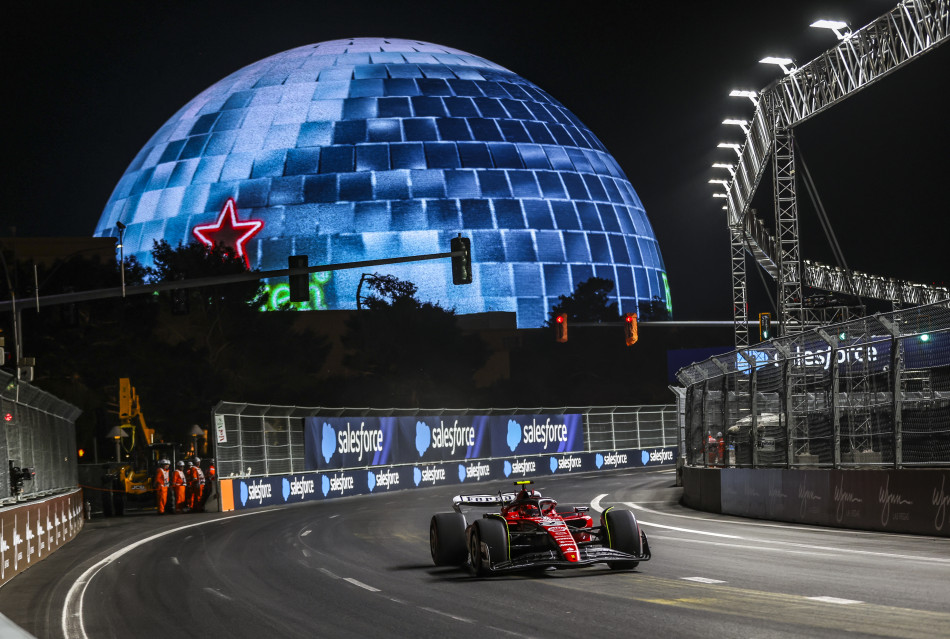 Charles Leclerc topped the timesheets in the opening practice session for the first FIA Formula 1 Las Vegas Grand Prix. However, the session was called off soon after red flags were shown for an incident in which a loose drain cover caused a stoppage for Carlos Sainz.
Ferrari driver Sainz appeared to bottom out late in a lap and then Spanish driver slowed to a halt on the Strip.
The session was red-flagged and soon after Race Control indicated that the session would not be resumed. FIA Officials reported that a concrete frame around a manhole cover had failed and that all of the other manhole covers would need to be checked.
As a result, Leclerc took top sport with a lap of 1:40.909 ahead of the Haas cars of Nico Hülkenberg and Kevin Magnussen, though the bulk of drivers had posted just four laps at the time of Sainz's incident.
2023 FIA Formula 1 Las Vegas Grand Prix – Free Practice 1
1 Charles Leclerc Ferrari 1:40.909 4 221.225
2 Nico Hülkenberg Haas/Ferrari 1:43.446 2.537 4 215.799
3 Kevin Magnussen Haas/Ferrari 1:44.261 3.352 4 214.112
4 Max Verstappen Red Bull/Honda RBPT 1:44.397 3.488 4 213.833
5 Esteban Ocon Alpine/Renault 1:45.365 4.456 5 211.869
6 George Russell Mercedes 1:45.497 4.588 4 211.604
7 Carlos Sainz Ferrari 1:45.824 4.915 4 210.950
8 Yuki Tsunoda AlphaTauri/Honda RBPT 1:45.908 4.999 5 210.782
9 Sergio Pérez Red Bull/Honda RBPT 1:46.793 5.884 4 209.036
10 Valtteri Bottas Alfa Romeo/Ferrari 1:47.147 6.238 5 208.345
11 Pierre Gasly Alpine/Renault 1:48.253 7.344 5 206.216
12 Lewis Hamilton Mercedes 1:48.513 7.604 4 205.722
13 Daniel Ricciardo AlphaTauri/Honda RBPT 1:48.650 7.741 4 205.463
14 Zhou Guanyu Alfa Romeo/Ferrari 1:48.822 7.913 5 205.138
15 Lando Norris McLaren/Mercedes 1:48.947 8.038 3 204.903
16 Lance Stroll Aston Martin/Mercedes – 2
17 Oscar Piastri McLaren/Mercedes – 2
18 Alexander Albon Williams/Mercedes – 2
19 Fernando Alonso Aston Martin/Mercedes – 2
20 Logan Sargeant Williams/Mercedes – 0