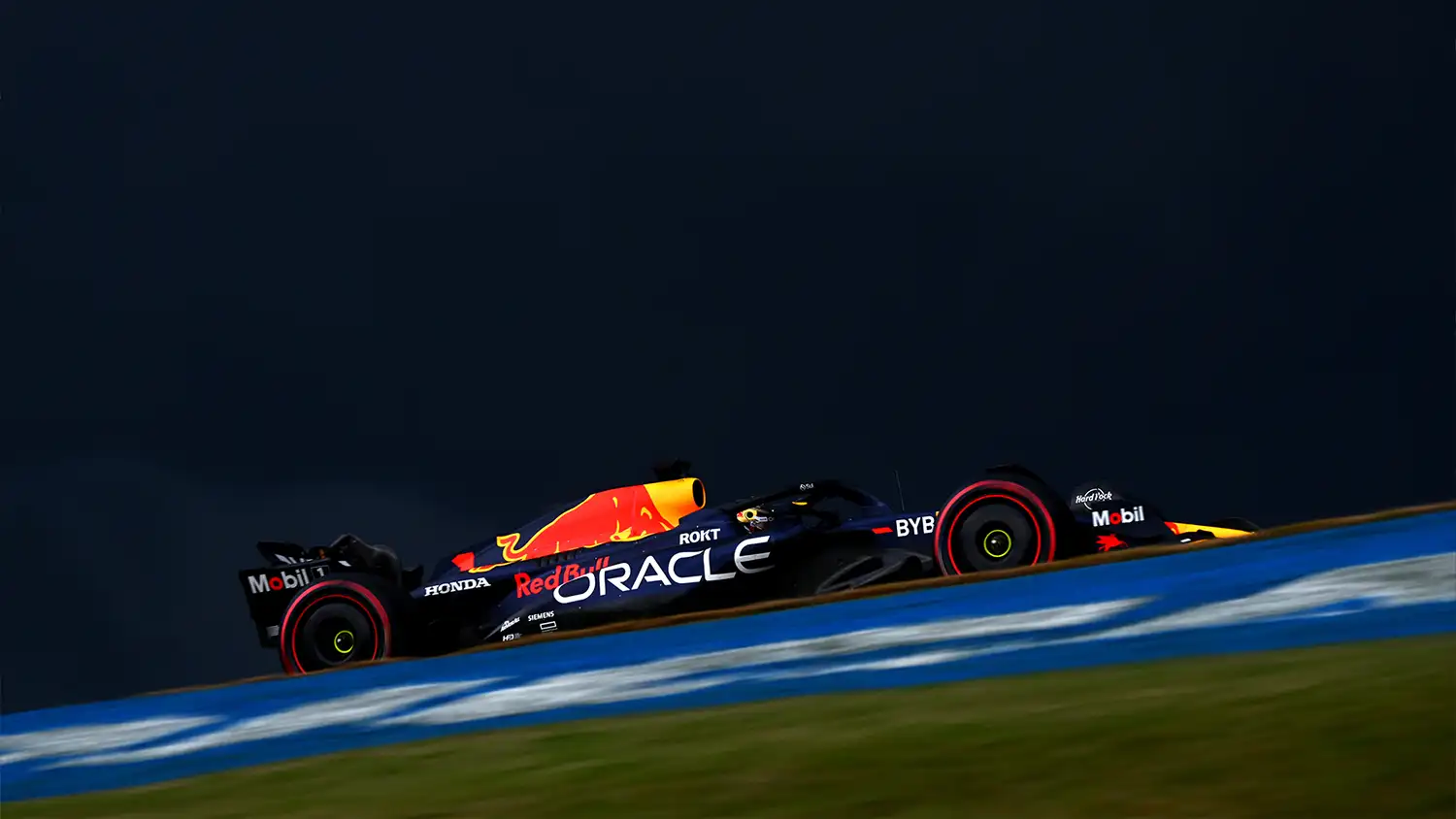 Red Bull Racing's Max Verstappen passed polesitter Lando Norris at the start of the São Paulo Sprint to set up a straightforward march to his fourth Sprint victory of 2023, beating the McLaren driver to the flag by four seconds, Sergio Pérez took third place.
When the lights went, Norris got away well from the front of the grid, but Verstappen also reacted well to outdrag the McLaren driver down the straight and as they went into Turn 1 the champion dived down the inside to steal the lead.
Pérez was also beaten to the punch at the start as Mercedes' George Russell forced his way through in Turn 1, and as they exited Turn 3, Russell closed up to Norris and passed the McLaren in Turn 4.
Hamilton then made an opportunistic move on Pérez to drop the Mexican to P5, but the3 Red Bull driver soon recovered and on lap 4  he powered back past the Mercedes driver on the run to Turn 1.
At the start of lap 5, Norris closed up to Russell and the McLaren driver muscled his way back to second place, while Pérez continued to edge closer. And at the start of lap 8, the Mexican powered past the Mercedes driver into Turn 1. However, Russell then got DRS down the Reta Oposta to steal the place back in Turn 4. On the following lap, the Red Bull man tried to hang back in Turn 1 and pass in Turn 4 but Russell was wise to the ploy and defended well to hold the place.
But on lap 10, Pérez got the job done, passing Russell earlier on the pit straight and then putting distance between himself and the Mercedes on the following straight.
At the front, Verstappen was comfortable in the lead and on lap 13 the gap stood at 1.2 seconds, with Pérez a further 5.7s behind. And over the following laps, the Dutchman began to stretch his legs and on lap 18 he pushed to two seconds clear of the McLaren.
Behind the top three, Russell was now almost four seconds behind Pérez with Hamilton in fifth ahead of Ferrari's Charles Leclerc and AlphaTauri's Yuki Tsunoda. Leclerc then forced his way past Hamilton to take fifth and with Hamilton visibly struggling for grip on ageing tyres, he was soon pounced upon by Tsunoda who also got past.
Verstappen, though, was now firmly in control and after 24 laps he took his fourth Sprint win of 2023, 4.2 seconds ahead of Norris, Pérez third, 12 seconds ahead of Russell, and with Leclerc in fifth. Yuki Tsunoda took sixth ahead of Hamilton and the final point on offer went to Ferrari's Carlos Sainz.
2023 FIA Formula 1 São Paulo Grand Prix – Sprint 
1 Max Verstappen Red Bull Racing 24 30'07.209
2 Lando Norris McLaren 24 30'11.496 4.287
3 Sergio Pérez Red Bull Racing 24 30'20.826 13.617
4 George Russell Mercedes 24 30'33.088 25.879
5 Charles Leclerc Ferrari 24 30'35.769 28.560
6 Yuki Tsunoda AlphaTauri 24 30'36.419 29.210
7 Lewis Hamilton Mercedes 24 30'41.935 34.726
8 Carlos Sainz Ferrari 24 30'42.315 35.106
9 Daniel Ricciardo AlphaTauri 24 30'42.512 35.303
10 Oscar Piastri McLaren 24 30'45.428 38.219
11 Fernando Alonso Aston Martin 24 30'46.270 39.061
12 Lance Stroll Aston Martin 24 30'46.687 39.478
13 Pierre Gasly Alpine 24 30'47.830 40.621
14 Esteban Ocon Alpine 24 30'50.057 42.848
15 Alexander Albon Williams 24 30'50.603 43.394
16 Kevin Magnussen Haas 24 31'03.716 56.507
17 Zhou Guanyu Alfa Romeo 24 31'05.932 58.723
18 Nico Hülkenberg Haas 24 31'07.539 1'00.330
19 Valtteri Bottas Alfa Romeo 24 31'07.958 1'00.749
20 Logan Sargeant Williams 24 31'08.154 1'00.945