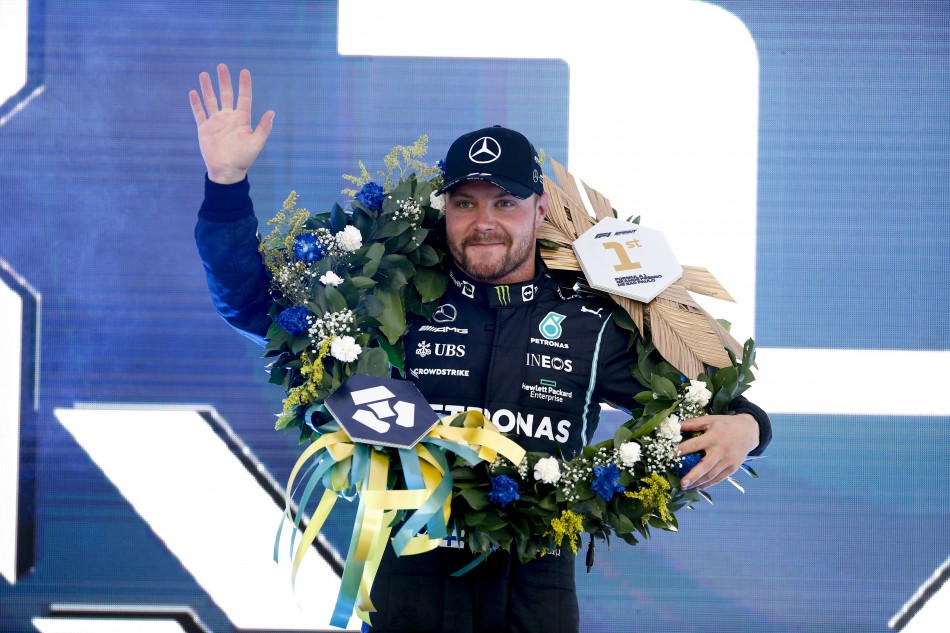 Valtteri Bottas will start Formula 1's São Paulo Grand Prix from pole position after beating championship leader Max Verstappen in the Sprint to define the grid for tomorrow's race. Meanwhile, following his disqualification from qualifying, Lewis Hamilton recovered fifth place thanks an aggressive drive from the back of the grid.
At the start, Bottas's soft tyres gave him the better start and he passed P1 starter Verstappen as the pair went into Turn 1. Further back, Ferrari's Carlos Sainz, also starting on soift tyres, had made a similarly quick start and he quickly passed Red Bull's Sergio Pérez and put prtessue on Verstappen as the field went through the Senna S.
Sainz then slotted into Verstappen's slipstream on the long run to Turn 4 and passed the Dutch driver on the inside, a move that forced the Red Bull driver wide.
Verstappen then began to rattle off fastest laps and by lap five he was back ahead of Sainz and was eating into a two-second gap to Bottas.
Meanwhile, at the rear of the field, Hamilton picked up five places on the opening lap and he soon began to scythe through the slower midfield cars and on lap tow he rose to 14th. He then used DRS on the pit straight to move past AlphaTauri's Yuki Tsunoda, Alfa Romeo's Antonio Giovinazzi and Alpine's Fernando Alonso to reach the edge of the top 10 by the start of lap nine.
He was briefly bottled up behind McLaren's Daniel Ricciardo but at the the end of lap 12, he closed in the final corners and again powered past on the start-finish straight. He then swiftly moved past Aston Martin's Sebastian Vettel, Alpine's Esteban Ocon AlphaTauri's Pierre Gasly and Ferrari's Charles Leclerc to sit in sixth place as the race head towards it final few laps. Hamilton made one final move, past McLaren's Lando Norris, at the start of the final lap to claim a superb fifth place behind Pérez.
At the front Verstappen closed the gap to Bottas and slipped within DRS range in the second half of the race. But the Finn was managing his soft tyres well and he was able to stabilise the gap to the Red Bull driver who was suffering on his mediums in the Mercedes' wake.
It was a similar tale for Verstappen's team-mate Pérez. The Mexican was unable to find a way past soft tyre-shod Sainz and though he spent the bulk of the race within DRS range, the Ferrari driver defended well to take P3 at the flag.
With Hamilton fifth ahead of Norris the top 10 was completed by Leclerc, Gasly, Ocon and Vettel. Hamilton will start 10th for Sunday's grand prix as a result of his grid penalty for taking a new internal combustion engine for this event.
2021 FIA Formula 1 São Paulo Grand Prix – Sprint Qualifying
1 Valtteri Bottas Mercedes 24 29'09.559
2 Max Verstappen Red Bull/Honda 24 29'10.729 1.170
3 Carlos Sainz Ferrari 24 29'28.282 18.723
4 Sergio Pérez Red Bull/Honda 24 29'29.346 19.787
5 Lewis Hamilton Mercedes 24 29'30.431 20.872
6 Lando Norris McLaren/Mercedes 24 29'32.117 22.558
7 Charles Leclerc Ferrari 24 29'34.615 25.056
8 Pierre Gasly AlphaTauri/Honda 24 29'43.717 34.158
9 Esteban Ocon Alpine/Renault 24 29'44.191 34.632
10 Sebastian Vettel Aston Martin/Mercedes 24 29'44.426 34.867
11 Daniel Ricciardo McLaren/Mercedes 24 29'45.428 35.869
12 Fernando Alonso Alpine/Renault 24 29'46.137 36.578
13 Antonio Giovinazzi Alfa Romeo/Ferrari 24 29'51.439 41.880
14 Lance Stroll Aston Martin/Mercedes 24 29'53.596 44.037
15 Yuki Tsunoda AlphaTauri/Honda 24 29'55.709 46.150
16 Nicholas Latifi Williams/Mercedes 24 29'56.319 46.760
17 George Russell Williams/Mercedes 24 29'57.298 47.739
18 Kimi Räikkönen Alfa Romeo/Ferrari 24 29'59.573 50.014
19 Mick Schumacher Haas/Ferrari 24 30'11.239 1:01.680
20 Nikita Mazepin Haas/Ferrari 24 30'17.033 1:07.474