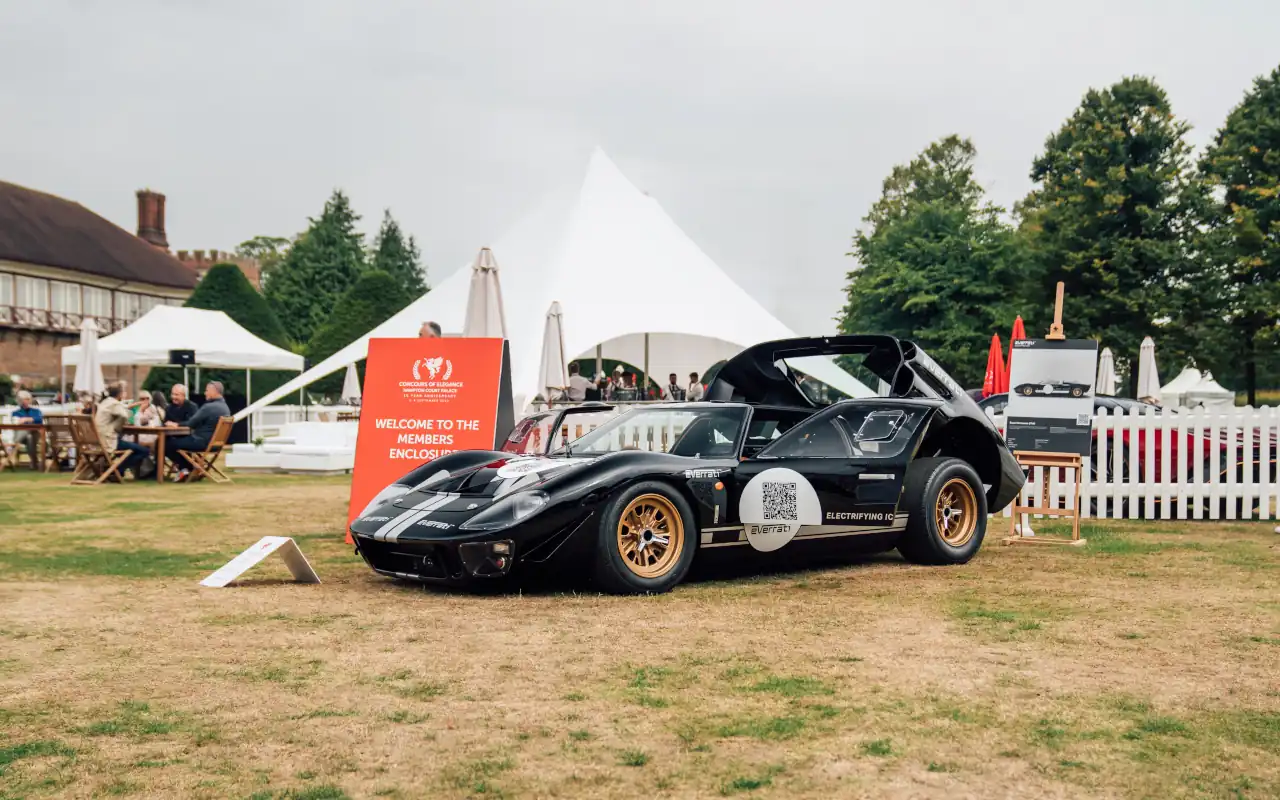 Everrati Automotive Limited (Everrati), the leading global technology company specialising in the redefining and futureproofing of automotive icons, is today collaborating with World EV Day – a global movement heading the charge towards the sustainable future of vehicles – as a sector-leading partner highlighting the future of iconic car ownership.
Preserving some of the most admired cars ever made, yet also ensuring they can be driven sustainably, Everrati offers buyers a choice beyond that of electric vehicles from mainstream manufacturers and creates cars that have soul in abundance and are seamlessly blended with state-of-the-art technology.
Spearheading the brand's performance offering and having recently made its public debut at Concours of Elegance at Hampton Court Palace, Everrati's GT40 model – created in partnership with Superformance – represents a new dimension of EV driving experiences, delivering sustainable thrills both on track and on-road.
Thanks to the combination of an advanced EV powertrain and 62.5kWh battery producing a colossal 800hp and 800Nm, the GT40 launches from 0-60mph in well under four seconds and on to a top speed above 125mph.
Going above and beyond the standard driving sensations of equivalent performance EVs, Everrati's GT40 offers unparalleled levels of driver engagement thanks to the car's 'Race Mode' features. By selecting this mode, the driver (and passenger) experience twin active sound generators, which deliver up to 110db of augmented V8 exhaust sound.
The GT40's gear shifter – which is normally used to select drive, reverse or neutral – also enables the driver to select virtual gears, with each shift synchronised to the sound generators and torque delivery giving a corresponding momentary 'pause' in acceleration to ensure driver engagement that invokes the experience of driving a car with a conventional transmission. Seat-mounted transducers further immerse the driver in a seductive aural experience that is truly captivating.
Justin Lunny, Founder and CEO of Everrati, comments: "Our partnership with World EV Day represents our mission as a leading global technology company to redefine the future of owning iconic vehicles. Surging demand for Everrati products globally is being led by sustainability-conscious millennials and Gen-Z buyers seeking iconic cars from decades such as the 80s and 90s who demand electric power over internal combustion. Our GT40 model is at the forefront of EV performance, delivering an unmatched level of driver engagement."
Everrati Advanced Technologies – a new division that enables commercial B2B clients to rapidly bring their own specialist and luxury electric vehicles to life – is built upon Everrati's OEM-grade proprietary EV platform technology combined with in-house industry-leading skills.
Customers of Everrati Advanced Technologies range from start-ups to established brands, and all share similar needs: the very latest in cutting-edge, OEM-level, flexible electrification solutions that enable them to go zero-emission without delay in the critical transition towards electrification.
Everrati's model line-up consists of electrified versions of the Porsche 911 (964) Coupe, Targa, Cabriolet in Pure, Signature, and Gulf Signature Editions, the Land Rover Series IIA, the GT40 in partnership with Superformance including officially licenced Gulf Edition, and the Mercedes-Benz W113 SL 'Pagoda'.
Everrati is also able to offer bespoke model commissions upon customer request, alongside an ever-expanding product portfolio. Order books are open across all models at www.everrati.com, with bespoke finance packages available upon inquiry.
Discover more about World EV Day here: https://www.worldevday.org/.