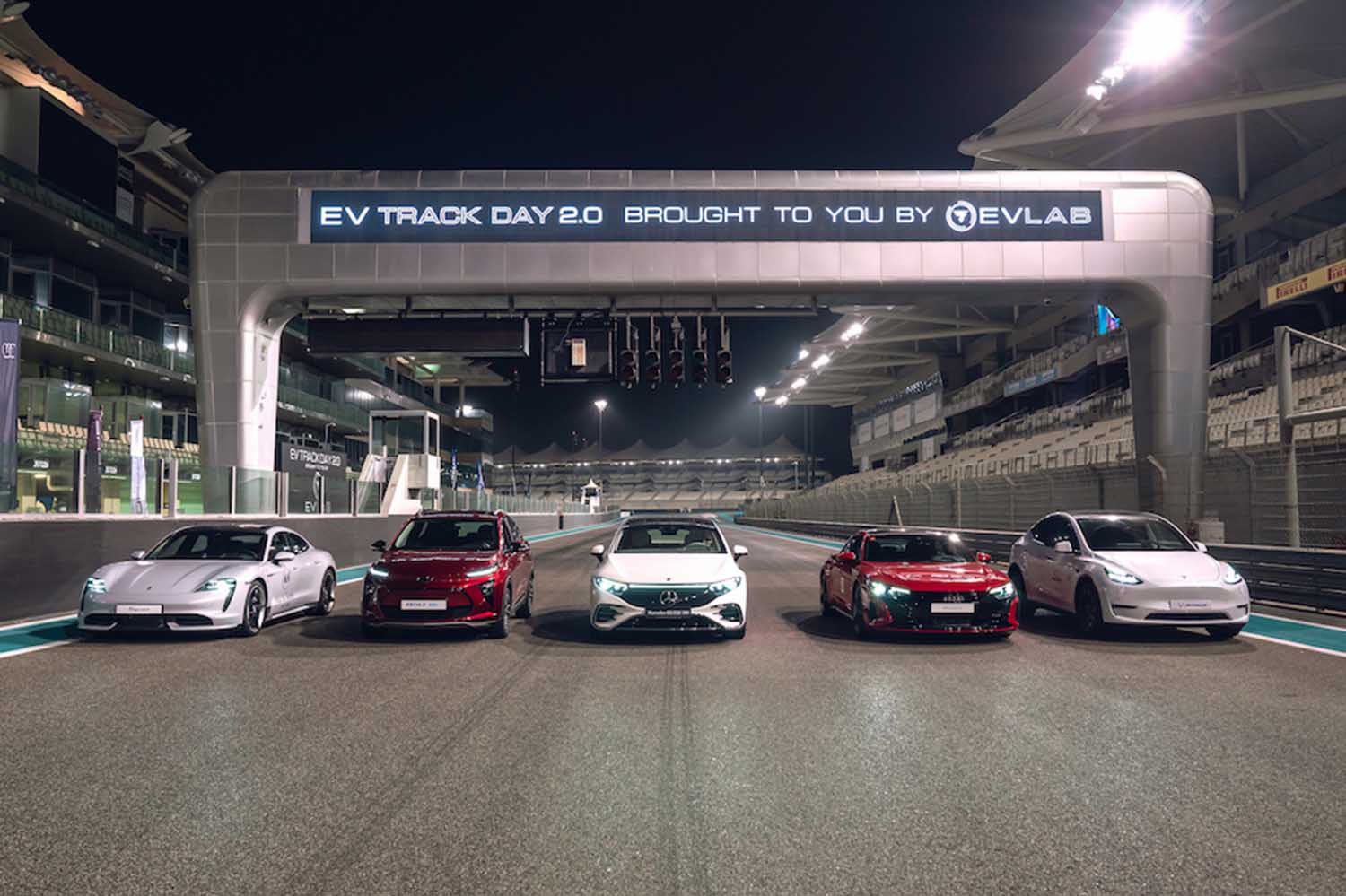 EV Lab, a first-of-its-kind omnichannel, multi-brand electric vehicle platform, hosted a dedicated track day event in Abu Dhabi's Yas Marina F1 Circuit on April 16th, featuring world-leading brands including Mercedes Benz, Porsche, Audi, Chevrolet, Tesla and Michelin.
At the 2nd edition of its annual track day, EV Lab gathered over 200 guests to explore an impeccable range of EVs available in the region. Providing a unique taste of the EV experience, guests had opportunity to encounter adrenaline packed passenger experiences alongside professional brand instructors with world-leading electric vehicles, and EV owners had the opportunity to drive their own vehicle on the infamous track.
Partaking vehicles included the Mercedes EQS 580, which features the longest range within the EV industry and the Audi e-tron GT quattro, recently awarded as 'World Performance Car' of the year by World Car Awards. Additional electric vehicles at the event included the recently launched Mercedes EQE, the Mercedes EQC, Chevrolet Bolt EUV, Audi RS e-tron GT, Audi e-tron Sportback, Tesla Model Y and Porsche Taycan.
Kevin Chalhoub, Founder & CEO at EV Lab, said: "Our annual track day continues to be a success, as it allows us to gather and foster the ever-growing community of EV-enthusiasts in the UAE and puts them right in front of world-leading EV's for a day of unparalleled experiences. With the ambitious visions of our nation, including the 'UAE Net Zero 2050' and the government's commitment to converting 20% of its fleet of government-owned automobiles by 2030, EVs have never been more in-demand. Besides having a significant impact on our environment, the innovation around EVs has come a long way, featuring unconventional engineering, impeccable design features, and advanced technology. I am truly grateful to our brand partners supporting us in making the second edition of our annual track day a great success.''
As the UAE moves towards reinforcing its resolve to fight climate change, having already installed over 1000 public charging stations across the emirates, it is estimated that the UAE electric vehicle market will grow at a CAGR of 32.1% during 2019-25.
The track-day was hosted with leading UAE automotive brands, including Porsche Center Abu Dhabi, Audi Centre Abu Dhabi, Mercedes Benz Emirates Motor Company, Michelin Arabia, Chevrolet Bin Hamoodah and Tesla.