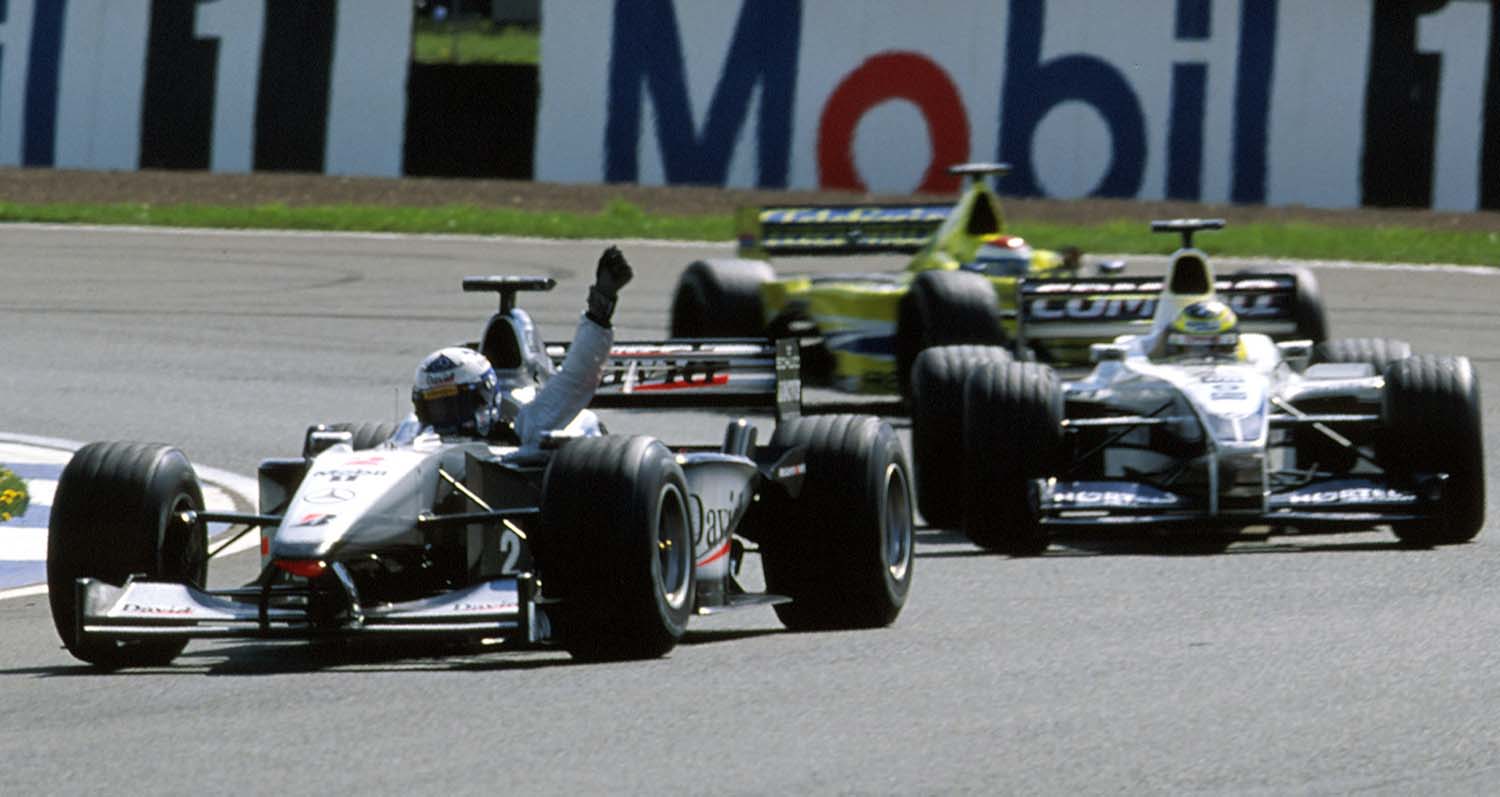 It is a rare feat for a Formula One driver to race for the same team for nine years. David Coulthard is one of those exceptions. "Between 1996 and 2004 he raced for McLaren-Mercedes 150 times and won 12 Grand Prix races in Formula One.
From 2010 to 2012 he drove an AMG Mercedes C-Class in the DTM," says Christian Boucke, head of Mercedes-Benz Classic. "Coulthard retained a close link to the company after his racing career – he was active as a Brand Ambassador for many years. On 27 March 2021 he will turn 50. Congratulations, David!"
The first victory of the new Silver Arrows: For Mercedes-Benz, David Coulthard's triumph on 9 March 1997 at the Australian Grand Prix was outstanding. It was not only the first victory for the McLaren-Mercedes team, but with the new black and silver design of the MP4/12 racing car it marked the birth of the modern, new Silver Arrows, which are still so successful to this day.
The 1997 season opener in Melbourne was the beginning of a third era of Mercedes-Benz Formula One racing cars after 1934 to 1939 and 1954/1955. The silver McLaren-Mercedes had Formula One World Champions in the form of Mika Häkkinen in 1998 (McLaren-Mercedes MP4/13) and 1999 (McLaren-Mercedes MP4/14) along with Lewis Hamilton in 2008 (McLaren-Mercedes MP4-23). With the Mercedes factory team Hamilton, and one time Nico Rosberg, impressively continued this series of World Championships from 2014 to 2020.
A long career: In his third year in Formula One David Coulthard moved to the McLaren-Mercedes team in 1996. For nine years he drove alongside Mika Häkkinen and Kimi Räikkönen for the British-German team.
His most impressive successes included the victories at the Monaco Grand Prix in 2000 and 2002 and at his British home Grand Prix at Silverstone in 1999 and 2000. In 2001 Coulthard came second in the World Championship. After 246 starts in Formula One and 13 victories, Coulthard ended his career in Grand Prix sport in 2008.
He drove 31 races for the Mücke Motorsport team between 2010 and 2012 in the DTM with an AMG-Mercedes C-Class and in his last year as a racing driver came fifth at the Norisring.
The head of motorsport on his driver: Norbert Haug, Mercedes-Benz head of motorsport from 1993 to 2013, worked closely together with Coulthard for nine years in Formula One and three years in DTM.
He calls the Scot a "highly valued friend, who has been a member of the Mercedes-Benz family for a quarter of a century, which is more than half his life". The driver duo of Mika Häkkinen and David Coulthard was characterised by the experienced head of motorsport as follows: "A real stroke of luck. Back then it was impossible to imagine a better combination of drivers – who respect and improve one another and, at the same time, have a great image and popularity."
All-rounder: David Coulthard has handled the transition from elite athlete to entrepreneur, operating in many different fields very well. As a Brand Ambassador for Mercedes-Benz he was involved in marketing campaigns of new AMG models and in various events after 2011. "DC", as he's known in the paddock, runs his own film production company, accompanies Formula One as a TV commentator and is involved in hotels and restaurants.
Coulthard enthusiastically drives historic racing cars on circuits or his own Mercedes-Benz 280 SL (W 113) on the streets of his home of Monte Carlo. He bought the "Pagoda" from the year of his birth, 1971, as his first very own car in 1995.
The early years: David Coulthard was born 50 years ago in Twynholm, Scotland, into a family obsessed with motorsport. His grandfather drove in rallies, his father Duncan Coulthard won a Scottish kart championship. On his eleventh birthday his father gave him his own kart and at 12 he became Scottish junior champion – the first of many titles.
In 1989 he won the championship title of the British Formula Ford 1600 at the first attempt. David Coulthard was successful in Formula Three and Formula 3000 races. And he gathered Formula One experience as a test driver for Williams. When Ayrton Senna tragically died on 1 May 1994, Coulthard became a regular driver on the team of Frank Williams and in 1995 won the Portuguese Grand Prix in Estoril. In 1996 he switched to McLaren-Mercedes.