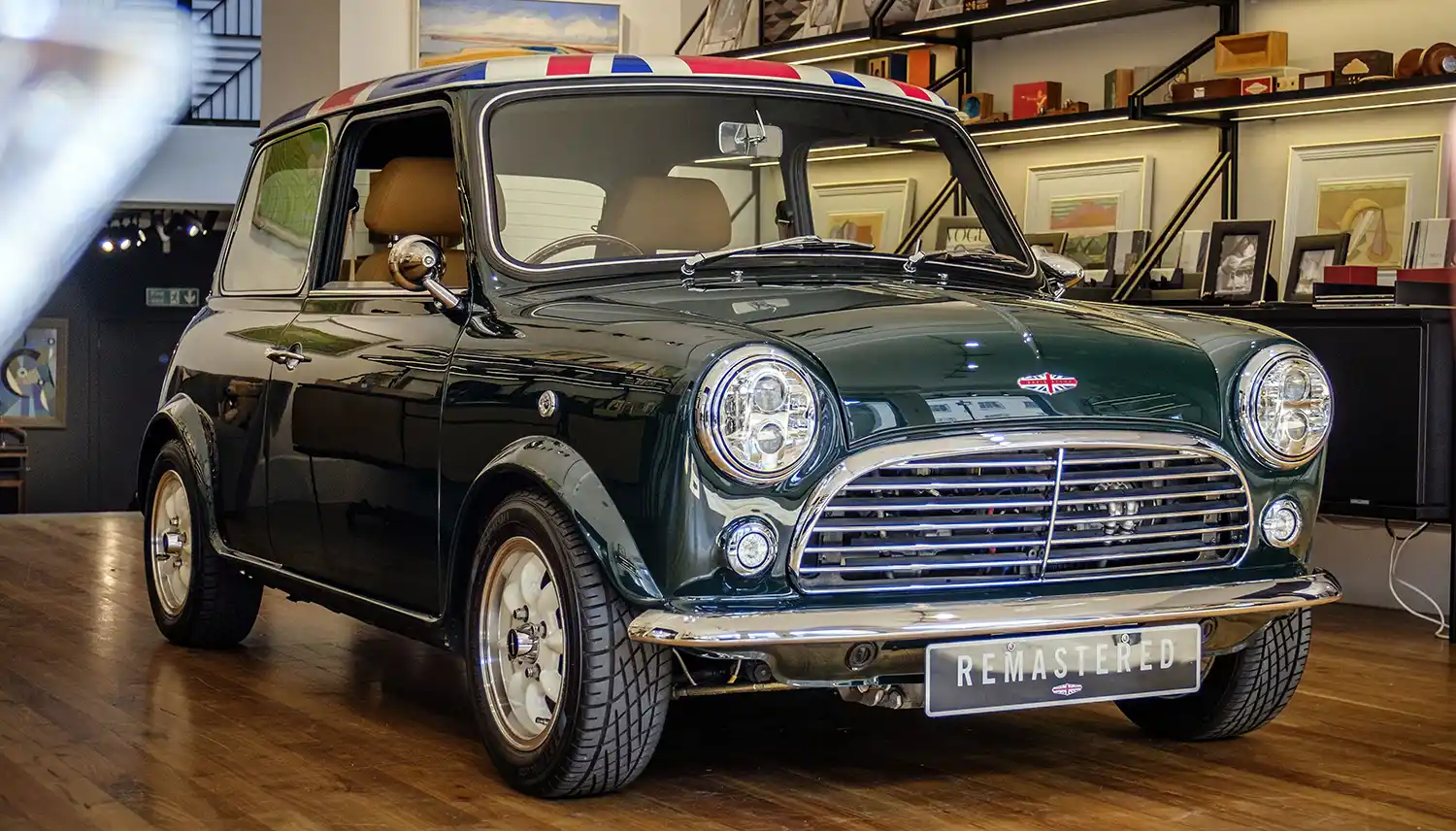 David Brown Automotive is delighted to announce that it has partnered with LINLEY, the British bespoke furniture, art furniture and luxury interiors company, to celebrate the coronation of King Charles III, uniting two iconic brands for a special display of British handcrafted excellence.
To commemorate this significant moment in British history, an example of David Brown Automotive's iconic Mini Remastered is now on show in LINLEY's flagship Belgravia showroom, nestled amongst exquisite decorative pieces and stunning hand-crafted furniture.
David Brown Automotive's Mini Remastered – a modernised take on perhaps Britain's most loved automotive design, handcrafted at its state-of-the-art facility in Silverstone – will be on display at LINLEY's showroom from today until May 10th, as the world celebrates Charles III's coronation.
The example of Mini Remastered on show will sport a suitably British specification for this momentous moment, finished in a rich shade of decidedly British 'Racing Green', with 12" Classic wheels finished in the delightful hue of 'A Whiter Shade of Pale'. The timelessly specified example is capped off by a final patriotic touch – with a Union Jack adorning the roof.
As with the immaculate finish of LINLEY's products, Mini Remastered's lustrous paint is perfected over hundreds of hours by David Brown Automotive's expert automotive technicians. The same care is lavished on the interior, with a cockpit hand-trimmed in sumptuous sandalwood leather, with matching tan stitching, offset by 'Racing Green' trim accents.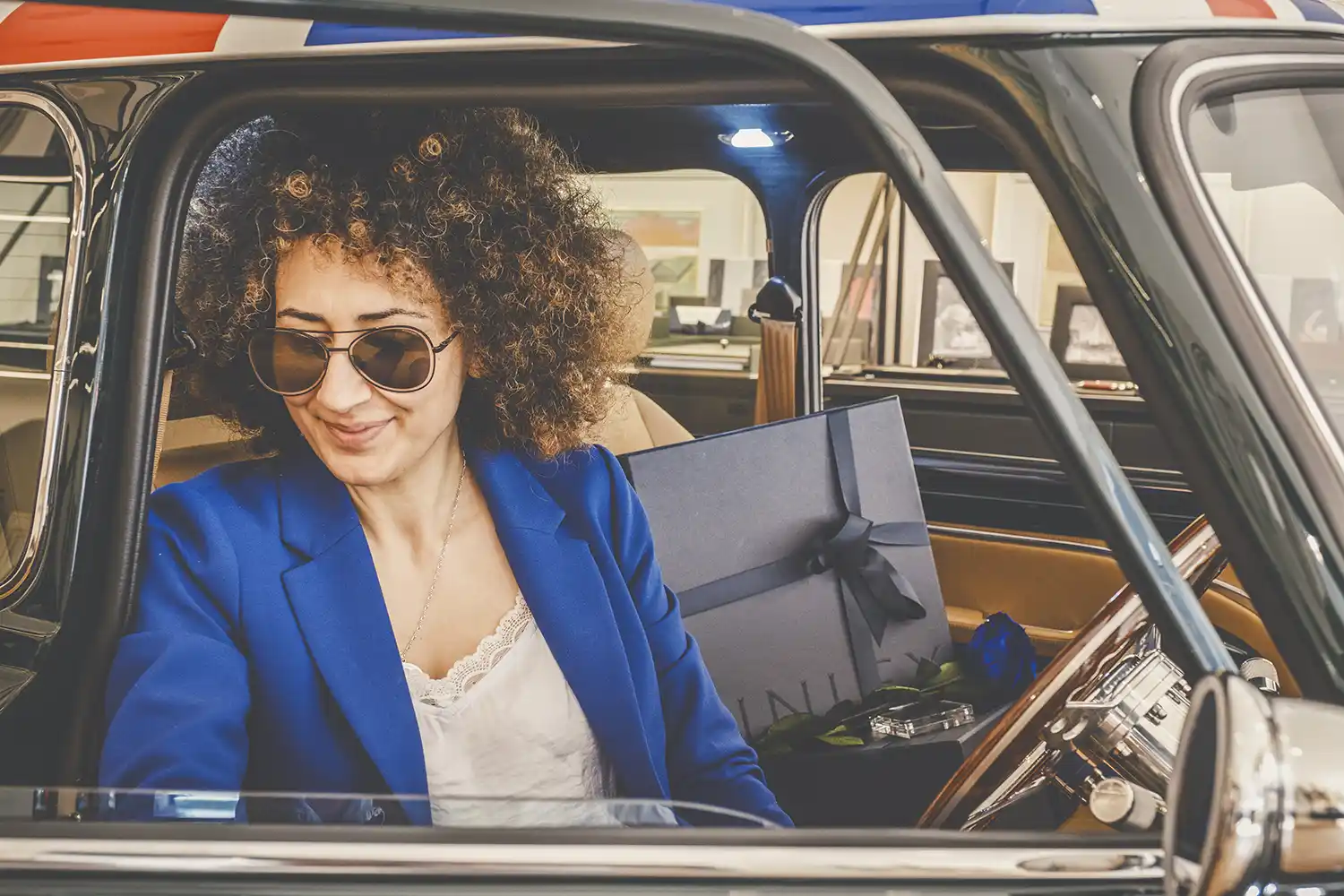 Each David Brown Automotive creation, whether Mini Remastered, the ultra high-performance Mini Remastered Oselli Edition, Mini Remastered Marshall Edition, or Speedback GT grand tourer, is entirely handbuilt in accordance with the rich tradition of British coachbuilding. As with every LINLEY piece that is carefully crafted, every Mini Remastered that leaves David Brown Automotive's build facility is imbued with an unrivalled depth of engineering and quality, constructed by master technicians using only the very finest materials.
LINLEY Creative Director, Michael Keech, said:
"we're delighted to be uniting two proudly British companies for this truly momentous moment in the country's history. LINLEY and David Brown Automotive are both closely aligned in their values; driven by a passion to create peerlessly engineered, handcrafted products that put design at the centre of what they do. Whether it's a LINLEY hand-finished bespoke cabinet, or a hand built modernised Mini Remastered – both also delight in tradition while seamlessly fitting into modern life."
Michelle Gay, Sales & Marketing Director at David Brown Automotive, said: "We're proud have partnered with LINLEY to commemorate King Charles III's coronation. For generations, Britain has created products that effortlessly blend handcrafted quality with beauty and design flair. LINLEY and David Brown Automotive's products continue this proud tradition, standing out as examples of what Britain's world-leading craftspeople can produce.
"At a moment when the world turns its gaze to Britain for the Coronation, it seems appropriate time to shine a light on – and celebrate – this country's gifted artisans. In doing so, we hope to help preserve the tradition of uniquely British handcrafted artistry for generations to come."
David Brown Automotive and LINLEY's display of design and craftsmanship will be on show at the LINLEY showroom on Pimlico Road until 10th May, as the Coronation celebrations unfold around the country. Visitors are welcome to drop by the showroom to view the Mini Remastered, the full LINLEY collection, and to learn more about the partnership.