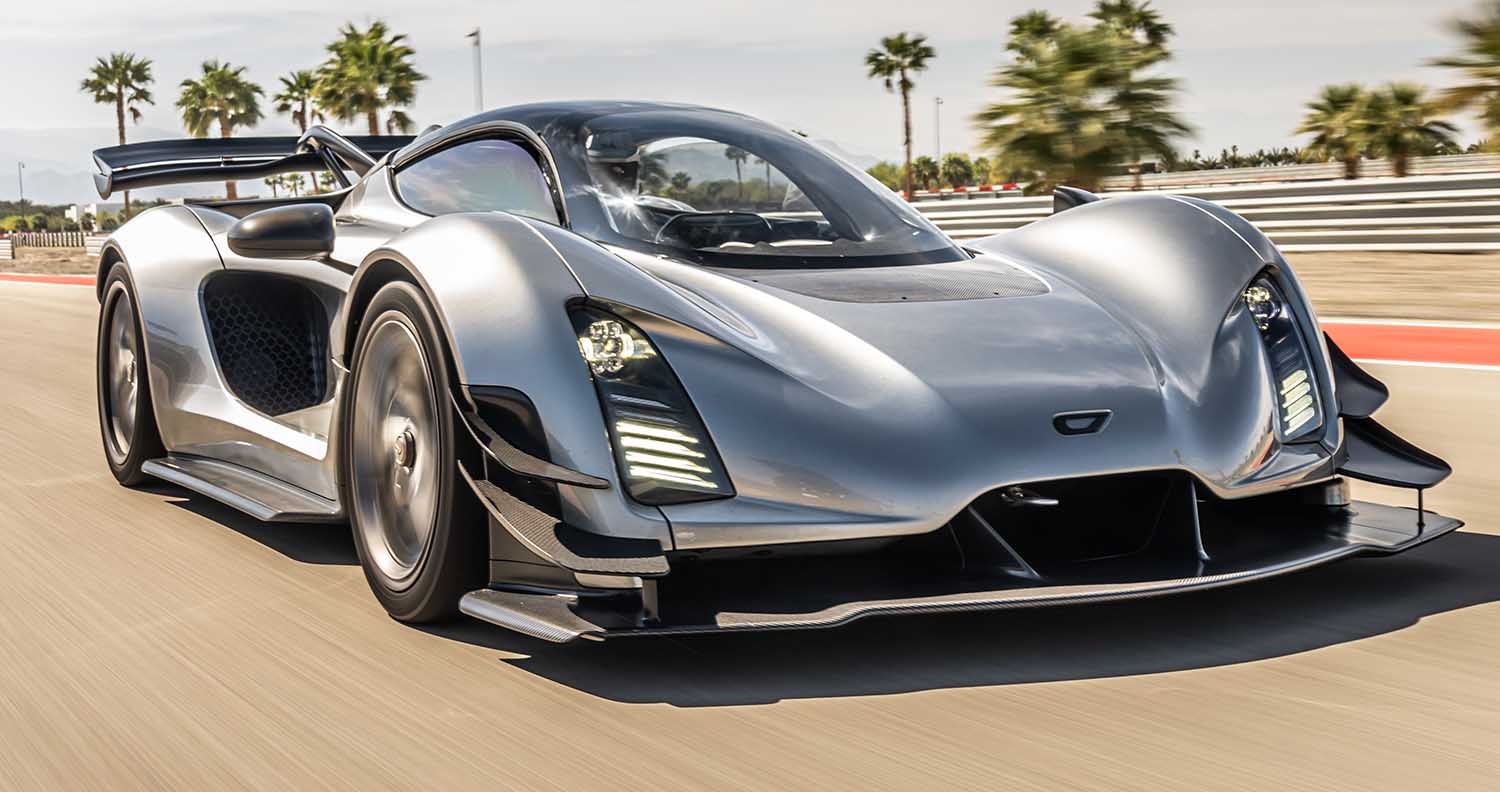 The Czinger 21C hypercar will be making its first public appearance in the UK at the inaugural Concours on Savile Row event in the heart of London. In partnership with H.R. Owen – exclusive UK dealer to Czinger – the 21C will be displayed outside Norton & Sons tailors for the duration of the show.
The 21C sets new standards in both engineering and design. It is propelled by the most power-dense production internal combustion engine the world has ever seen, pairing a 2.88-litre twin-turbocharged V8 petrol unit with an 800-volt electric drive system, to produce a peak power output of 1233bhp.
That astonishing power is distributed across all four wheels via a seven-speed sequential transaxle gearbox which, in a car weighing just 1250kg, equates to devastating performance. The 0-62mph sprint is dispatched in 1.9 seconds, while 0-186mph takes only 8.5 seconds. A top speed of 253mph is possible.
Czinger has developed a ground-breaking build process to enable it to push the envelope of hypercar performance with the 21C. Czinger's patented human-AI design process ensures every component of the car is optimised for performance, weight and packaging. For example, the front upper control arm is hollow with 3D-printed internal structures allowing it to achieve significant weight savings without affecting performance. This attention to detail and obsession with perfection has been applied throughout every aspect of the car, each and every component is a bespoke work of art.
Thanks to its outstanding power-to-weight ratio the 21C has already set a production car lap record at Laguna Seca, beating the McLaren Senna by two seconds. At Circuit of the Americas, the 21C also holds the lap record, having beaten the previous holder – the McLaren P1 – by six seconds.
Just 80 examples of the Czinger 21C will be built, available to customers in two fully homologated specifications; a lightweight high downforce configuration and a low drag configuration for top speed.
Those hoping to see the Czinger 21C can find it at the Concours on Savile Row; a celebration of automotive and tailoring excellence taking place at London's world-famous Savile Row on June 15 – 16.
The iconic street will be closed to traffic to display some of the world's greatest cars, including the 21C which can be found near Norton & Sons, bespoke tailors and shirt makers since 1821.
H.R Owen, the UK's leading luxury motor dealer group, is proud to have recently been appointed the exclusive UK retailer to Czinger. Czinger is the latest addition to H.R Owen's partners, which include sought-after luxury and performance brands such as Bugatti, Rolls-Royce, Ferrari, Lamborghini, BAC, Puritalia, Rimac and Radford.
Ken Choo, CEO of H.R Owen, said: "It's an honour to be partnering with the Czinger team to debut the 21C in the UK at the Concours on Savile Row. It's a great opportunity for us to begin introducing this trailblazing brand to the people of London, in one of the most suitable settings. The bespoke craftsmanship that underpins the design and engineering of the 21C is perfectly mirrored in the tailored creations of Savile Row. It will be a celebration of the highest standards from the worlds of automotive design and bespoke tailoring."
Czinger Co-Founder and EVP Operations Lukas Czinger, said "As the foremost luxury automotive dealer in the U.K., H.R. Owen is an instantly recognized and respected international brand. As we grow our global presence and our vehicle portfolio, collaborating with the right, best-in-class, partners is critical. Together with H.R. Owen, we will introduce a new era of automotive performance and technology to the U.K. market."