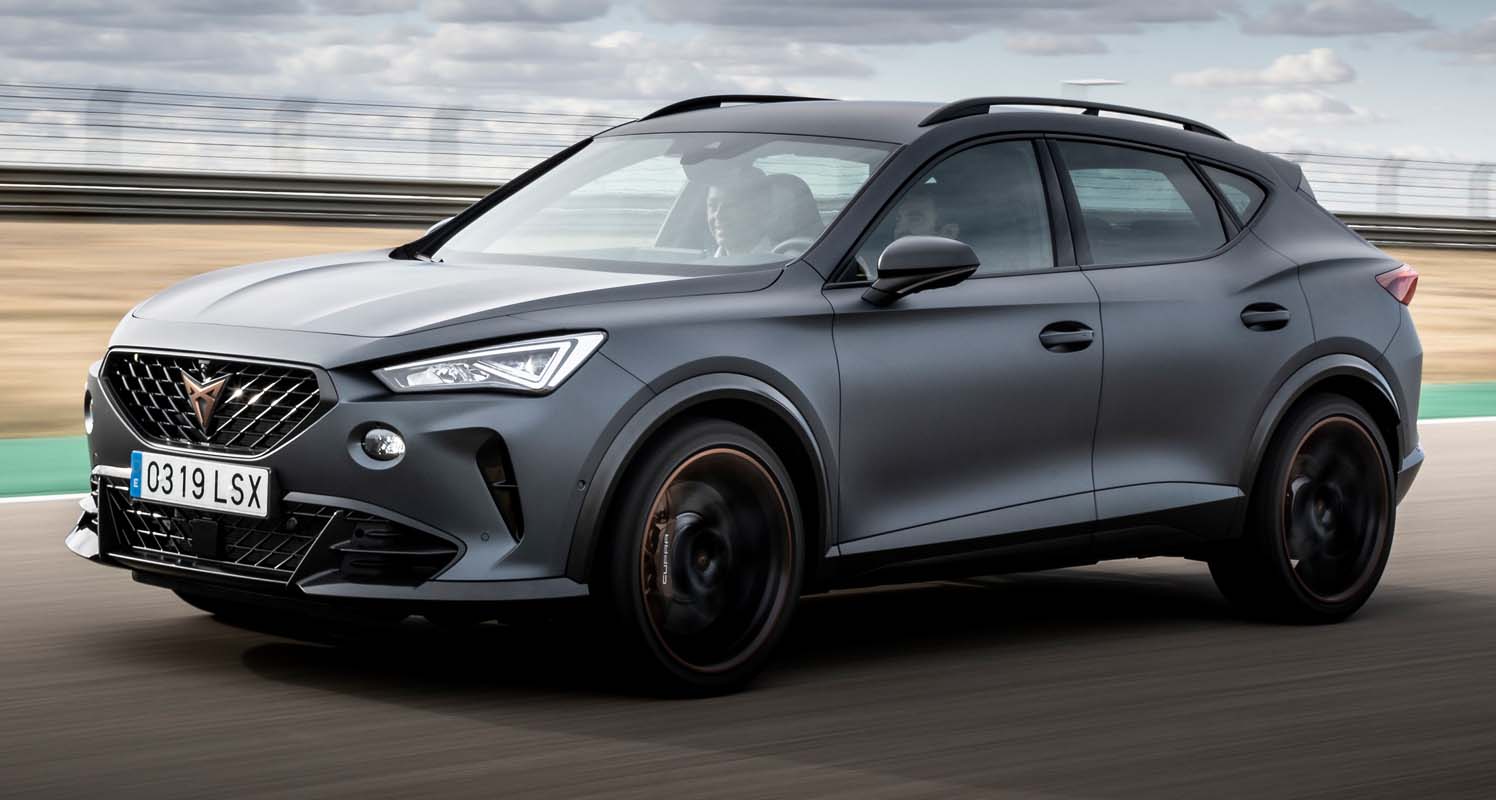 Can a car be perfect for driving comfortably on the road, go from 0-100 km/h in 4.2 seconds on a racetrack and climb a 70% dirt slope with ease? To find out, we tested the CUPRA Formentor VZ5, the brand's most powerful model, with racing driver Jordi Gené at the wheel accompanied by Christoph Vierling, head of Whole Vehicle Development at the SEAT S.A. Technical Centre.  A car with five driving modes to experience excitement on all types of terrain.
-Pure adrenaline. Everything is ready on the starting grid at the Motorland circuit (Spain). To feel the full power of the CUPRA Formentor VZ5, Christoph gives Jordi a few tips: "You have to use the Launch Control if you want to start out really fast. Start the engine, select the CUPRA Mode and set the ESC to sport, press down on the brake, and then the accelerator. Wait for it to go up to 4,000 rpm and then release the brake!" The car goes from 0 to 100 km/h in just 4.2 seconds. "Amazing acceleration! It's a spectacular start, just as if we were in a race" says Jordi.
-From Comfort to CUPRA mode. "Each driving mode has its own character" says Christoph. "I feel a very smooth drive quality in Comfort Mode, which is more suitable for the motorway. Thanks to the Dynamic Chassis Control (DCC), I can sense how the car behaves reliably when turning the steering wheel" says Jordi. Sportiness is further enhanced with the Sport Mode. "Now you can feel the throttle response and the damping control much more" Christoph adds. Switching to CUPRA Mode boosts that feeling even more. "You immediately feel the throttle response is firmer and cornering is much more precise" explains the CUPRA driver.
-Technology for total driving freedom. Switching between modes from the infotainment unit activates pre-set configurations that adjust throttle response, gearbox, steering feel, or suspension stiffness. In addition, they can also be adjusted gradually. "We have the option of switching directly from one mode to another, and from Individual Mode, they can be adjusted so that a middle ground can be established" explains Christoph. "In this way, the driver can customise the modes, for example, to an intermediate mode between Sport and CUPRA, to adapt to different types of roads for maximum enjoyment and decide which sensations they want to experience at any given time" he adds.
-All the control is in the driver's hands. And now it's time to try out the sportiest mode on this model – Drift. It's exclusive to the CUPRA Formentor VZ5, although its use is only recommended for closed-track driving. "You have to confirm that you're on a racetrack via the infotainment system" says Christoph. At that point, the electronic stability control is completely switched off. For driver Jordi Gené, it's the closest he can get to driving one of his racing cars. "Wow, it's incredible! This is my kind of playground. When you use it on the track you can appreciate just how far it drifts through a corner. You can cover a long distance in a turn with a very pleasant cornering angle at high speed. Also, it has two clutches on the rear axle that I can use separately – it's amazing!"
– Maximum power, off-road too. The driver and the engineer leave the Motorland racetrack to test the 4×4 power of the CUPRA Formentor VZ5 on a dirt path. "Not only is this car sporty, it's also capable of handling slopes of up to 70 per cent without any problems thanks to its four-wheel drive" says Christoph. "It goes downhill without you having to do anything, not even brake" adds Jordi. It is also capable of going on three wheels over uneven terrain without losing traction and even performs on side slopes of 36 degrees.
The CUPRA Formentor VZ5 in numbers
5-cylinder engine
390 hp output
250 km/h top speed (limited electronically)
20-inch alloy wheels
375 mm AKEBONO brakes
7,000 exclusive units