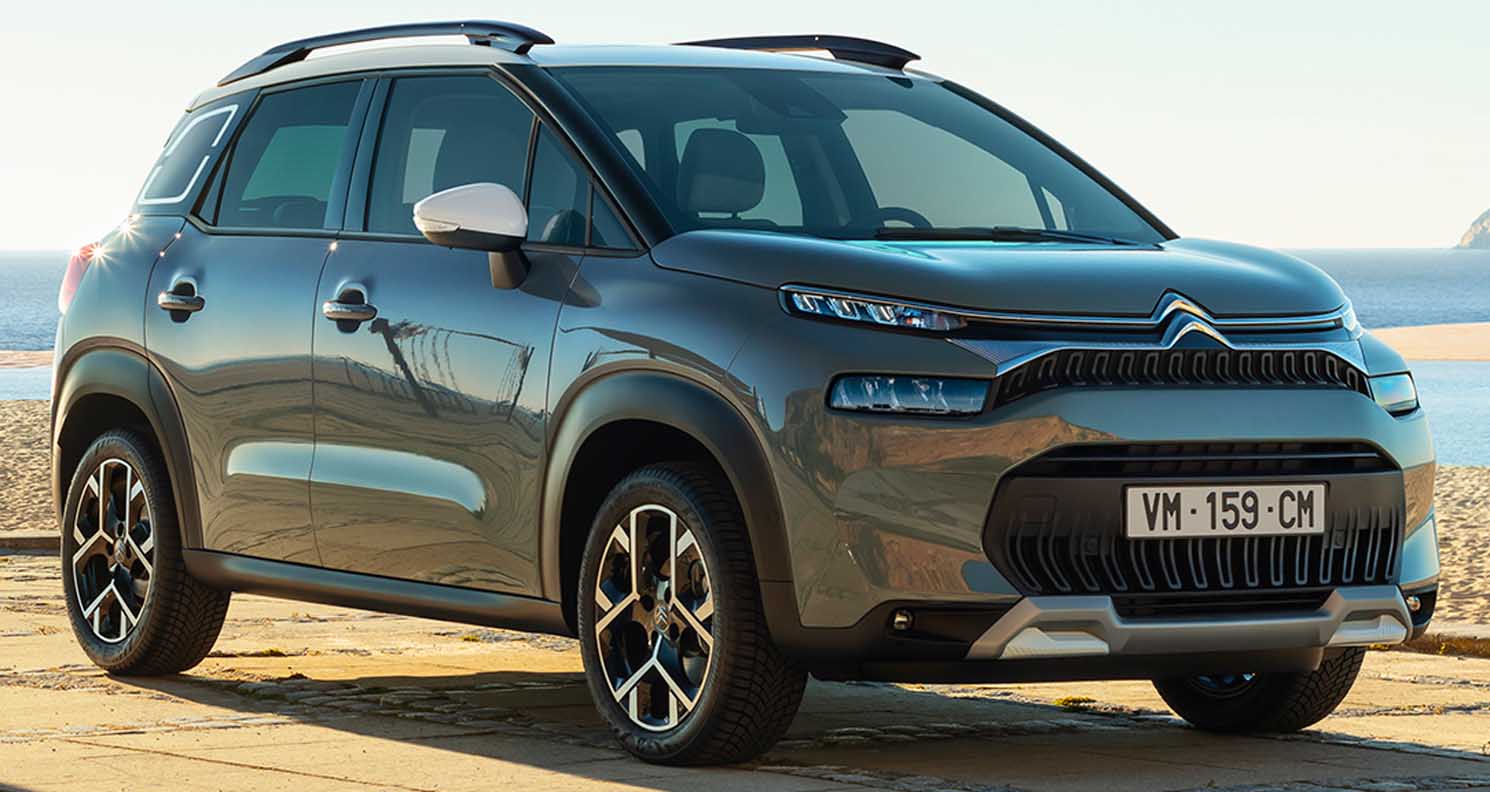 Produced in 330,000 units since launch at end-2017, C3 Aircross is pursuing its offensive in a highly competitive segment. Customers were immediately convinced by its assertive, appealing and ultra-customisable design, as well as its spaciousness and unrivalled modularity. Illustrating its powers of attraction, the majority of customers opt for high-end versions, with the Shine level accounting for 62% of sales.
Offering extensive versatility in use with its compact exterior and generous cabin space, it is an ideal vehicle for motorists with active lifestyles looking for more comfort and modularity as well as precise handling and agility for daily use. C3 Aircross SUV has been restyled with an even more distinctive personality, with enhanced status and modernity, together with stronger cabin comfort, greater peace of mind and extra versatility in use.
01. MORE ASSERTIVE DESIGN AND ENHANCED CUSTOMISATION
While body styles are becoming increasingly low slung and similar to those of saloons, C3 Aircross has gained more assertive SUV design with a high-volume body conveying a spacious interior and a road-dominating stance through raised ground clearance and large wheels. Its singularity has been enhanced with lower-body and wheel-arch protections, front and rear skid plates, and roof bars with full and generous forms. On launch, the design and customisation possibilities of C3 Aircross expressed a sense of friendliness and freshness. Today, New C3 Aircross has reached maturity. While keeping all of its originality and mindset, its playful attitude has evolved and the model has been upscaled and gained a more assertive, mature and high-end personality commensurate with expectations in the segment.
MORE EXPRESSIVE FRONT END
New C3 Aircross features more assertive design with an entirely redesigned front face enhancing the model's personality and status. Inspired by the CXPERIENCE concept car and first introduced on New C3 in 2020, it represents Citroën's new signature in 2021, with an assertive, branded and unique identity.
The new front face immediately attracts the gaze, notably with the new headlamp signature. The chrome-trimmed chevrons have been upgraded, extending out towards the LED lights, in the spirit of New C3 and New C4, but with a more muscular approach. The LED lights provide even more clarity and safety, lending motorists a sense of protection. C3 Aircross also sports a new grille with a brand-new geometric pattern and a new silver-grey skid plate with coloured inserts that enhance the model's robustness.
The new front face has greater structure with the impression of a higher-set bonnet. It also has a more contemporary feel, more expressive and robust.
With its firm stance and high-set, horizontal bonnet, together with its generous volumes and 360° protections echoing the uninterrupted glazed area around the body, New C3 Aircross boasts assertive looks that instantly set it apart in the B-SUV segment.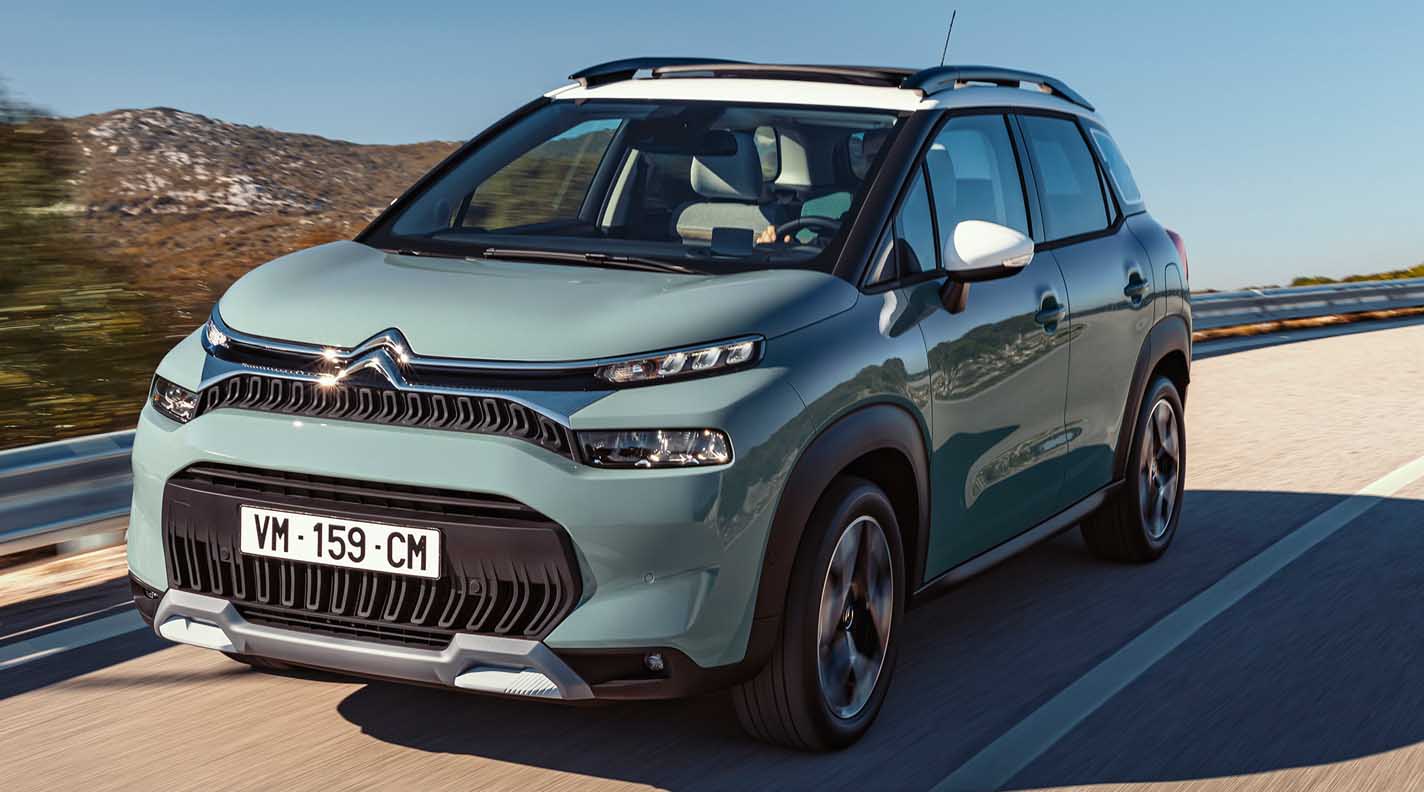 UPGRADED CUSTOMISATION
The customisation programme of New C3 Aircross has been upgraded to satisfy each customer looking for a unique SUV in their image that is both distinctive and distinguished.
Outside, customisation has been upgraded with a total of 70 possible combinations through:
7 body colours, 3 of them new: Khaki Grey, Voltaic Blue and Polar White.
4 Color Packs, including 2 new colours playing on higher-end textured effects: Anodised Orange and Anodised Dark Blue. The Color Packs comprise original and sharply designed coloured inserts on the extreme edges of the front skid plate, on the door-mirror shells and on the quarterlight. The latter is home to a new side signature in which the distinctive coloured louvres are supplemented by new cube-shaped graphics according to the Color Pack selected, with a mirror-chrome louvre effect (chrome quarterlight decor) for the Shiny Black and Anodised Dark Blue Color Packs, a white cube effect for the Polar White Color Pack, and an orange cube effect for the Anodised Orange Color Pack.
A choice of 2 roof colours: white or black.
C3 Aircross proposes new wheel rims with an even more graphic and dynamic design in 16″ and 17″, both available in diamond-cut or full-black versions, offering customers the choice of a more refined or more virile look.
The customisation upgrade continues inside with a range of 4 ambiences, each with its own identity, to meet the expectations and desires of each customer:
The standard ambience, pure and clean, consists of grey seat decor combined with textured grey dashboard decor.
The Urban Blue ambience, denoting modernity and travelling comfort, subtly combines – in classic sportswear spirit – blue cloth and a blue leather-effect fabric, a crosswise strip on the upper backrests with a chevron motif, and a dashboard strip with a blue leather-effect decor.
The Metropolitan Graphite ambience, both cosy and hip, combines a graphite leather-effect fabric with a flecked grey fabric, together with a crosswise strip on the upper part of the textured light wood-effect backrests and a dashboard strip in flecked grey decor.
The refined Hype Grey ambience combines grey-green leather and black leather-effect fabric, a grey-green leather dashboard strip, and crosswise strips on the upper backrests with a chevron motif.
The refinement of the Metropolitan Graphite and Hype Grey ambiences is underscored by Citroën's distinctive new topstitching, unique on the market, which is reflected in a series of stylised chevrons. This topstitching was introduced on New C4.
02. BRINGING SERENITY TO CUSTOMERS ACTIVE LIFESTYLE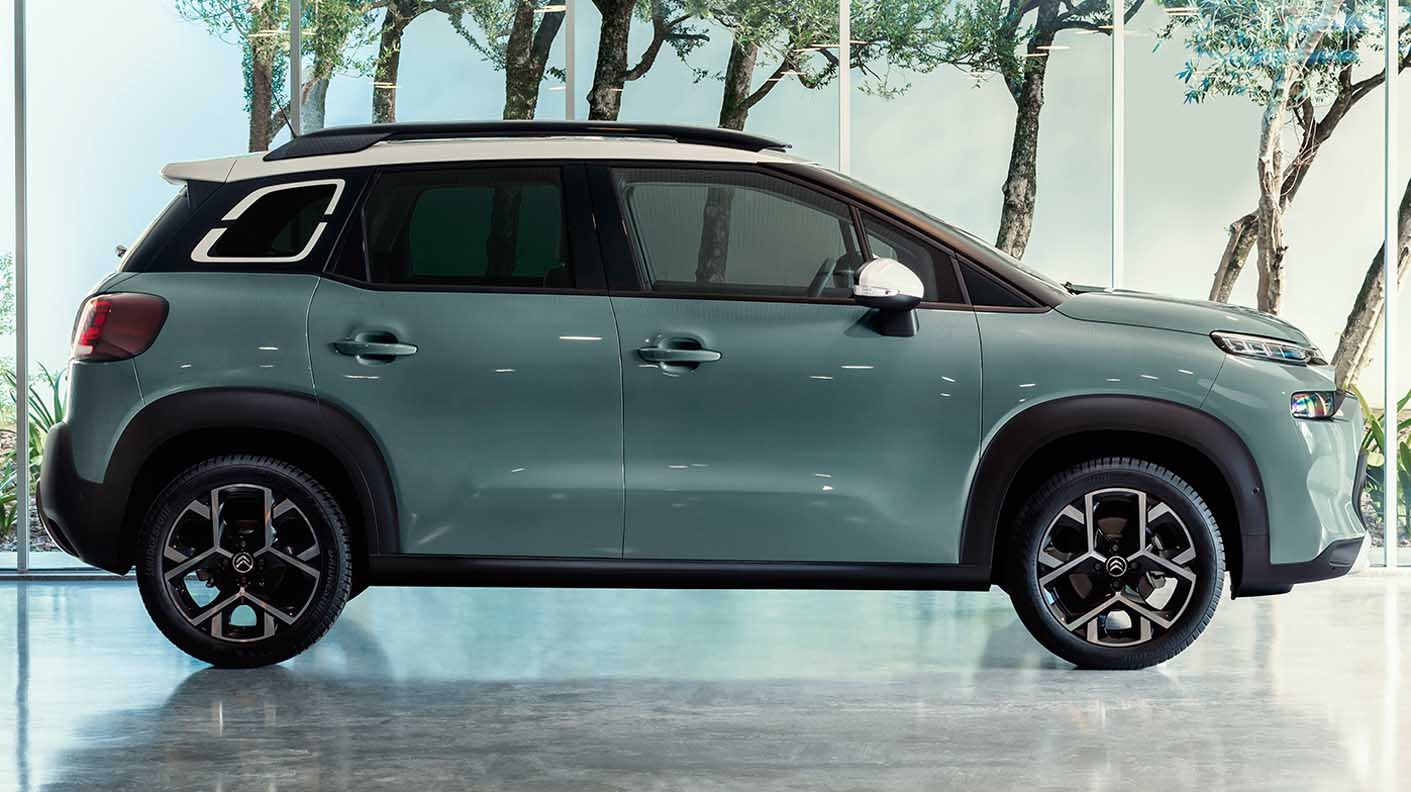 ADVANCED COMFORT SEATS TO FEEL GOOD
New C3 Aircross makes customers feel like they are at home by further enhancing in-car comfort through the Citroën Advanced Comfort® programme.
In addition to suspension settings affording class-leading ride comfort, C3 Aircross offers even greater travelling comfort with its new Advanced Comfort seats, first seen on C4 Cactus and C5 Aircross. Available with the Urban Blue, Metropolitan Graphite and Hype Grey ambiences, Advanced Comfort seats improve seating comfort through four comfort aspects: visual comfort, welcome comfort, postural comfort and dynamic comfort:
Visual comfort comes in the shape of unique padding and distinctive Citroën stitching that gives an immediate visual impression of soft and cosy cushioning.
Welcome comfort is provided by an extra 15 mm of foam, noticeable immediately when sitting down, akin to a mattress topper.
Postural comfort is characterised by the reinforced support offered by the broad and generously sized seats.
Dynamic comfort makes longer trips more comfortable through a combination of a high-density sheet in the centre of the seat and thicker, structured foam.
CLASS-LEADING SPACIOUSNESS, MODULARITY AND LIGHT
New C3 Aircross keeps all of its class-leading modularity, spaciousness and light, for even more well-being and versatility in use. With its compact body length of 4.16 m, for precise and agile handling, C3 Aircross constitutes a unique offering in its segment with unrivalled cabin space.
Boasting outstanding spaciousness, with exceptional rear leg room and head room for the segment, New C3 Aircross offers unrivalled modularity with a rear bench sliding 150 mm in two independent parts as well as a flat-folding front passenger seat providing a load length of 2.40 m for transporting particularly long objects such as furniture kits and sports equipment in complete peace of mind. Boot volume can be increased from 410 l to 520 l with the rear bench in its forward-most position and up to 1,289 l with the rear bench folded down.
Another key strength of the interior is its exceptional brightness, thanks to large glazed surfaces and a panoramic opening glass roof that lets the light flood in.
C3 Aircross is also even more functional thanks to a new, more meticulous central console featuring a large storage space at the rear that can be accessed by front- and back-seat passengers and closed with a sliding shutter. Storage spaces are laid out conveniently for all passengers, including a small tray in front of the front passenger, cup holders built into the folding central backrest on the rear bench, pockets on the back of the front seats, and numerous storage areas at the bottom of the central console.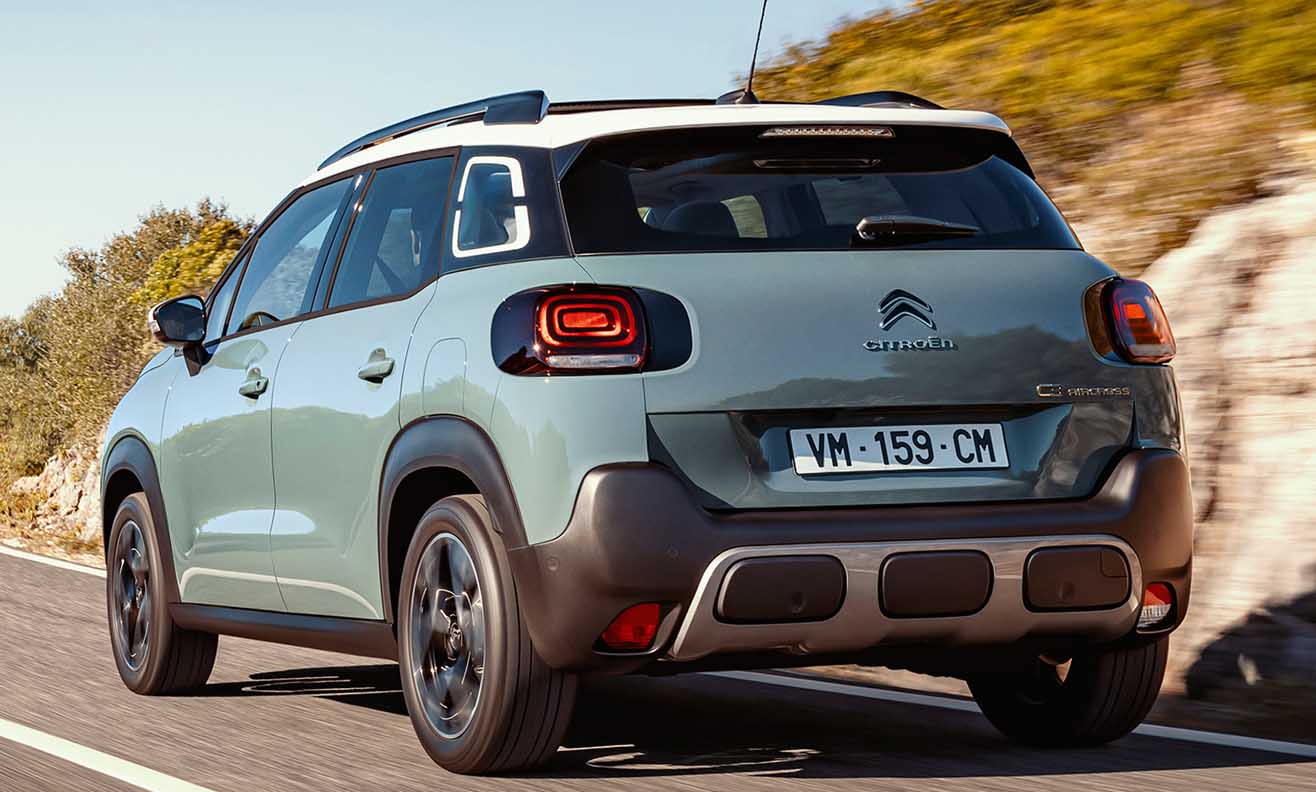 TECHNOLOGIES THAT SIMPLIFY LIFE AND HEIGHTEN ADVENTURE
New C3 Aircross is equipped with useful technologies for even more serenity and safety at the wheel. It features a new, larger 9″ touchscreen for greater user-friendliness, clarity and practicality. The new, higher-quality screen highlights Citroën Connect Nav and the Mirror Screen function compatible with Android Auto and Apple CarPlay. Wireless smartphone charging and Citroën Connect Assist are also included.
New C3 Aircross comes with 12 intuitive driving aids that simplify everyday life and make each journey easier and safer. Safety technologies include a colour head-up display to keep useful information in the driver's line of vision, as well as speed sign recognition and recommendations, the Active Safety Brake and automatic high-/low-beam control. C3 Aircross features equipment that simplifies daily life, such as hands-free access and starting, Park Assist and the Top Rear Vision reversing camera, which displays the environment behind the vehicle on the touchscreen.
Lastly, to fully underscore its SUV nature and effortlessly address most terrains, New C3 Aircross is equipped with Grip Control with Hill Assist Descent, a system enabling drivers to extricate themselves from all situations regardless of external conditions. The system enables drivers to adjust front-wheel traction depending on the terrain and maintain speed when descending hills, even on steep inclines.
New C3 Aircross SUV is available with a range of efficient and high-performance PureTech petrol and BlueHDi diesel engines: PureTech 110 6-speed manual, PureTech 130 EAT6, BlueHDi 110 6-speed manual, and BlueHDi 120 EAT6.
---
TECHNICAL CHARACTERISTICS
Length: 4,160 mm
Width: 1,760 mm
Height: 1,640 mm
Wheelbase: 2,600 mm
Boot volume: 410 l – 520 l and up to 1,289 l