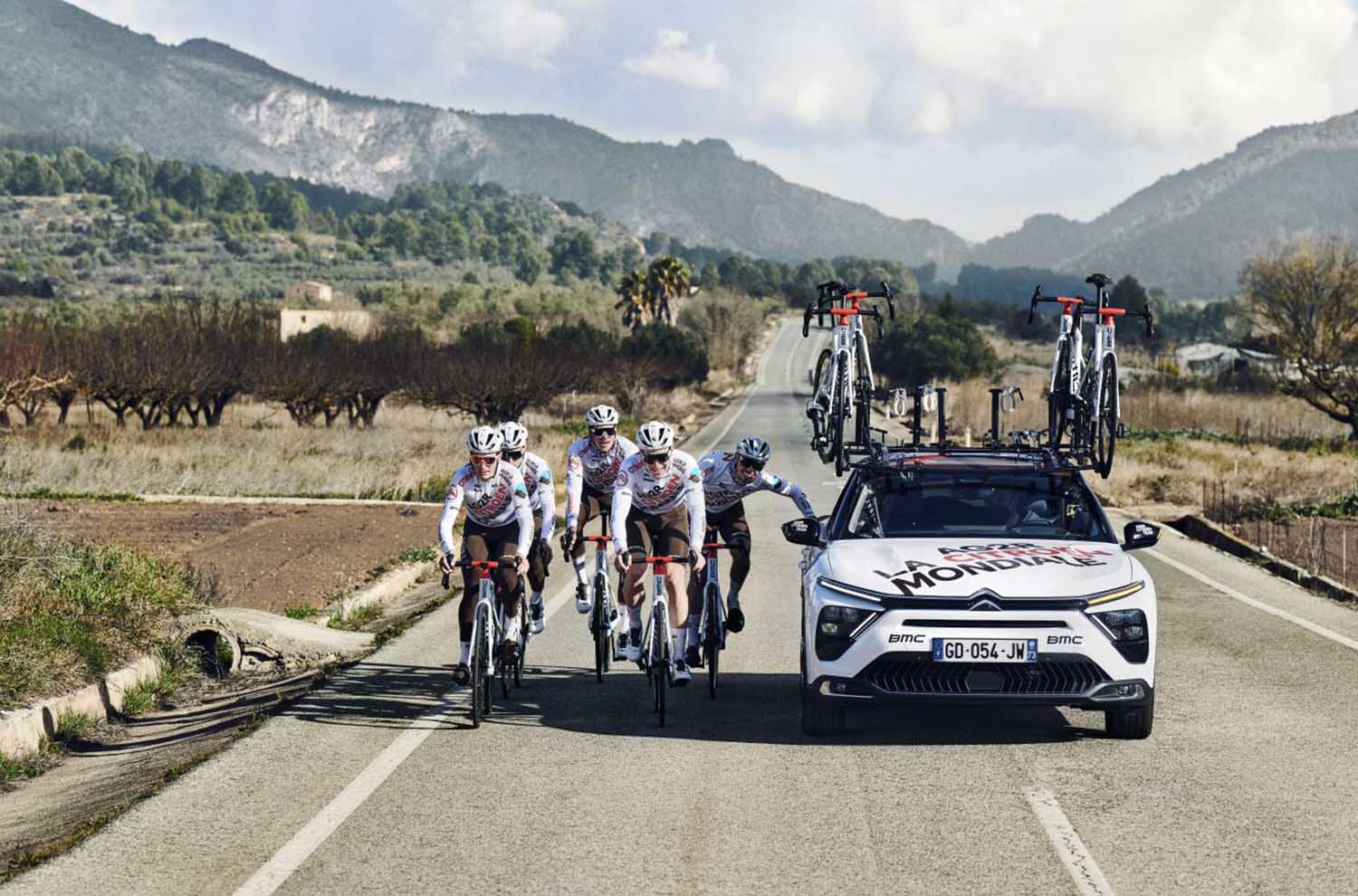 As the title co-sponsor of the AG2R CITROËN TEAM, Citroën will renew the whole fleet with new vehicles including Citroën's new flagship model, the C5 X and the new C5 Aircross. The new fleet will consist of the following vehicles:  C5 Aircross Plug-in Hybrid, C5 X Plug-in Hybrid and Spacetourer. This is the first time that Citroën will be equipping the team with the C5 X. This shift to Plug-in Hybrid vehicles in the fleet is really significant as it showcases Citroën's innovative approach in the energy transition towards sustainable mobility.
The fleet of vehicles available to the team is crucial as they are always on the move. One of the most important prerequisites for the vehicles is the space on board to carry everything is needed, from radio equipment to spare clothing, helmets, water bottles and supplies for the riders, bicycles and spare parts such as spare wheels and all the tools needed for maintenance. On average, for each race, a car carries up to 7 bikes on the roof.
The C5X and the new C5 Aircross represent the top of Citroën's range and are two cars which embody efficiency and reliability. They are able to guarantee the mobility of the entire team, both during races and during training, on all types of terrains, offering all the elements that are essential to the team, including benchmark comfort, space on board, accessibility and load capacity, the most advanced technologies at the service of safety as well as efficient and environmentally friendly engines.
Citroën strongly advocates sustainable mobility and believes that it should be available to everyone. Citroën is committed to electrify all of its range by 2025 with all electric or Plug-in Hybrid vehicles. By developing different approaches to mobility, Citroën wants to give freedom of movement back to people and show that the brand truly cares for the well-being of people.
C5 X: CITROËN'S NEW FLAGSHIP MODEL
As from May 2022, 10 C5 X Plug-in Hybrid will be provided to the AG2R CITROËN TEAM.
Unveiled in 2021, the C5 X is Citroën's flagship model expressing audacity and innovation at the highest level, for a travel experience in total serenity. The style of C5 X is the perfect embodiment of Citroën's philosophy. This car perfectly meets all the the team's needs in terms of comfort, onboard space, performance and smoothness of driving, and showcases Citroën's commitment to the energy transition towards sustainable mobility. C5 X offers real on-board serenity owing to the ultimate comfort provided by the Citroën Advanced Comfort® programme, with a passenger compartment worthy of a lounge area, including all-new Citroën Advanced Comfort® active suspension and Advanced Comfort® seats. The boot offers a generous capacity of up to 545 litres, rising to 1,640 litres when the second-row seats are folded. This is a real asset to the team who have to pack a huge number of items daily. Its Plug-In Hybrid technology makes life easier for the drivers and also for sports directors. On average, they spend 4 to 6 hours daily in a car.
NEW C5 AIRCROSS AND SPACETOURER: THE OTHER CITROËN VEHICLES IN THE FLEET
The fleet will also consist of 9 C5 Aircross Plug-in Hybrid and 7 Spacetourer.
New C5 Aircross is the perfect answer to the team's needs in terms of on-board space, performance, comfort and reliability. Restyled, it expresses greater strength and dynamism, owing to its new modern and distinctive design. New C5 Aircross offers excellent visibility thanks to its high driving position, both on long journeys and on the most winding roads in the mountains where the drivers have to exercise extreme focus and attention. New C5 Aircross is a benchmark for on-board comfort, it has Citroën Advanced Comfort® suspension and new Citroën Advanced Comfort® seats which offer the best seating and postural comfort even after several hours of driving. New C5 Aircross offers unparalleled space and modularity: It has a large boot and three individual sliding, reclining and retractable rear seats, that can be folded to adjust boot volume as required. Its Plug-In Hybrid engine further enhances on-board well-being, which is makes the travel experience a smooth one for the team.
Citroën SpaceTourer is a large, modern and versatile van that offers a high level of comfort. In the XL version (5.30-metre long), it has a spacious boot for carrying all the equipment needed by the team as well as being able to seat up to 9 people. The Citroën Advanced Comfort program ensures high level of comfort on board, including seats, suspension, cabin lighting and cosy interior trim. It offers the most advanced driving assistance technologies, such as Blind Spot Monitoring System, Active Safety Brake or the Head-Up Display.  It is a very functional vehicle, with Hands Free sliding rear doors, a real tailgate screen that opens and numerous storage compartments. It adapts to any use and offers plenty of space on board, a large boot volume and great maneuverability.