Citroën presents an all-new engine for C5 Aircross: the Hybrid 136. Based on the compact and lightweight Hybrid 48V technology, it is made up of a 48V battery that recharges during some driving phases, and a 136 hp PureTech petrol engine designed specifically to adapt to this new hybrid system, and coupled to a new ë-DCS6 gearbox with a 21 kW electric motor.
Simple and fluid in its use, this hybrid technology is perfectly suited for the highly versatile C5 Aircross. With only 129g of CO2/km emission according to the combined WLTP cycle, the C5 Aircross Hybrid 136 version emits 15% less CO2 than the equivalent non-electric petrol version. It is priced close to a diesel version with an equivalent engine and emits almost 12% less CO2 than the latter. It also brings all the electric mobility benefits, from enhanced driving pleasure to the possibility to drive in low emission zones. The Hybrid 136 is therefore particularly attractive on the C5 Aircross, an SUV that stands out from other vehicles in its segment thanks to its unique design and attitude, as well as its comfort and its modularity on-board.
The Hybrid 136 completes the C5 Aircross electrified range, which includes the plug-in Hybrid 180 and plug-in Hybrid 225. They already account for 40% of total C5 Aircross sales. More generally, it enhances and accelerates Citroën's electrification strategy, made up of 10 models: from the Hybrid to the 100% electric and the Plug-in Hybrid, from the Ami to the C5 X, from passenger cars to commercial vehicles, each time with the aim of offering a solution tailored to customer needs, while keeping the budget under control.
The new 48V HYBRID technology in detail
Thanks to this 48V Hybrid technology, mixed or 100% electric driving times with no emissions are optimised, meaning greater driving comfort, reduced consumption and lower CO2 emissions. This lightweight and compact hybrid technology is based on:
A new-generation 1.2 PureTech petrol engine, specially developed for hybridisation (40% of the parts are new) with 3 cylinders and 1199 cm3, delivering 136 hp (100 kW) at 5500 rpm and a torque of 230 Nm at 1750 rpm. The choice of a variable geometry turbocharger and timing chain contribute to its performance and robustness. Complying with the Euro 6.4 standard and operating in accordance with the Miller cycle, the engine has improved thermal efficiency.
A permanent-magnet synchronous electric motor, capable of developing a peak power of 21 kW (28 hp) and a torque of 55 Nm. It allows the C5 Aircross to be driven 100% electric for low torque requirements, at low speeds, when manoeuvring or slowing down and assists the petrol engine when starting. During deceleration, it acts as a generator to recharge the battery, which reduces wear and tear of the brakes at the same time.
A belt starter, powered by 48V. It enables to start the petrol engine quickly and responsively.
A new electrified dual-clutch gearbox, the ë-DCS6, a 6-speed dual clutch system with no torque break, also specifically designed for hybrid systems. The gear changes are shorter and the drive is more comfortable. The electric motor, the inverter and the ECU are all integrated, optimising space under the engine bonnet.
A 48V Lithium-Ion battery with an available capacity of 432 Wh installed under the left front seat, so there is no impact on boot or interior space.
In addition, thanks to a voltage converter, part of the electricity produced by the 48V electric motor is transformed into 12V in order to supply the car's equipment. This way, two separate electrical networks can exist side-by-side.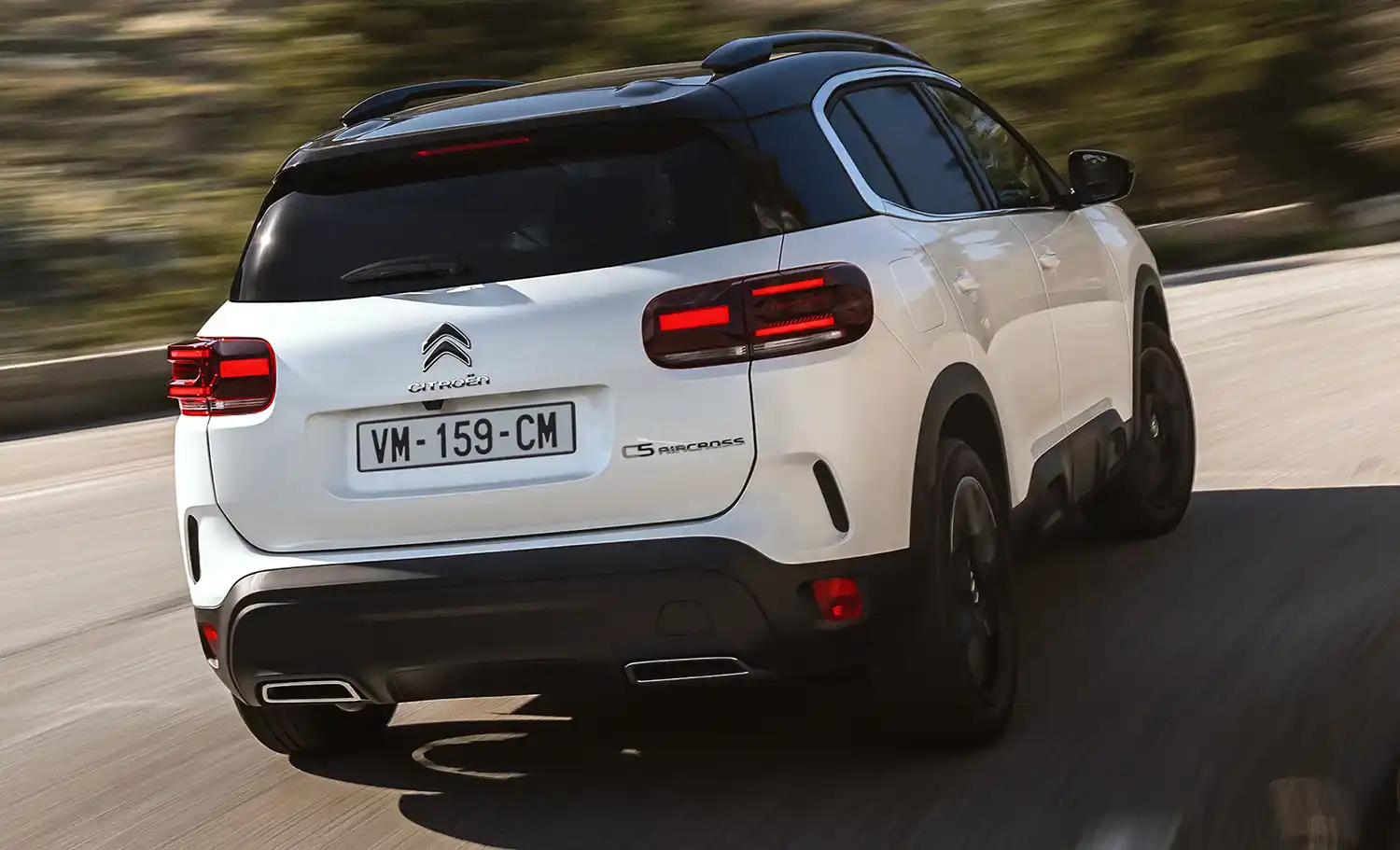 C5 Aircross Hybrid 136 Ë-DCS6: EASY access to electric mobility
With this new hybrid engine, Citroën offers a new electrified alternative that provides all the comfort of purely electric driving, saves fuel and reduces CO2 emissions, while keeping costs under control.
The C5 Aircross Hybrid 136 can be driven in electric mode in the city, on the road with a gentle touch or during manoeuvres. In the city, this hybrid version can make up to 50% of journeys in 100% electric mode, with zero emissions and vibration-free. Thanks to the benefits of purely electric driving, on-board well-being is enhanced during daily journeys in town or on the road.
The 48V HYBRID technology optimises the performance and fuel consumption of the C5 Aircross, average fuel saving of 1 litre/100km (i.e. 15%) compared with the PureTech 130 EAT8 petrol engine. It should be noted that this engine is very efficient in urban driving conditions with an average fuel saving of almost 30%.
It also has a positive impact on CO2 emissions: they can be reduced by up to 15% (20g) compared with the PureTech 130 S&S EAT8 petrol engine. With 129g of CO2/km (according to the combined WLTP cycle and version), the C5 Aircross Hybrid 136 ë-DCS6 offers the freedom to drive without constraints in many areas with traffic restrictions.
The hybrid drive of this new C5 Aircross version provides high levels of comfort with its two engines (electric and petrol), which operate together or separately, automatically, smoothly and without driver intervention. And in case of strong accelerations, the electric motor delivers an additional 9 kW (approximately. 12 hp). Thanks to the possible dynamic accelerations, it ensures that the car is always comfortable to drive.
As the battery recharges automatically when the car decelerates, this new engine makes daily use more comfortable and will appeal to customers who want to experience electric drives without the need to recharge.
With this C5 Aircross Hybrid version, Citroën offers an electric mobility solution that combines simplicity, energy efficiency and a unique comfort experience at a price that is comparable to diesel version one, but with lower CO2 emissions.
STILL THE BENCHMARK FOR ON-BOARD COMFORT
C5 Aircross Hybrid 136 ë-DCS6 keeps all the on-board comfort features of C5 Aircross (Citroën Advanced Comfort® suspension and seats, space and modularity), the same customisations and the same trim levels (Feel, Feel Pack, Shine and Shine Pack).
For an easy use of this hybrid version, its digital instrument panel has been upgraded with a specific display. The drivers will have all the information they need about hybrid driving directly in front of their eyes without looking away:
Tachometer in blue to show 100% electric driving,
The energy flow of the hybrid engine,
Battery charge level,
Driving mode via a power meter (Charge, Eco, Power),
Percentage of distance travelled in electric mode, at any time and on average.