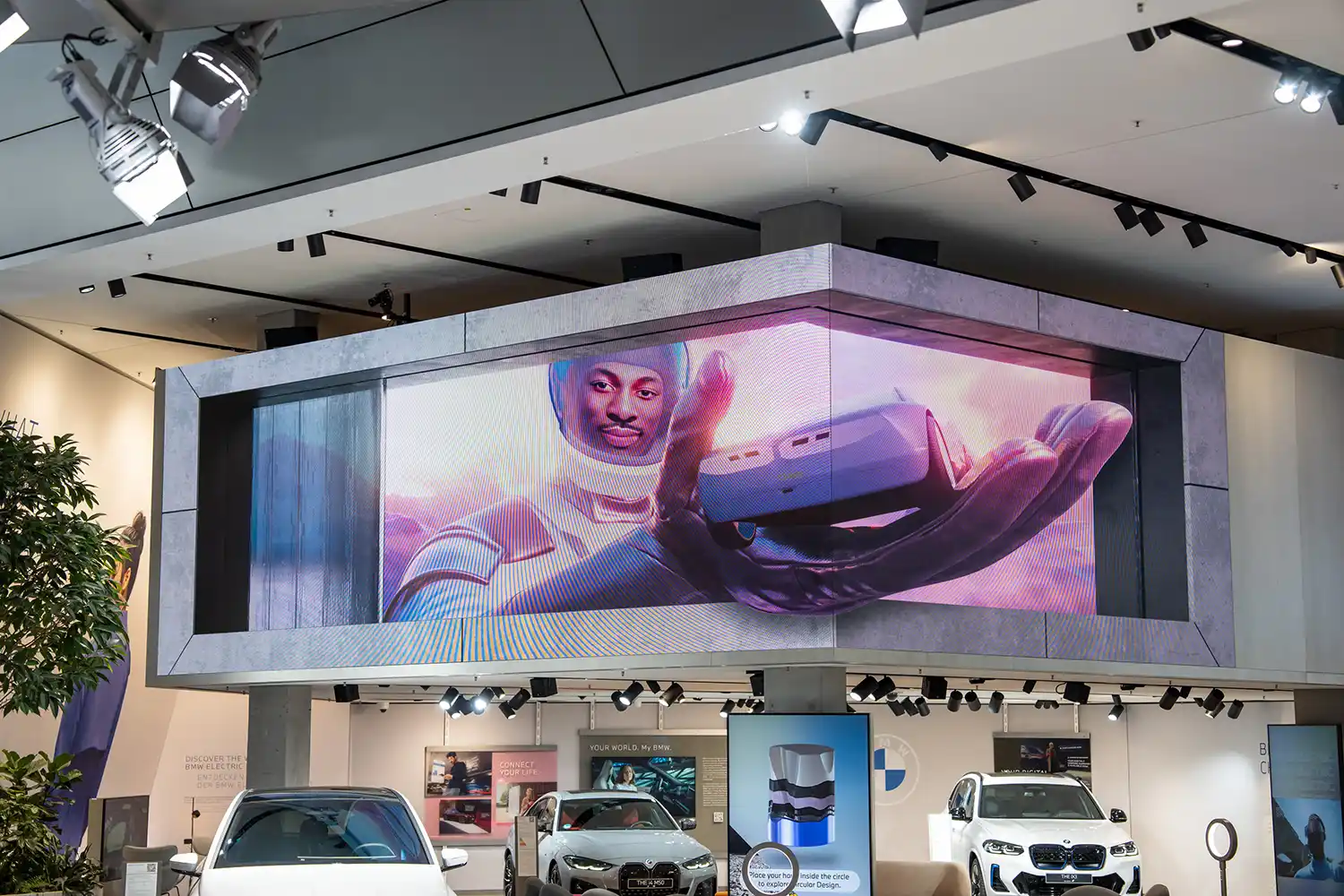 A face is something unique. Distinctive and not interchangeable – in reality. Since 5 January 2023, artificial intelligence allows BMW Welt visitors to become part of a film about the new BMW i Vision Dee. The astonishing face-swapping technology at the BMW i area projects the visitor's face right onto a 42 square metre big LED screen, seconds after their photo is taken. On 4 January 2023, the BMW i Vision Dee was presented for the first time at CES in Las Vegas. The name "Dee" stands for digital emotional experience. Creating a memorable experience with the mobility of the future – that's what it's all about. Taking the relationship between human and automobile to a new level.
The innovative media system creates a three-dimensional spatial illusion by using a photo of the respective visitor, who becomes the protagonist of the film with Dee by his site. "With this new staging, we would like to offer BMW Welt visitors an experience that is both spectacular and joyful," says Tatjana Bister, head of BMW Welt. "BMW has always stood for pioneering spirit and innovation. Now, for the first time, we are bringing a technology to life at BMW Welt that takes us directly into Dee's world and immediately gives us a sense of a digital future."
The interactive tool at BMW Welt was realised by the agency Elastique. from Cologne, together with the start-up Reface, founded in Ukraine. "Reface is the market leader in face-swapping technology, the photo-realistic exchange of faces in images and films," says Andreas Schimmelpfennig, creative director and founding member of Elastique. "Never before has this technology been used in the field of large-scale LED screens that create a three-dimensional illusion for the naked eye."
The "anamorphic illusion" looks as if elements from the film are extending far out of the screen. BMW Welt visitors first take a picture of themselves at a photo station. Within seconds, the image is transferred to the face in the film with the help of artificial intelligence, where it is integrated seamlessly and deceptively real, by applying various layers. The technology behind this uses a complex media system that assembles the individual image elements in real time. For the visitors, perfect instagrammable moments are created as souvenirs.