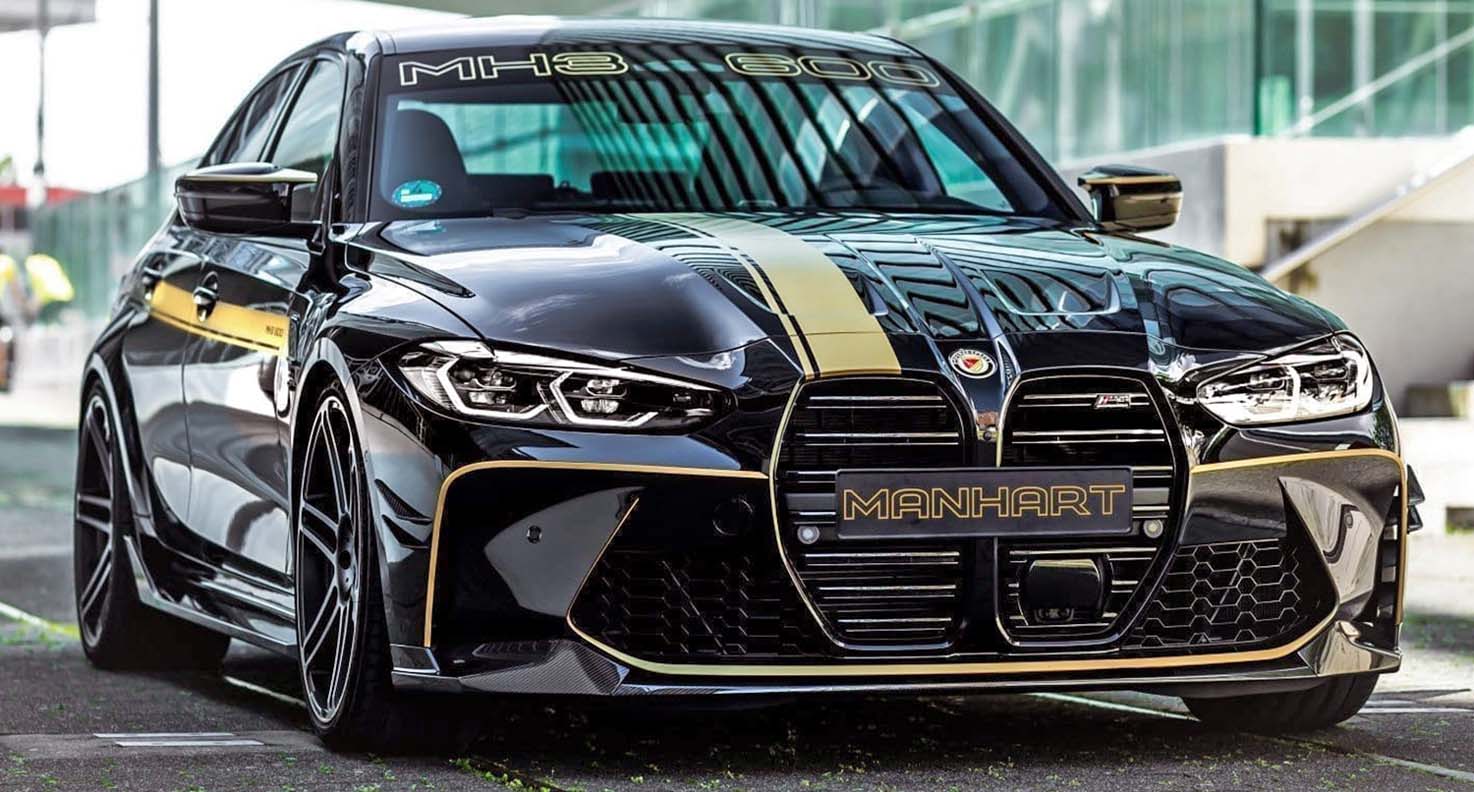 Every seven years since 1986, the international performance and motorsport community have looked to Munich with bated breath. This is when BMW unveils – with only slight variations – the latest generation of the now legendary high-performance model in the 3-series, the M3.
The time had come again last September: 35 years after the debut of the E30 M3, BMW M GmbH presented the seventh M3 series G80. Only a few weeks later, Engineers at MANHART Performance, specialists in performance optimization of BMW models, gave a preview of our interpretation of the Bavarian high-performance saloon. Now it's here: the MANHART MH3 600 based on the BMW G80 M3 Competition is ready to go!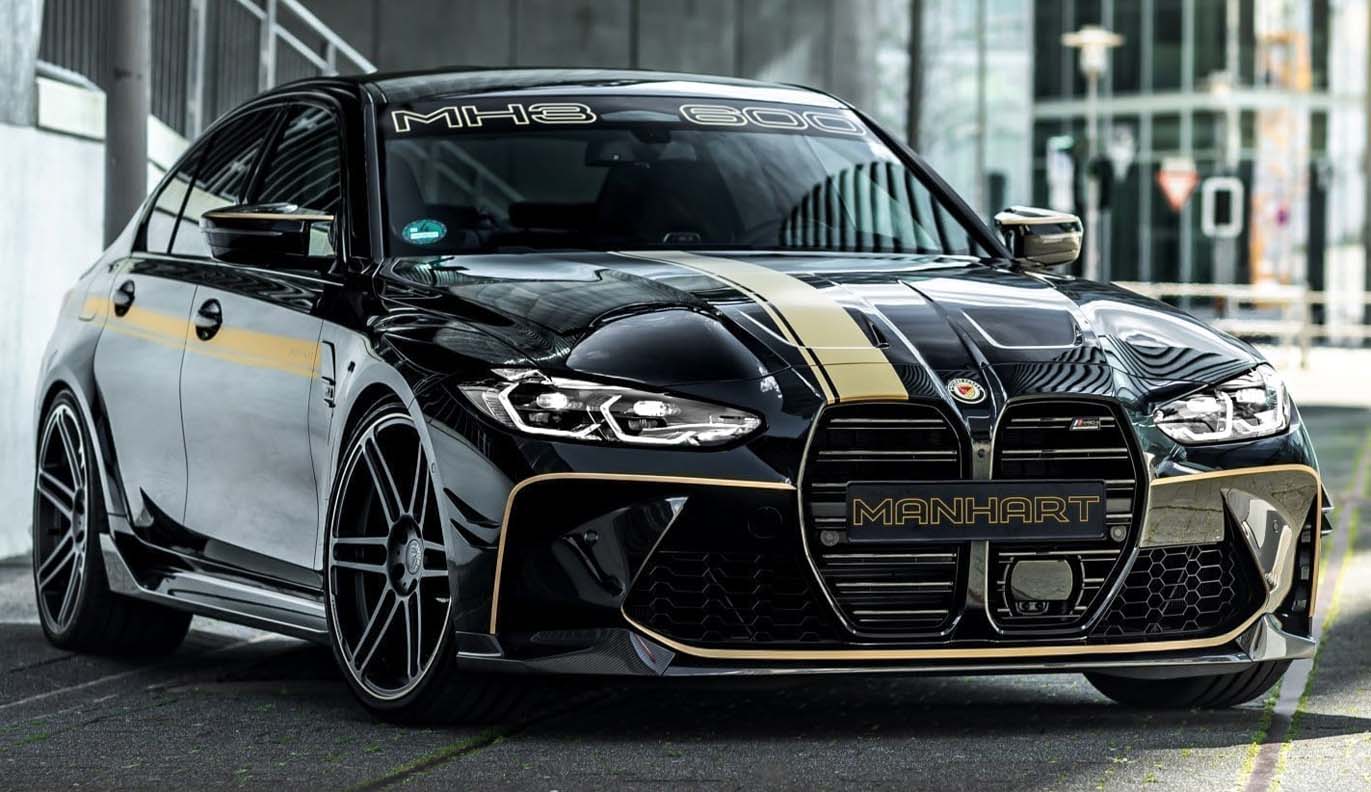 What do we expect from this vehicle? First and foremost, without a doubt, a performance upgrade to boost its status! Although the M3 Competition is already well-fed at the factory with 510 hp and 650 Nm, our MANHART engine technicians push the output of the 3.0-litre biturbo in-line six-cylinder to an even more impressive 635 hp and 780 Nm by means of our MHtronik powerbox.
With this upgrade, the MANHART MH3 600 sprints to 200 km/h in less than 10.5 seconds and also reaches the 250 km/h mark after just under 17 seconds. This is four seconds faster than the stock M3 Competition! The intermediate sprint from 100 to 200 km/h is completed in just 6.42 seconds.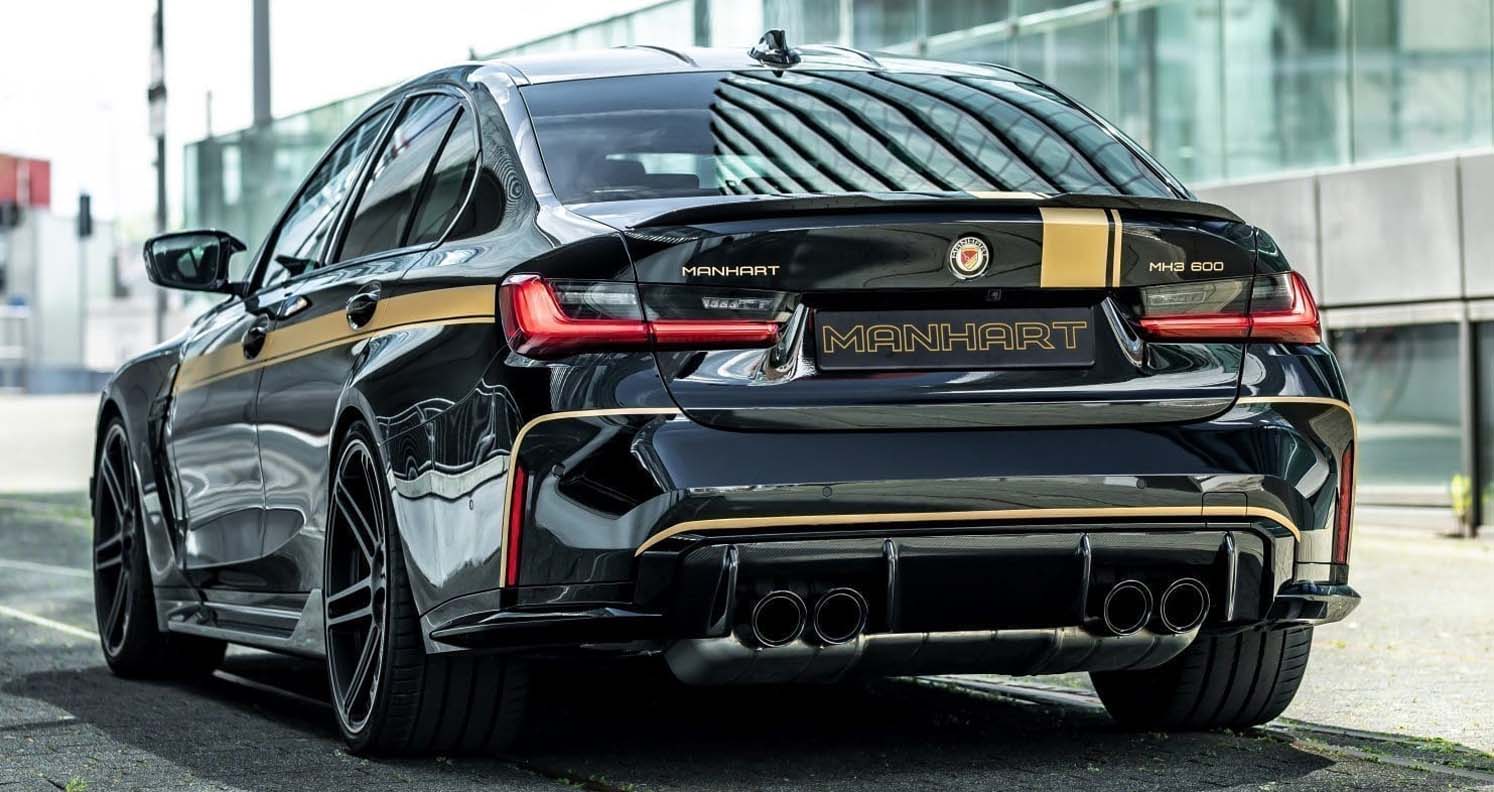 Parallel to the electronic tuning, They installed an in-house produced, stainless steel rear silencer with valve control function, which trumpets strikingly from its four 100-millimetre tailpipes, and can be either carbon or ceramic-coated. Optionally available are MANHART Race downpipes, without catalytic converters as well as MANHART OPF-Delete replacement pipes, with 200-cell HJS catalytic converters – both, however, without TÜV approval and thus only for export. An OPF Deleter solution is available as well for those who would like to remove their OPF/GPF filters fitted in the stock exhaust.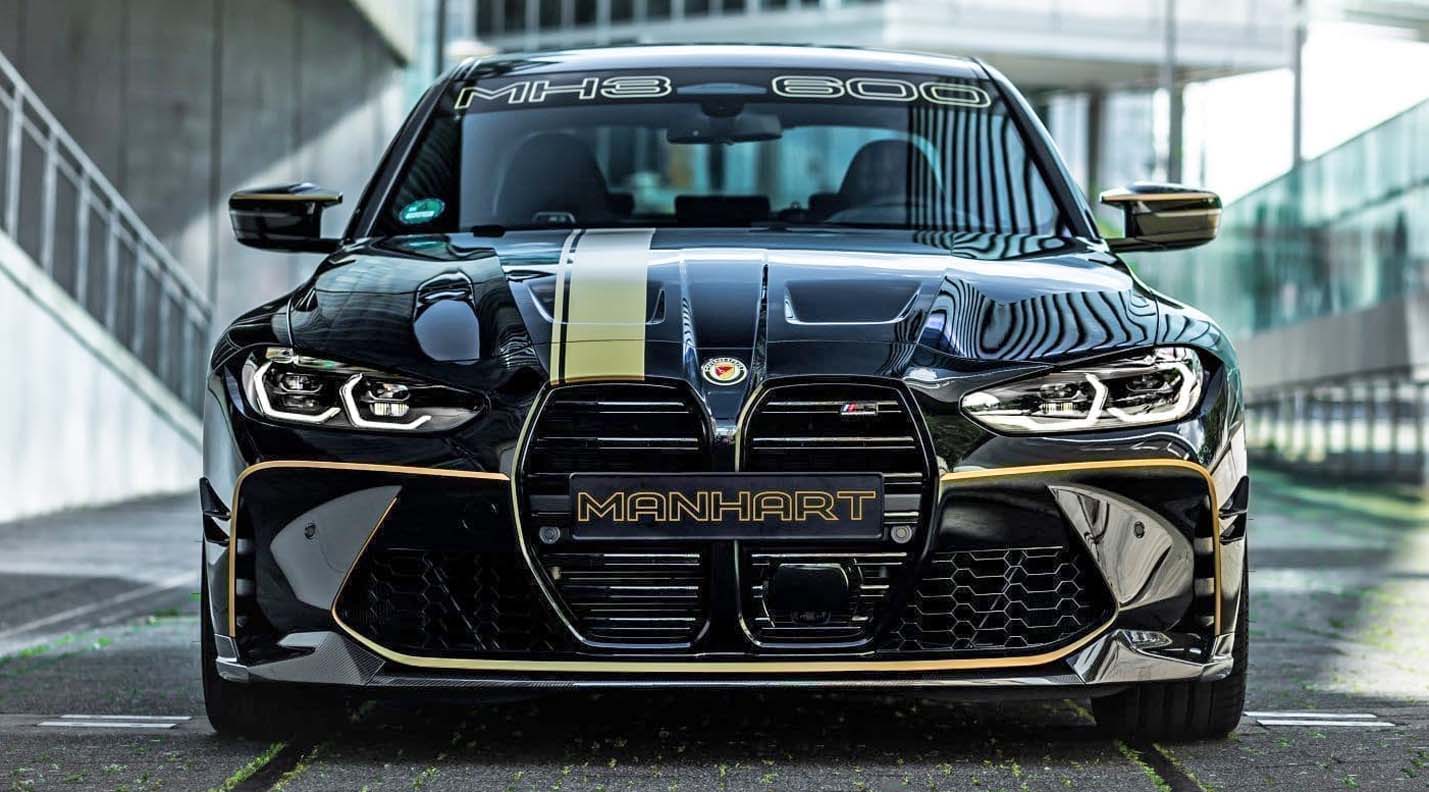 They leave MH3 600 customers spoilt for choice when it comes to a suitable suspension upgrade. The first step is MANHART lowering with H&R springs, which lower the front axle by 30 millimetres and the rear axle by only 10 millimetres to create an aggressively crouched look. Things are undoubtedly even more dynamic with the MANHART Variant 4 coilover suspension by KW Suspensions, which comes with a special MANHART set-up that guides the wheels perfectly over the tarmac even at forced speeds.
Speaking of wheels: our measure of all things in the MH3 600 is the 21-inch format. At the front axle, forged MANHART Concave One rims – optionally in satin black with gold rim decoration or completely in gold – rotate in 9×21 inch with 255/30ZR21 tyres, at the rear 295/25ZR21 tyres are mounted on 10.5×21 inch rims.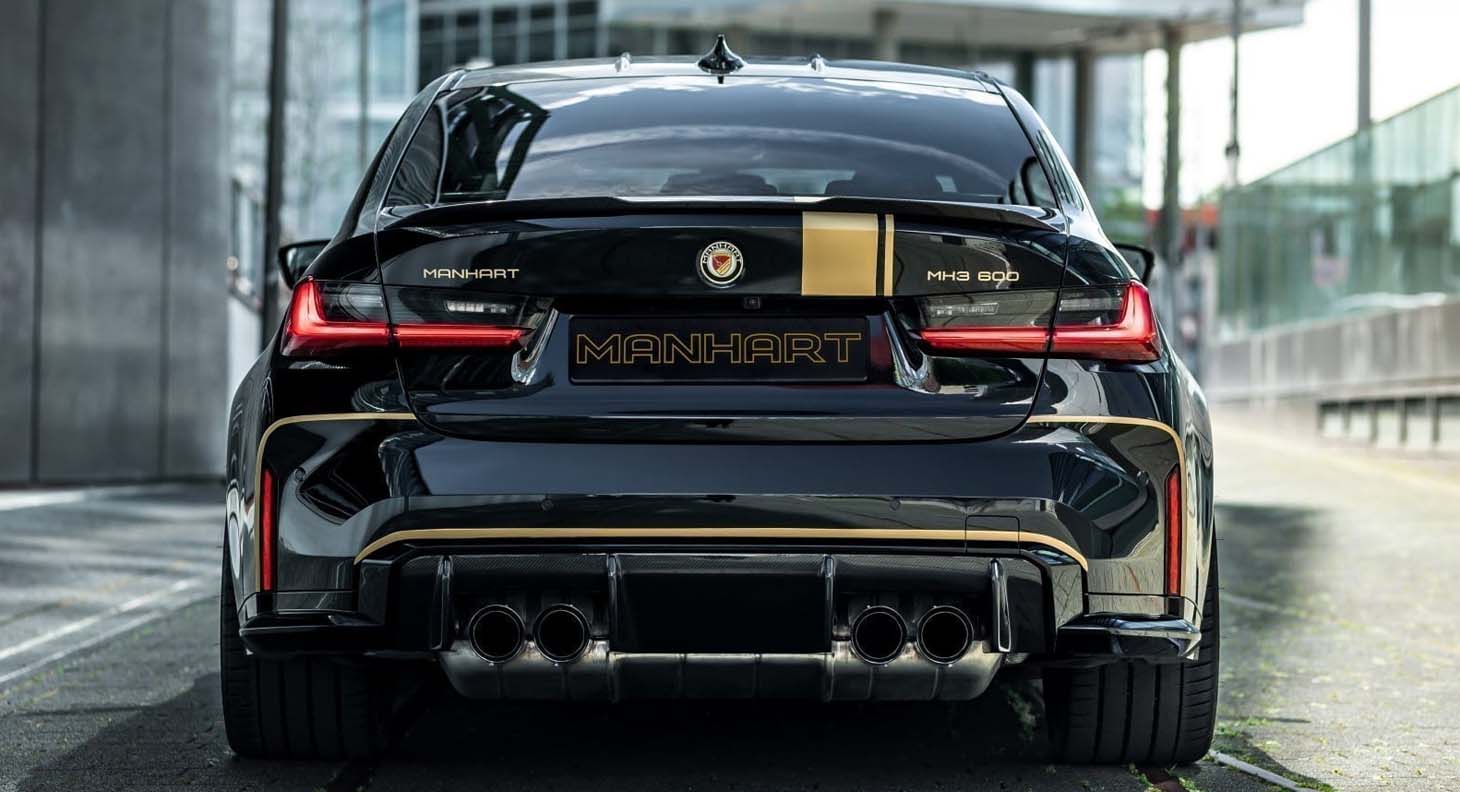 Manhart also offers upgrades for the brake system: these can be individually configured and are upon request.
Visually, the MH3 600 is of course presented in the traditional MANHART design with gold accents on a gloss black background. The factory (optional) carbon outfit, consisting of a front spoiler, a rear spoiler, side skirts and aero flicks from the M Performance range, has been extended by us with an in-house carbon rear diffuser, which perfectly frames the twin tailpipes of the exhaust system.
MANHART Performance have also extended the carbon equipment in the passenger compartment: two-piece carbon fibre back shells for the sports seats underline the motorsport flair here