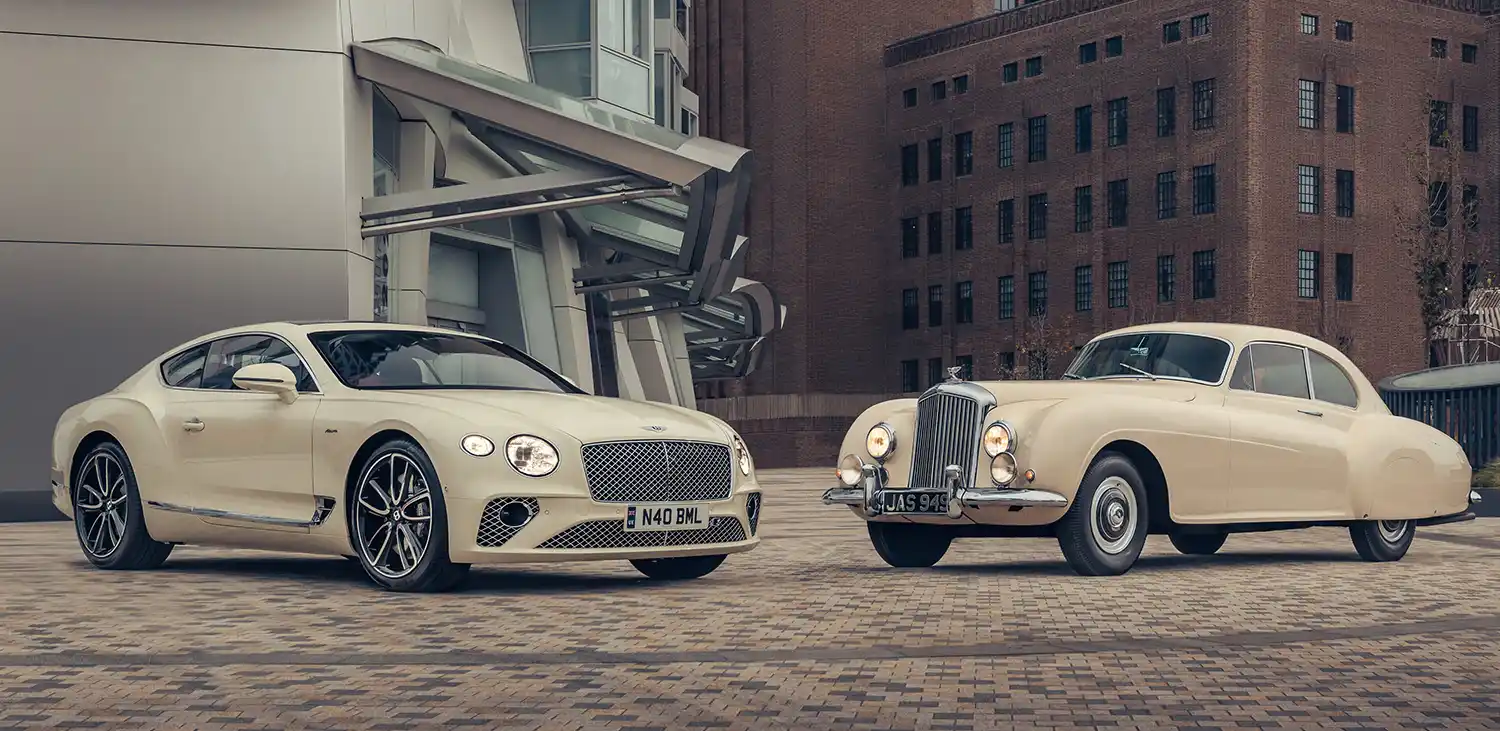 Bentley Motors has handcrafted a unique and one-off Continental GT Azure, inspired by Bentley's retained example of the iconic R-Type Continental, JAS 949. The new Continental GT is in honour of JAS 949's 70th birthday, celebrating one of the important style icons in Bentley's history. JAS 949 is one of only 208 examples of the R Type Continental ever built – but the car had a greater impact than the limited numbers suggest. The beautiful Bentleys old and new have been photographed at an equally spectacular London landmark that is itself a 21st century reinvention of a 1950s icon – Battersea Power Station in south London.
Quoted as 'a modern magic carpet which annihilates great distances' the R-Type Continental was the fastest four-seat luxury saloon in the world when launched in 1952. The three key design lines of the car – the power line from the front wheel, the rear haunch and the roofline – were the inspiration for the first generation Continental GT in 2003 and every Continental GT since. The latest Azure members of the Continental GT family continue to celebrate elegance and timeless design, directly descended from the R-Type Continental, while adding a focus on wellbeing behind the wheel.
Using Mulliner's Personal Commissioning Guide, the new Continental GT Azure has been curated in homage to one of the most iconic members of Bentley's 43-car Heritage Collection. JAS 949 is Bentley's own R-Type Continental, and resides in the newly opened Heritage Garage at Bentley's carbon-neutral campus in Crewe. Bentley acquired JAS 949 in 2001 and has maintained it in excellent mechanical order while sympathetically preserving its patina. The car is driven on the road on a regular basis.
JAS 949 was delivered to its first owner, Dr Rowland Guenin of Switzerland, in December 1953. It was ordered in Ivory with a Red interior and a manual gearbox, a specification it retains today along with the original 4.6-litre engine.
To recreate the closest specification for the modern interpretation of JAS 949, a new Continental GT V8 Azure has been hand painted in Old English White – a faithful re-creation of the heritage paint colour that dates back to the 1950s. As per the muse, the Continental GT is fitted with bright chrome (including the matrix grille). While JAS 949 rides on 16" wheels, the newer version runs on 22" hand-finished wheels, in a black and polished finish as per the original.
Inside the beautiful cabin, Cricket Ball leather can be seen throughout providing a cosseting, deep and rich heritage feel for the driver and passengers and mirroring the hide colour of JAS 949. To provide contrast and to preserve the design lines of the cabin, hand-applied piping in Beluga leather brings accents to the seats.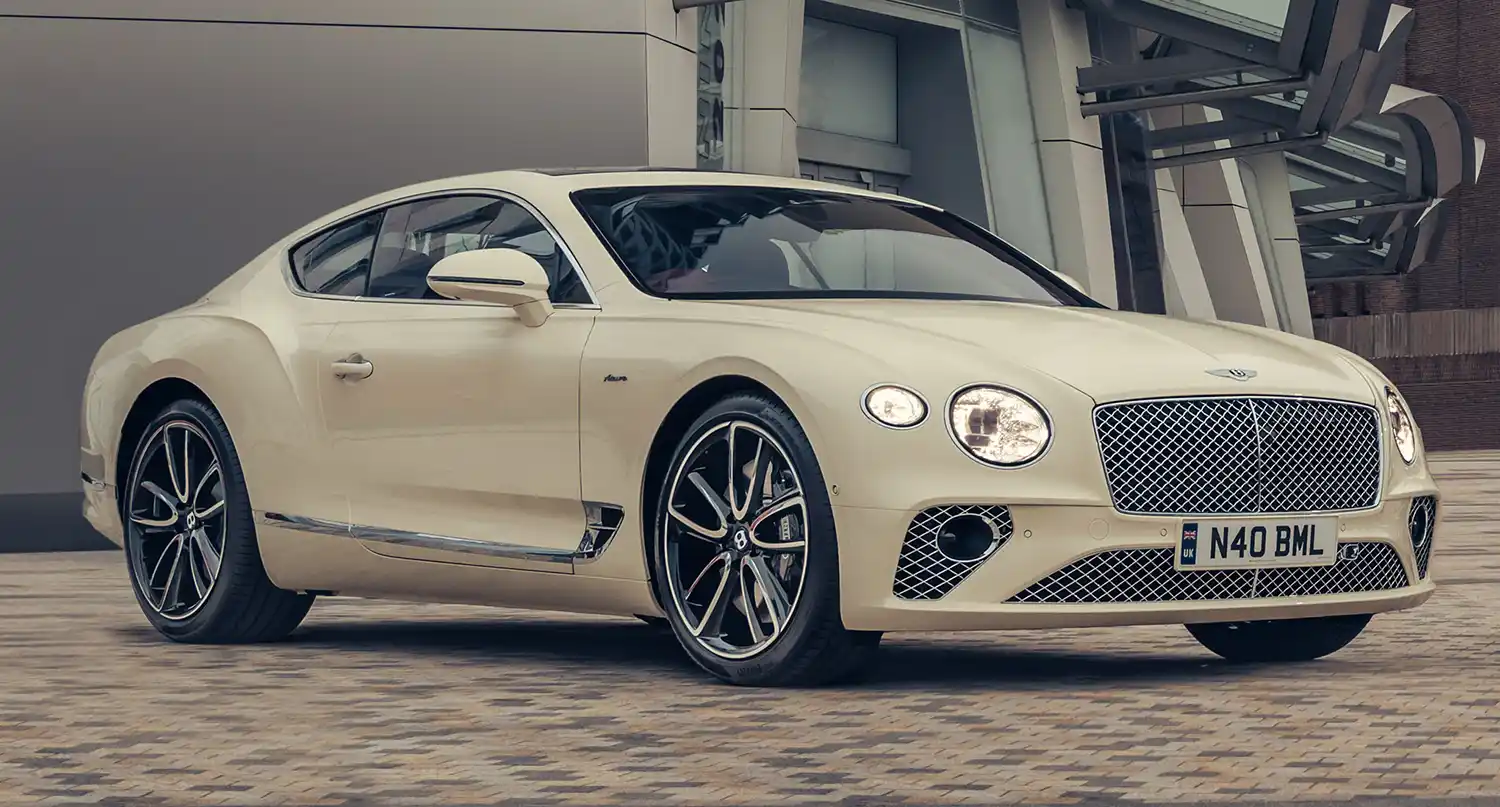 Adding a contemporary aspect, the Burr Walnut veneer has been left as open pore, providing a closer texture to the patinated finish in JAS 949. Selected from only the very best, most figured stock available, open-pore veneer is painted with just three ultra-thin layers of lacquer, together totalling only 0.1 mm in thickness. By comparison, Bentley's High Gloss lacquer coating is 0.5 mm thick and has a glossy, smooth finish. Each layer is applied by hand and sanded between applications, ensuring the lacquer sticks to the natural grooves of the wood. The resulting finish is wax-like and perfectly highlights the authentic, natural colour and texture of the wood species.
Through Bentley's revered craftsmanship, cross banding inlays are still available today. Reflecting the interior details of JAS 949, the cross banding of the new Continental GT Azure uses Australian straight grain veneer with a boxwood inlay, enhanced with a Bentley Mulliner overlay in a rich gold. The finishing touches of the silhouette of the R-Type Continental have been added to the fascia veneer and interior treadplates to complete the cabin.
The Development Of The Original R-Type Continental
The brainchild of Chief Projects Engineer Ivan Evernden and Chief Stylist John Blatchley, the R-Type Continental set a template that continues to inspire Bentley designers.
Two pre-war coachbuilt specials, the 'Embiricos' Bentley and Corniche, had shown the advantages of improved aerodynamics. In the early 1950s, Ivan Evernden took inspiration from these one-off creations to create a sleek coupé based on the R Type Bentley saloon.
The power of the 4,566cc, six-cylinder in-line engine was raised from 140 to 153 bhp, and the transmission featured a higher final drive ratio. The prototype – OLG 490, nicknamed Olga – averaged 118.75 mph over five laps (with a best lap of just under 120 mph) at the banked Montlhèry track near Paris.
To keep down to the target weight, coachbuilders HJ Mulliner crafted the bodywork, window frames, windscreen surround, backlight, seat frames and bumpers in aluminium. Even at a pared-down weight, tyre choice was critical; no standard road tyre existed which could carry a two-ton car at speeds in excess of 115 mph, and Dunlop Medium Distance Track tyres were specified.
The first production model was delivered to its owner in June 1952 and by the time production ended in 1955, 208 R Type Continentals had been made. Of these, 193 were bodied by HJ Mulliner. Others included Park Ward (four dropheads and two coupés), Franay (five), Graber (three) and Farina (one).
Re-creating A Modern Magic Carpet
The new Continental GT Azure is designed to enhance the wellbeing and comfort of the vehicle's occupants, making every journey a relaxing experience regardless of distance.
Seating is the foundation for driving comfort and control, and all Bentley Azures feature the Front Seat Comfort Specification as standard. This includes a massage function with six programmable settings which promotes the constant micro-adjustments in muscle and posture that are so vital in preventing fatigue, adjustable side bolsters, electric seatbelt adjustment and comfort headrests.
Another key element of the Continental GT Azure is Bentley Dynamic Ride, Bentley's 48V active anti-roll control system that enhances ride comfort and limits roll for smoother, more relaxing journeys. The system cushions driver and passengers from excessive movement by electronically decoupling the anti-roll bars when appropriate to smooth the ride, then applying up to 1300 Nm of anti-roll torque in 0.3 seconds when cornering to keep the body flat and stable.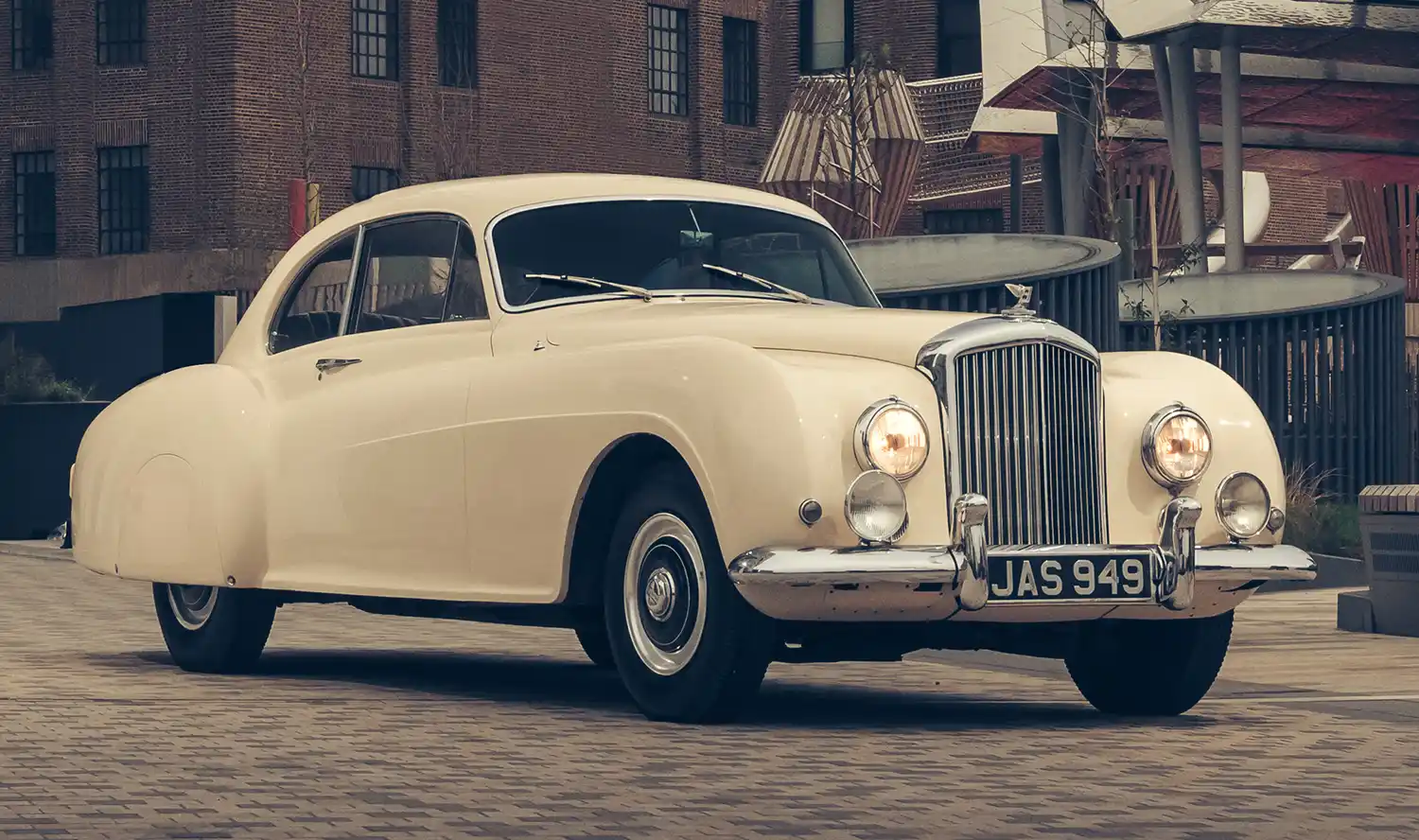 The Continental GT Azure also features as standard, the Touring Specification which includes driver assistance systems, imbuing the driver with a sense of confidence and relaxed control whatever the traffic or weather conditions. Adaptive Cruise Control* maintains a set distance from the vehicle in front, slowing down (to a halt if necessary) when the vehicle in front does so and resuming the set speed once the lane is clear. Together with Lane Assist*, Traffic Assist* and Bentley Safeguard, the Bentley's suite of on-board radar and camera systems constantly monitor the surrounding traffic and roads and can intervene if necessary to prevent or avoid an accident.
The relaxing and re-energising environment of the Azure cabin, that reduces driver fatigue, through its multisensory and science-informed design, can only help to enhance the safety of the car. Studies have shown that in 20 per cent of all road collisions, tiredness has played a role.
The driver's sense of relaxed control is further enhanced by the Head-up Display, providing directions and navigation directly in the line of sight, and by Night Vision, which uses infra-red cameras to identify pedestrians, cyclists and fauna outside the beam of the LED headlights.
A History Of Refinement
Bentley is remarkable among automotive brands in that it has always spanned the extremes of performance and refinement. Even in the company's early days, when the Bentley Boys were racing and winning at Brooklands and Le Mans in their thunderous racing green machines, founder W.O. Bentley was obsessive in his pursuit of smoothness and refinement. "I have put up with a lot of noise in my time, but I don't like it," he wrote in his autobiography, adding, "I hate noise for the sake of noise. To me 70 mph in silence is far more creditable than a noisy 80 mph." Today's Bentley's Azures are quieter at 150 miles an hour than anything W.O. Bentley would have experienced at 70.
The new Continental GT Azure now joins Bentley's UK press fleet, where it will be available for media loans along with the opportunity to drive JAS 949.
R-Type Continental – JAS 949
Continental GT Azure
Date Produced
1953
2023
Body
Two-door, four-seat grand tourer made by HJ Mulliner in aluminium over a steel frame.
Steel and aluminium monocoque, superformed aluminium exterior panels.
Engine
4566 cc 6-cylinder in-line with pushrod overhead inlet, side exhaust valve. Cast iron block, aluminium cylinder head. Zenith downdraft carburettor.
3996 cc V8 TSI, two twin-scroll turbochargers, direct injection, 32 valves with cylinder deactivation. Aluminium block and heads.
Power
153 bhp (114 kW) @ 4000 rpm.
542 bhp (404kW) @ 6000 rpm.
Transmission
Rear wheel drive, 4-speed close-ratio gearbox.
ZF eight-speed dual-clutch gearbox, active all-wheel drive.
Chassis
Independent front suspension with coil springs, wishbones and anti-roll bar. Rear suspension live axle with semi-elliptic leaf springs. Double-acting lever arm dampers; ride control on rear.
Aluminium front double wishbones, aluminium multi-link rear design, 48V active anti-roll bars, three-chamber air suspension, Continuous Damping Control.
Dimensions
Wheelbase 304.8cm (120in); length 524.51cm (206.5in); width 181.61cm (71.5in).
Weight 1700kg (3739lb).
Wheelbase 285.1cm (112.2in); length 485cm (190.9in); width 218.7cm (86.1in).
Weight 2165kg (4773b).
Performance
115 mph. 0-62 mph 13.6 secs.
198 mph. 0-62 mph 4.0 secs.
An Iconic Photography Location for an Iconic Grand Tourer
Battersea Power Station has been an iconic London landmark for over 90 years. Work began at the site in the late 1920s, and in 1955 the second half of the Power Station, Power Station B, and the landmark's fourth and final chimney were completed, enabling the station to supply a fifth of London's electricity at its peak. Bentley Motors too had grown and developed in this timeframe – building from success at Le Mans in the 1920s, and with an established factory in Crewe, the 1950's saw the introduction of the iconic R Type Continental.
Battersea Power Station was decommissioned in 1983, and sat dormant for nearly 30 years, before a consortium of Malaysian companies purchased the site in 2012 to bring this legendary London landmark and the surrounding area back to life as one of the most exciting and innovative mixed use neighbourhoods in the world. Today, Battersea Power Station is a new neighbourhood for all with a vibrant mix of shops, bars, restaurants, leisure experiences, residences and public realm, with more to come.
The neighbourhood was the perfect place to photograph the new Continental GT Azure and JAS 949 together – with both the cars and the location reflecting the best of the 1950s and the present day.