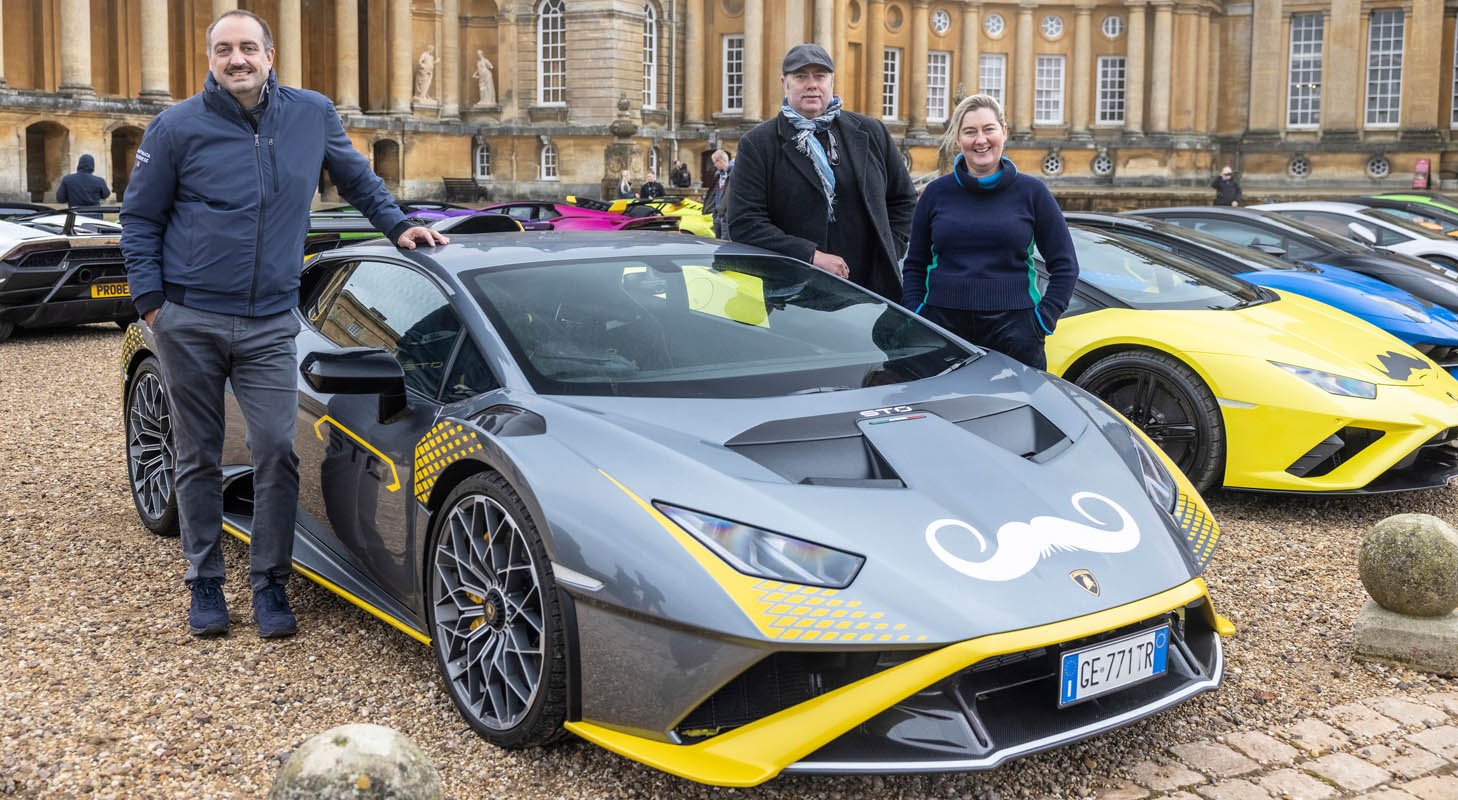 Automobili Lamborghini and Movember founders JC and Sarah Coghlan welcomed over 200 Lamborghini cars and their owners at Blenheim Palace today, as part of a worldwide initiative by the Italian super sports car company and the world's leading men's health charity.
The UK 'bull run' saw Lamborghini dealerships and their clients from across the UK drive to Blenheim Palace in Oxfordshire, to raise money and awareness for Movember. The convoys arrived to a surprise personal welcome from the Movember founders as well as Automobili Lamborghini Board Member for Sales and Marketing, Federico Foschini.
The UK event is just one of many Lamborghini bull runs taking place all around the world today, involving 92 Lamborghini dealers and hundreds of their clients in cities from New York to Bangkok, Rome to Cape Town. Sporting moustaches on their Lamborghini bonnets and with each driver pledging funds to Movember, the partnership initiative between Movember and Lamborghini is focused on not only raising funds for men's health projects around the world, but developing awareness of issues including mental health, suicide prevention, prostate and testicular cancer.
"It's incredible to see this collaboration come to life. Social connection is critical for men to live healthier, happier, longer lives," said JC Coghlan, Movember Co-Founder, who joined the UK bull run together with his wife Sarah, Movember's Director of Global Men's Health Promotion Programmes.
"These bull runs across the world are an amazing example of how we can gather and collectively have impact, stay connected and have some fun, doing good. It's an absolute privilege to be driving in the London event, in a large collective of these pieces of art, each designed collaboratively with their owners. I'm looking forward to gathering and starting shoulder-to-shoulder conversations. A massive thank you to all the team at Lamborghini for creating such a special event across the world."
About Movember
Movember is the leading charity changing the face of men's health on a global scale, focusing on mental health and suicide prevention, prostate cancer and testicular cancer.
The charity raises funds to deliver innovative, breakthrough research and support programmes that enable men to live happier, healthier, and longer lives.
Committed to disrupting the status quo, millions have joined the movement, helping fund over 1,250 projects around the world.
In addition to tackling key health issues faced by men, Movember is working to encourage men to stay healthy in all areas of their lives, with a focus on men staying socially connected and becoming more open to discussing their health and significant moments in their lives. The charity's vision is to have an everlasting impact on the face of men's health.