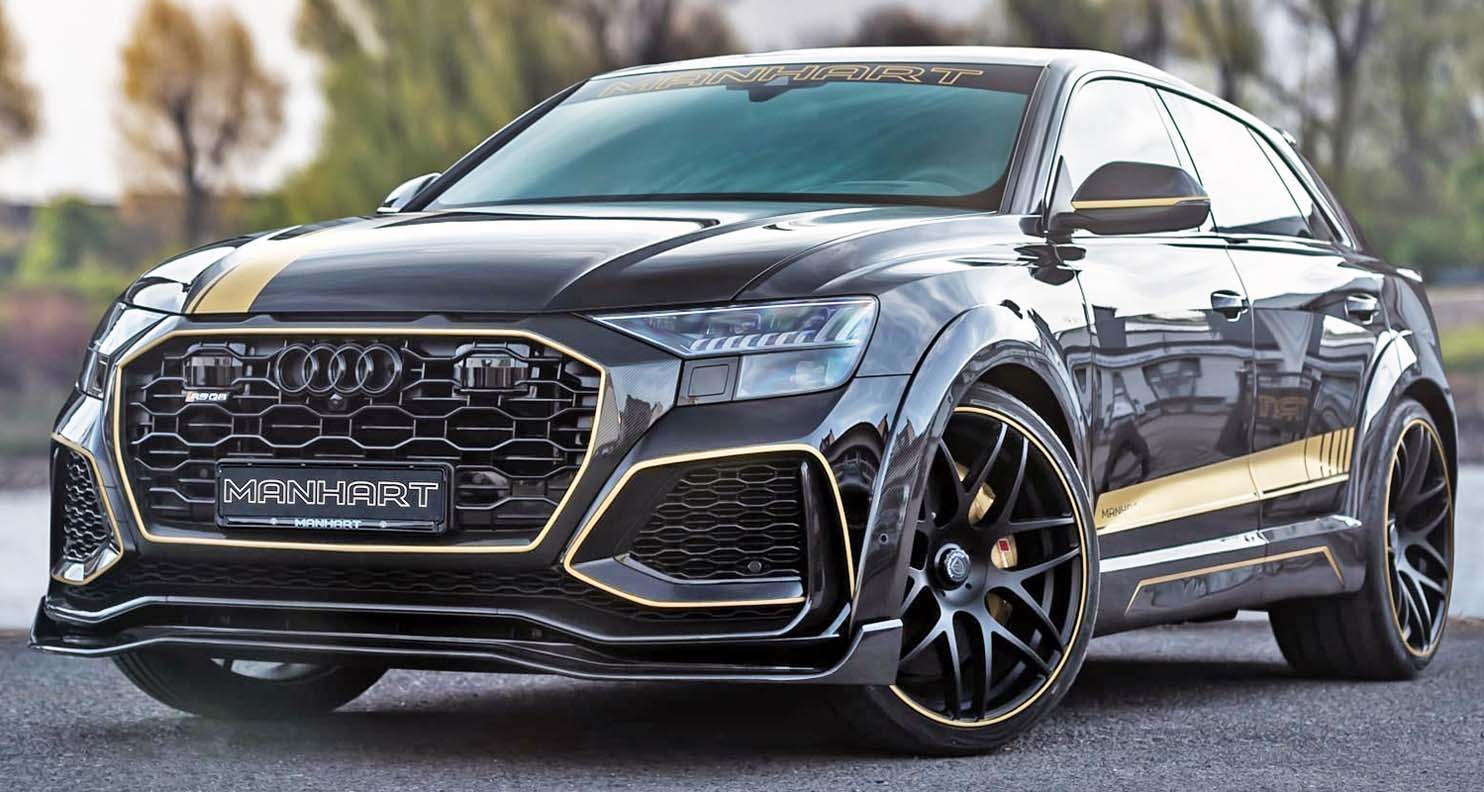 Powerful and luxury abound. The Audi RS Q8 is already an impressive vehicle from the factory. The MANHART RQ 900 goes one step further in the areas of performance, optics and sound.
The 4.0 liter V8 biturbo of the RQ 900 delivers a whopping 918 hp and 1180 Nm of torque thanks to transmission upgrades, larger turbochargers and extensive modifications to the engine.
In addition, the MANHART exhaust system provides a brute sound. The rear silencer has TÜV approval in Germany. MANHART offers a complete exhaust system for export and clients outside Germany.
The RQ 900 shows what it can do. Thanks to a MANHART suspension upgrade, the RQ 900 crouches 30-40 mm closer to the asphalt. A newly developed carbon body kit consisting of a front spoiler, front frame, side skirts and wheel arch extensions not only gives the RQ 900 more visual appeal, but also improves the aerodynamics of the exclusive SUV, which is limited to only 10 units worldwide.
The carbon spoiler lip, rear diffuser and roof spoiler also increase the contact pressure of the vehicle at high speeds. The MANHART exterior package for the RQ 900 is rounded off by 24-inch Classic Line aluminum rims, which can be ordered in matte black or gunmetal gray diamond depending on the vehicle color. If you want to give your RSQ8 an even more dynamic look, you can configure the MANHART decal set in the color of your choice.
MANHART gave the imposing vehicle a newly improved leather interior with golden accents. The RQ 900 is a real eye-catcher without attracting attention. It is fast and extremely suitable for everyday use. If you like driving fun, speed and a great appearance, but don't want to do without luxury, then the RQ 900 is the ultimate compromise.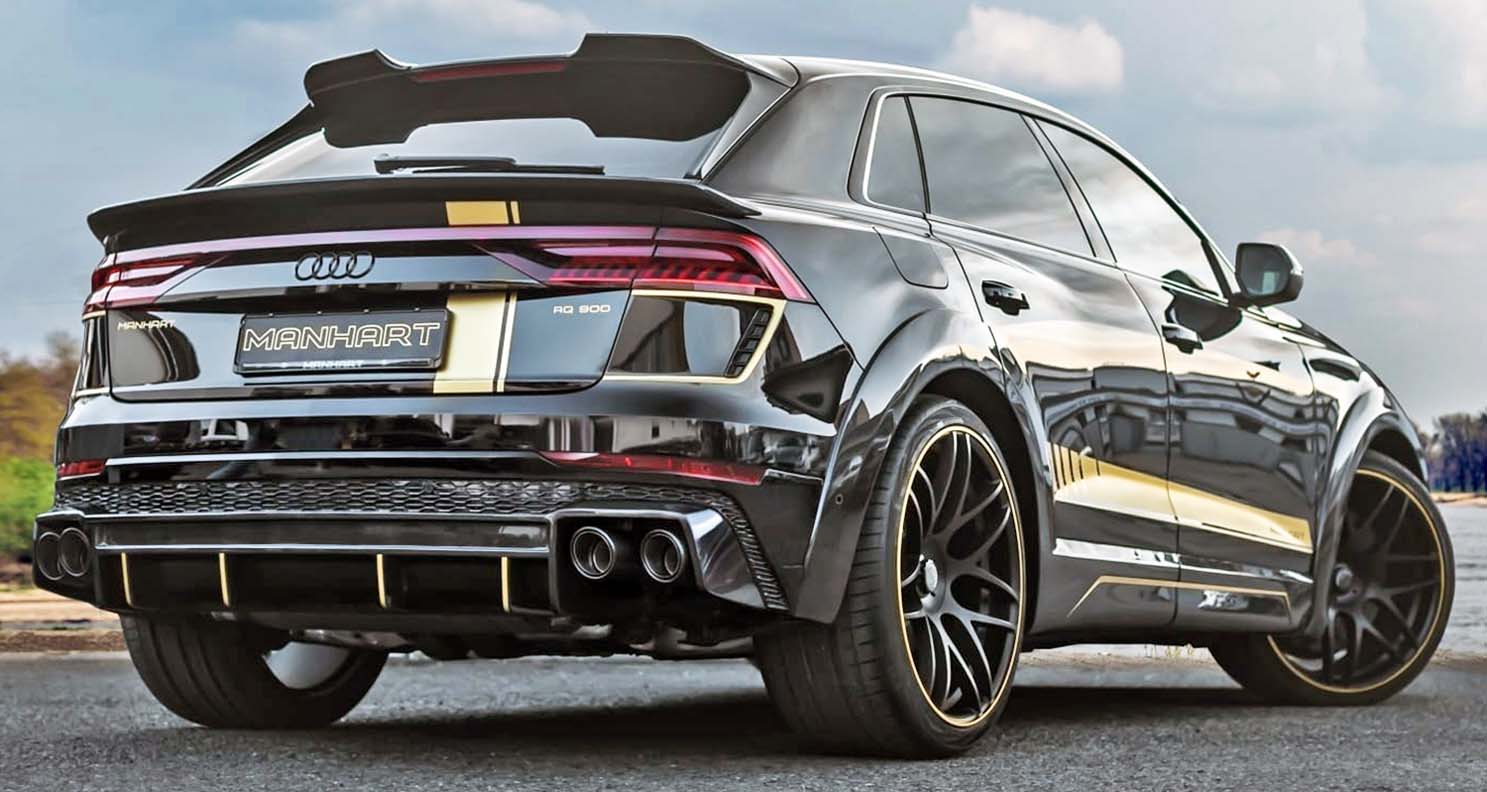 ENGINE
4.0-litre Biturbo V8 Engine
MANHART Turbo Performance Kit *
MANHART Intercooler
MANHART Gearbox Upgrade
MANHART Carbon Air Intake by Eventuri
*No TÜV Approval, Only for Export
PERFORMANCE
From 600 HP & 800 Nm
To 918 HP & 1180 Nm
MANHART ECU Remapping
EXHAUST SYSTEM
MANHART Stainless Steel Exhaust System with Valve Control
MANHART Downpipes "Sport" with 200 Cells Catalytic Converters *
4 x 100 mm MANHART Carbon or Ceramic Coated Tailpipes
*No TÜV Approval, Only for Export
SUSPENSION
MANHART Lowering Standard Air Suspension by 30-40 mm, including New Coupling Rods
MANHART Suspension Tuning
WHEELS
MANHART Classic Line Silk Matt Black
FA: : 10.5 x 24″ (295/30 ZR24)
RA: 12.5 x 24″ (355/25 ZR24)
BRAKES
Standard Brake System, individually configurable on request
INTERIOR
MANHART Leather Interior with Individually Chosen Accents
MANHART Floor Mats
EXTERIOR
MANHART Carbon Widebody Kit
MANHART Carbon Front Spoiler
MANHART Carbon Front Frame + Add-on + Single Frame Grille
MANHART Carbon Wheel Arches
MANHART Carbon Side Skirts
MANHART Carbon Roof Spoiler Add-on
MANHART Carbon Rear Diffuser
MANHART Carbon Rear Spoiler
MANHART Decal Set