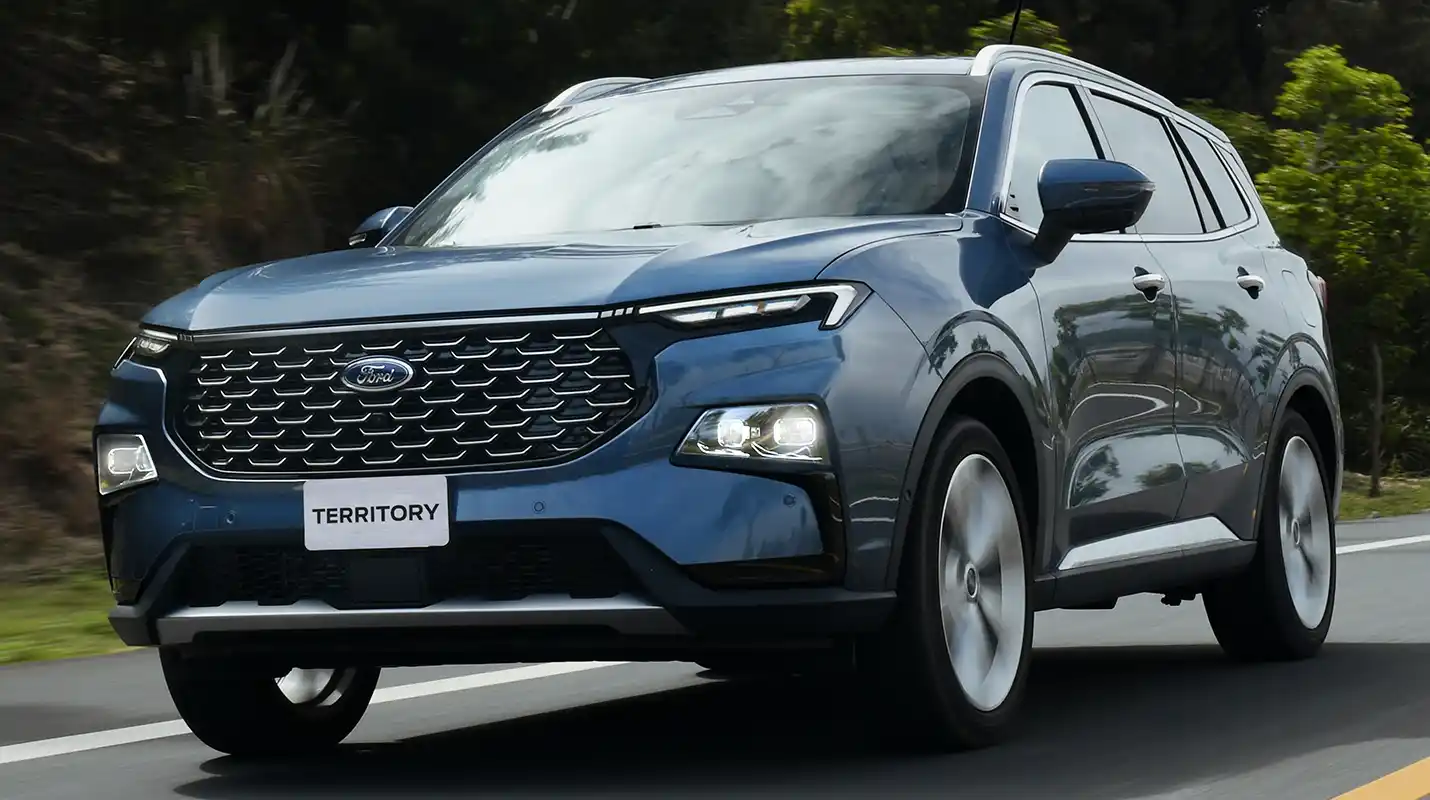 From the heart of Saudi Arabia, Ford Middle East officially launched the all-new Ford Territory for the first time in the Middle East. The small SUV combines a modern and striking look, ample cabin space, and confident driving with smart, safe technologies and empowering experiences for young professionals and small, busy families.
"The all-new Ford Territory was built for young, smart, and connected customers. It has a modern design and advanced technology features that deliver a highly exciting and progressive customer experience," said Ravi Ravichandran, Executive Director at Ford Middle East.
"We made sure to put the all-new Territory through its paces with an extensive 18-month evaluation journey before bringing it here to the region. With special expectations of product quality and customer experience, our customers here in the Middle East have unique preferences and the all-new Territory ticks all their boxes."
Built Middle East-ready
Before bringing the all-new Territory to the Middle East, Ford put the SUV through a rigorous and extensive in-market evaluation. Three prototype vehicles with different build pedigrees were tested on diverse terrains for over 18 months – including two summer cycles (June to August) – to guarantee consistent exposure to peak daily temperatures, which range between 43°C and 49°C, and sun load.
The evaluation's purpose was to verify the all-new Ford Territory would not experience any severe-weather concerns during production and to confirm that its performance, comfort, and design would suit conditions in the region. Improvements were made to ensure the SUV exceeds customers' expectations in the region. To name a few, there is the vehicle's ability to cool the cabin quickly and comfortably during scorching summers; powertrain optimization to allow the Territory to sustain maximum vehicle speed over prolonged distances; and an infotainment system upgrade to ensure it is tailored for local customers.
'Progressive Energy in Strength' Design Philosophy
The all-new Ford Territory was envisioned through Ford's new 'Progressive Energy in Strength' design philosophy, which is based on the rich heritage of the brand and its iconic aesthetics. It embodies three fundamental design principles: commanding, agile, and responsive.
"We focused on three key areas that we felt were important for our customers when designing the all-new Ford Territory," said Maurizio Tocco, chief designer, Ford Territory. "It had to have a commanding presence on the road, a sense of spaciousness inside, and smart technology that was integrated into the design."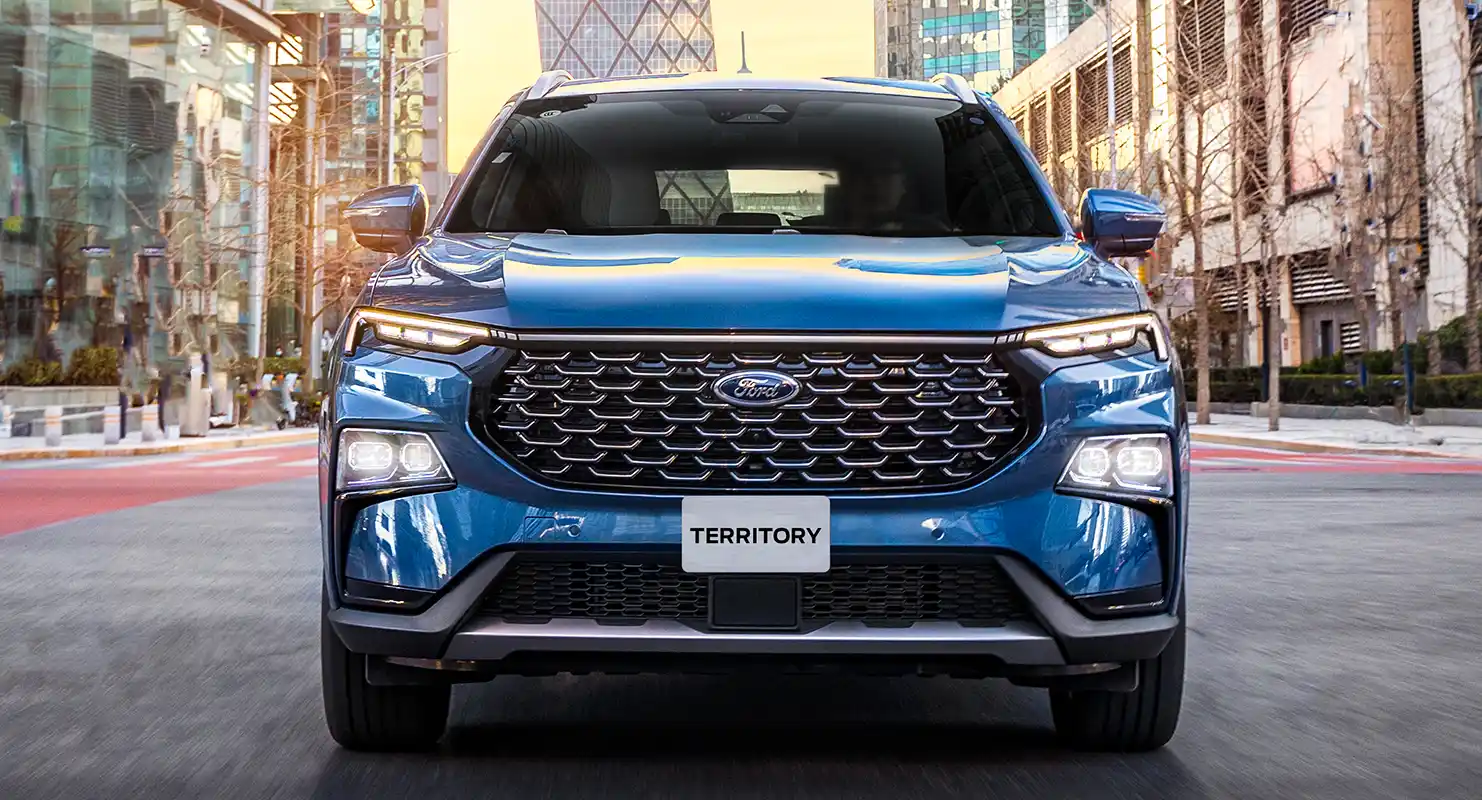 On the all-new Ford Territory's exterior, the Ford DNA is visible through coast-to-coast upper graphics – comprising an integrated grille and signature light – balanced with lower graphics, with full LED lighting, which drives the focal point higher and communicates purpose, stability, and capability. The headlamps show off a unique design, with daytime running LED lights incorporated with a strong horizontal grille bar, which adds to the eye-catching appearance. The form also has function, with the headlamps lowered towards the ground for an expanded lighting areas that also creates a more powerful front look. The bold grille bar is manufactured with high-quality materials that help to reflect Ford's global design DNA on the car.
From front to back, a strong shoulder line front to back enhances the power and progressive energy of the all-new Territory's contemporary design language. The elements in the body and rear of the vehicle emphasize 3D floating graphics and represent the youthfulness and energy of this small SUV. Innovative lighting technology is used for the rear headlamps, which focuses on the modern and advancement of the latest Ford models.
Interior blends expert craftsmanship with advanced technologies
The all-new Ford Territory's interior provides a convenient and sophisticated experience space that caters to a wide range of customer needs, whether for work, play, or family. The horizontal coast-to-coast design evokes a connecting space in an embracing gesture, creating openness and spaciousness.
The cabin is designed with vigorous and well-matched color arrays that highlight the harmony of blue and wood, dark tones. The combination of white and other color options also creates a unique aesthetic contrast within the interior design. Comfort and function are maximized through Premium Leather seats, with a 10-way adjustable ergonomic driver's seat.
Along with the air conditioning, the Titanium edition of the all-new Territory is equipped with a Dual Zone Climate Control System. All variants of Territory in the Middle East are equipped with a particulate matter 2.5 (PM2.5) air cabin filter, which comes standard as an extra layer of protection for passengers against dust and allergens, ensuring high air quality in the cabin at all times.
The premium leather ventilated seat row in the Territory Titanium model cools backseat passengers quickly, designed to offer optimal comfort while also retaining the aesthetic for a high-end, powerful SUV.
The central platform is almost fully flat, providing passengers with comfortable freedom of movement – whether they're sat in the front or back.
Built to optimize loading capacity, all-new Territory is also equipped with more than 20 spacious storage compartments – as well as an extensible trunk with a 448-litre volume – allowing passengers to flexibly use storage spaces throughout the car.
Capability
Iain Jones, Product Development Director, Ford International Markets Group (IMG), added: "The all-new Ford Territory is a global product of Ford, and we utilized our expertise in developing small SUVs to develop this model with the best combination of technology and comfort for confident driving. Territory is competitive and value for money."
The all-new Ford Territory is equipped with an EcoBoost 1.8L engine on all versions, delivering 320Nm of max torque at 1,500-3,500rpm using moderate fuel and impressive power up to 190 hp (187 bhp). The vehicle is equipped with an advanced dual clutch Seven-Speed automatic transmission engineered by Magna – Ford's long-term strategic supplier in Germany – providing smooth, responsive gear shifting with exceptional fuel efficiency compared to other SUVs in this segment. Low rolling resistance tires improve fuel efficiency further.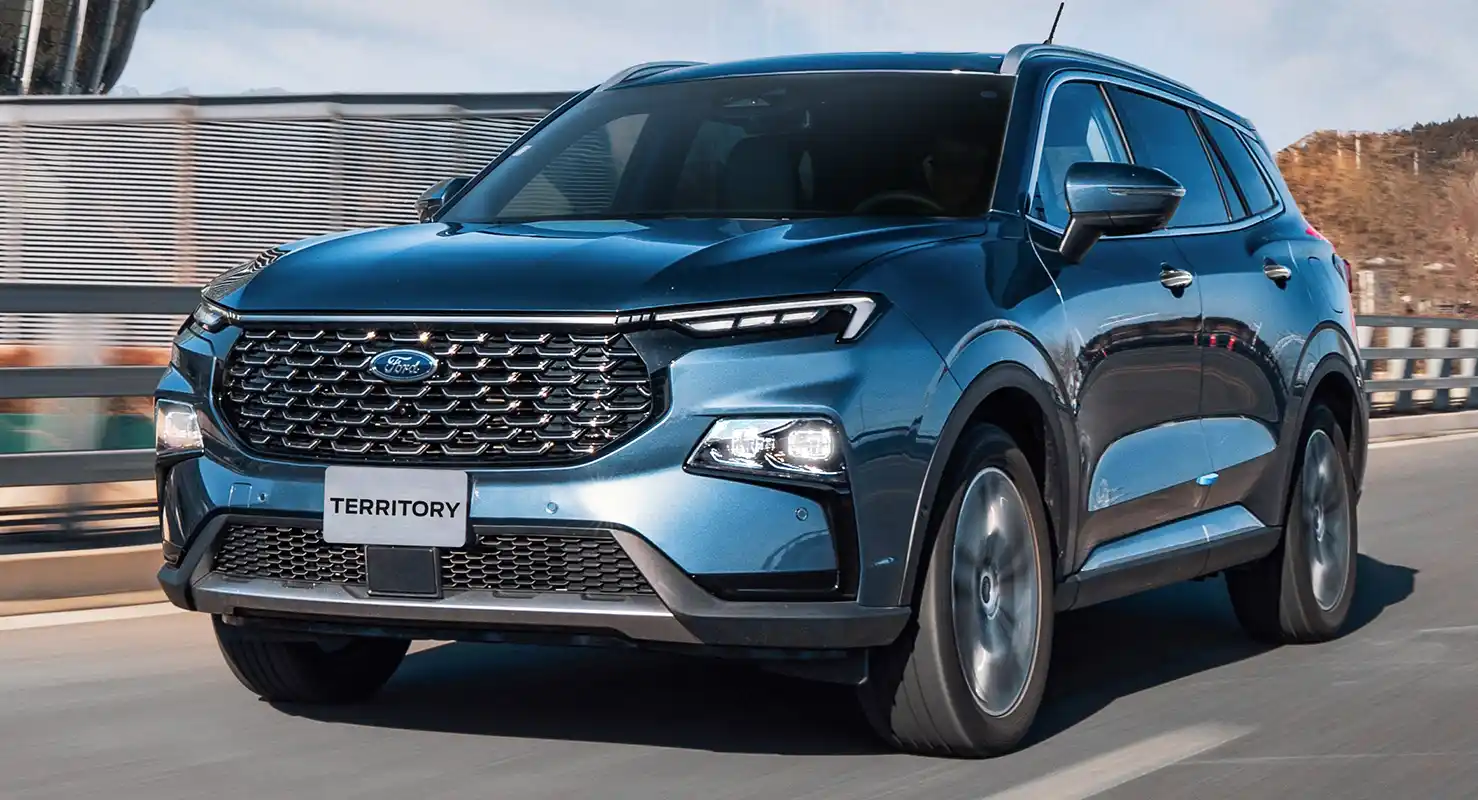 The Territory is reinforced with ultra-high-strength boron steel that can be melded into thinner components than regular steel – becoming lighter while retaining strength and stiffness to help protect drivers and passengers while providing improved fuel economy. A of 190mm provides good visibility to drivers, giving them confidence to handle complex situations on the road.
In the Middle East, all variants are equipped with four driving modes – Eco, Normal, Sport, and Mountain – to provide customers the ability to tailor their driving experience across a range of situations, whether driving in crowded urban areas or across the open highway on long-distance journeys.
Advanced technology that prioritizes safety and comfort
The all-new Ford Territory is equipped with a suite of driver-assist technologies that offer maximum safety and enhance customers' driving experiences. Middle Eastern customers can easily take control of this modern technology suite with the control interface in Arabic. The vehicle enables customers to drive with confidence by offering an impressive array of safety features available in Ford Co-Pilot:
BLIS with Cross-Traffic Alert includes enhanced blind spot-monitoring. The system is like having another set of eyes when performing a lane change or merging onto a freeway. If a fast-moving vehicle enters the Territory's blind spot zone, BLIS will alert the driver via a small light in the side mirror, so they know not to change lanes.
Adaptive Cruise Control (ACC) with A Stop-and-Go Feature on Titanium lets drivers set a cruising speed in the all-new Ford Territory and then maintain a set distance from the vehicle ahead, or even completely stop the vehicle if required.
The Pre-Collision Assist with Automatic Emergency Braking (AEB) uses both the new, wide-view windscreen-mounted camera and radar located near the front bumper to scan the road ahead to detect a potential collision with another vehicle, pedestrian, or cyclist directly in front of your vehicle. If an imminent collision is detected, the system emits an audible and visual warning. If the driver's response is not sufficient, the Automatic Emergency Braking (AEB) system activates automatically.
In addition, the all-new Ford Territory also includes safety technologies such as: Lane Departure Warning (LDW) and Lane Keeping Aid (LKS), Tire Pressure Monitoring System (TPMS), and Passive Anti-Theft System to ensure absolute safety for drivers and passengers.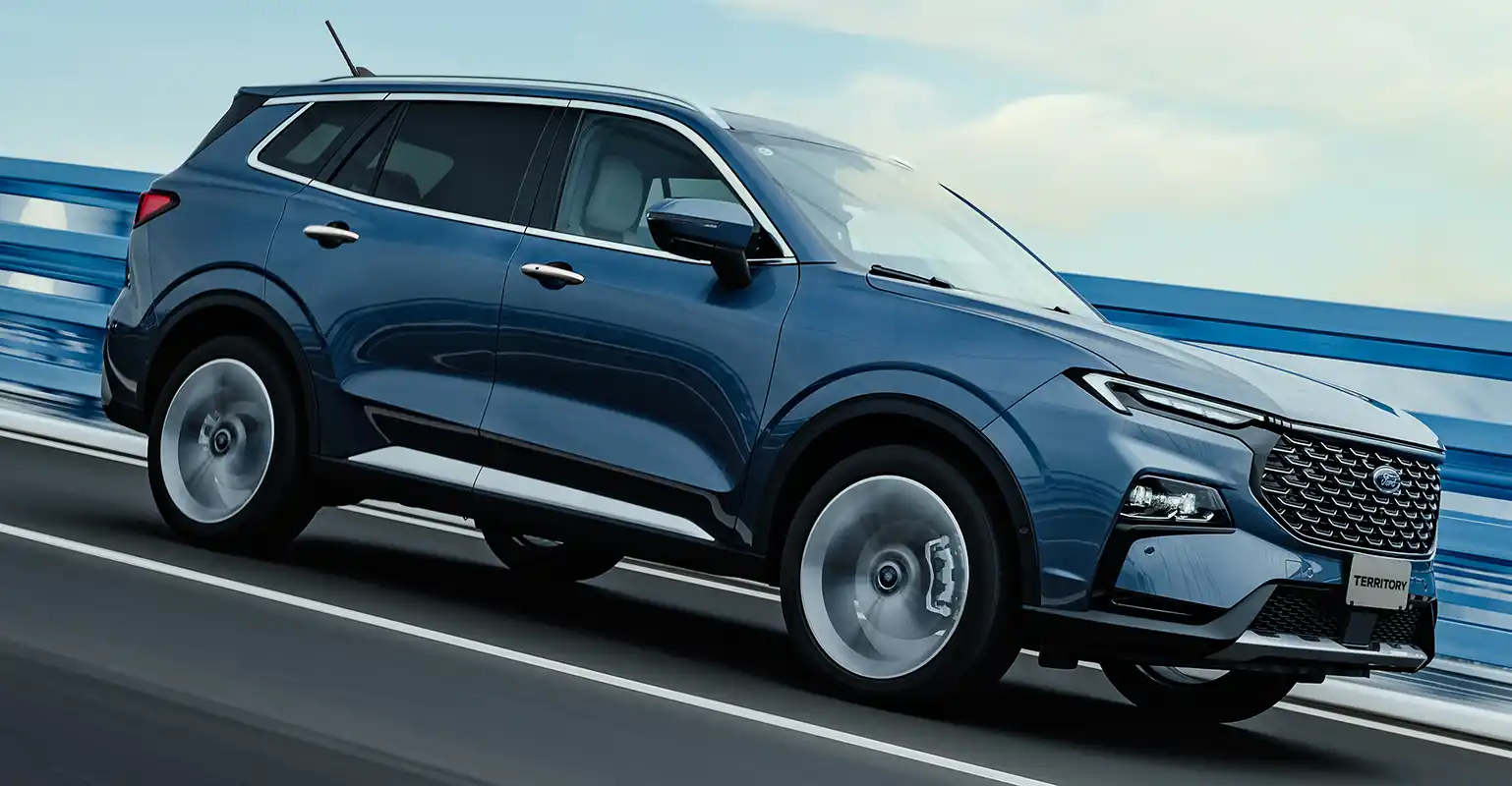 The all-new Ford Territory also offers convenience and comfort for customers with a wide range of smart features. Minimalist design touches have been applied to the center area with a large 12-inch central touchscreen, spread to the sides, incorporating either a seven-inch (Ambiente and Trend models) or 12-inch (Titanium model) digital speedometer display to support the driver with easier command over all functions while ensuring they remain focused on the road. With limited physical buttons, the central console is highly appreciated by drivers for the practical experience it offers. The E-Shifter has been innovated to rotary, showing the modernity and suitability for customer tastes.
The all-new Ford Territory incorporates a host of premium features that support drivers through their daily lives while adding a touch of enjoyment to every journey with their family. These include wireless, USB type-C, and type-A charging; wireless smartphone connectivity through Apple Carplay and Android Auto; a rich audio entertainment system with six speakers (Trend and Ambiente versions) or eight speakers (Titanium); audio controls on the steering wheel; smart keyless entry with Power Push Start; and a Hands-free Power Liftgate.
Empowering customer experiences
Ford Middle East is offering the all-new Ford Territory in Ambiente, Trend and Titanium variants, with a host of features that help customers live their life to the fullest.
The all-new Ford Territory will offer seven choices of exterior color, including: Panther Black, True Blue Metallic, Star White Metallic Tri-coat, Ruby Red Metallic Tinted Clearcoat, Autumn Brown Metallic, Diffused Silver Metallic, and Crystal Pearl White Metallic Tri-coat. A dark interior is available for Ambiente and Trend; Light Grey for Trend and Titanium; while Peacock Blue is exclusive to the Titanium version. The Ambiente and Trend Territory have vinyl-style seats while the Titanium comes with leather.
"Our refreshed line-up, which began with the all-new Taurus, Bronco Raptor, Expedition, and Ranger Raptor, is set to continue expanding with more to come in the coming months," explained Ravichandran. "The all-new Ford Territory complements this range by being the entry ticket into the Ford SUV world. Its launch also aligns with our Ford+ plan of creating must-have products and competing like a challenger."
Developed with joint venture partner Jiangling Motors Corporation (JMC), the Territory boasts the commanding presence, craftsmanship, and spacious, flexible interior that tech-savvy customers expect.
Originally designed by the Ford Design Studio in Melbourne, Australia, the all-new Ford Territory was tested and developed in global markets. The all-new Ford Territory is available for sale in most of the Ford showrooms in the Middle East.