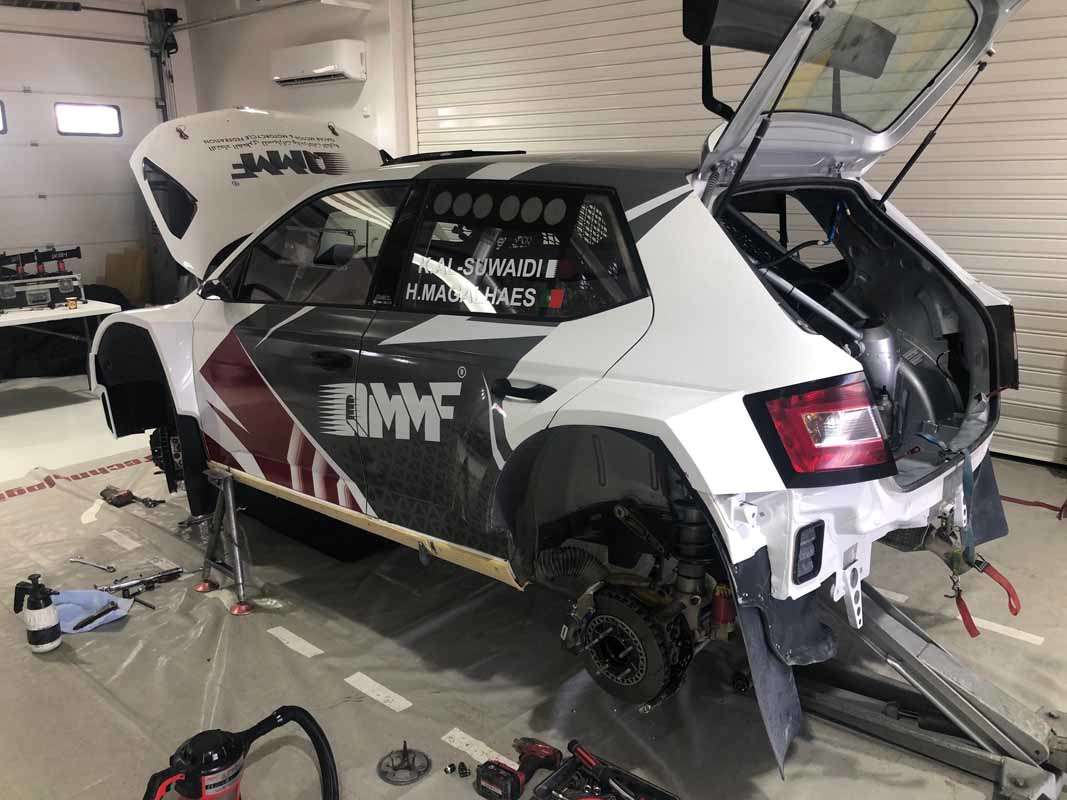 Abdulaziz Al-Kuwari and Khaled Al-Suwaidi return to competitive action this weekend at the Qatar International Rally. Both local drivers will represent the QMMF Rally Team in a pair of Škoda Fabia R2 evos and would dearly love to shine brightly on their home round of the FIA Middle East Rally Championship.
Their careers have often been overshadowed by the successes achieved on the international stage by Nasser Saleh Al-Attiyah, but both are formidable competitors in their own right and have achieved success on the global stage away from the mass media spotlight
Al-Kuwari has actually been competing for nearly 20 years and was a regular in the regional rally series as far back as 2003, when he finished fourth in Qatar, seventh in Jordan, ninth in Syria and sixth at the Troodos Rally in Cyprus.
After competing in the region until 2011, the Qatari embarked on a massive programme of events in 2012 that saw him claim a maiden MERC win in Qatar at the helm of a Mini Cooper S2000 that catapulted the Qatari into the FIA World Rally Championship. He then finished 10th at the Acropolis that year and 14th in Spain.
The following season saw WRC2 victories in Mexico, Argentina and Australia and the runner-up position in the prestigious feeder series. Abdulaziz continued to tackle WRC2 events for the following three years, before finishing second to Al-Attiyah in the 2019 MERC. The pandemic put paid to any action in 2020, but the 42-year-old bounced back to finish second overall in Qatar last year and returns to challenge for honours in a Škoda Fabia R2 evo.
"I am very happy, as always, to be in a rally car and to be able to compete," said Al-Kuwari. "I would like to thank QMMF for this chance again. Of course, one rally per year is not enough at all but it's a chance to show my speed and talent, even when I'm out of it for a long time.
"There is a very strong entry list with some of the best rally drivers around the world and the best drivers in the Middle East. Testing went very well and the car felt really good and competitive. I'd love to see a lot of spectators at the stages, because it's a really good chance for them to see some of the best rally drivers around the world competing here in Qatar."
Al-Suwaidi's first top 10 result came alongside Jassim Al-Ali at the 2006 Qatar International Rally and the Qatari made rapid progress over the coming seasons. He finished fifth in the 2009 MERC, after securing top 10 finishes in Syria, Lebanon and Dubai, and reached the podium for the first time in Kuwait the following year.
His first and only MERC win came with co-driver Nicky Beech in Kuwait in 2012 with a Ford Fiesta RRC. Al-Suwaidi, 35, also ventured into the WRC in 2016 and registered useful finishes in Portugal, Poland, Wales and Australia.
Since then, stage time has been restricted to annual challenges for honours in Qatar. He rolled out of contention in 2017, but finished fifth in 2018 and third overall last season in a Škoda Fabia R5. The Qatari teams up with Portugal's Hugo Magalhães for the third time in Qatar this weekend and a podium is again the target.
Female driver Edith Weiss rounds off the international field for the weekend's action. The event will be a milestone rally for the German veteran, who will be celebrating her 30th anniversary as an entrant in the Qatar International Rally when she takes the start in an RS Team Mitsubishi Lancer Evolution X alongside Italian co-driver Serena Mattivi.
Mattivi is making her first appearance in the region but has been a regular on the national scene in Italy and tackled numerous rallies in recent years alongside the likes of Alessio Bellan, Mariano Simoni, Armando Betta and Luca Manera.
Tomorrow (Wednesday), crews will be permitted to carry out a full recce of the gravel special stages that lie await on Friday and Saturday.