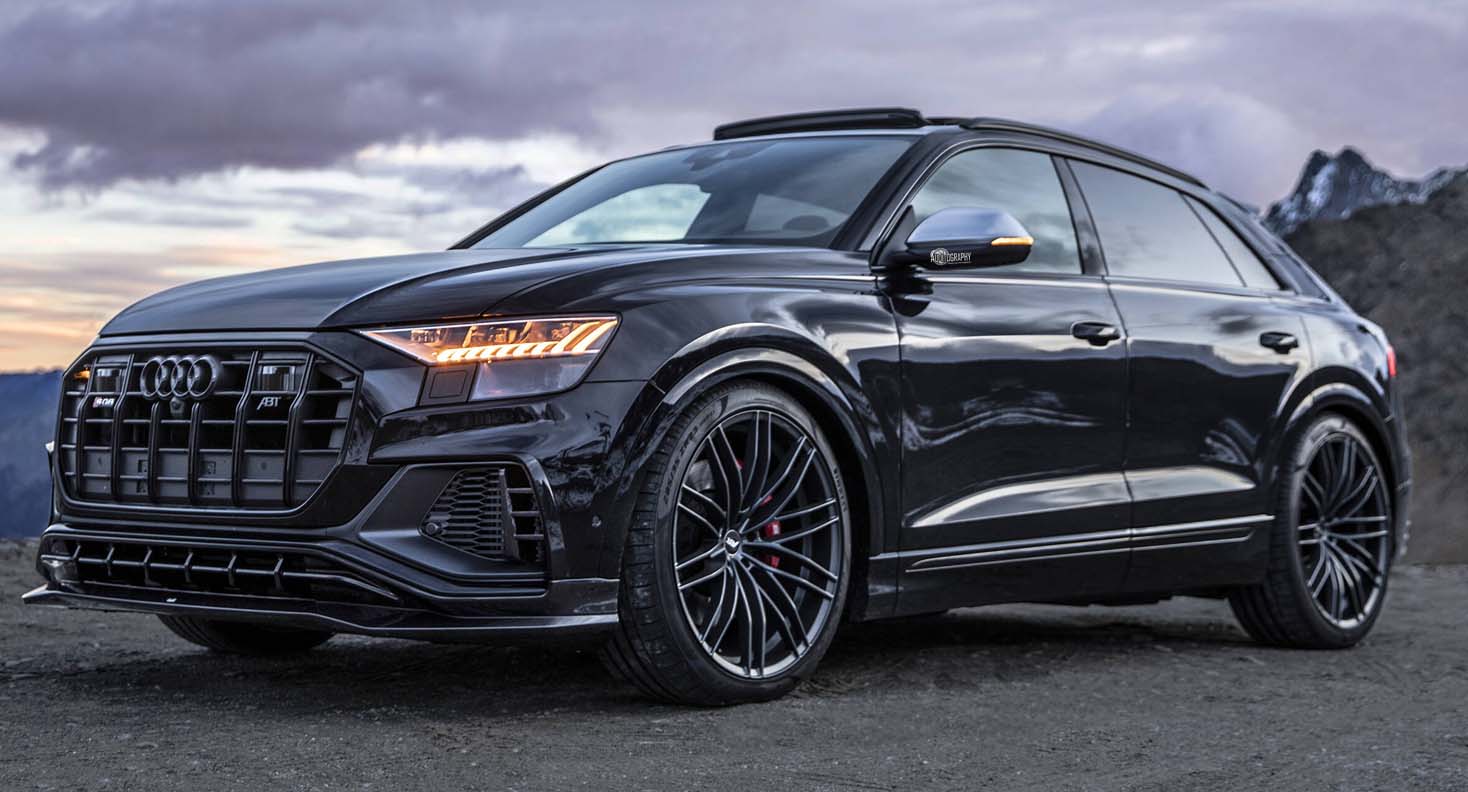 The Audi SQ8 is a combination of several vehicle classes – as such, it is an impressive sports car, coupé and SUV all in one.  The SQ8 was introduced in 2019 as a TDI. Since last year, the powerful all-rounder cruises with a 4-litre V8 bi-turbo petrol engine under the hood.
The series model of this spacious SUV delivers a hefty 507 HP (373 kW) with a maximum torque of 770 Nm. The SQ8 achieves 0-100 km/h in just 4.1 seconds, almost as fast as its brother, the RSQ8, which boasts 600 HP. If the engineers at ABT Sportsline are commissioned to give the "little" brother SQ8 a performance upgrade*, it trumps its sibling in the HP stakes by 50 HP (37 kW).
Thanks to the high-tech control unit ABT Engine Control, the TFSI engine delivers a sensational 650 HP (478 kW) and 850 Nm of torque! It now hits 100 km/h in an extremely rapid 3.8 seconds, with acceleration to match its big brother, the RSQ8 exactly. With its listed maximum speed of 250 km/h, the latter must admit defeat to the ABT SQ8, whose power in this category delivers 270 km/h and more than outdoes the competition.
In addition to this performance statement, the world's largest automotive aftermarket and performance parts specialist for Audi and VW also offers a selection of visual enhancements for the SQ8. For example, the multi-component ABT Aero Package, comprising front skirt add-on, rear skirt set and rear spoiler.
With regard to rims, the Bavarians recommend their High PerformanceGR flowforming model in an appropriate 23-inch size, which is available in matt black or glossy black for the SUV. ABT Sportsline is putting together an attractive package: It comprises the Power Sperformance upgrade to 650 HP, the GR23wheel set and the Aero Package for EUR 22,900 plus installation and paint costs of EUR 3,445.
Prices for the ABT SQ8 as a complete vehicle start at EUR 130,795. All stated prices include VAT. For further individual tuning options for the SQ8, such as the interior, visit the ABT Configurator.
*The engine performance data is in accordance with the stipulations of EWG/80/1269. The process and dynamometer manufacturer have been certified and authorised by the vehicle manufacturer.