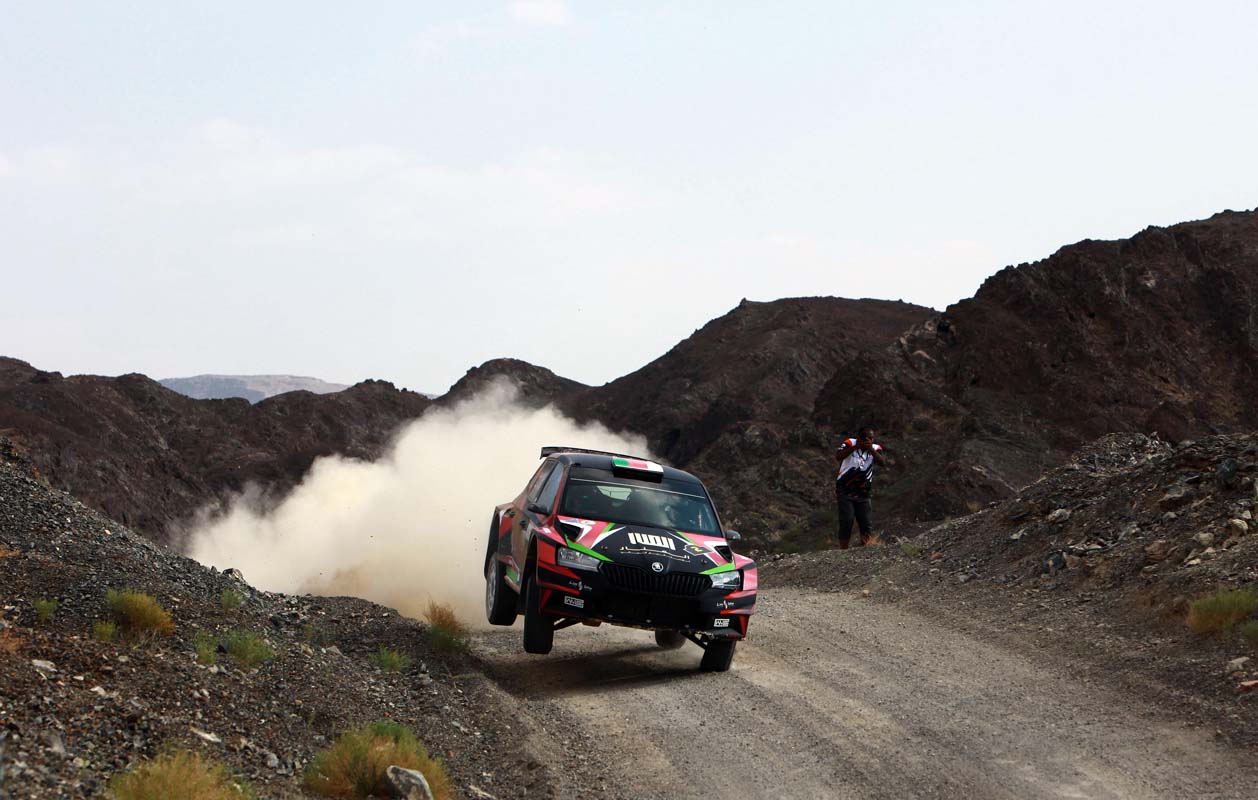 Abdullah Al-Ruwahi dominated the opening leg of the Oman Rally Sohar International 2021 and surged into a commanding lead of 13min 40.2sec after six special stages on Friday.
Partnered by Jordanian co-driver Ata Al-Hmoud, the Omani won all the day's twisty and technical timed tests in his new SRT Škoda Fabia Evo and is firmly on course to become the first local driver ever to win a round of the FIA Middle East Rally Championship. The only cause of concern during the day was a rear puncture near the end of SS3, although Al-Ruwahi was able to finish the stage without issues.
Zakariyah and Mohammed Al-Amri hold second place and the MERC2 lead at the night halt, although Qatar's Nasser Khalifa Al-Atya and his Italian co-pilot Giovanni Bernacchini are a close third in their Ford Fiesta R5, despite losing time on the fourth Al-Khoud stage with a left-hand rear puncture.
The Jordanian duo of Ihab Al-Shorafa and Asem Aref held fourth and fifth overall with the latter on track to secure the MERC3 title on Saturday in his two-wheel drive Renault Clio RS.
Oman's Jarah Al-Touqi and Faisal Al-Rashdi rounded off the international leader board in their Subarus. Al-Touqi overcame engine-related delays on SS2 and mechanical woes also cost Al-Rashdi time on several occasions.
First round winner Haitham Al-Soomar dominated the early exchanges on the second round of the Oman Rally Championship in his Mitsubishi Lancer before losing his lead and the win to Hamed Al-Qasmi on the sixth stage. He eventually finished in third place behind Waheeb Al-Khuraisi's Toyota Yaris.
Tomorrow (Saturday), crews tackle a further six timed special stages before the ceremonial finish at Al-Qurum. Runs through Abyad (13.09km), Qalqal (17.17km) and Nakhal (19.26km) precede another regroup and service stop.
The three specials are repeated in the afternoon before the prize giving and podium finish take place from 16.52hrs onwards.
Oman Rally Sohar International 2021 – positions after SS6:
Abdullah Al-Ruwahi (OMN)/Ata Hmoud (JOR) Škoda Fabia Evo 1hr 21min 31sec
Zakariya Al-Amri (OMN)/Mohammed Al-Amri (OMN) Subaru Impreza STi 1hr 35min 11sec
Nasser Khalifa Al-Attiyah (QAT)/Giovanni Bernacchini (ITA) Ford Fiesta R51hr 36min 17sec
Ihab Al-Shorafa (JOR)/Emad Juma (JOR) Mitsubishi Lancer Evo IX 1hr 43min 28sec
Asem Aref (JOR)/Ahmad Jankhout (JOR) Renault Clio RS                                 2hr 09min 24sec
Jarah Al-Tauqi (OMN)/Issa Al-Wardi (OMN) Subaru Impreza STi 2hr 15min 24sec
Faisal Al-Rashdi (OMN)/Waleed Al-Rashdi (OMN) Subaru Impreza WRX 2hr 24min 53sec
2021 Oman National Rally – round 2:
Hamid Al-Qasmi (OMN)/Ahmed Al-Sadi (OMN) Mitsubishi Lancer Evo VIII 2hr 01min 17sec
Waheeb Al-Kharusi (OMN)/Wadeea Al-Kharusi (OMN) Toyota Yaris 2hr 02min 03sec
Haitham Al-Soomar (OMN)/Wail Al-Shabani (OMN) Mitsubishi Lancer Evo VII 2hr 04min 35sec
Musab Al-Soomar (OMN)/Bassam Al-Qassimi (OMN) Kia Rio 2hr 59min 11sec